Recipe- Nulaid Shakshuka with Goats Cheese
This classic, colourful dish is packed with flavour, quick to prepare and highly nutritious thanks to Nulaid eggs! It is perfect for a family breakfast, lunch or supper. But did you know that eggs are also a FANTASTIC budget-friendly food?
Build your immune system with budget-friendly eggs
Did you know that two large eggs contain about ±155 calories? Eggs contain the highest quality food protein known – it is often the standard by which all other proteins are judged and some believe they are second only to mother's milk for human nutrition. In addition to the 9 essential amino acids, there are another 9 amino acids in an egg. A moderate amount of fat (± 5 grams) is found in a large egg yolk and it is one of the few foods that contain Vitamin D, the sunshine vitamin, which is good for the immune system. One large egg further contains 213 mg cholesterol, needed for the production of vitamin D. One large egg provides 3% of the Recommended Daily Allowance (RDA) for calcium-essential for building and maintaining bones and teeth and other functions associated with the blood and muscles. An egg a day may in fact keep the doctor away! Hence we asked Teresa to share her Shakshuka winter recipe with us!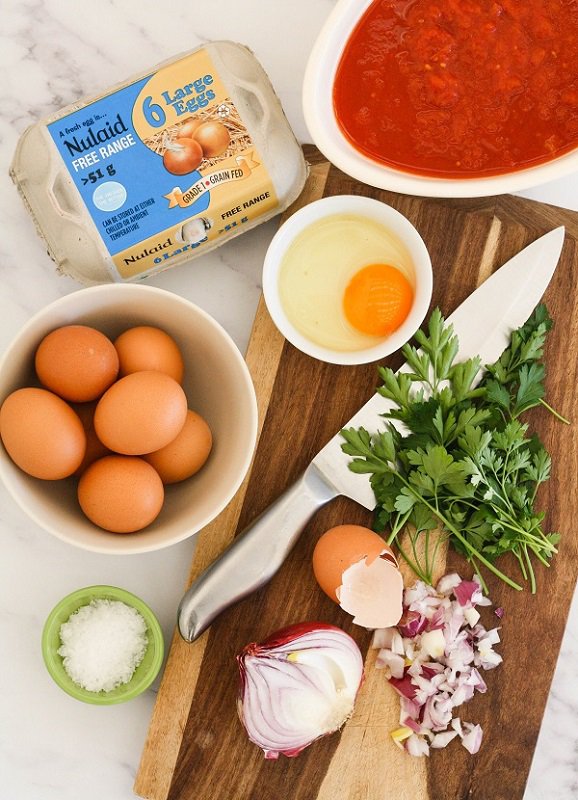 Shakshuka with Goats Cheese: Ingredients
Serves 4
10ml (2 tsp) olive oil ½ a red onion
diced 1 medium red pepper
diced 5ml (1 tsp) crushed garlic
4 black olives, pitted and chopped
5ml (1 tsp) cumin
5ml (1 tsp) smoked paprika
800g tinned chopped tomatoes
salt and pepper
50g baby spinach leaves
6 large NULAID eggs
50g soft goats cheese (optional)
a handful of parsley or coriander chopped
How to make Shakshuka: Method
Heat the olive oil in a large saucepan. Add the onion and red pepper and cook for 5 minutes until softened. Add the garlic, olives, cumin and smoked paprika and cook for a further 2 minutes. Add the tomatoes, stir well and leave to simmer gently for 10 minutes. Season with salt and pepper. Remove the saucepan from the heat and stir in the spinach leaves until wilted. Make 6 small wells in the tomato sauce and drop an egg into each. Cover the saucepan and return to the heat for a further 5 minutes or until the eggs are cooked to your liking. Remove the pan from the heat and dot small pieces of goats cheese over the top. Sprinkle with fresh parsley or coriander and serve immediately.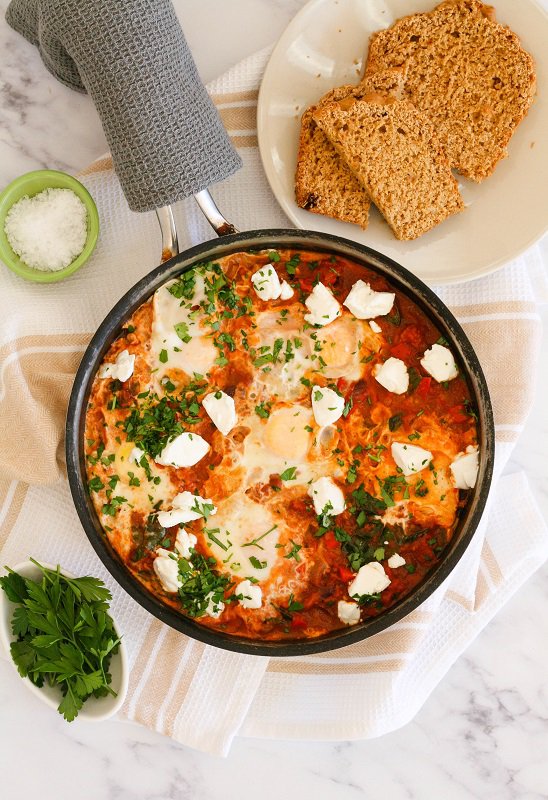 Teresa's tips and tricks
For a more budget-friendly version you can omit the goats cheese, or replace it with feta. • Serve the shakshuka as is, or with a few slices of bread on the side - delish! • This delicious shakshuka is best served immediately. To save on time you can prepare the tomato sauce in advance, then simply add and cook the eggs just before serving time.