50+ Child-Friendly Restaurants in Cape Town, the Northern Suburbs and Cape Winelands 2019
50+ Child-Friendly Restaurants in Cape Town, the Northern Suburbs and Cape Winelands 2019
Looking for family-friendly and kid-friendly eateries? Take a look at our complete guide to child-friendly restaurants and cafés in Cape Town, the Northern Suburbs, Durbanville Hills and the Cape Winelands: 
Child-friendly Restaurants and Cafés in Cape Town
1.    Bistro Sixteen82 Restaurant, Southern Suburbs
Located adjacent to the Steenberg Winery, extending into beautiful gardens the Bistro offers fine dining and inventive dishes full of flavour and freshness. Although there is no formal play area, the kids are most welcome to eat something delicious off the kids' menu, as well as enjoy the garden and open spaces.
Website: www.steenbergfarm.com | Contact: 021 713 2211
2.    Four &Twenty Café, Wynberg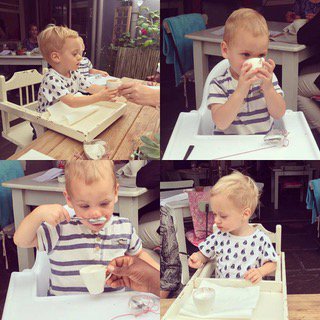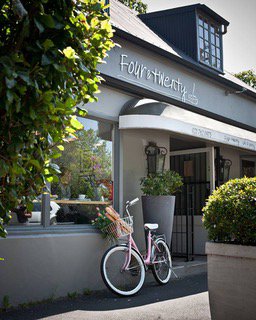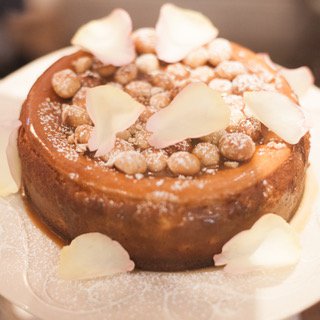 The café and staff here are passionate about producing traditional yet unconventional products with the aim of creating a love for food. A welcome environment in the heart of Wynberg; where the kids can enjoy a yummy treat from their pastry kitchen. Note that no separate kids' menu is available and there is no play area.
Website: www.fourandtwentycafe.co.za | Contact: 021 762 0975
3.    Jonkershuis Constantia Eatery, Groot Constantia
This eatery, with its Cape Malay influenced menu, can be found in Groot Constantia boasting beautiful views which can be enjoyed from the indoor and outdoor seating available. The kids can have fun and enjoy themselves on their lush green lawns. No play area; kids' menu available.
Website: www.jonkershuisconstantia.co.za | Contact: 021 794 6255
4.    Knead Palmyra Junction, Claremont
A neighborhood café and artisan bakery, providing simple comfort food that everybody will enjoy.
Website: www.kneadbakery.co.za | Contact: 021 671 0802
5.    The Gardener's Cottage Restaurant and coffee shop, Newlands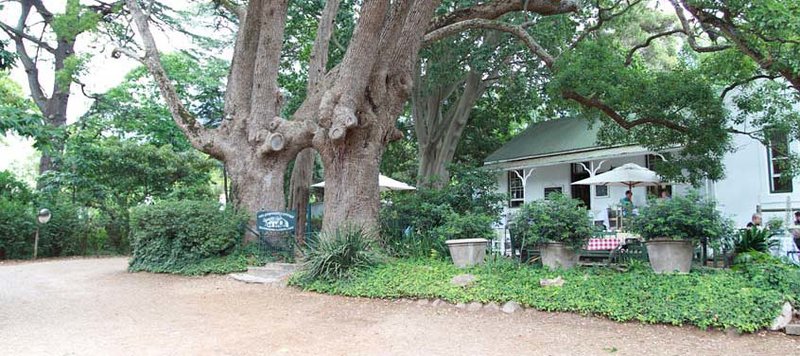 Enjoy breakfast, lunch, and tea under Camphor trees in a tranquil setting. The Restaurant is definitely family-friendly and boasts a great garden area the kids can enjoy.
Website: www.montebello.co.za | Contact: 021 689 3158
6.    Rhodes Memorial Tea Garden and Restaurant, Rhodes Avenue, Mowbray
Situated on the Northern slope of Table Mountain, this historic, child-friendly restaurant and tea garden offers beautiful views, delicious food, as well as special rates for children under 10-years-old. The restaurant has recently been renovated to include a playground with swings, slides, a jungle gym, and a sand pit.
Website: www.rhodesmemorial.co.za | Contact:
7.    Café Paradiso, Kloof Street, Gardens Cape Town
A relaxed pet-friendly restaurant serving country-style dishes. The kids can enjoy a unique cooking experience making their own pizza, biscuits and cupcakes.
Website: www.cafeparadiso.co.za | Contact:021 422 0403
8.    The Two Ocean's Restaurant, Cape Point Nature Reserve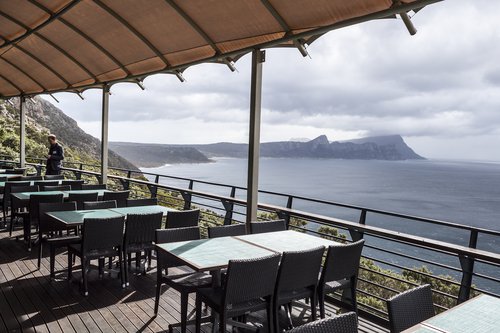 Famous for its seafood cuisine and stunning ocean views, this restaurant serves great sushi and has a kids menu available. Contact them for their school holiday specials.
Website: www.capepoint.co.za/two-oceans-restaurant | Contact: 021 780 9200
9. Company's Garden Restaurant, Cape Town
Found in the heart of Cape Town, in the historic Company's Garden, this is a restaurant made for families. They serve a selection of light meals and tea time treats with a South African flair and there is plenty for the kids to do: a jungle gym, outdoor chess set, nest chairs, and wooden animals to play on. 
Website: www.thecompanysgarden.com | Contact: 021 423 2919
10. Cape Point Vineyards, Noordhoek
Cape Point Vineyards is an award-winning winery with a restaurant, function venue, and picnic spot. The picnics can be enjoyed on the large beautiful lawns surrounding a dam and the kids can have fun running around or climbing on the jungle gyms that are found on the banks of the dam.
Website:  www.cpv.co.za | Contact: 021 789 0900
11. Deer Park Café, Vredehoek, Cape Town
The restaurant borders on the Rocklands Road Park, which is a fenced public park with swings and jungle gyms. While you have your cup of coffee the kids can enjoy the park playground and eat something delicious off their extensive kids' menu.
Website:  | Contact:  021 462 6311
12. Dunes Beach Restaurant and Bar, Hout Bay
Swings, a jungle gym, beautiful sea and mountain views - what more could you ask for. Oh yes, and great food of course.
Website: www.dunesrestaurant.co.za | Contact: 021 790 1876
13. Massiomo's, Hout Bay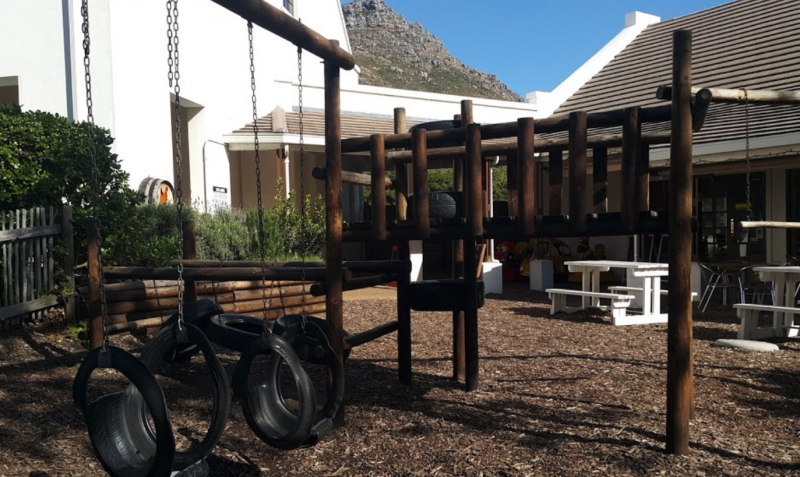 Massimo's is an Italian Restaurant and Pizzeria that has an outside, shaded and secure play area that offers plenty of entertainment for the kids. Dogs are welcome and can join you for a meal of the pet-menu. 
Website: www. massimos.co.za | Contact: 021 790 5648
14. Eden on the Bay Mall, Blouberg
This mall has a number of restaurants suitable for all ages, as well as a lovely grass area where you can have a picnic and a jungle gym for the kids to play on. There are also many stores, coffee shops and events held at Eden on the Bay.
Website: Eden on the Bay | Contact:  021 556 2043
15. Noordhoek Farm Village, Noordhoek
A weekly market that provides coffee, freshly baked bread, regular live music acts and loads more. The kids can enjoy a spacious and safe outdoor playground.
Website: Noordhoek Farm Village
16. The Foodbarn, Noordhoek
Expect delicious fine dining, as well as a play area with a jungle gym and swings, at this fabulous restaurant and deli. The Deli offers lunches and dinners, and of course, some delicious cakes for dessert.
Website: www.thefoodbarn.co.za
17. Spiros, Hout Bay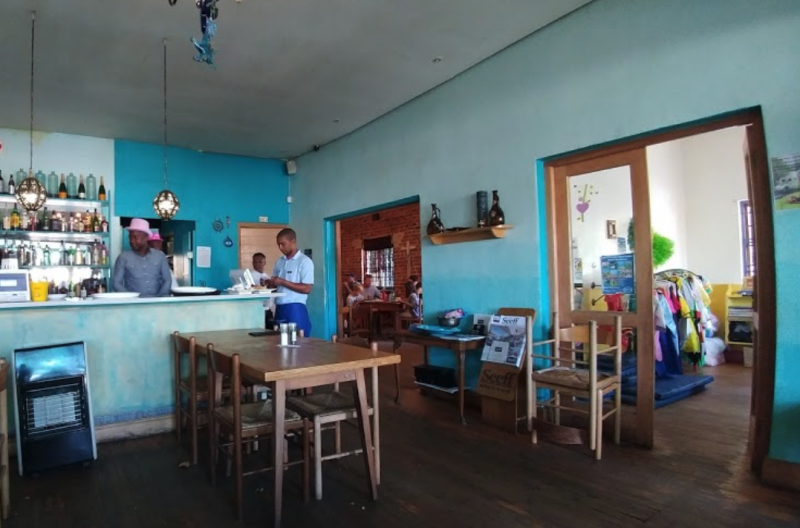 Spiro's is a child-friendly restaurant offering Greek and Mediterranean cuisine and an outdoor kid's play area as well as an indoor playroom with a full-time childminder. There is also a kiddies menu, so the little ones are well looked after here.
Contact:  021 791 3897
18. Driftwood Cafe, Parklands, Cape Town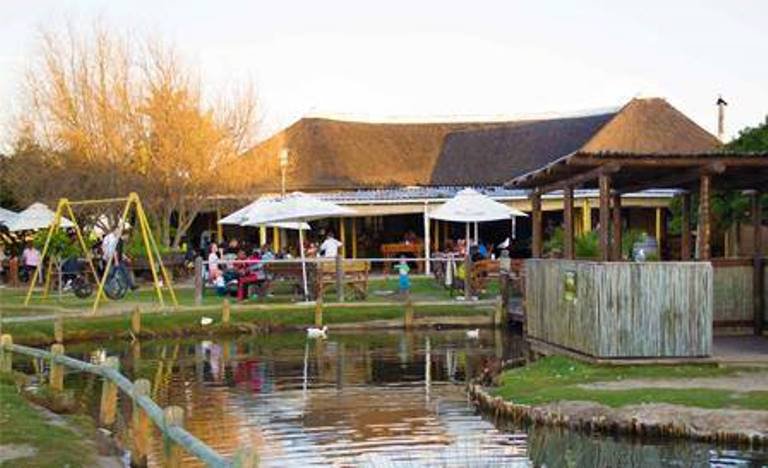 This is a family-style restaurant in Table View, providing a kiddies menu and outdoor play area, featuring a jungle gym and swing and, on weekends, a jumping castle.
 Contact: 021 557 8401
19. Die Damhuis Restaurant, Melkbosstrand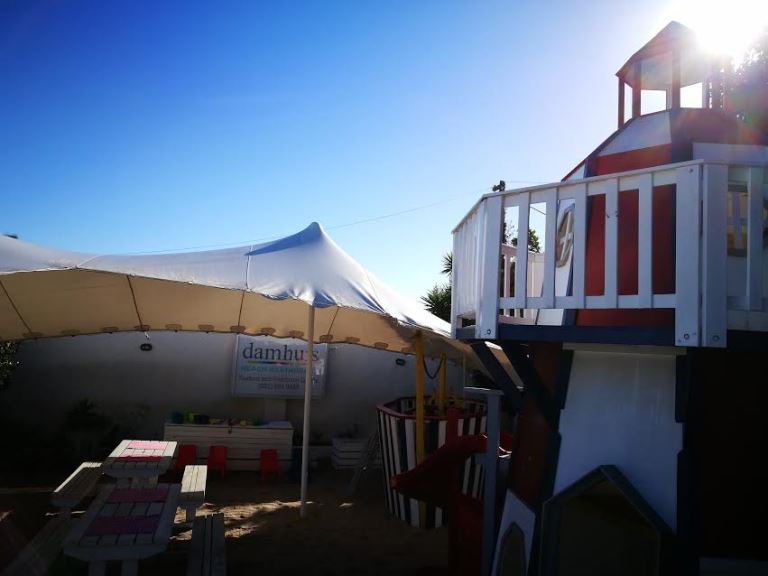 Die Damhuis is the oldest building in Melkbosstrand and has been declared as a National Monument. The building has been restored to a wonderful Restaurant on the beachfront, which provides delicious seafood, and for the kids, there is a large covered sand area where they can build sand castles and play on the jungle gym.
Website: www.diedamhuis.co.za | Contact:  021 553 0093
20. Little Stream Conference Centre and Tea Garden, Constantia
Situated in the peaceful hills of Constantia, this establishment is great for child-friendly events. Experience a relaxing afternoon under the shade of the beautiful trees and let the kids swing. 
Website: www.littlestream.co.za | Contact: 021 794 3413 or 021 794 9147
21. Open Door Restaurant, Constantia
Located on the historic Constantia Uitsig Farm, the restaurant provides a entertaining kids' play area along with good food. There is also a bike park nearby. 
Website: www.opendoorrestaurant.co.za/ | Contact: 021 794 3010
Child-friendly Restaurants in Cape Town Northern Suburbs
22. Bamboo Garden Restaurant, Joostenbergvlakte
The Bamboo restaurant, situated on the same premises as Bugz Family Playpark, has a lovely indoor and outdoor seating area as well as a sand pit, jungle gym, and a dollhouse. 
Contact: 021 987 7455
23. Ocean Basket, Glengarry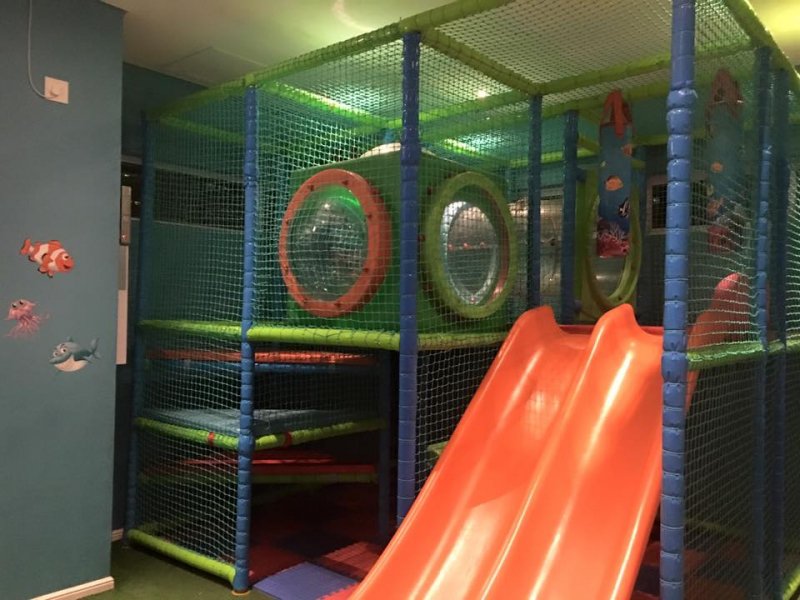 The Ocean Basket in Glengarry is a family and child-friendly restaurant that offer a kids menu and a great indoor play area, including a TV for movies, slides and tunnels.
Contact: Ocean Basket
24. Tables @ Nitidia, Nitidia Wine Estate, Tygerberg Valley Road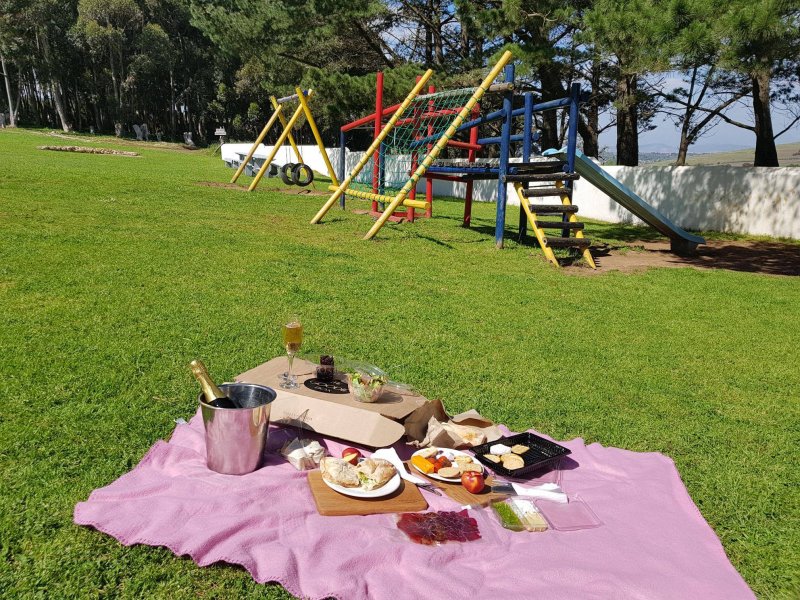 This is a firm family-friendly favourite as kids (and dogs) are welcome! Expect a children's play area, beautiful lawns and a tasty kids' menu.
Website: www.tablesatnitida.co.za | Contact: 021 975 9357
25. The Hollow Tree, Bellville, and Durbanville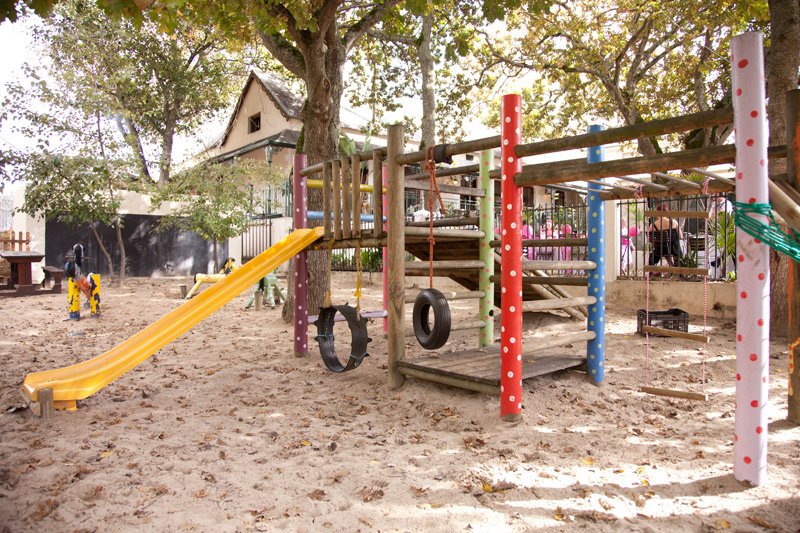 The Hollow Tree restaurant is located within a beautiful garden setting. They provide outdoor seating areas and children facilities.
Website: www.thehollowtree.co.za/   | Contact: 021 914 0186 \ 021 976 3522
26. Dutch Haven Bistro, High Street, Durbanville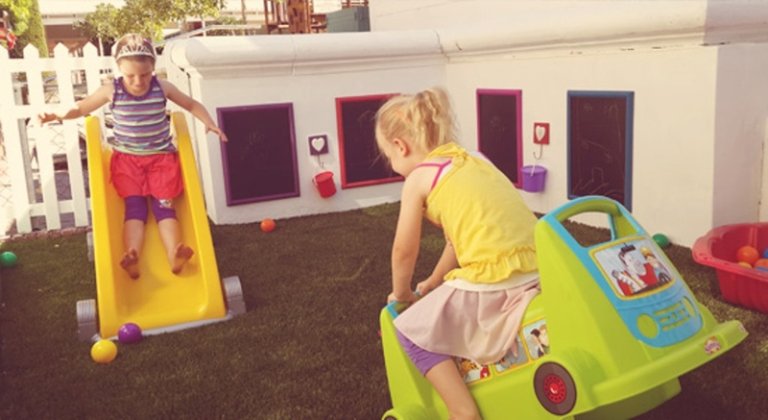 Dutch-inspired dishes served in a relaxed child-friendly environment. A children's menu is available and the kids can play on a jungle gym and swing outside. The little ones also have their own enclosed play area with soft toys, dolls and cars.
Website: www.dutchhaven.co.za | Contact: 021 914 6120         
27. Willowbridge Restaurants, Bellville
Willowbridge offers a variety of restaurants and cafes that all offer great food in a relaxed shopping environment. There are small play areas with jungle gyms the kids can play on scattered throughout the Willowbridge Mall. They are currently renovating, so watch this space!
Website: Willowbridge Mall  | Contact: 021 914 7218
28. Hillcrest Estate, Durbanville
Enjoy breakfast, lunch, and tea amongst the sweeping vineyards. Be relaxed and comfortable and enjoy the spectacular views. Their lawn is popular for families and kids.
Website: www.hillcrestfarm.co.za | Contact: 021 970 5800
29. Ke Monate Restaurant, Signal Gun Wines, Durbanville
Enjoy a family day with a delicious meal while the kids can explore their sweeping gardens. Enjoy their craft beer selection and wines away from the noise of everyday life.
Website: www.signalgun.com | Contact: 021 976 7343
30. Rusty Oak Bistro, Durbanville
The Rusty Oak can be located in the heart of Durbanville at the popular Ruslamere Hotel, Spa and conference centre. This is a great destination to spend time with family and friends. There are plenty of activities for the kids with a jungle gym and swings.
Website: www.rustyoak.co.za | Contact: 021 975 5677
31. Crown Restaurant and Wine Bar, Meerendal Wine Estate, Durbanville
Inside and outside seating available so you can look at the spectacular views. The menu is changed regularly and also caters for the kiddies. They do have quite nice lawns, a jumping castle and jungle gym for the kids.
Website: www.crownrestaurant.co.za | Contact: 021 975 0383
32. Ashley's Family Restaurant and café, Goodwood
Ashley's is a family child-friendly restaurant with a dedicated kiddies corner and menu. There is also a kiddies club the little ones can join to get extra special deals.
Website: www.ashleysrestaurant.co.za | Contact: 021 591 8555
33. Lisa's Restaurant, Milnerton
Lisa's can be found in the Stodels in Milnerton, they offer light meals, kids parties, and functions.
Website: Lisa's Restaurant | Contact: 021 551 0880
34. Blasters, Brackenfell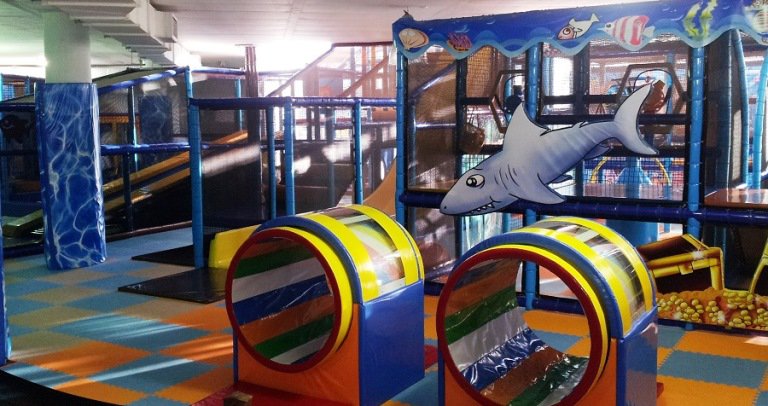 A child-friendly restaurant found at the Cape Gate Décor Centre. They offer the biggest, safest and supervised indoor play area in South Africa.
Website: Blasters | Contact: 021 981 7555
35. Rocomamas, Cape Town
There are a number of these restaurants all over Cape Town from Green point to Stellenbosch. In the northern suburbs, you will find one in Willowbridge, Okavango angle gyms, Durbanville. They may not have huge play areas and jungle gyms, but the yummy milkshakes, waffles, burgers, and fries will keep the busiest little one occupied for a while. Everybody can also play a game of Jenga to pass the time.
Website: www.rocomamas.com | Contact: See website for different branches
36. Durbanville Hills Restaurants
The Durbanville Hills restaurant offers a wonderful family-friendly environment from which to escape to. The expansive area has double volume ceiling, wood finishes,  and local décor. The restaurant offers scenic views of Table Mountain, Table Bay,  and the vineyards. The wooden deck is the perfect place to be for sipping on a glass of superb wine whilst the kids enjoy themselves in the play-area. 
Website:www.durbanvillehills.co.za/our-restaurant/ | Contact: +27 (0)21 558 1300
Child-friendly Restaurants in the Cape Winelands
37. Eight Restaurant, Spier Wine farm, Stellenbosch
Located on the well know Spied Wine farm in Stellenbosch. (https://thingstodowithkids.co.za/child-friendly/spier-stellenbosch) Fresh and natural ingredients are used in their healthy and delicious food. They have a children's menu and the kids can play on the beautiful lawns and jungle gym outside.
Website: www.spier.co.za/food/eight-restaurant | Contact: 021 809 1100
38. Ride in café, Stellenbosch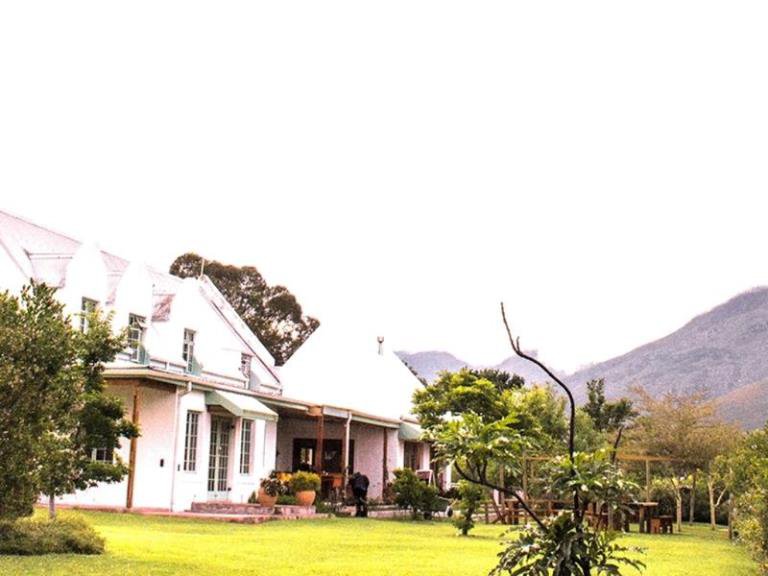 This café can be found on the Jonkershoek road in Stellenbosch, offering breakfasts and lunches. The kids can play on a small bike track or in the large garden. The Ride in café also offers bike rentals for adults and also provides different child seats and kids trailers so the whole family can enjoy their outdoor experience.
Website: www.ridein.co.za | Contact: 021 883 3985
39. Mont Marie Restaurant, Blaauwklippen Road, Stellenbosch
They offer a kids menu and jungle gym where the kids can play while you enjoy your meal.
Website: www.montmarie.co.za/ | Contact:  021 880 0777
40. Skilpadvlei restaurant, Stellenbosch
A popular family destination that offers delectable food, wine, and beautiful views. They also provide a large outdoor play area and an indoor play area for those rainy days.
Website: www.skilpadvlei.co.za/ | Contact: 021 881 3237
41. Warwick Wine Estate, R44, Stellenbosch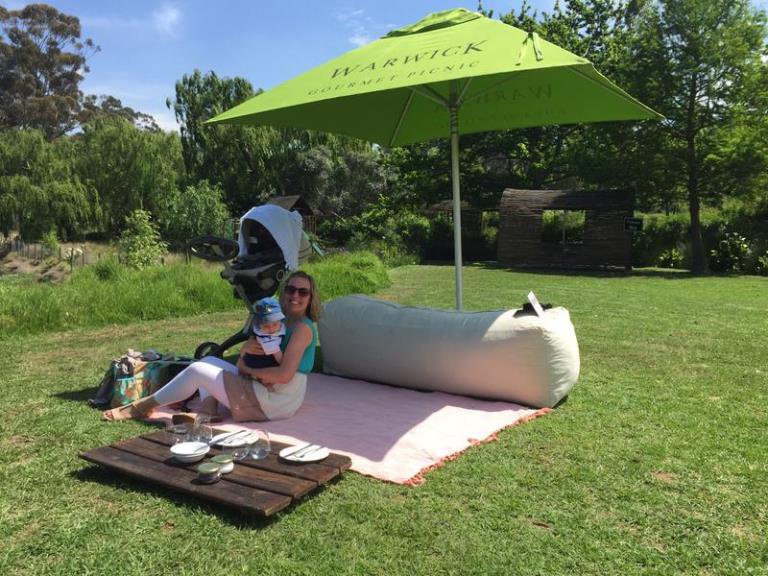 A lush picnic area with a jungle gym area for the kids and lots of entertainment for everyone.
Learn more about the Warwick Estate and Alexa's outing to this Stellenbosch Wine Estate here .
Website: www.warwickwine.com | Contact: 021 884 4410
42. Tokara Delicatessen & Restaurant, Stellenbosch
The Tokara Delicatessen is a child-friendly deli offering breakfast and lunch with scenic views of the mountains and vineyards. The kids can play on the wooden jungle gym and there is also a slide and sandpit.
Website: www.tokararestaurant.co.za/ | Contact: 021 885 2550
43. Blue Rock Restaurant and Café, Somerset West
They promote a healthy lifestyle and provide only the freshest ingredients. The restaurant is located on the Blue Rock Resort where there are activities the whole family can join and enjoy.
Website: www.bluerock.co.za/ | Contact: 021 858 1330
44. The Stables at Vergelegen, Somerset West
A family and child-friendly restaurant where you can find beautiful views and a spacious garden for the kids to run around in.
Website: www.vergelegen.co.za/ | Contact: 021 847 2100
45. The Deck Restaurant @ Ridgeback, Paarl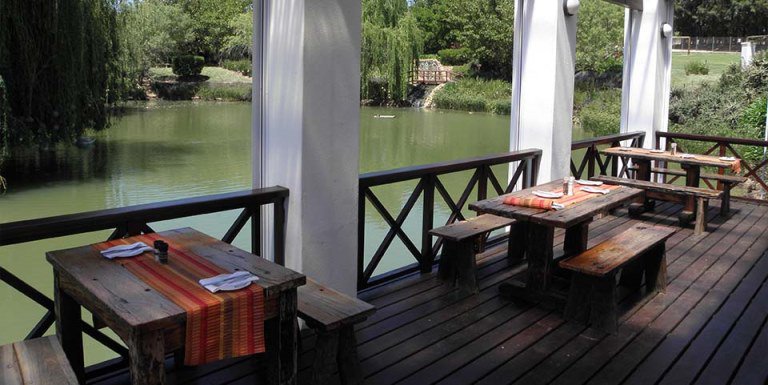 Enjoy a delicious meal looking over the beautiful dam; the kids will enjoy the wonderful open spaces and love the swans and ducks found on the estate.
Contact: 021 869 8068
46. The Red Table Restaurant (Nederburg Wines), Paarl
Located beneath the Drakenstein Mountains in the Manor House. The Restaurant offers fresh food and a comfortable atmosphere. In the summer months, you can enjoy your meal outside under the shade of their beautiful old trees where there is plenty of space for the kids to run around.
Contact: 021 877 5155
47. Pearl Rock Terrace, Paarl
The view of the Laborie Wine Estate is wonderful, the service is great and the kids are welcome. 
Here is a review of Pearl Rock from Tripadvisor from a happy customer:
If you are looking for a child-friendly restaurant with friendly service, a beautiful view and good food and wine, you cannot do better than Pearl Rock Terrace. The waiters call our children by their names and there is always some kind of surprise for them. Every experience there is a good one. Definitely a family favourite!
Website: www.pearlrockterrace.co.za | Contact: 021 807 3467
48. Under Oaks, Paarl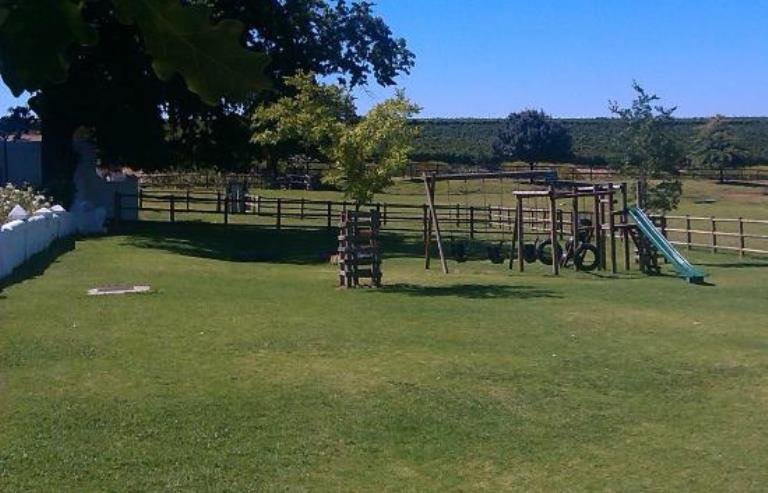 A family-owned working farm found in the Cape Winelands Town of Paarl. They make great pizzas and pasta and provide a kid's menu. The kids can also play on the large lawn, jungle gym and swings.
Website: www.underoaks.co.za | Contact: 021 869 8045
49. Allée Bleue, Franschhoek
They offer visitors a wonderful experience at their restaurant, bistro and picnic venue and fresh produce shop surrounded by spectacular views of the Franschhoek Valley. Enjoy a picnic with the kids well looked after with a jungle gym, jumping castle and trampoline.
Website: www.alleebleue.co.za | Contact: 021 874 1021
50.Franschhoek Station Pub, Franschhoek
The Pub offers something for all tastes and provides great specials on a regular basis. They have live music and craft beer and biltong tastings. They also have a jungle gym, swings and a jumping castle in a safe outside play area. 
Website: www. franschhoekstationpub.co.za | Contact: 021 876 3938
51. Village Grill and Butcher, Franschhoek
Your destination for outstanding steaks, family-friendly dining, and fresh take-home meats. This is one of Alexa's favourite kid-friendly restaurants as it offers an amazingly beautiful garden, a jungle gym, water fountains for the kids to play in and, most importantly, delicious food!
Website: http://villagegrill.co.za/
52. Franschhoek Beer Co., Franschhoek
This family-friendly restaurant offers patrons delicious upmarket pub grub, craft beer, and a play area.
Website: http://www.franschhoekbeerco.co.za/
53. La Bourgogne, Franschhoek
Another family-favourite for Alexa, this wine estate offers large lawns, shaded by oak trees a play area, good food, and wine and that unmistakable farm feel.
54. Rhebokskloof Wine Estate, Paarl
They offer breakfast, lunch, dinners, and picnics. The Wine Estate has a kids menu for the Restaurant as well as a kids picnic choice. They also have loads of activities to do with the whole family including, hiking, fishing, tented camping, and loads more.
Website: www.rhebokskloof.co.za | Contact: 021 869 8386
55. Spice Route Destination, Paarl
We often mention this family-friendly destination as it really is one of our favourites. It has so much to choose from in terms of keeping the whole family happy and entertained: picnic spots with balance bikes, a play area, chocolate tasting, restaurants, craft beer, gin and of course, wine tasting. Also, read our blog Our Family Excursion to Spice Route Destination in Paarl.
Website: https://www.spiceroute.co.za/
56. Wild Clover Farm, Stellenbosch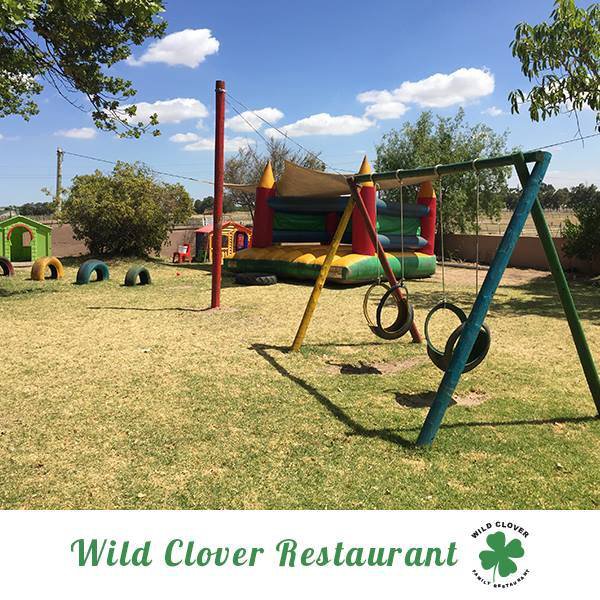 The Wild Clover's kid's zone offers a variety of activities for the kids such as a jungle gym and bike track. They also have a wildlife sanctuary and you can enjoy other activities and more including horseback riding and archery. The Restaurant offers great food with a kids menu.
Website: www.wildclover.co.za | Contact: 021 865 2248
57. Dornier Bodega Restaurant, Stellenbosch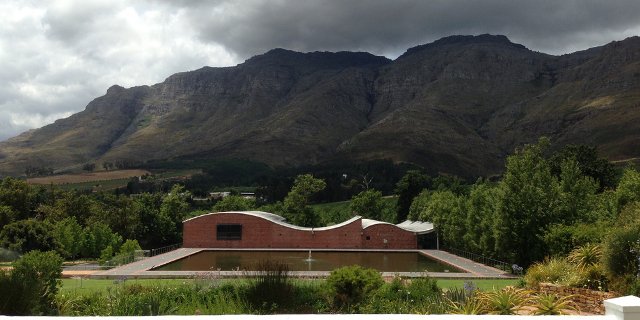 The restaurant offers great food and an outdoor area that overlooks a jungle gym. The kids' can enjoy their time in a pirate-themed play area.
Website: Dornier Bodega Restaurant | Contact: 021 880 0557
58. Valley Farm Stall, Hout Bay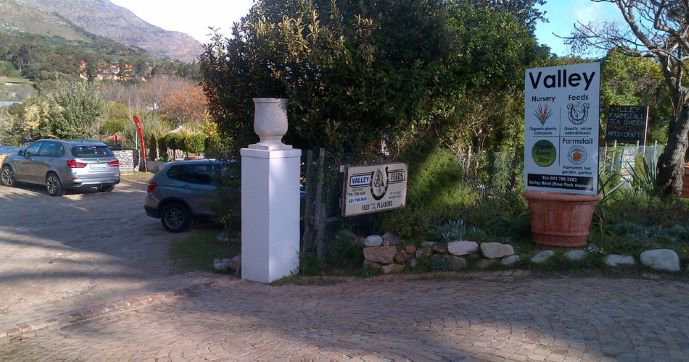 The Valley Farm Stall is a family-run business located in beautiful Hout Bay. Here you will find a nursery filled with indigenous and water-wise plants. There is also a Farm Stall where you can relax, and the kids can have fun. The farmstall itself provides a variety of fresh farm goods like honey, jams, eggs and lots more. Then you have the Farmyard, where you will find all sorts of cute and friendly Farm animals. The Black and Brew Bistro is a great venue for children's Parties and other functions, or just bring the family for a fun day out. Between the playground and farm animals, the kids will have plenty to keep them busy.
Contact: Valley Farm Stall
Photo's provided by each Restaurant and Thingstodowithkids.