Things to do with Kids in Cape Town this Summer 2018- 2019
Things To Do With Kids: What's on this Summer in Cape Town?
Activities with Kids: Cape Town
Hip-hip-Hooray! Summer has arrived and it's almost time for school holidays and the festive season! We have put together a comprehensive list off fun holiday activities and things to do with kids in Cape Town, South Africa, meaning that you can sit back and relax while we show you what you can get up to with your family. We hope you create a lot of beautiful and lasting memories this summer.
Stargazing at the Taalmonument, Paarl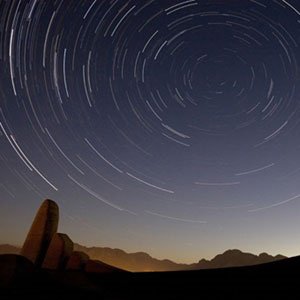 Be romanced and inspired by the night skies at the Taalmonument on Paarl Mountain during one of the Stargazing Picnics, hosted by the Afrikaanse Taalmonument in collaboration with the Orion Observation Group (OOG). Bring your own picnic or order one from Volksmond Cafe tel. 021 863 2800.
 Where: Taalmonument, Paarl
When: 8 December 2018, 5 January 2019, 9 February 2019, 9 March 2019
More Information: Afrikaanse Taalmonument
Go on a playdate
Create your own furry friend with Build A Bear Workshops

These summer holidays you can take your family or friends on a playdate at Build A Bear Workshop. It is the perfect indoor play idea! Each participant will get the opportunity to choose their own soft toy, give it a heart, stuff and groom it as they learn how to take care of their new "cuddle buddy". They make the perfect Christmas gifts too! You can save R300 when you go on a playdate for four people or take more family and friends with and save up to R600. 
To book a playdate, simply visit a Build a Bear Workshop, Toy Kingdom or a participating Edgars store near you , book online at buildabear.co.za or email them at party@buildabear.co.za
Fullmoon Picnics, Paarl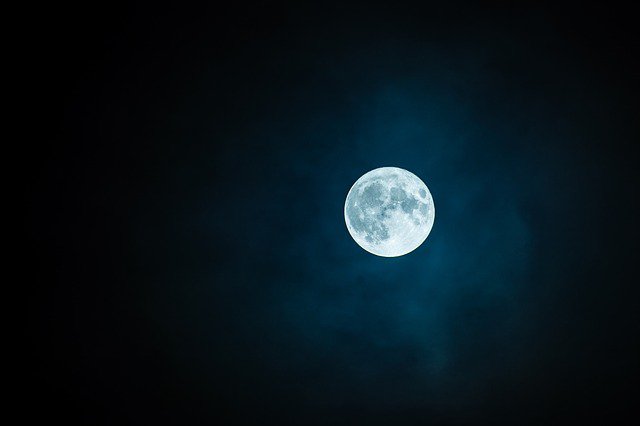 There is something magical about a full moon and now you and your family can have a closer look during one of the Fullmoon picnics hosted by the Afrikaanse Taalmonument. Bring your own picnic or order one from Volksmond Cafe tel. 021 863 2800.
Where: Taalmonument, Paarl
When: 23 November 2018, 22 December 2018, 19 January 2019, 22 February 2019, 22 March 2019
More information: Afrikaanse Taalmonument 
The Galileo Open Air Cinema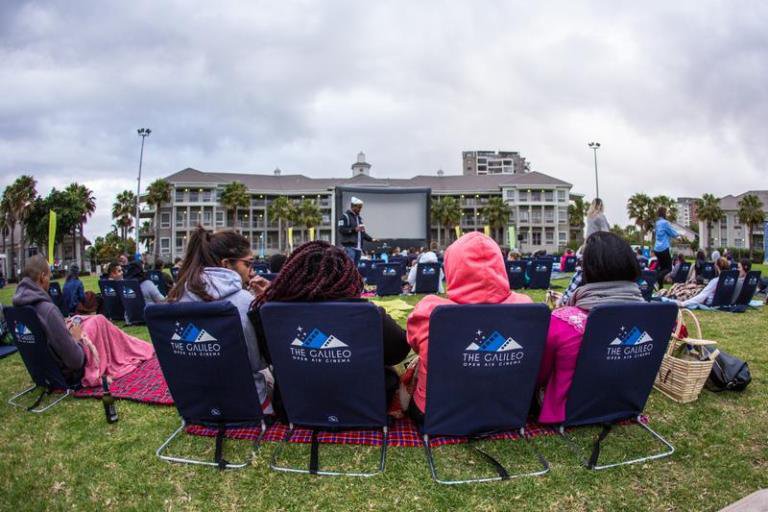 Take the family this summer and enjoy a movie under the stars. They have fun activities and great food or just bring your own picnic. There is a variety of movie options available for both adults and kids. 
Get the full list of child-friendly movies at The Galileo Open Air Cinema here.
Cape Gate Summer Glice Rink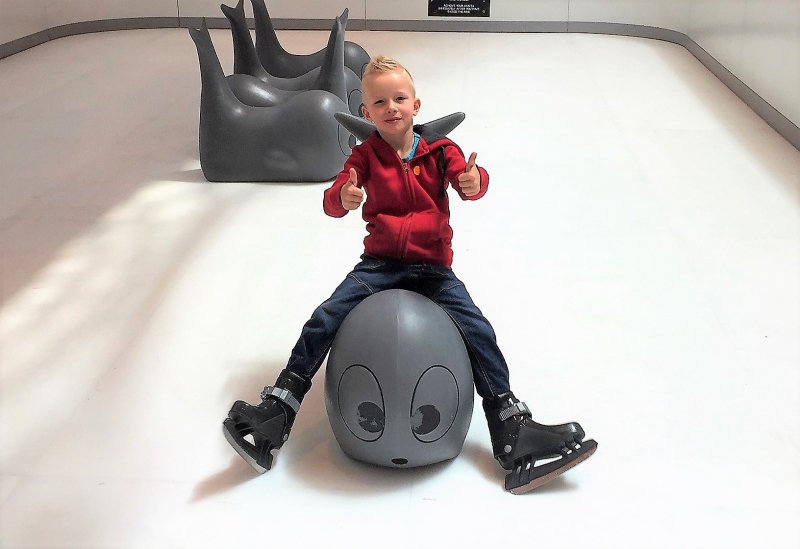 From 24th November Capegate Shopping Centre will welcome hours of indoor summer fun in the form of Glice skating!  The neon-themed event will be in the centre court and costs only R50 per child for a 40-minute session. The rink is most suitable for kids between the ages of 5 – 12 years old and open every day from 24 November – 13 January, except Christmas day.
When: 24 November – 13 January
Where: Centre court, Capegate Shopping Centre, Cnr. De Bron & Okavango Rd, Brackenfell
For More Information visit our blog here.
Peppa Pig at the V&A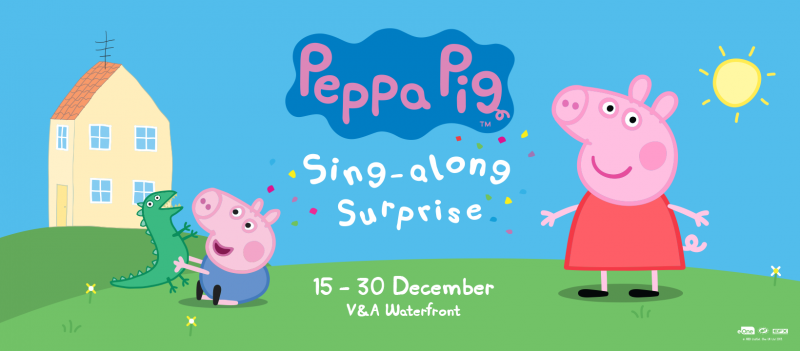 This summer take the kids to visit and sing along with Peppa Pig at the V&A Waterfront Amphitheatre. "Peppa Pig's Sing-along Surprise" will take place daily from 11am at the V&A Waterfront Amphitheatre from 15 – 30th Dec. The kids will enjoy clapping hands and dancing along with the characters.
After the show – Peppa will be meeting her young fans and be available for photos from 12 noon – 2 pm at the Lampside Court inside the Victoria Wharf Shopping Centre!
When: 15th - 30th December
Where: V&A Waterfront
Cost: Free of charge but numbers will be limited with meet & greet vouchers available on the day
For more information visit Peppa Pig Live
Matilda the Musical - Cape Town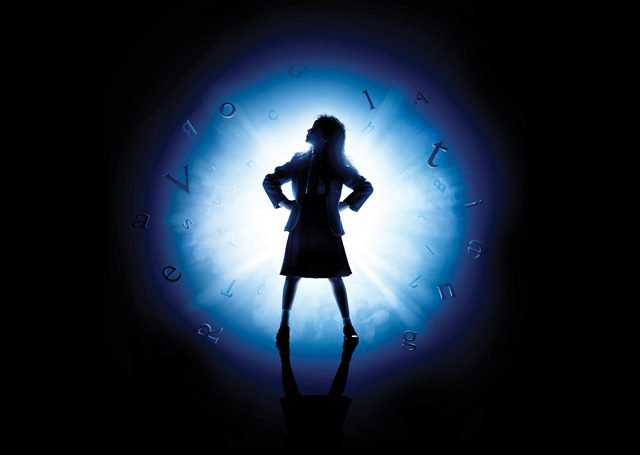 Matilda The Musical is the multi-award winning musical from the Royal Shakespeare Company, inspired by the beloved book by the incomparable Roald Dahl. The story bursts onto the live stage and is a fun and entertaining family experience.
When: 11 December 2018 - 13 January 2019
Where: Cape Town Artscape Theatre
For more information review the event page here.
Contact: Artscape Theatre
Make It Magical Workshops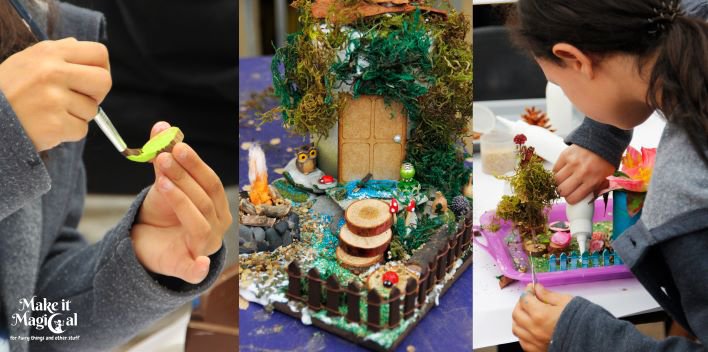 Let the kids express themselves and use their imaginations this summer holidays. The Make it Magical Workshops are a wonderful experience for the kids and is sure to keep them busy. The workshops are sure to be the best arts and crafts ever!
Our dates are the 11, 13, 15 and 19 December. Venue: Ferndale Nurseries, Brommersvlei Road, Constantia, Cost: R250 per participant.
Bookings are online at www.makeitmagical.co.za/workshops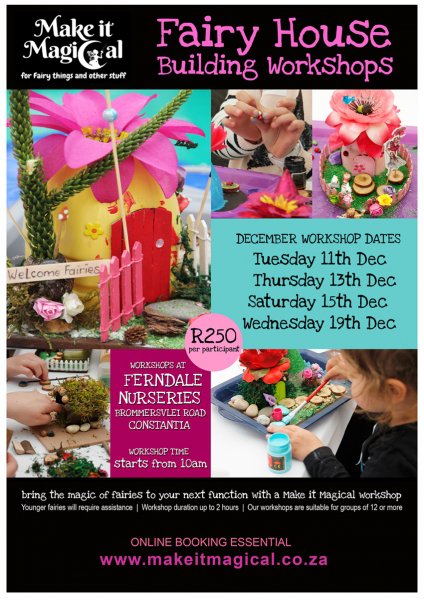 Berry Picking at Wildebraam, Swellendam

'Berry Season starts mid-November…' – these words ring like bells in my ears, announcing that some berryliscious fun is on its way! Take the kids for a day of R&R out in the countryside, take in the wide-open spaces, breathe in the fresh air and, most importantly, indulge while picking berries. Entrance costs a mere R15.00 per person
Where: Wildebraam, S4 Hermitage South Lane, Hermitage Valley, Swellendam
When: From mid-November to December
More information: https://wildebraam.co.za/berry-picking/
Canvas Club Summer Holiday Programme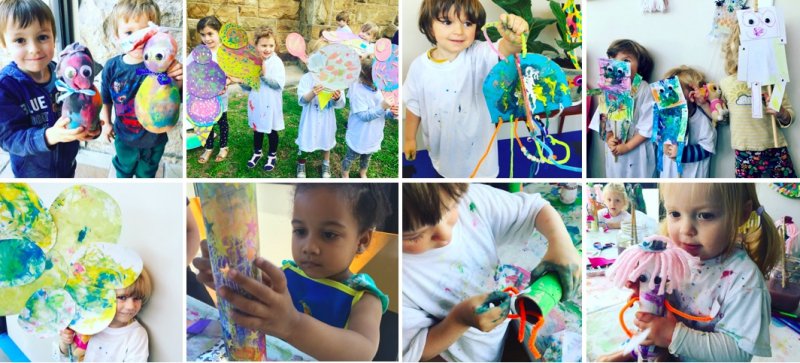 Canvas Club takes arts and crafts to the next level. They use a wide variety of materials to take children aged 18 months to 13 years on a magical creative journey of building explosively awesome crafts such as rockets, robots, fairy wings, musical instruments and mach more!
Let your children express themselves at our exciting, creative, messy and colourful Holiday Clubs from 13 - 21 December. We are located in Tamboerskloof, Somerset West, Durbanville and now in Bellville.
Age groups: 18 months - 6years to be accompanied by an adult; and 7-13 years
Find out more about their holiday programme here.
Contact: Visit us at www.canvas.club or say hello at info@canvas.club
The Cricket School of Excellence Summer Holiday Clinics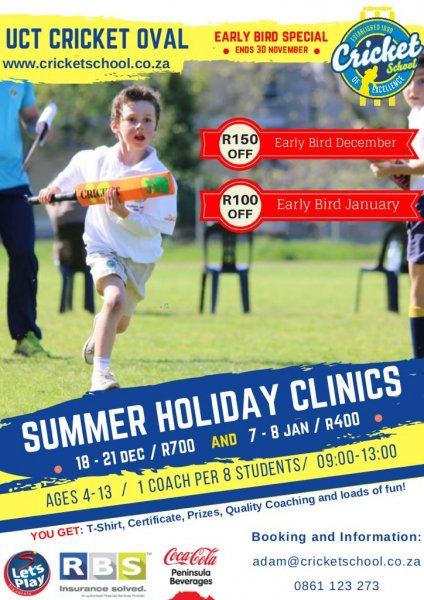 The Cricket School of Excellence are running Summer Holiday Clinics for budding cricketers.  These programmes cover all aspects of the game for ages 4-13.  Coaches work to a specific programme and cover batting, bowling, fielding, general knowledge and etiquette of the game. Time: 9am – 1pm
Cost: 18-21 December - R700 (without early bird discount); 7-8 January - R400 (without early bird discount).  Early bird discount ends 30th November so book now!
To see more information about the clinics please see here.
Where: UCT Cricket Club, Cape Town
Contact: 0861 123 273
Kenilworth Festive Family Day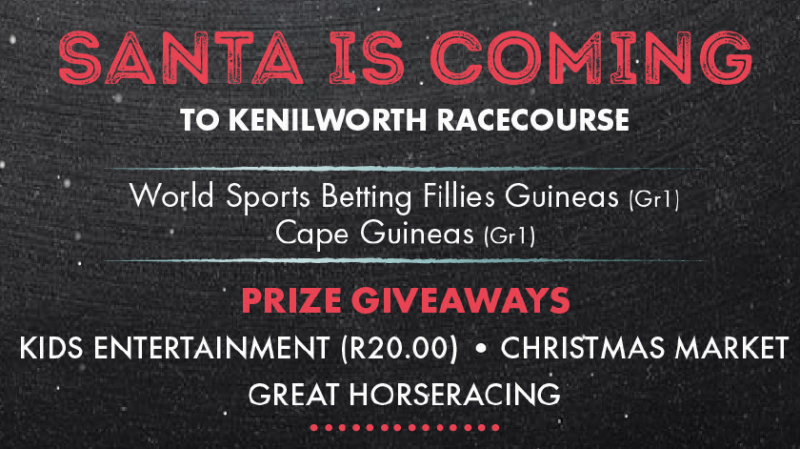 Visit Kenilworth Racecourse on Saturday, 15th December where an area of games and rides will keep the kids thoroughly entertained while mum's and dad's take in the action-packed day of racing. In between the races, enjoy the Christmas Market, foodstalls and the variety of live entertainment, and when you think it couldn't get any better than this, Father Christmas will be making a guest appearance.
Where: Kenilworth Racecourse
When: 15th December 2018
Cost: R20 per child
Cape Town Beer Festival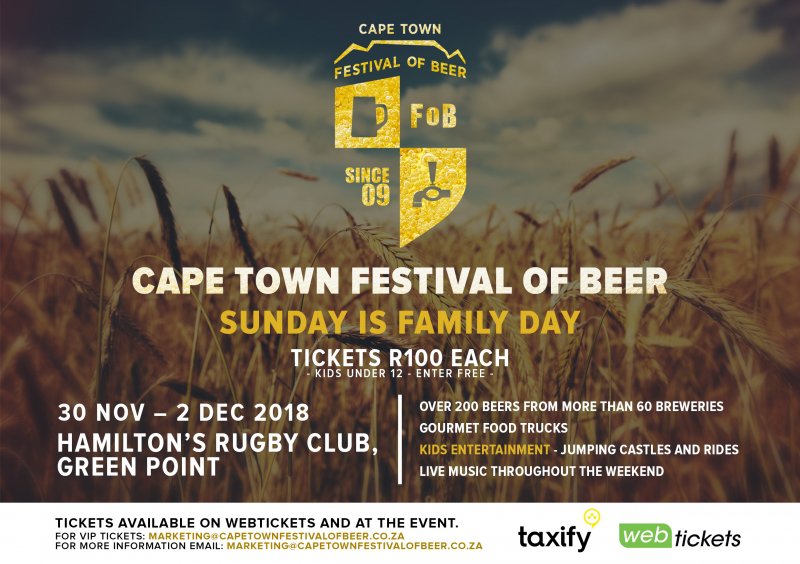 The Cape Town Festival of Beer has partnered with Good Hope FM, who will be hosting the hottest selection of DJ's throughout the weekend. Festivities kick off from Friday 30th November, with family day taking place on Sunday 2nd November – on this day they will have jumping castles, slides, ball pools and a choo-choo train to name but a few.
Where: Hamiltons Rugby Club, Green Point
When: 30th November - 2nd December 2018
Cost: Friday - R120; Saturday - R150; and Sunday R100 - kids under 12 are free
Dunstone Summer Family Festival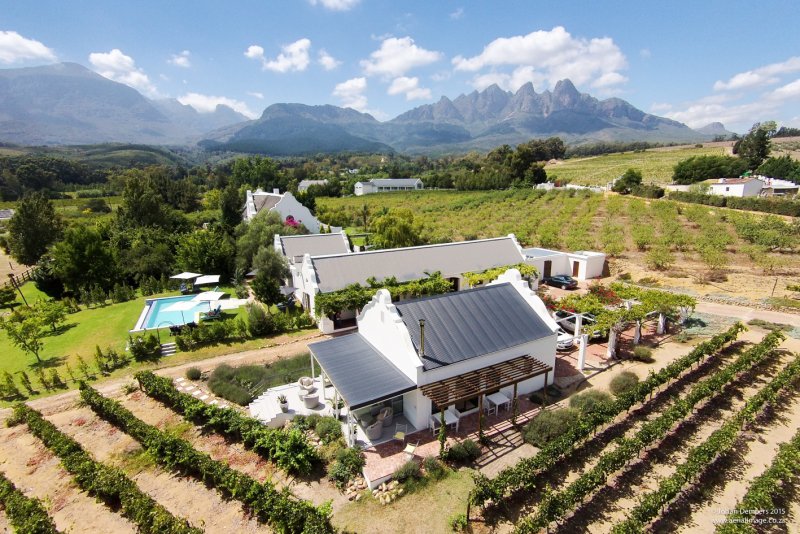 Dunstone Country Estate in Wellington is pleased as punch to invite you to our free 'Welcome Summer Family Festival, taking place from 12 noon on Saturday 8th December at our bistro, The Stone Kitchen. Under an hour's drive from Cape Town, think live music, pop up food stalls, lamb spit braai, craft beer on tap and free wine tastings. For the kids, we've got a jumping castle and face painting and lots of tasty treats!
Where: Dunstone Country Estate, Wellington
When: 12 noon on Saturday 8th December 2018
Cost: FREE
For more information visit their event page here.
The Galileo Open Air Cinema - Brave at Willowbridge

The Galileo Open Air Cinema welcomes you to a magical movie experience of cinematic delights, tantalizing treats and breath-taking scenery under a canopy of stars.
Willowbridge screenings take place on the beautiful greenbelt behind the centre. The 1st 100 kiddies receive a Kiddiwinks Lego gift and meet Santa on the evening!
Further child friendly activities at Willowbridge this Festive Season:
Lego exhibition 10h00 – 15h00 :  24 November 2018
Roaming Santa and Elf 10h00 – 15h00 : 15 December – 23 December
Live Music 17h00 – 19h00 : 15 December – 23 December
For more information visit their event page here.
Chocolate and Wine Festival, D'Aria Winery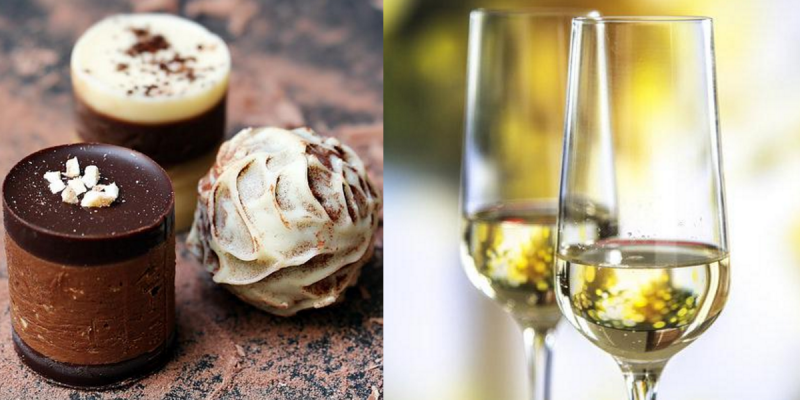 If you get an excited tingle in your stomach by the mere mention of words like 'chocolate' and 'wine', then this is the must-visit event of the summer for you. D'Aria wine estate in association with Base Camp Bedouin Tents promises a fun-filled day of happy indulgence for the entire family at the first Choc & Wine Festival.
Where: D'Aria Winery
When:25 and 25 November 2018
More info: http://www.webtickets.co.za/events/featured/wine-choc-festival/
More Fun Activities to do with Kids during the School Holidays
Bugz Playpark Joostenbergvlakte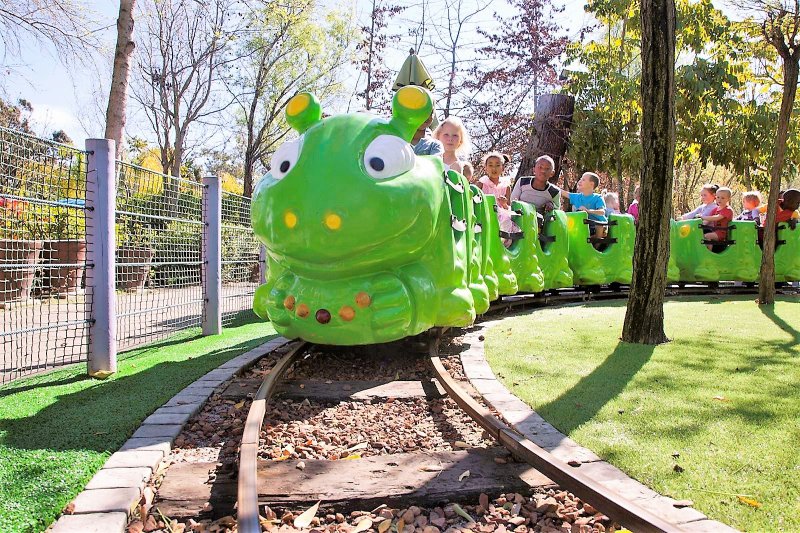 Be sure to visit the largest playpark in the Western Cape this holiday! The kids will love climbing, jumping, running, exploring and engaging with the various play zones available. 
Where: Bugz Playpark
Clay Café holiday entertainment, Hout Bay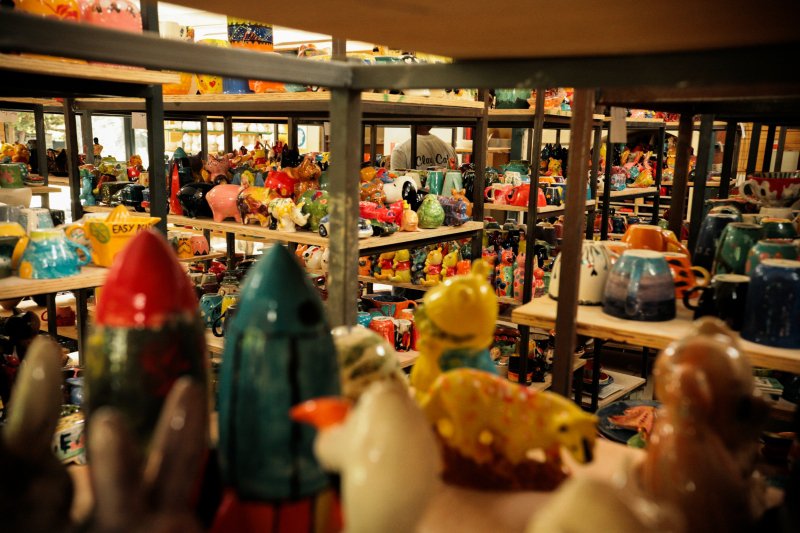 Ceramic-painting venue cum restaurant. Join Clay Café throughout the season for a few hours of ceramic painting fun. All ages welcome. Awesome inside and outside seating area, exciting playground and great, fresh, farm-style food. A creative outing for the whole family to enjoy.
Cost: R40 studio fee plus the value of the item.
When: Open daily 09:00 - 17:00 (see website for exceptions)
Where: 4080 Main Road, Hout Bay
More Information: Clay Cafe
Cape Nature Reserves, Western Cape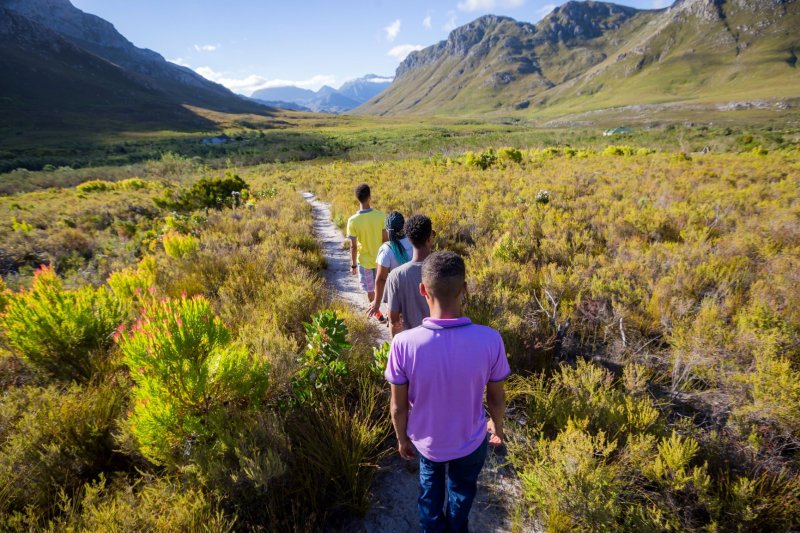 CapeNature provides accommodation and outdoor activities on our pristine nature reserves across the Western Cape. They offer an array of activities, wildlife and natural beauty for every age and interest. Camp or stay at your choice of eco-cabins, bush lodges and comfortable cottages, all self-catering.
Where: Various Reserves in the Western Cape
Tel: 021 483 0190
Website: www.capenature.co.za
Email: reservation.alert@capenature.co.za
Acrobranch, Cape Town
This is a great outdoor adventure for the kids. The kids will have fun swinging through the trees on zip lines. There are different courses available to suite everybody's level from toddlers through to adult challenges.
Where: Hout Bay
Contact: 021 201 1121 Acrobranch, Cape Town 
Cool Runnings
This is a summer activity your kids will want to do over and over again. Charlene recently enjoyed a day out with the family here and everybody (the adults and the kids) had a fun time.
Where: Cool Runnings in Tygervalley
Contact: 021 949 4439 | Cool Runnings 
The Alpaca Loom Coffee Shop and Weaving Studio, Paarl
Come and have a look and find out all about farming with Alpacas. Have a look at the beautifully handcrafted products and afterwards sit down and enjoy some delicious cake and coffee. The kids can enjoy the petting zoo and jungle gym or join the Alpaca barn tour.
Where: The Alpaca Loom Shop in Paarl
Contact: 084 793 3666 The Alpaca Loom Studio
West Coast
I love Yzer Feesmark
Ideal for your last-minute shopping! Browse between stalls with a glorious view of the Yzerfontein salt pans. Experience delicious food, handcraft articles, local wine and beer. Enjoy the entertainment and socialising with family and friends in the tent. Entrance is free, so pop in it is less than an hour's drive from Cape Town!
Where: Yzerfontein Strandkombuis. Route 315
When: Friday 21 December 2018,10:00 - 16:00
More Information: http://iloveyzer.co.za/
contact: 022 451 2202 / info@iloveyzer.co.za
Groote Post Christmas Market - Darling
Visitors can expect "all things Christmas" at Groote Posts Christmas Market: decorations and gifts, a Christmas Show and Father Christmas entertaining the children. It is the perfect opportunity to escape the hustle of shopping malls and find unique gifts for your loved ones. Enjoy a family outing in the country, only an hour's drive from Cape Town.
When: SUNDAY 16TH DECEMBER, 10H00 - 15H00
Where: Groote Post, Darling Hills Rd, Darling
More Information: www.grootepost.com or phone 022 492 2825
Your Bucket List For Cape Town
Cape  Metro
Take  the  kids  for  a  playdate  at  Cape  Gate
Reconnect  with  your  wild  side  at  Cape  Nature
Take  the  family  for  a  fun  day  out  at  GrandWest
Sail  the  high  seas  with  Jolly  Roger  Pirate  Boat 
Meet  Santa at Kenilworth Racecourse
See  Matilda  live  at  Artscape  Opera  House
Search  for  hidden  gems  at  Mineral  World
Make  new  friends  at  the  Planetarium  this  school  holiday
Movie  under  the  stars  with  The  Galileo
Have  a  close  encounter  at  the  Two  Oceans  Aquarium
Overberg 
Cape  Winelands
Collect memories not things this summer and be sure to tell us what you get up to! We would love to hear from you!
xxx
Alexa & Charlene