Polly Pocket - Tiny is Mighty
We live in a world where everything is for everyone. We no longer have dolls being just girls toys or cars being just boys toys. Pink is also for boys and girls are allowed to play rugby. This is seen everywhere. When I spied on my two boys at a friend's house, Polly Pocket was late for work, Hulk was tucked up in a frilly cot and the plastic unicorn was riding a dinosaur. Children, you see, like to mix toys up, break all the "rules" and play exactly how they want to. Imagination is everything!
In the exciting world of Polly Pocket, TINY IS MIGHTY reminds kids (all kids, not just girls!) to be adventurous, bold, and never let being little get in their way—just like Polly! Polly can use her inherited magic locket to go tiny and explore amazing worlds hidden in plain sight. She finds the biggest adventures in the smallest of spaces. Her big dreams come in very small packages.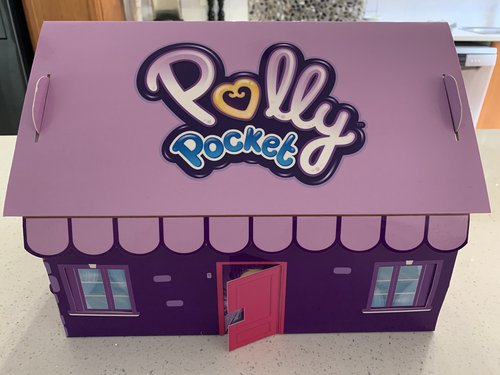 Polly Pocket teaches children how to use their imaginations
On another side there is also this craze for wooden educational toys. Truth be told, I'm not a complete fan. Let's be honest, not all educational toys that claim they are, actually are educational and other toys educate children in ways parents wouldn't necessarily want them to be educated. To me and my family, Polly Pocket is fantastic. The small pieces are well made, portable, very cute and colourful and Polly Pockets little world really gets their imaginations going. And no one can tell us that any toy that stimulates the imagination of a child is bad.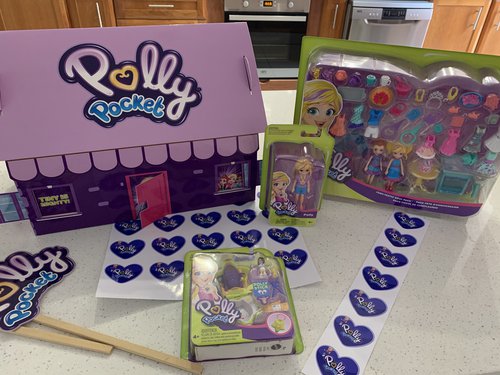 What does Polly Pocket offer?
Maybe it's the boy mom in me coming out when I see these sets and I am secretly dying to relive my childhood through my children's toys. BUT, they are fascinating. There is this one set we recently received called Fash-tastic birthday. You can bake a cake with Polly and Lila dolls because it's time for the most Fash-tastic birthday ever! The Polly Pocket Fash-tastic bday pack has everything needed for a birthday bash including a small Polly doll, Lila doll, a stove, table, balloons and interchangeable clothes. Oh, so many clothes. Bake a cake, dress up for the celebration and have a Fash-tastic birthday! Maybe this is the only way I will be celebrating for the inner girl mom in me. And if so… who cares it's fun, let the fashion and birthday celebration begin!
Polly pocket is definitely only suited for children from 4 and up as the pieces are very small and can easily get lost or swallowed. I seldom let my youngest son touch the pieces even though they are so inviting. Oh and here's a piece of advice, they make fantastic presents suited to any theme!
There are so many different Polly's to let your imagination go wild. There is truly a Polly adventure for everyone AND there is a cartoon titled Polly Pocket. I wish I was still young enough to let my imagination go crazy, to create mystical worlds and to disappear into a daydream. Who said I got these toys for my children?