Easy Easter Crafts
Do you love Easter Holiday crafts?
Spending time with your kids doing crafts, a creative way to have fun and bring out the inner artist. This is not only for the child but for the parents and adults too. These crafts are mostly for the younger kiddies and pre-schoolers. If you love to travel and explore with kids, be sure to visit our latest blog to see what's on in Cape Town this Easter as well as our Johannesburg Easter egg hunt guide.
Here are a few hints and benefits of crafts with children:
The end result is almost never like the picture on Pinterest or in a book, so don't be too disappointed if it doesn't quite work out. That's part of the fun.
Always get your hands dirty, create alongside your child and help them when they need it.
You don't have to complete a task all in one sitting. Even if it's just 5 minutes, let them get up to do something else if they want and come back to the crafting later.
Doing arts and crafts allows for quality time between parent and child
Arts and crafts help kids to express themselves and communicate their feelings better
Arts and crafts improve fine motor skills
My niece Katie came to stay with me for two days over the Easter Weekend, here is what we got up to. I wasn't really prepared to do crafting over the weekend, so we had to use anything we could find that was already in the house. Remember, most times these crafts can be done throughout the year, not only during Easter. You can make plenty of other shapes and come up with ideas other than the one's I have done. 
Rainbow Cross with Pastels
This is extremely simple and easy to do, all you will need is:
Some oil pastels
Paper and some cardboard
Scissors
A little bit of prestik
I tried to draw an image of a cross myself, but after a few tries of not getting all the sides correct, I decided to just print out a template off the internet. Much easier and quicker! Cut out the shape of the cross, which should be about the size of an A4 piece of paper.
Take your pastels and colour a thick line along the edge with various colours.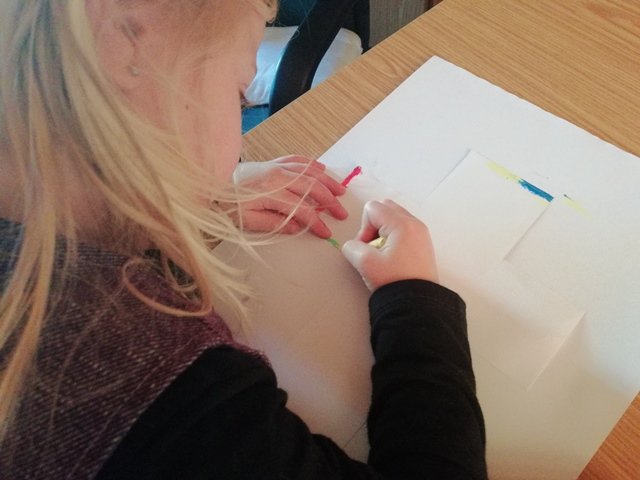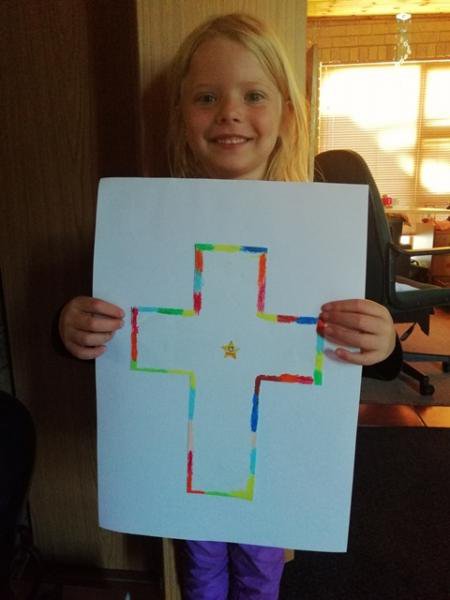 Now take your cross and place on the cardboard, the board should be larger than the piece of paper or cross. Take very small pieces of the prestik and place it on the back of the cross, stick down onto the cardboard. This is just to keep the cross in place while you are busy. Take your finger and rub the pastels off onto the board paper, do this all the way around the cross. After you have finished, you can remove the cross and there you have your rainbow cross.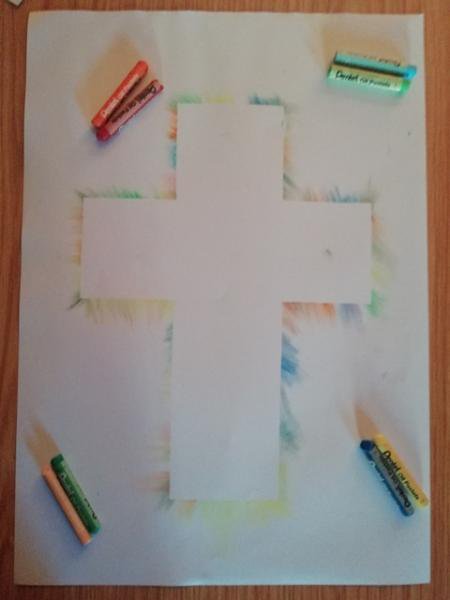 You could stop there or like us, you could add a few more decorative elements to the image to make it more your own.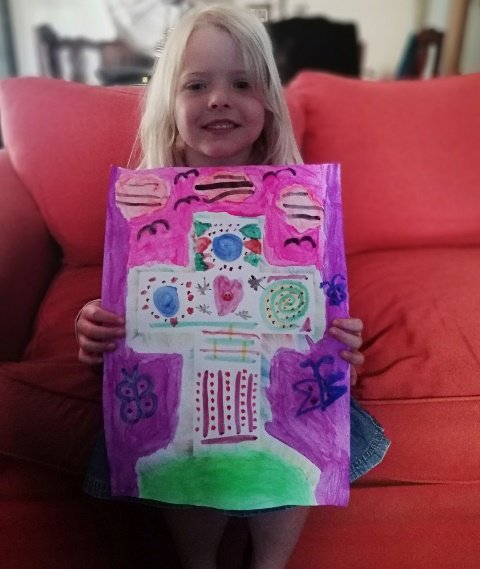 Easter Egg Fun
Don't worry, you don't have to boil an egg for this one, all you need is some cardboard or paper. Draw an egg shape onto the paper, about the size of a normal egg. Cut out the egg shape, you can make as many as you want.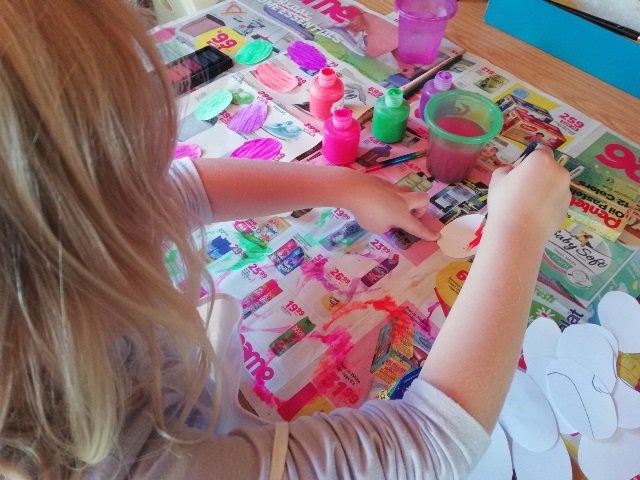 After cutting out the eggs, place them on some newspaper that has been laid out on a flat surface. You can use whatever you want to decorate with, paint, glitter, colour pencils and stickers. There is no set way to decorate the eggs, so just let your imagination run free. While we were busy, most of the time I was the one being told what to do, so I didn't have to worry about giving direction:)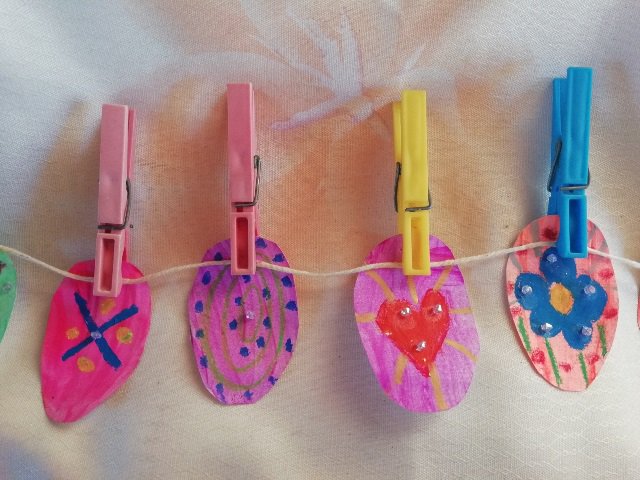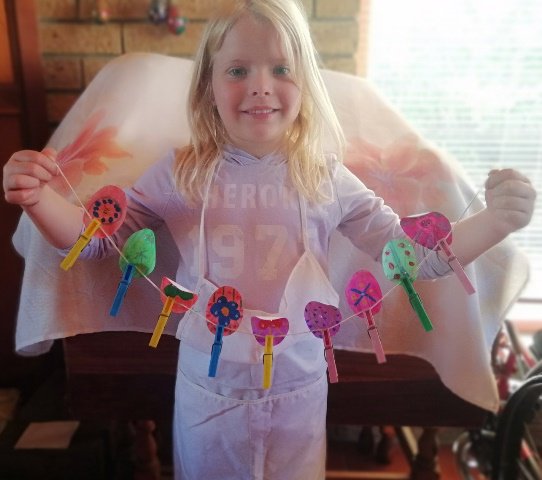 Once all the eggs are dry and fully decorated, you can use them as decorations around the house. Just peg them up along a piece of string and tie or stick with some prestik anywhere you want to display your masterpiece. Another way we used the eggs, is of course, in an Easter egg hunt. The only difference here is that Katie went to hide all the eggs, and then I had to find them.
Here are some Fun Things To Do In Johannesburg, Cape Town and Durban this Easter