4 Easter cooking ideas to do with kids
4 Easter cooking ideas for kids
Food is always a big thing in our house, especially over certain celebrations and holidays. These Easter cooking ideas to do with kids are yummy and easy to make with few ingredients and made with lots of love. Alexa and I recently wrote a blog on fun things to do with the kids this Easter for Johannesburg, Durban and Cape Town) - why not add to the fun by trying some of these easter food ideas? Be sure to visit our latest blog to see what's on in Cape Town this Easter as well as our Johannesburg Easter egg hunt guide.
1.   Easter chocolate bark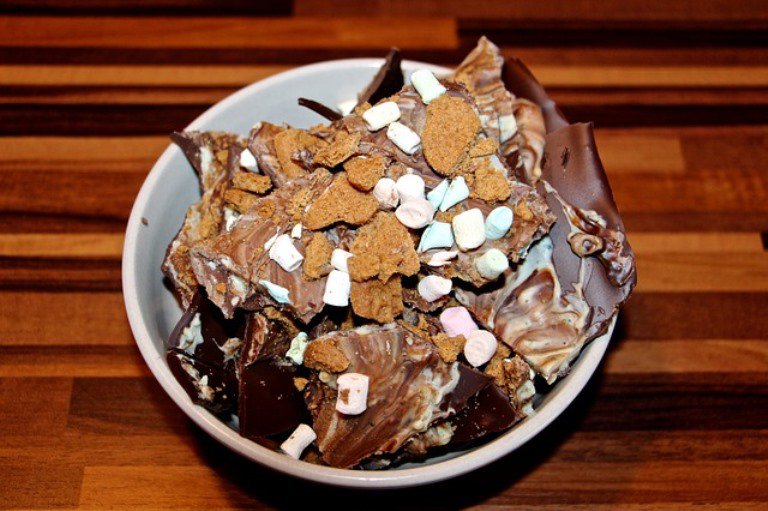 This is a really simple recipe to do with your kids and can be a great alternative to give away, rather than the traditional chocolate Easter eggs.
You will need:
2 packets of those mini chocolate eggs and/or mini marshmallows
Approximately 3 x 200g bars of chocolate
You can add other ingredients on top of the chocolate such as smarties, nuts, colourful sprinkles and anything else that takes your fancy.
Start by heating up some water in a pan and then placing a heat proof bowl on top of this, Bain Marie style. Break the chocolate up and place into the bowl. Melt the chocolate slowly.
While the chocolate is melting you can break the mini eggs up into smaller pieces. Grease a baking tray and line with greaseproof paper, the tray should be about 33cm x 23cm. Once the chocolate has melted pour onto the tray and level it out until smooth and even.
Drop the broken chocolate eggs and or mini marshmallows onto the melted chocolate and let set in the refrigerator. Take out and break up into pieces and place them into small bags to give away. A quick and easy Easter cooking idea.
2.   Bunny Munch/bait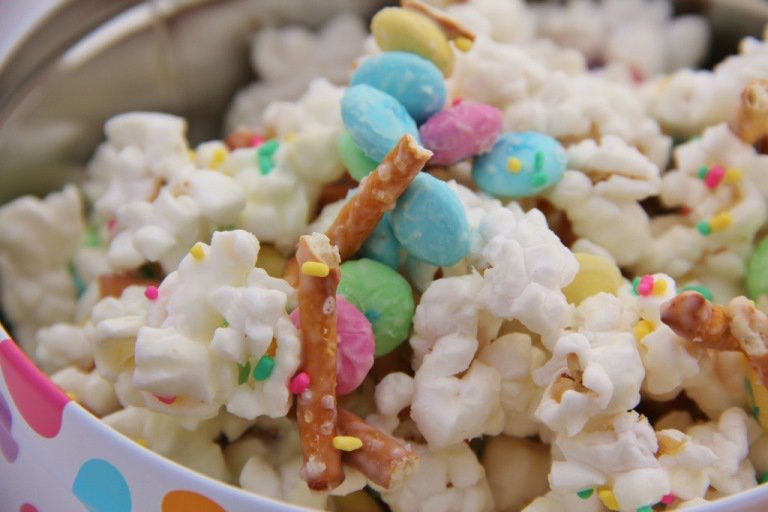 This is a really fun and easy recipe for the whole family. Here you can also go wild on what to put into the bunny munch recipe. The below recipe is just a basic example of what you can do.
You will need:
About 2 Cups of pretzels
A bag of plain popcorn
White melting chocolate
1 Cup Cheerio's cereal
Colourful sprinkles
Cover a baking sheet with some foil and spread the pretzels, popcorn, and cereal onto it. Melt the chocolate and drizzle this over the above mixture. Mix it all together so that everything is coated in the chocolate. Add the sprinkles and let set or harden. Once the mixture has hardened you can break it up and if you wish you can add extra goodies like smarties into the mixture.
3.   Rice crispy egg treat
This Easter snack requires a bit more effort, but in the end, it is worth it.
You will need:
Small plastic egg shaped container. (I found mine at 'The Crazy Store')
Approximately 6 Cups of Rice Krispies
30g of butter
4 Cups mini marshmallows
Start with melting the butter in a pan and adding the marshmallows. Stir until the marshmallows have melted. Place this mixture into a separate bowl and then add the rice krispies. Mix all of this together.
Take the mixture and stuff the egg containers until you get your egg shape. Remove and place onto a tray, after this, you can dip the 'egg' into some melted chocolate or just drizzle some melted chocolate over the finished egg treat.
Easy tutorial for you to follow for this Easter cooking idea to do with kids:
4.   Devilled egg chicks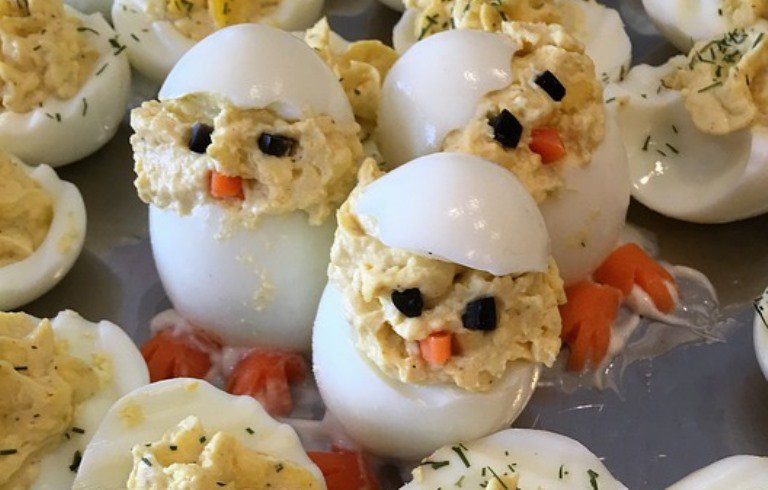 There are a lot of sweet snacks to do for Easter, so I thought maybe something savory for you and the kids might go down well. I found these devilled egg chickens and thought they were cute and looked relatively easy to do.
You will need:
6 Hard boiled and peeled eggs
About 1 Tablespoon of mayonnaise
2t of yellow mustard
Sliced round carrot pieces
Olive pieces or raisins cut into small pieces
Salt and pepper
First, cut the very end piece off the bottom so that the egg will have a flat platform to stand upon. Then slice about ⅓ of the top of the egg off, this piece might have a bit of yolk, that's okay.
Remove the rest of the yolk from the body of the egg and place into a bowl. Add the mayonnaise, mustard, salt, and pepper. Mix it all together. Stuff the empty white egg with the yolk mixture until it is full with quite a piece of mixture sticking out the top. Place the lid piece you cut off in the beginning, on top.
Now to add the defining pieces, cut the carrots into little feet as well as a small v shapes for the beak. Place the carrot feet under the finished egg and the beak on the yolk mixture sticking out. The eyes above the beak can be pieces of olive or raisin.