Dive in and have fun with Imaginext!
Mom mom! It's cage diving. I can't wait until I'm big enough! This was what I heard when my son was unboxing his new Imaginext Mega Bite Shark from Fisher Price! On his bucket list at the early age of 5, is cage diving. Much to moms horror… BUT, this is a moving toy that doesn't require batteries – every mom's dream where he can live out all of these fantasies! This playset is designed for open ended play where kids can tap into their imagination to create all sorts of action-packed stories. My son couldn't believe that he could move the shark the way he did. This shark's jaw opens and shuts as it's pushed forward and it's fin moves from side to side. The diver can ride up top or in the shark's mouth or stay safe in a shark cage. Scroll down to the end and WIN a Mega Bite Shark for your kids!!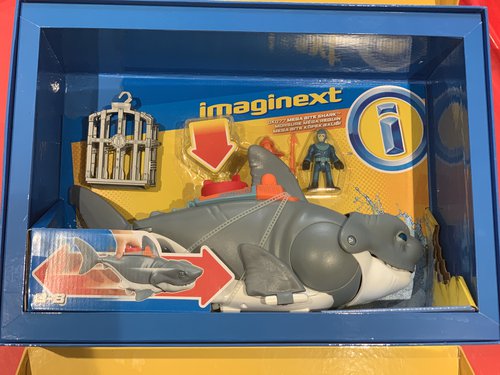 So many deep sea stories to be played out – it's very exciting. These are the special features of the Mega Bite Shark:
One of the greatest things with Imaginext is that all the characters are compatible with all the sets in the range so your kids can mix and match their characters for unlimited adventures! They're also sturdy and robust and ready to play with straight out of the box – you wouldn't expect anything less from Fisher Price.
I sound like a broken record, but I always love finding toys that take my kids away from their ipads or the PlayStation. This Imaginext Mega Shark definitely grabs the attention of my kids and probably any kid, girl or boy! Both of my boys played with this shark for hours and hours on the day we opened it. We haven't used it in the bath and pool yet but we are told it can be used anywhere! This toy is really well made. I'm so sick of paying for toys and on the same day, a wheel falls off or something tears. Our shark has been put through the wars, and he is still perfectly intact! The toy feels very strong, so that's something I appreciate….you can feel that it's a good quality toy. It's also a really nice size.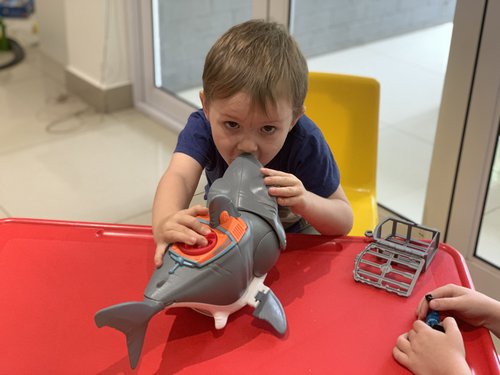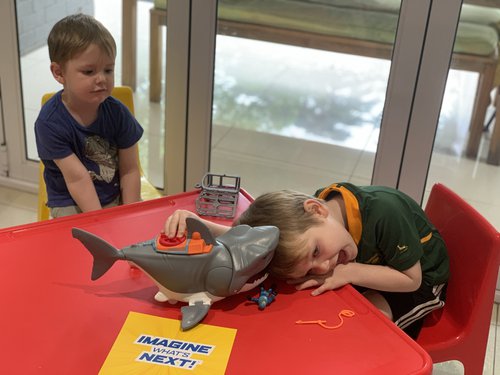 I wondered into a toy shop about a week before receiving this and my boys were absolutely taken away with this toy! It retails for R599.99. The box says it's for kids aged 3-8 but I do think slightly older kids will still enjoy creating deep sea adventures.
For it's size and durability this is a good price but it still is a lot to spend… SO… We are giving one away with our Christmas gift guide. ENTER NOW TO WIN so you won't be disappointed!