Johannesburg's Favourite Braai Spots for Winter Excursions
Braaing is a traditional South African past time (some would even call it a hobby). Although other nations across the world also have a similar outdoor activity, nothing really compares to a good old South African Braai - the men conglomerating around the fire, talking about sports and cars, the woman sitting under the shade of an umbrella chatting about the latest gossip and sharing in their daily drama's, while the kids play in the garden. The true beauty about a South African braai however is that because of our fairly mild climate, we braai throughout the year. That's right, not even a cold winter's day dampens our braai spirits.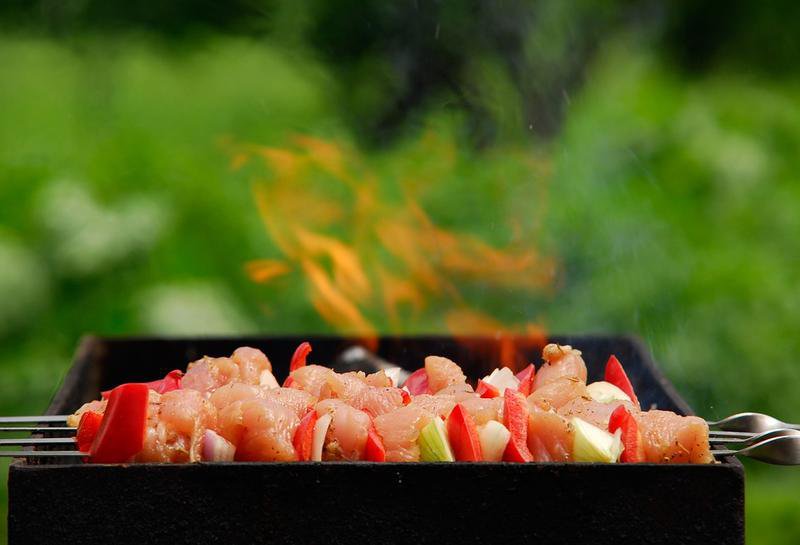 Although I am a huge fan of large gatherings involving a braai, I do loathe the cleaning up after. So my favourite type of braai is a braai which is not held in our home. If, like me, you love a good braai somewhere else, here is a list of public places with braai facilities:
Living in the city, we often have the urge for a family getaway into nature. If you live near Sandton, you can have this type of day outing without having to embark on a long drive with impatient kids on the back seat. Innesfree Park is situated in the heart of Sandton and offers braai areas (do pack your own portable braai) and loads of open space ideal for a picnic.
        
Cost: Free
Address: Katherine St & Grayston dr, Sandton, Johannesburg, 2148
The ever popular Zoo Lake is home to braai facilities and large open spaces, ideal for a family picnic or braai with friends . Outdoor activities include rowing on the lake, jogging or walking the dogs. This pet friendly park is also a popular venue for music events.
Cost: Free
Address: Corner Jan Smuts Avenue and West World Street, Johannesburg
My personal favourite is definitely the Botanical Gardens in Emmerentia. The gardens are well kept, beautiful and peaceful. There is also a lot of space for the kids to run around or partake in a game of cricket and the park is popular amongst dog walkers, joggers,rowers, wedding photographers and nature-lovers alike. A perfect spot for a braai and picnic or a brisk family walk on one of the many walking trails.
Cost: Free
Address: Olifants Road, Johannesburg, 2194
If you are fond of birding while braaing, take the family on a trip to Gillooly's farm, as the lake is home to an amazing amount of bird life. Pack in a soccer ball and warm up with a game of soccer on the large grass area before indulging in a cold beer while watching the birds.
Cost: Free            
Address: 47 Boeing W Rd, Johannesburg
This peaceful reprieve from city life houses the remains of the an ancient iron smelting area and is the perfect spot for an all-round family excursion, encompassing a lesson in history, a family hike, dog walking and of course a braai or picnic. Everyone will appreciate the beauty of the natural bushveld surroundings.
Cost: FREE
Address: First Avenue, Northgat
Rietvlei Lifestyle Centre has a fun variety of outdoor activities available for the whole family: walking and bicycle trails, an animal touch farm, putt-putt, a steam train, a tractor for rides and wide open spaces, large trees and gardens ideal for a braai.
 
Cost:
Adults: R 30.00
Children under 12: R 20.00
Children under 2: FREE  
Pensioners: R 10.00        
Parking: R 40.00 per car
Address: 101 Swartkoppies Rd, Johannesburg South - R554

The Lion Park is a firm favourite amongst Jo-burgers and tourists alike, offering lion cub interactions, a giraffe and a multitude of other animals, game drives, self-drives as well as braai facilities. All in all, an ideal family excursion - who would not want to spend time cuddling little lion cubs?
Cost:
Self-Drive Adults (including lion cub interaction) - R 225.00
Self-Drive Adults (excluding lion cub interaction) - R 175.00
Self-Drive Children (4-12 years - including lion cub interaction) - R 150.00
Self-Drive Children (4-12 years - including lion cub interaction) - R 100.00
Children under 4 - FREE
Address: Malibongwe Drive & R114 Road, Lanseria, Johannesburg, 2140
This trout farm, situated 10km from Montecasino and offering 13 stock dams, is an ideal venue for an entertaining and enjoyable family outing. Here you will find ample fishing opportunities, swimming pools (for summer), a playpark for kids as well as well-kept braai and picnic facilities.
Cost:
Adults: R 65.00
Children: R 50.00
Children under 3: FREE
I love a family excursion to the bush every now and again and the Rhino and Lion Nature Reserve is the perfect place to go. Here you can expect game drives, braai areas, an outdoor playpark for the kids, a reptile park, a snake pit and a pygmy hippo enclosure. Should you be in the mood for a getaway weekend, instead of a day outing, this reserve offers accommodation as well as a child friendly restaurant.
While at the Rhino & Lion Nature Reserve, be sure to visit the Wondercave for an underground adventure with the kids.
Cost:
Rhino & Lion Nature Reserve
Adults: R 160.00
Children: R 120.00
Pensioners: R 130.00
Wondercave Cost:
Adults: R 100.00
Children: R 80.00
Pensioners: R 90.00
Address:  520 Kromdraai Rd. (D540), Kromdraai, Krugersdorp, 1739
This picturesque and well maintained trout farm is situated next to the Blaaubank Spruit river, offering a tranquil family outing with braai facilities (including tables and chairs), picnic areas and self catering accommodation options. This property further houses five trout stock dams for those of you who enjoy fishing

Cost:
Adults: R70.00
Children under 12: R50.00
Rod hire: R40
Trout per kg: R95     
Address: R374, Kromdraai, Krugersdorp, 1747
If you love the peace and quiet of the mountains, be sure to visit Mountain Sanctuary Park - a natural sanctuary of tranquility, offering hiking trails, picnic and braai facilities. An ideal outing for any outdoor enthusiast.

Cost for Day Visitors:
Adults: R 100.00
Children under 12: R 35.00
Vehicle Entrance: R 35.00
Address: Click here for a map and directions
Now we know that braai's can be a perfect winter activity why not discover other things to do in Johannesburg in winter too. We would love to hear more from you on your favourite activities!