Family-Friendly Things to do in Elgin, Western Cape
Things to do with Kids in Elgin, Western Cape
The Elgin Valley, where the scenery is breathtaking and where vineyards and fruit flourish, is just an hour's drive from Cape Town and the Cape Winelands.  The Elgin area is located in the Overberg region and is a fantastic place to take the family for a much-needed break, away from the hustle and bustle of city living. 
The trip to Elgin Valley is thankfully not that far if you have over-excited children with you.  Just 70km's from Cape Town and even less if you travel from Cape Town International Airport. You will be treated to a scenic ride via Somerset West and Gordons Bay area up Sir Lowry's Pass with fabulous views across the bay.  Elgin lies just beyond the Hottentots Holland Mountains and is in easy reach of the Whale Route. Elgin and Grabouw area is a great place to start if you are looking for fun things to do on the Cape Whale Coast.  
Elgin is known for its outdoor pursuits including amazing hiking and biking trails, as well as kloofing, fishing, canopy tours and games and wildlife reserves.  It has a selection of farm stalls and restaurants as well as wine estates and breweries.  It is well known as the place in South Africa where apples come from – Elgin produces 60% of the national apple crop, with over 40 percent of its apple production being exported.  Elgin also has the world's first biodiversity wine route - the Green Mountain Eco Route - which includes Grabouw, Bot River, Houw Hoek and Villiersdorp.  Elgin is famous for its cool-climate wines, and its family-friendly wine estates offer an array of choices for families visiting the route.
Family-Friendly Activities in Elgin
Elgin offers a vast selection of activities to get involved with as a family – we have highlighted below options for those who enjoy being active to those who enjoy a lazy picnic on a wine estate.  From apple museums to ziplining, from mountain biking to putt-putt and child-friendly wine farms, Elgin has it all!   
Play Putt-Putt at Houw Hoek Hotel
The child-friendly Houw Hoek Hotel offers a wide range of activities to make any child and parent's dream come true. There is so much to keep the children occupied and entertained all day long. Outdoor activities include Putt-putt, Jungle Gyms, Volleyball, 2 Swimming Pools, Jumping Castles (seasonal), Water Slides (seasonal), and a trampoline. 
They are members of Things to do With Kids and you can learn more about their fantastic offers here: https://bit.ly/2vGaY3z
Phone:  028 284 9646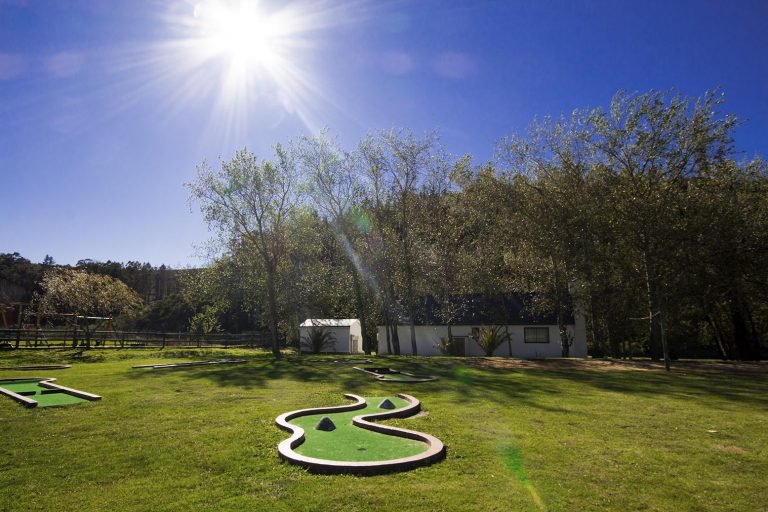 Choose an MTB Trail
There are a wealth of mountain bike trails to chose from in Elgin.  Ride the shorter family-friendly trails or practice on the skills track at Trails End Hotel, Paul Cluver Wines and Oak Valley Wines. 
Paul Cluver Wines and Oak Valley Wines offer various routes – from family-friendly Green and intermediate Blue to advanced Red or extreme Black for the adults.
Paul Cluver & Oak Valley Trails
Day permit rate - Adults R 50 
Day permit rate - Kids R 30 
Combine Trails for Paul Cluver and Oak Valley
Day permit rate R 70 
Day permit rate - Kids R 40
Contact: mtb@oak-valley.co.za
Experience a Cape Canopy Tour
Situated in the Hottentots Holland Nature Reserve, Cape Canopy Tours have partnered with CapeNature to take you into a previously inaccessible and pristine part of this amazing World Heritage Site. They offer a fully guided adventure activity for nature enthusiasts of ages 5 to 75. Slide along steel cables from platform to platform, taking you past waterfalls and through valleys, enjoying all that mother nature has to offer. With 13 platforms and slides up to 320m long, both nature and adventure enthusiasts will be sure to come back for more! 
Book online with the code: TTDWKIDSWEB and get R100 off.
Phone: +27 21 3000 501
Email: zipline@capecanopytour.co.za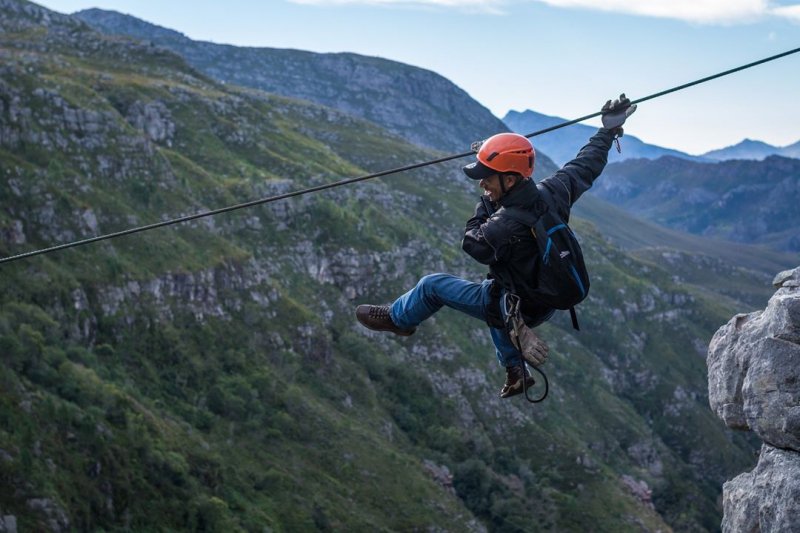 Have an Animal Encounter
Cornell Skop near Botrivier provides a rehabilitative home for many animals rescued from hunting farms and the wild.  
You will encounter lions, cheetah, zebra and many more animals on a choice of tours. They also house farm animals and the kids can pet and learn all about them. They also have 3 cottages where you can stay and get close and personal with the animals. 
Tel: 079 065 0217
www.cornellskop.co.za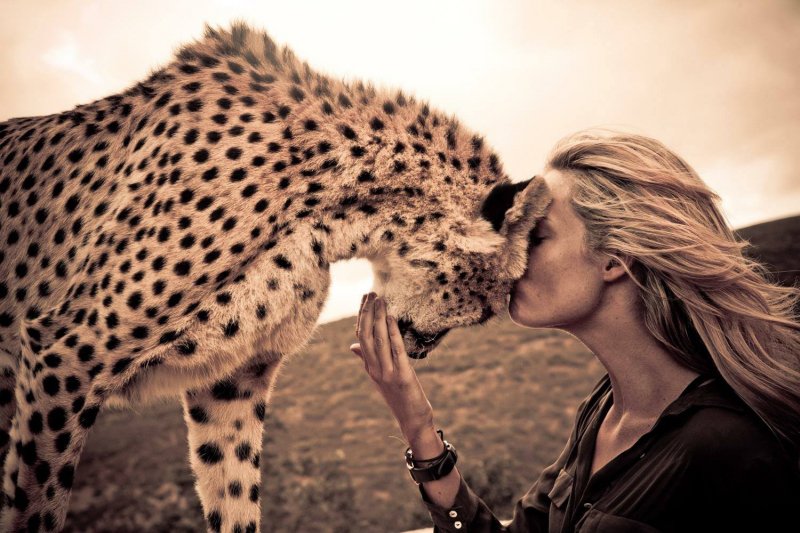 Horse Riding at Wildekrans Wine Estate
Enjoy horse riding on the beautiful and expansive estate. Families visit and experience a peaceful get-away whilst enjoying the wide-open spaces, walks, mountain biking, horse riding and swimming facilities available on the Estate. Rides are for all ages and are a guided tour of the estate. They ask visitors to book in advance.
Tel: 028 284 9902
www.wildekrans.com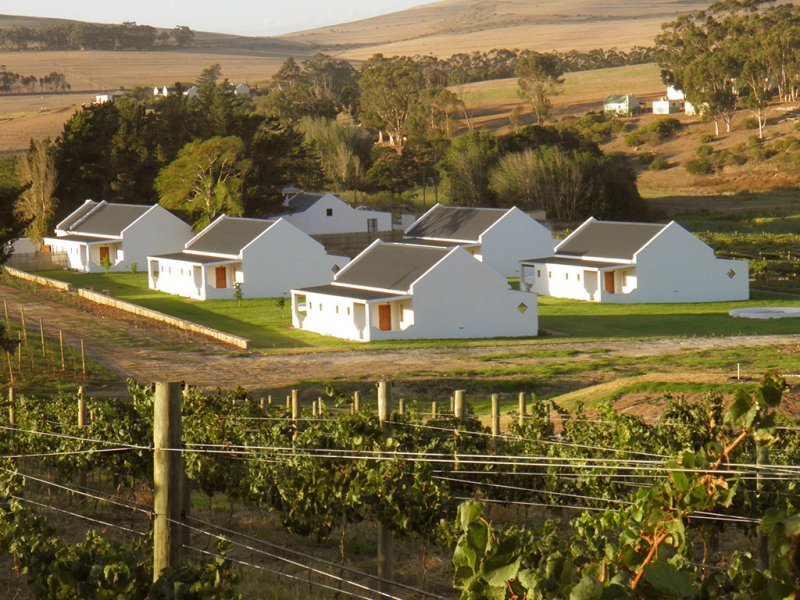 Pick Fruit and Vegetables at Terra Madre Farm
Guests are welcome to visit the farm to pick your own fruit and vegetables.  They have a good selection of vegetables which are organically grown and harvested fresh each day. The farm deli is open Monday – Friday 8h00 – 16h00, where tasters of products and juices will be available.
Tel: 021 848 9626
Email: orders@terramadre.co.za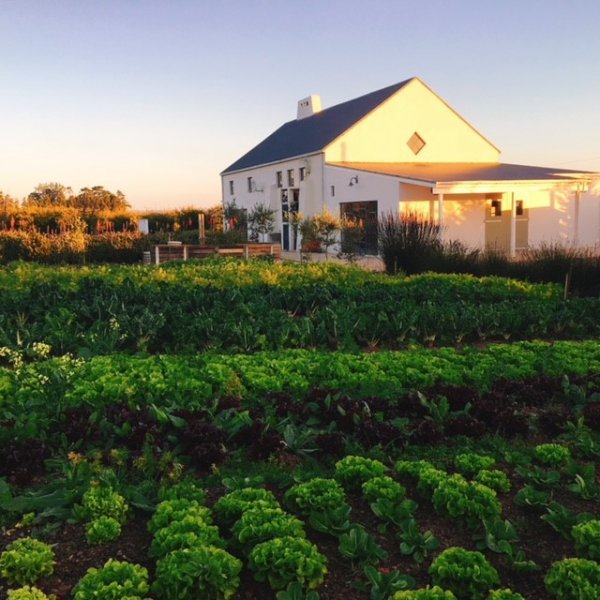 Quad Biking in Grabouw
SA Forest Adventures offer a selection of quad experiences ranging in tours from beginner tours of 2 hours to all day trails for the more experienced rider.  These tours are recommended for older kids and parents or Guardians must sign for those under 18. The tours will take you into the Hottentots Holland mountains allowing you to take spectacular photographs of the breath-taking views.
Tel: 079 495 3987
Email: bookings@saforestadventures.co.za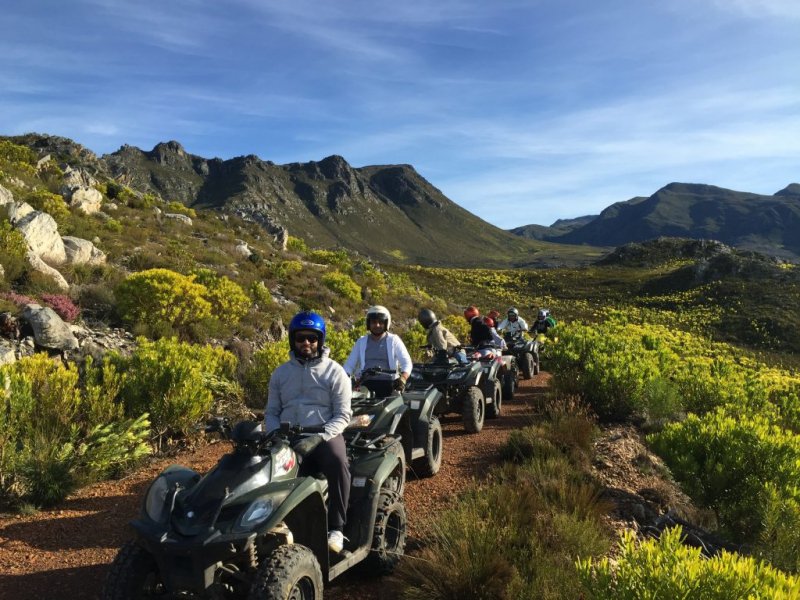 Visit a Nature Reserve
Kogelberg Nature Reserve is considered to be one of the most beautiful of CapeNature's protected areas. It offers exceptional diversity and quality of fynbos and visitors will be treated to beautiful unspoilt views of the Hottentots Holland mountain range.  Its high mountain peaks, steep kloofs, valleys and several tributaries of the pristine Palmiet River create a sense of remote wilderness.  The maintenance of this natural area is a shared responsibility of reserve management and users. CapeNature requests that visitors please 'tread lightly' and 'leave-no-trace'.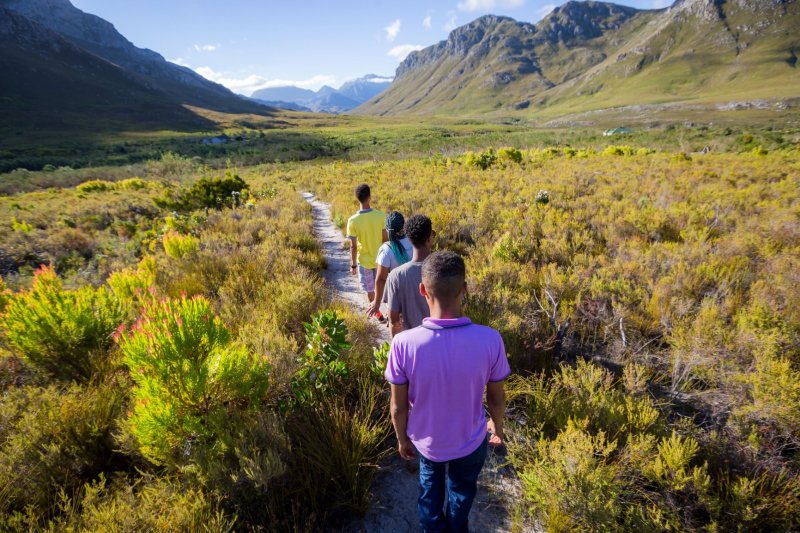 Visit the Elgin Railway Market
The Elgin Railway Market is a steampunk station market housed in a converted old apple warehouse boasting local food and craft vendors and live music. The market has live music throughout the weekend and is in the process of constructing a children's play space with climbing walls, ziplines and an area to hire for parties. Jungle gyms and roundabouts are currently keeping the little ones happy.
The Elgin Railway Market is open Fridays 4PM - 8PM, Saturdays 9AM – 8PM, Sundays 9AM – 5PM and the workspace is open during the week 9AM – 5PM. Free parking is available.
Tel: +27 (0)21 204 1158
Email: info@elginrailwaymarket.co.za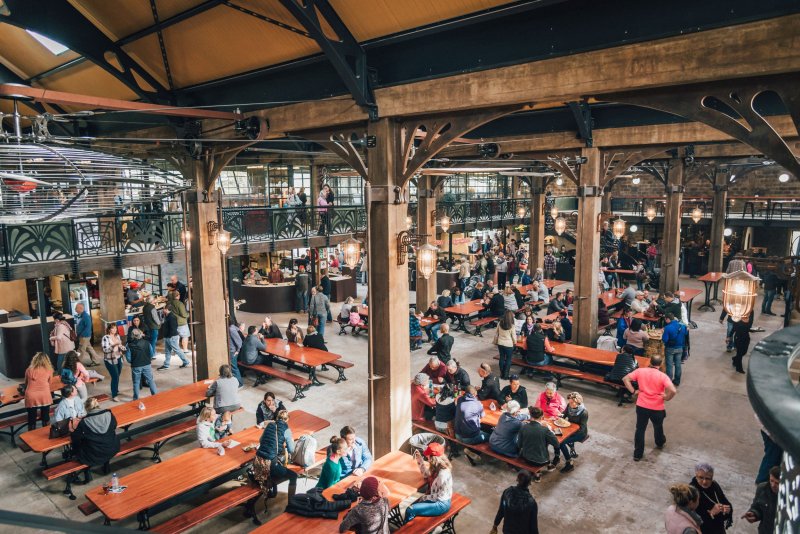 Photo credit Heinrich Knoetze
Take a Steam Train to Elgin
On weekends as per advertised dates, Ceres Rail Company offers a day trip to the Elgin Railway Market.
Departing from the Royal Cape Yacht Club in Cape Town, this 3-hour train journey will take you to the market where you can spend 3.5 hours – enjoying the stalls, music and food and drink there.
The train will then depart from Elgin at 14:30 for the 3-hour journey back to Cape Town. You can also read more about Tanya's steam train trip to Ceres on our blog. 
Book your train trip to the market here: http://bit.ly/CeresRail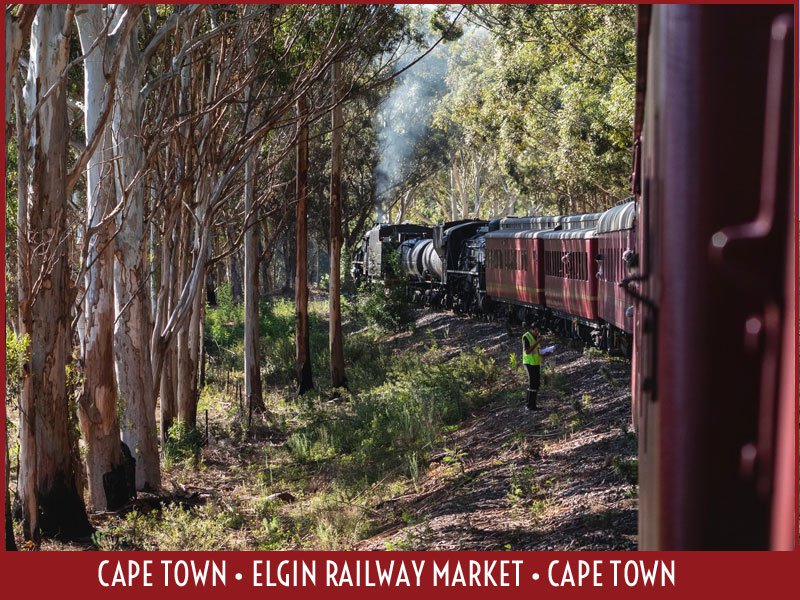 Elgin Apple Museum
One of only two apple museums in the world, the Elgin Apple Museum is situated on the banks of the Palmiet River and housed in an old Shoemaker's cottage dating back many years. The purpose of this interesting museum is to reflect on the history of the apple industry. The museum is also home to a range of other interesting historical items.
Monday to Saturday from 09h30 to 18h00
Tel:  +27 (0)21 859-2042
Visit a Child-Friendly Wine Estate near Elgin with an Outdoor Play Area:
Almenkerk Wine Estate
Almenkerk wine estate offers wine tastings and cellar tours for the adults (book in advance), they offer both relaxed and more technical tastings, depending on your preference.  They are happy for families to bring your own picnic as long as you buy some of their wine to enjoy it with. They offer a fun game of boule on their purpose-built court, and they also have a jungle gym to keep younger children amused.
Tel:  (+27) 21 848 9844
Email: info@almenkerk.co.za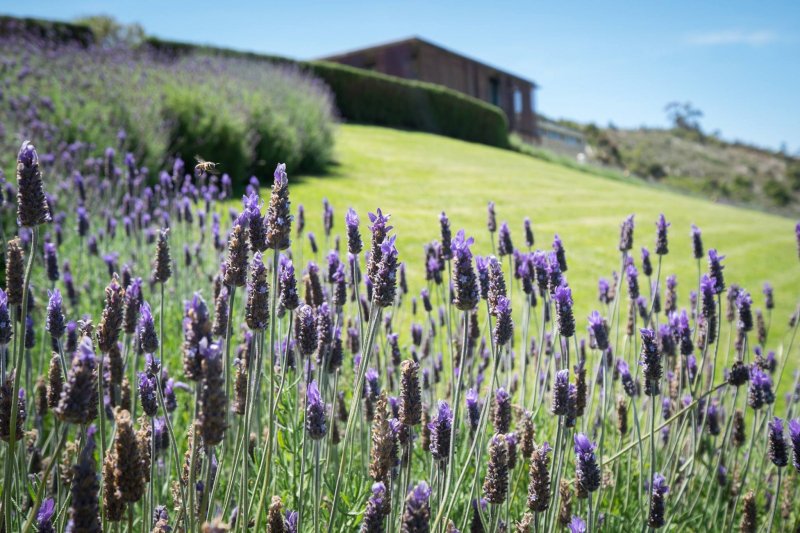 Charles Fox
The Charles Fox, Cap Classique Wine Estate is a family run business that produces some amazing wines. You can take an interesting tour of the cellars and then enjoy a very informative tasting, either inside or on the balcony where you will have stunning views of the Elgin Valley.
The Estate is also family-friendly, the kids' can play on the lawn and swing set, while you sit and savour your wine.
Tel: +27 82 569 2965
Email: sales@charlesfox.co.za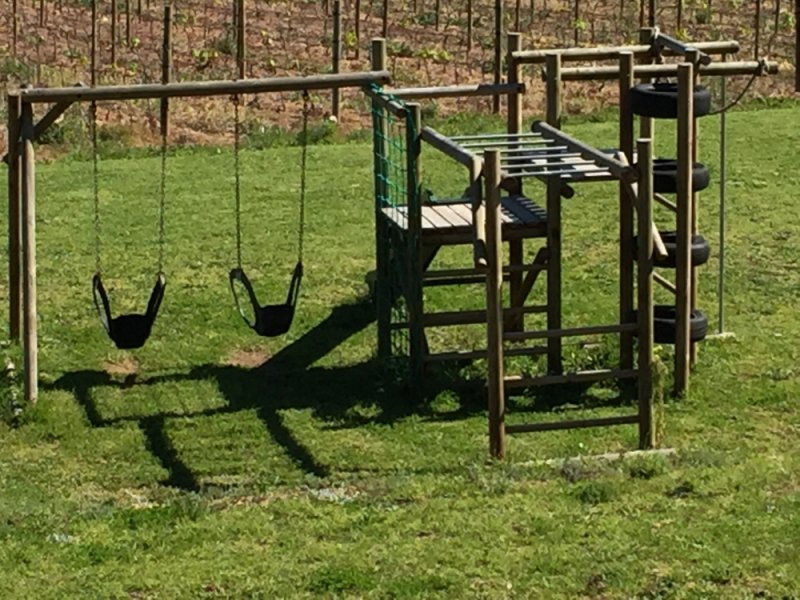 Iona Wines
Iona is surrounded by the Kogelberg Nature Reserve and overlooks the Atlantic Ocean in the South. They are not a large commercial business, however, families are welcome and the kids have the freedom to roam the garden and play on the swing whilst you enjoy their tasting room. 
Tel: +27 (0)28 284 9678
Email: orders@iona.co.za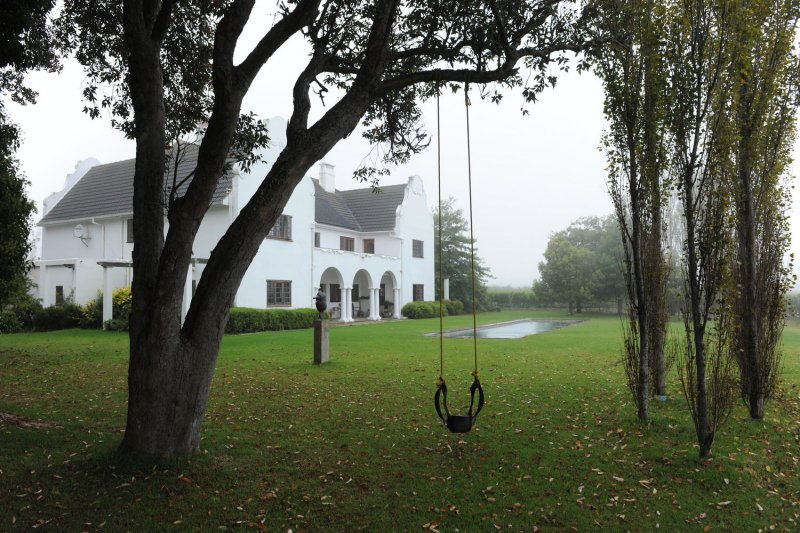 Family-friendly Accommodation Options near Elgin and Grabouw
The Houw Hoek Hotel
The Houw Hoek Hotel is a child-friendly retreat, which is located in the Kogelberg Nature Reserve. The Inn is only 80km from Cape Town and is a wonderful choice for wedding functions. There are also superb conferencing facilities available. The facilities on offer include two swimming pools, a gaming room and a variety of other exciting activities. Up to 2 Children (under 12 years) Sharing: Free (check their website for terms).
Tel: 028 284 9646
Email: reservations@houwhoekhotel.com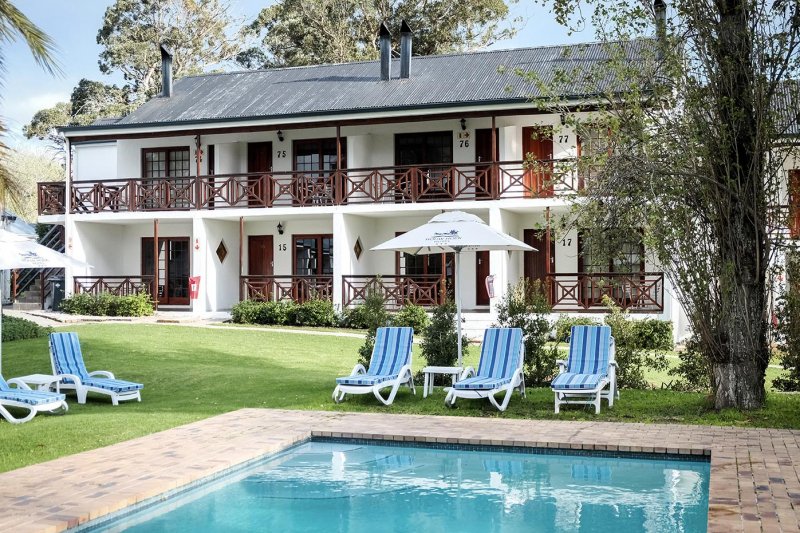 Cherry Glamping
Cherry Glamping offers guests spacious tented accommodation in the beautiful Elgin valley.
Located on Groenrug Estate, they offer 12 luxury tents each sleeping two adults and two children. Each tent is spacious, fully furnished and made up with comfortable beds. To relax, there is a lapa and braai area where you can sit and enjoy magnificent views of the valley.
Tel: 082 788 9837
Email: info@cherryglamping.co.za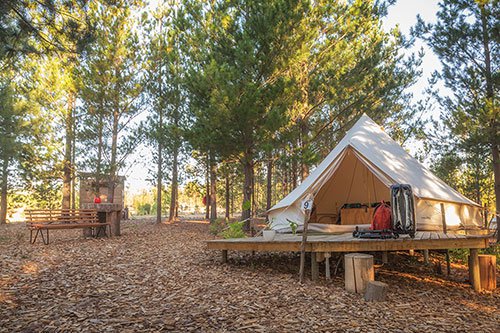 Old Mac Daddy
This resort is part caravan park, part designer farm lodge – this little hotel is certain to please if you are looking for a wholesome spot to unwind. Set on the slopes in a beautiful corner of the Elgin Valley amongst the apple orchards, Old Mac Daddy offers themed bedrooms and uber-contemporary living spaces as well as comfortable glamping style tented options and 2 self-catering units for larger extended families or groups of friends. Mac Daddy offers open spaces, mountain paths, a lakeside beach and plenty of outdoor activities for the whole family.
Tel: +27 (21) 844 0241
Email: reservations@oldmacdaddy.co.za
More Information: Old mac Daddy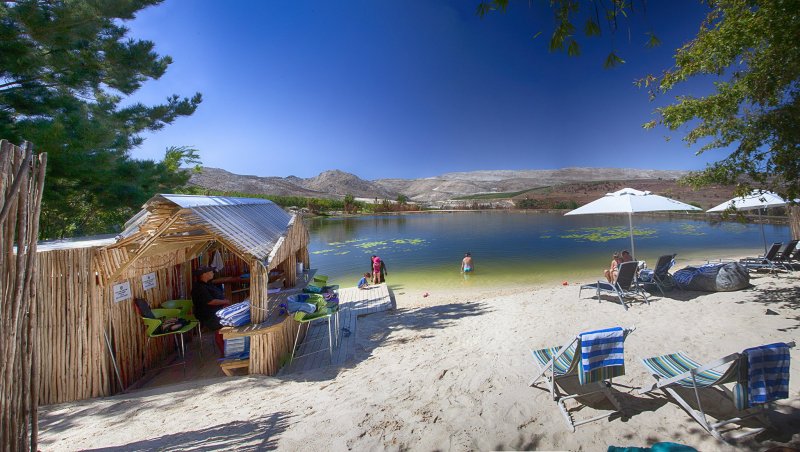 Trails End Bike Hotel
Why not book yourself into Africa's first Mountain Biking Hotel? This hotel is the perfect base to relax and have fun exploring the delights of the Overberg with family and friends. Trail's End is a family-friendly hotel and they aim to make everyone active and have fun. Kids can use the pool and mini pump track as well as a climbing wall! They also have a slack line, table tennis and kiddies' games and books to keep them amused.
Tel:  +27 21 859 5193 
Email:  info@trailsend.bike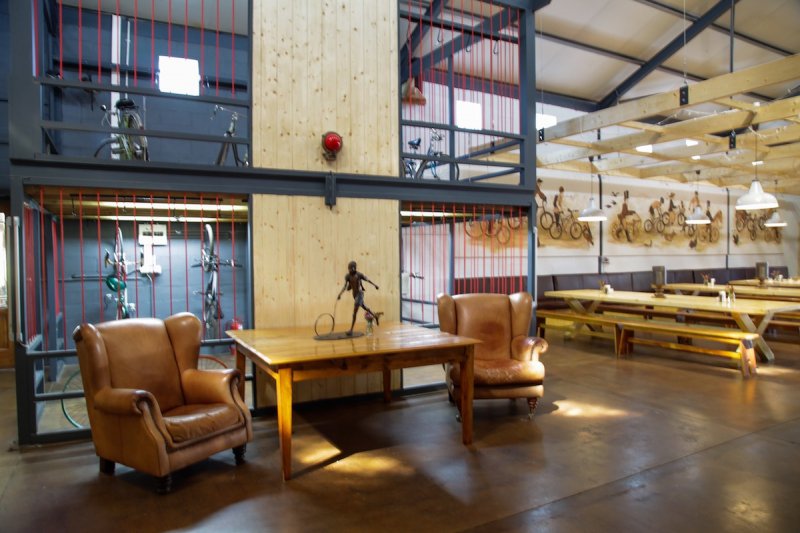 Elgin River Lodge
Elgin River Lodge offers a relaxing experience for all of the family.  Their wooden chalets are raised tree houses overlooking the sweeping mountain and river views. They also offer tented options too.
Elgin River Lodge is an operating apple farm with orchards and tractors so it's busy as well as being somewhere peaceful. Their self-catering villa sleeps four families in three bedrooms, a pajama lounge loft and a wood cabin garden cottage. Elgin River Lodge offers an outdoor adventure paradise, especially if you love water sports, and it also has a restaurant and licenced bar. 
Tel: +27 21 846 8345
Email: info@elginriverlodge.co.za