Attention Durban families! Acrobranch is in Pietermaritzburg!
Super busy kids and adrenaline junkies can now "Tarzan Swing" through trees and manoeuvre their way through aerial obstacles in the same trees, at the new Pietermaritzburg Acrobranch Adventure Park. Good fun and great for fitness. Nestled within the picturesque grounds of the SANBI Botanical gardens, children and adults alike can enjoy a unique adventure as they "Trapeze" from tree to tree in the lush, green forest.
The first of its kind in KZN; Acrobranch Adventure Park is an outdoor activity on which participants move from one tree to the next, through challenging obstacle courses like cargo nets, crossing extension bridges, crawling through barrels and even suspended wooden benches whilst safely harnessed and continuously connected to a steel, safety line with state of the art safety equipment. It is a great way to test one's balance, strength and focus and also to conquer possible fear of heights.
There are different courses for all different fitness and ability levels, age groups and heights. Whether you are looking for a family outing or an adrenaline rush, Acrobranch is the natural place for adventure. Safety is their main priority and you will be given expert safety briefings and practical training before you embark on your adventure.
Acrobranch' obstacle courses offer the perfect entertainment that keeps the kids going for hours on end. The Acrobranch activities are great for personal growth and development as it challenges a child's motor skills and develops balance and strength as well as self-confidence.
The Acro-twigs/Yellow course (suitable for ages 3 to 6 years) works up to 1.7m above the ground. Kids can celebrate their birthday parties at Acrobranch Pietermaritzburg by challenging their friends to an entertaining experience, while the parents can relax under the trees and take photos of their little ones' adventure.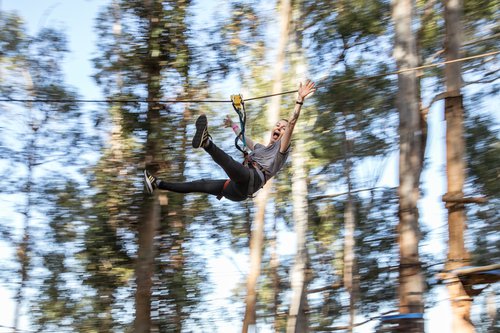 Their adult courses are structured in a way that kids may also participate in these courses (terms and conditions apply with regards to age and height restrictions). Their Beginners Course, the "Monkey Moves"/ Green Course, gradually increases up to 5m high above the ground. The "Tarzan Swing"/Blue Course is slightly more challenging and higher and boast (not an idle one at all 😊) with an actual Tarzan Rope which you will swing with from a platform, into a suspended cargo net.
From here (and this is not for the faint hearted), you can opt - if you dare – to upgrade to the advance "High Flying" course which reaches up to 16 metres high, into the beautiful, Hero Gum Trees, with the most challenging obstacles. It's the perfect outdoor activity for school outings, birthdays, team building events and many more.
Contact Details:
086 999 0369
Opening Times:
September – April 9am – 6pm (Wednesday to Sunday, School Holidays and Public Holidays) Last slot @4pm, Closing @ 6pm
May – August 9am – 5pm (Wednesday to Sunday, School Holidays and Public Holidays) Last slot @ 3pm, Closing @5pm
GPS: 30.34734, -29.60690
Address:
2 Zwartkop Road, Prestbury, Pietermaritzburg, 3201 Pietermaritzburg Acrobranch Adventure Park