Wine farms you need to visit in the Southern Suburbs, Constantia and Surrounds
The Western Cape is highly regarded for its stunning wine farms and vineyards. From marvelous wine and cheese pairings to getting your feet dirty stomping grapes, there's always something on offer for everyone. The Constantia wine valley is one of the most spectacular places in the world, offering a unique blend of new boutique wines and centuries-old established household names. We've put together a list of some of our favourite child-friendly wine farms in the Southern Suburbs that you must visit.
There are 10 winefarms on the Constantia wine route, stretching from the top of Constantia Nek to the Steenberg mountains near Tokai. Although Klein Constantia and Groot Constantia actually share an entrance they each offer an unique experience. The ten Constantia winefarms are:
Beau Constantia
Buitenverwachting
Constantia Glen
Constantia Uitsig
Constantia Royalle
Eagles' Nest
Groot Constantia
Klein Constantia
Silvermist
Steenberg
Below are our favourite wine estates in the greater Southern Suburbs area and Atlantic Seaboard at the moment, we will update it regularly to ensure content stays fresh.
Buitenverwachting
This beautiful farm on the east-facing slopes of the magnificent Constantiaberg originally formed part of the Constantia Estate. Buitenverwachting offers child-friendly picnics which are served in traditional picnic baskets under the majestic oak trees. Tables and chairs are provided with blankets for children. Price: R150.00 per adult and R50.00 for children under 10.
Find out more about the Buitenverwachting picnics
Groot Constantia
Groot Constantia, dates back to 1685, making it one of the oldest wine farms in South Africa. It is one of the perfect places for kids as it offers so much more than just picnicking. The farm is rich in history with stunning carriages on display in the Coach House and in the historical wine cellar while the Wine Museum exhibits wine storage and drinking vessels from antiquity to the early 20th century. Grab lunch and a glass of Groot Constantia's famous wine 'Grand Constance' at Simon's or Jonkershuis Restaurants where children can safely play reminiscent of a bygone era. This venue is not pet-friendly.
Find out more about Groot Constantia
Steenberg
Did you know that Steenberg Vineyards is the Cape's first farm, established in 1682, and has come a very long way since then. Although it is located just 20 minutes from the busy city, Steenberg makes its visitors feel as if they were in a little piece of tranquil heaven. The farm has an amazing child-friendly restaurant, Bistro 1682. Parents can enjoy a superb fine dining meal and watch their kids enjoy the amazing outdoor lawn and surroundings. This venue is not pet friendly.
Cape Point Vineyards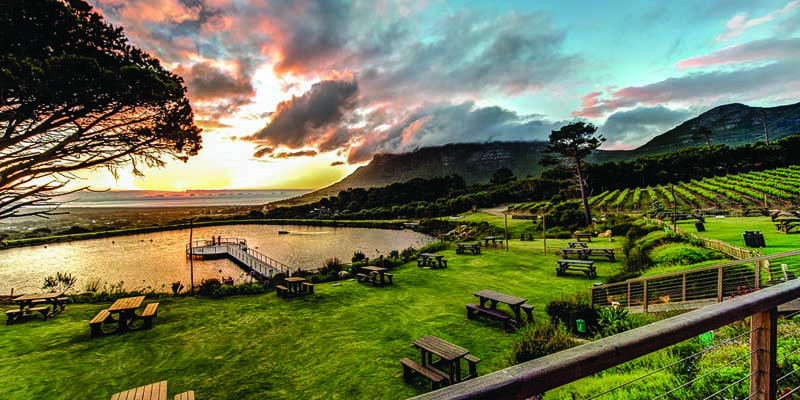 Cape Point Vineyards is an award winning winery located in Noordhoek. It is not every day that you get to enjoy a peaceful escape to a vineyard which also offers its visitors unique views of a glorious sunset over the Atlantic Ocean. Your kids will love the mountains, vineyards and fynbos whilst enjoying a family friendly picnic. We suggest taking along some board games, a picnic blanket, and a ball to keep your kids entertained.