Thomas & Friends - The Monkey Palace Review
As parents, we have to try and teach our beautiful little children many life lessons. Sometimes this can be particularly difficult as we all know that parents are the last people they listen to! I know… my two seem to listen to everyone but me. And that's where Thomas rolls on in. Thomas & Friends go on adventures and learn many life lessons as they do. Who wouldn't want to listen to a bright blue train and his friends, teaching life lessons while still having fun? Thomas holds a very special place in my family's lives as when he comes on "the big TV" we all dance around and sing the theme song... "they're two, they're four, they're six, they're eight...". So, when Mattel and Fisher Price sent us this box of Thomas treats, we were very excited to open it up.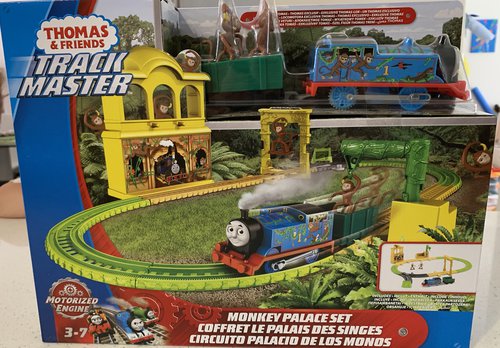 This particular TrackMaster, Monkey Palace, is based on an episode in India, Thomas is on his way to deliver a truckload of coconuts, Thomas instantly gets distracted from his job the second he sees the sign for the Palace of Monkeys. Ignoring Rajiv's warning to stay clear, he visits it at night and a cheeky monkey gets trapped in the truck. When it tries to attract Thomas's attention, Thomas crashes and spills all the coconuts. Thomas's lesson here is that it's important to pay attention to what others are trying to tell you.
The benefits of play with Thomas & Friends
The Fisher-Price Thomas & Friends TrackMaster, Monkey Palace Set was ripped open by both my boys. It's easy to open and easy to assemble. Perfect for their size. It offers exciting, fun-filled play that can encourage physical and cognitive development. The sights, colours and textures provide an array of visual and tactile stimulation. Thomas is a bright blue; his wagon is green, and the track is a bright yellow.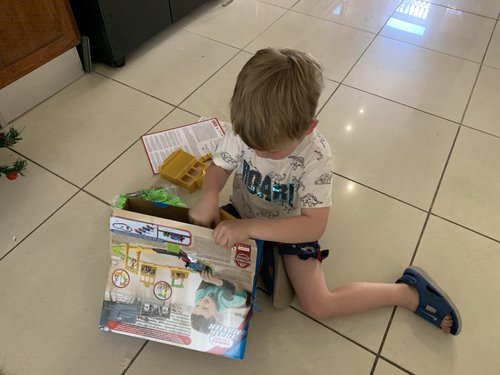 As they hold the train and monkeys and connect the track pieces their fine motor skills are being promoted. A fun part of this set is watching the monkey grab onto the tree limb and swing back around, this fosters their thinking skills and curiosity about cause and effect. Plus, as children join Thomas on his adventure, it can help inspire imaginations and encourage positive emotional connections. Right? Who would have thought that a toy train could do all of this? But it does.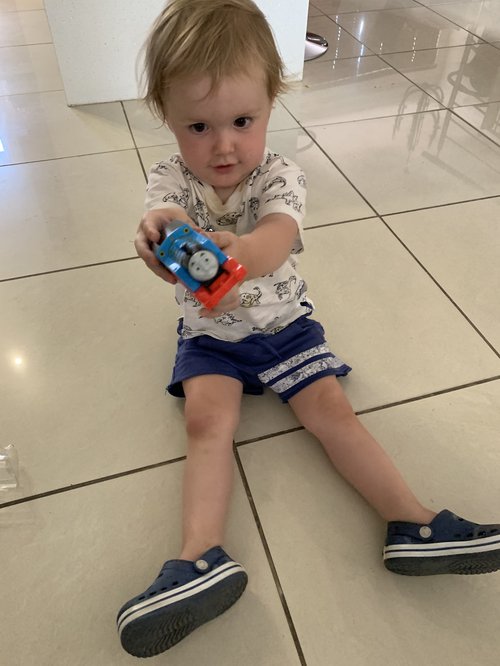 The Thomas train is motorized making it fun to watch as they don't have to push it around themselves all the time. The little on off lever is perfect for ages 3 – 7 and there is a very small track direction changer which they can also easily navigate. My oldest (4) has no problem understanding the mechanics and my youngest son (2) manages with a little bit of practise and when I watch this, I can't help but think that he is developing his fine motor skills trying and retrying.
While we have always enjoyed Thomas & his friends, these sets are really perfect for anyone with kids this age.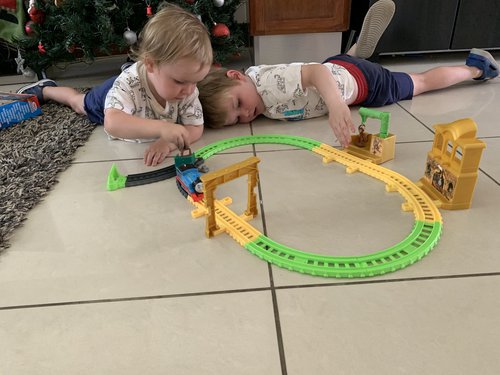 Build on with more TrackMaster Sets

Build your own Thomas & Friends world with the entire range of compatible motorised TrackMaster sets and expansion packs. The TrackMaster sets are inspired by the Thomas & Friends series and you can watch our train hero in the Monkey Palace episode on You Tube or Netflix. I went into a toy shop yesterday just to have a look at the arrangement of Thomas toys and am pleasantly surprised by the selection of additions available. There's definitely one for everyone. I know I am definitely going to expand as then both my children get to have their own choice of Thomas & Friends motorised trains and special mechanics.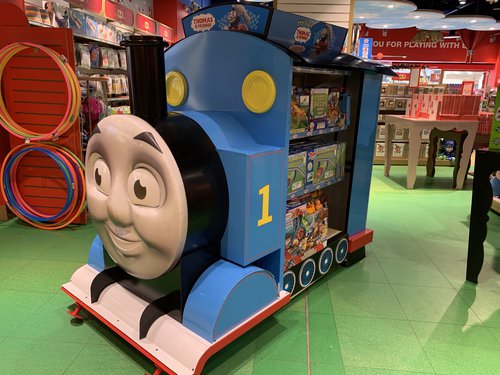 What does this set include:
Includes motorized Thomas, full track layout, cargo car, palace, gantry, 2 monkey figures and platform with pivoting tree limb
Compatible with other TrackMaster™ toy trains and sets to build a bigger motorized railway
Batteries Required: 2 x AAA (LR03) (Not Included)
Suitable for ages 3-7 years
I'll leave you with this:
"They're two, they're four, they're six, they're eight
Shunting trucks and hauling freight
Red and green and brown and blue
They're the Really Useful crew
All with different roles to play
'round Tidmouth Sheds or far away
Down the hills and round the bends
Thomas and his friends

Thomas, he's the cheeky one
James is vain but lots of fun
Percy pulls the mail on time
Gordon thunders down the line
Emily really knows her stuff
Henry toots and huffs and puffs
Edward wants to help and share
Toby, well, let's say, he's square

They're two, they're four, they're six, they're eight
Shunting trucks and hauling freight
Red and green and brown and blue
They're the Really Useful crew
All with different roles to play
'round Tidmouth Sheds or far away
Down the hills and round the bends
Thomas and his friends"