7 Awesome mountain-bike parks and trails to try out with your kids - Cape Town and Beyond
- Compiled by YBIKE, updated by Wessel Badenhorst
This article first appeared in our Things To Do With Kids family Magazine and was updated in May 2019.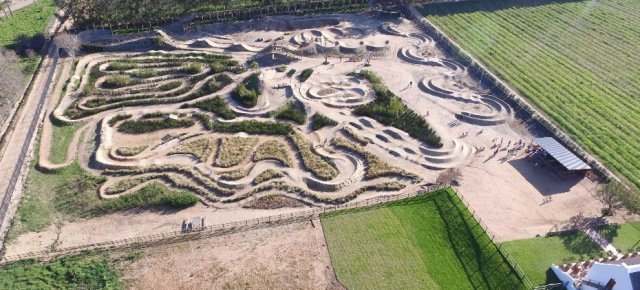 Explore the great outdoors with the kids! Pack your YBIKE balance bikes and feed the appetite of your young rider as you spend time in nature.
What better way to enjoy the season than to explore a bike track every weekend? Whether you are a downhill junky, or just like cruising, there is a bike track near Cape Town just for you. YBIKE's balance bike helps even the really little ones share in the fun while developing valuable motor skills. Here are seven hot spots to try out as a family.
1. True Grit Bike Park, Knorhoek Road, Sir Lowry's Pass (Sorry this park closed)
Ages 1-5
Website: http://www.truegrit.bike
This dog-friendly park offers a YBIKE skills track for the 1- to 5-year olds and an easy circular trail of 1,5 km which the kids will love. Enjoy a good cup of coffee while you watch the kids ride, if that's what you prefer. Pack your own picnic or hire a braai area, bring a chop and some friends and make the most of your time there.
2. The Bike Park at Constantia Uitsig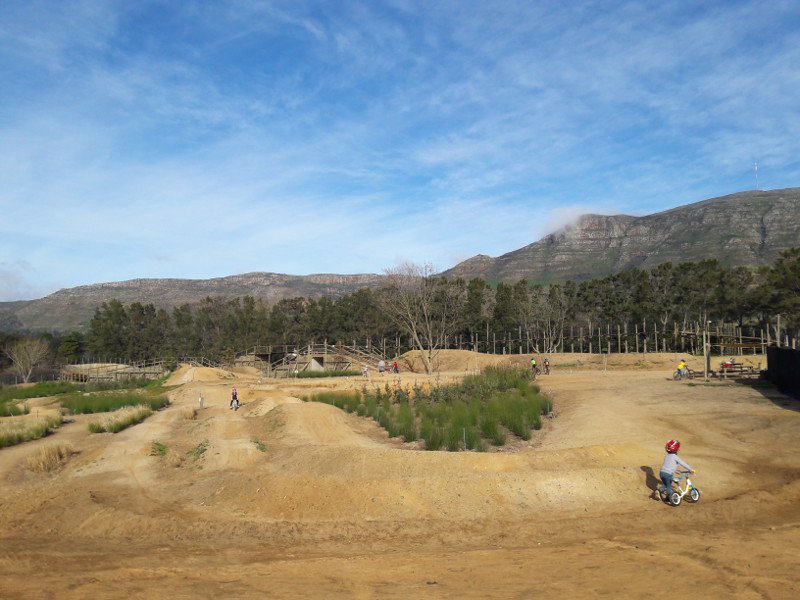 Ages 1-5, 5+ and experienced riders
Website: https://bikeparkatuitsig.co.za/
An extremely popular bike park buzzing with riders of all ages, ideal for popping in after school or over a weekend. A small riders' fee is charged for the day. There is something for all ages: keep the little ones busy on smooth winding tracks with wooden features, and the already confident riders can enjoy the rock gardens and drop offs.
Also: bike shop that sells cycling items and YBIKEs; bicycle workshop; coffee shop and shaded areas where parents can relax while the kids ride.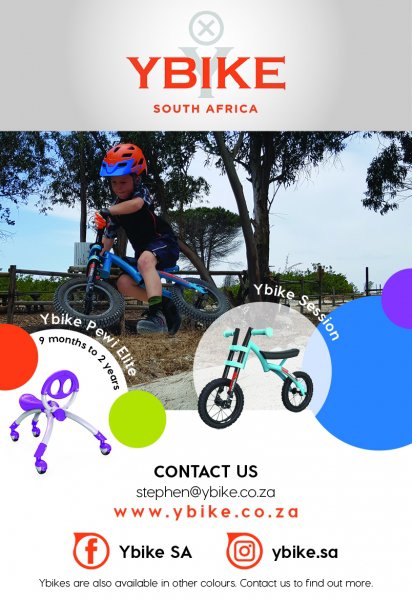 3. Bloemendal Wine Estate MTB Track, Durbanville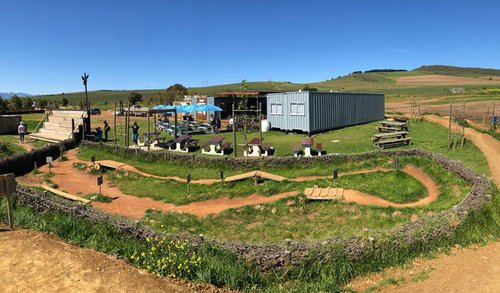 Image credit: Tamsyn Wiggell
Ages 1-5, 5+ and experienced riders
Website: withkids.co.za/bloemendal
Bloemendal Wine Estate offers mountain biking for the whole family. Besides adult trails, this exciting bike park also offers:
The Incubator: 1-km dirt trail snaking its way through the trees with obstacles, dips berms and other fun features.
B-Kids: purpose-built YBIKE skills track for the 1- to 5-year olds, fenced to keep kids safe. It boasts a number of obstacles to help encourage the art of balance and to create a safe but fun experience for the little riders.
B-Fever: two dirt pump tracks for all age groups, but younger riders should be supervised.  Full off berms, jumps and rolls and a great place for balance bikes and young kids on a pedal bike to hone their skills
B-Spot: 3,2-km track with berms, rollers, jumps, rock gardens and bridges. It is a great place for more experienced balance bikers and kids on pedal bikes to increase their skills without going out on trails. Smaller kids should be supervised as this trail is used by other riders.
4. Hazendal Wine Estate, Stellenbosch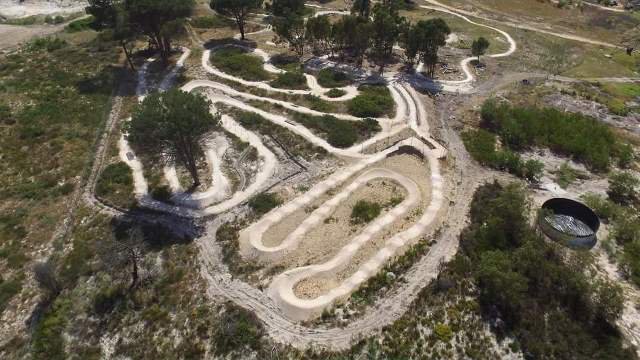 Ages: 1-5, 5+ and experienced riders
Website: withkids.co.za/HazendalMTB
This is a fairly new mountain-bike skills park and boasts multiple trails: YBIKE skills track for the 1- to 5-year olds; skills trail for up to 8 years old on pedal bikes; a longer skills and flow trail for all ages; a pump track, and shorter trails for the older riders.
Also: a great picnic area with benches right in front of the YBIKE Skills track under shady trees. The main winery buildings are now open to the public.
5. Spice Route, Paarl
Ages: 1-5, 5+ and experienced riders
Website: withkids.co.za/SpiceMTB
This new addition to the ever-expanding offering at Spice Route offers a 100m pump track for the little ones, while older children and parents will enjoy taking on one of the more challenging Adventure Hero trails. Enjoy a selection of artisanal treat on offer while the kids ride to their hearts' content.
6. Paul Cluver Trails, Grabouw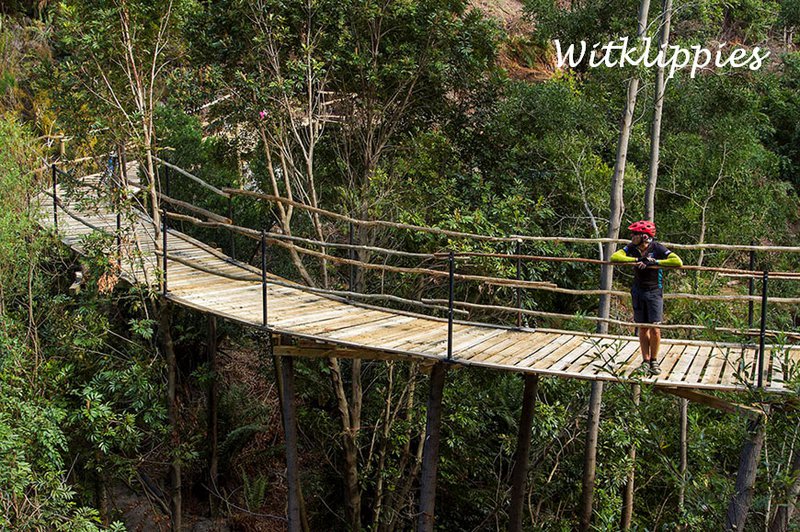 Ages: 5+ and experienced riders
Website and Image Credit: https://www.cluver.com/cycling
Suspension bridges, breath taking vistas, and a bermed bridge built from wine barrel slats at the foot of a waterfall, are just some of the thrilling elements that you will encounter on the may bike trails on offer at Paul Cluver Trails. There is a bike park with some obstacles in the amphitheater and blue and green routes. The green route is about 3 km, perfect for small kids, the blue route is short, but does contain technical singletrack.
7. Meerendal MTB Trails, Durbanville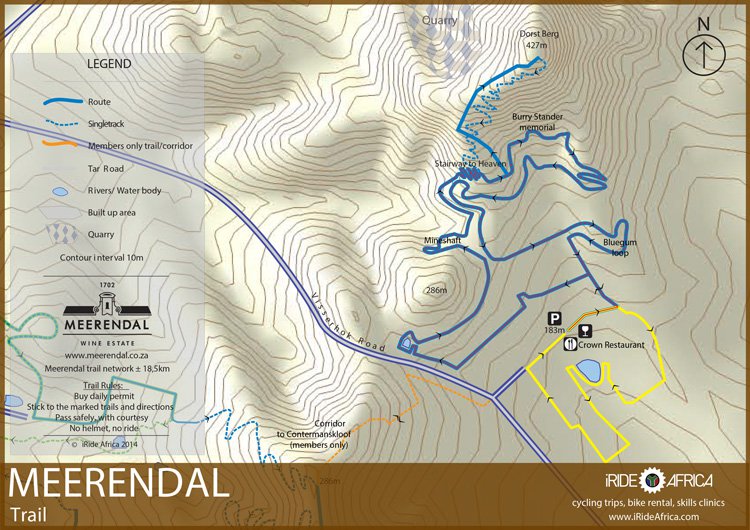 Ages: 5+ and experienced riders
Website: https://meerendal.co.za/trails/
All the trails are graded from easy to medium, and have been designed for the whole family to enjoy. The Route is made up of three inter-leading trails of 4km (Yellow), 12km (Red) and 18km (Blue), and take 1-2 hours to complete depending on your pace.
Also: There are two restaurants on premises, one of them, Carluccis, also has an outdoor play area visible from the outdoor seating area.
Step 1: Vote for your favourite bike park. You get one vote so think carefully!
Step 2: Enter via the link provided after you vote.
Vote for Your Favorite MTB spot and stand a chance to WIN a Ybike session