MINI APPLE- AND BERRY CLAFOUTIS
"These gorgeous little French puddings may have a fancy name, but they're a breeze to put together and the whole family will absolutely love them! Let the kids help you whisk the creamyNulaid egg batter and assemble the puddings themselves." - Theresa Ulyate
Serves 6
Recipe
Ingredients
15 ml (1 tbsp) butter
15 ml (1 tbsp) castor sugar
5 ml (1 tsp) cinnamon
3 apples (about 350g), peeled, cored and thinly sliced
3 large Nulaid eggs
60 ml (¼ cup) castor sugar
5 ml (1 tsp) vanilla paste[MB1]
80 ml (⅓ cup) flour
200 ml full-cream milk
100 ml cream
100 g fresh raspberries
icing sugar, for dusting
cream or ice cream, to serve (optional)
What you need to do
Preheat your oven to 180 ºC and grease six 200-ml ramekins.
Place the butter, 15 ml castor sugar and cinnamon in a small frying pan. Stir over medium heat until melted and combined. Add the apple slices and toss in the melted butter mixture. Cook for 4-5 minutes, stirring regularly until the apples have softened slightly. Set aside.
Place the Nulaid eggs and castor sugar in a separate bowl. Whisk until creamy. Add the vanilla
paste and flour and whisk together. Lastly, whisk in the milk and cream.
Arrange half of the apple slices and raspberries in the ramekins. Divide the batter between the
ramekins, pouring it over the fruit, then arrange the remaining apple slices and raspberries on top.
Bake for 35-40 minutes until set and golden around the edges.
Allow the clafoutis to cool for a few minutes. Dust with icing sugar and serve warm with cream or
vanilla ice cream.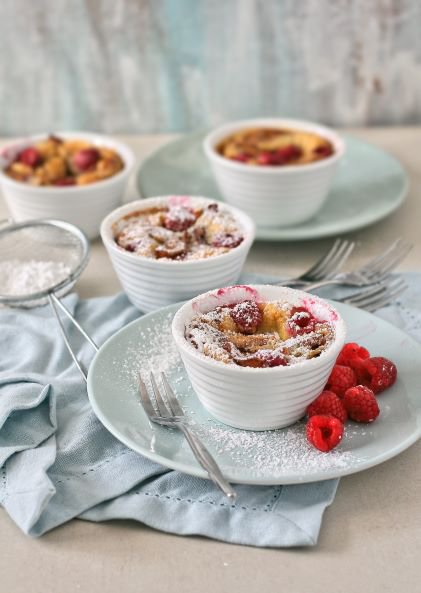 Teresa's tips and tricks
Baking times may vary depending on the size and depth of your ramekins (deeper ramekins will
take longer to bake). Keep an eye on the clafoutis in the oven and adjust accordingly.
Apple and berry clafoutis is delicious as a dessert or as a treat with your afternoon tea!
For extra crunch, sprinkle some flaked or slivered almonds over the puddings before baking.
For more fun recipes and other fun things to do with kids, read our Proudly South African Magazine.