Introduce your family to the exhilarating bliss of camping
Introduce your family to the exhilarating bliss of camping … but tread lightly
There she stood, hairdryer in one hand, vanity case in the other. The question was more of an accusation, and it set the tone for the rest of the weekend. Try as I might, I could not convince her to enjoy going off the grid, bathing in nature's natural shower or any part of the camping experience.
That relationship did not survive the camping incident, and I learned some valuable lessons in the process. One does not simply take a loved one camping – planning and preparation are required to avert disaster.
To ensure that you do not get caught with a hairdryer in your hands, learn from my mistakes. The following five tips will help you introduce your family to camping in a way that will have them looking for reasons to go pack the sleeping bags for a weekend in nature.
Ease into it
Make your first camping experience as close to any other weekend getaway, with the only difference being canvas instead of bricks. Go for a site with all the extras, power, water, shade, you name it. You want to minimize the amount of cooking you need to do, so you don't have to pack everything and the kitchen zinc. Plan for a braai or restaurant meal where possible.
Let it be more than "sleeping in a tent"
Although camping is a deeply enjoyable experience in its own right, the uninitiated camper might not see it that way yet. If you can, find a way to create an experience that is made better by the fact that you are camping. One great way to do this would be to go camping in a nature reserve, or close to the ocean. The fact that there are no walls between you and the sounds of nature makes the experience far richer.
Plan for the unexpected
Nothing ruins a camping experience as quickly as having to eat cold food or sleeping in a wet sleeping bag. Bear Grylls might enjoy testing himself against the elements, but your neophytes will thank you for not exposing them to this level of excitement on their first camping trip. [MB1] Check the weather, do not head out if it seems like there might be some rain or howling winds on the way. You also want to familiarise yourself with your cooking and camping gear before you arrive at the campsite. Finally, set your schedule so you have enough daylight time to comfortably set up camp.
Checklists are your friend
When you are trying to plan and execute the perfect camping getaway, you might feel a little overwhelmed at the number of things you have to plan for and pack. To help you make sure you do not miss a thing, we have created a beginner's camping checklist which you can download at withkids.co.za/camplist.
All of the glorious camp food
Use this opportunity to have fun preparing food as a family. Try roasting marshmallows over an open fire or make stick bread. While you are at it, you can teach them how to start a fire or how to make the dough for the bread. The little ones will remember these experiences for the rest of their lives and like I said, they may be nagging you to go camping again soon!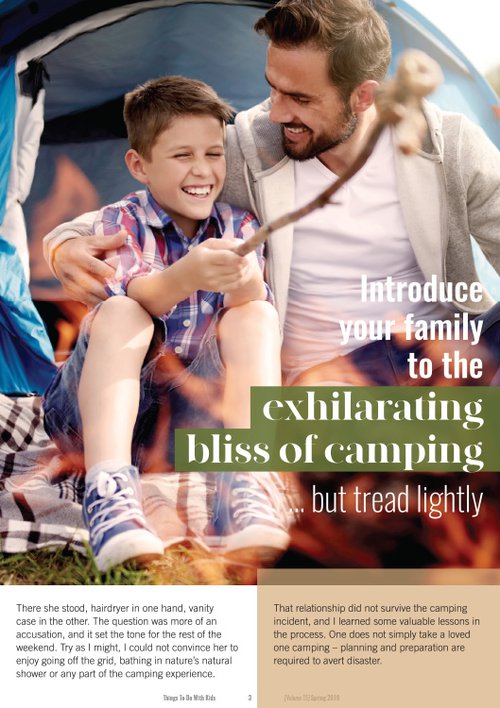 Tanya's tips: Introducing your baby to camping
We asked Things to do With Kids readers for some tips on taking your baby camping. The response was unanimous – it is easier to camp with a baby (under 6 months) than a toddler. Douwe Ganzevoort even said it was the first night his baby slept through, so his little one must have loved camping too!
For your fist trip, choose a campsite that has good ratings for hygiene, hot water and electricity.
Introduce your little one to the tent by spending some time in the tent during the day, going out and back in again. Babies, like adults, like familiarity, so you want them to know their surroundings by the time they go to bed.
Get your little one used to their camping cot or co-sleeping at home already. So, don't take fresh linen, rather take their baby blanket with familiar smells to make them feel at home.
Follow your same night-time routine. A warm bath and baby massage with your usual bath-time products can do wonders for settling an infant.
Take your baby monitor along. As you listen to the crackling sound of the fire, hushed conversations and night sounds, you will be more at ease if you have a monitor instead of having to jump up to check in every 10 minutes.
Go on, head out on your very own camping adventure, take loads of pictures and share your stories with us on social media. @thingstodowithkids
Read our Proudly South Africa Magazine.