Finally - our own Acrobranch Safari themed kids party!
I have always been a fan of the bush, wildlife game drives and safari's in the great outdoors. On a trip with my family and then two- year old boy I was happy to see he shares this passion. He would spot antelope miles away, way before the adults did and got extremely excited about it all.
We have visited Acrobranch as a family many times before as we absolutely love this active outdoor adventure. When I heard about the opening of the new Stellenbosch Acrobranch outdoor adventure park I thought it would be closer to Jonkershoek or Coetzenberg, so when I discovered it was at Klein Joostenberg, only about 15 minutes' drive from our home in Durbanville I just had to book our first kid's party at their venue.
The Acrobranch courses are designed for adults and kids aged three years and up. My boy has his birthday in April, the first quarter of the year, meaning many of his friends are still a bit younger. As he turned four this year we were good to go! We were going to have an "outdoor safari" themed party!
How we booked our Acrobranch adventure
We were able to make our booking online via the Acrobranch website, without having to make any calls. I requested a table under the trees via email, so parents can sit, chat and relax while the kids go wild in a safe environment.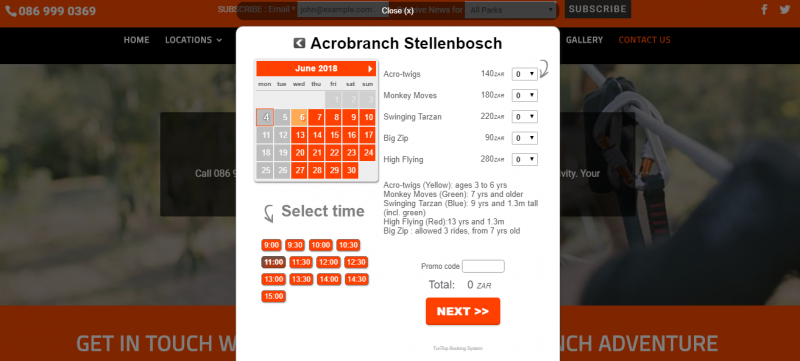 Party packs and snacks:
The food we had to book through Stellies Taproom. They have designed a menu specifically for Acrobranch children's parties. You need to order ahead and then pick it up at the taproom. All the food is designed so you don't need waiter services at the venue and can dispose of packaging in the provided bins on the Acrobranch premises, as they don't offer waiter service under the trees. We ordered cuppa chino's, juice and water in bottles for adults as no alcohol is allowed at the park, and it was 10 am in the morning after all! If you prefer to be served you can also first have your adventure and then sit down on the lush lawn or at the tables of Klein Joostenberg afterwards. Here parents can do a beer tasting and enjoy food and platters off their unique menu.
The cake and decor:
We wanted to work with environmentally friendly décor where ever we could as you are in nature and one would like to leave it as -, or better than you found it. We, therefore, decided against once off plastic use like balloons. We baked our own cake and I got some antelope from a kids party shop. These would serve as figurines and the others served as take-home gifts for the kids. We used a coconut skin to represent savanna and further made use of a bonsai to provide some shade for the animals. The brown party packs provided by the Stellies Taproom suited the theme colour scheme.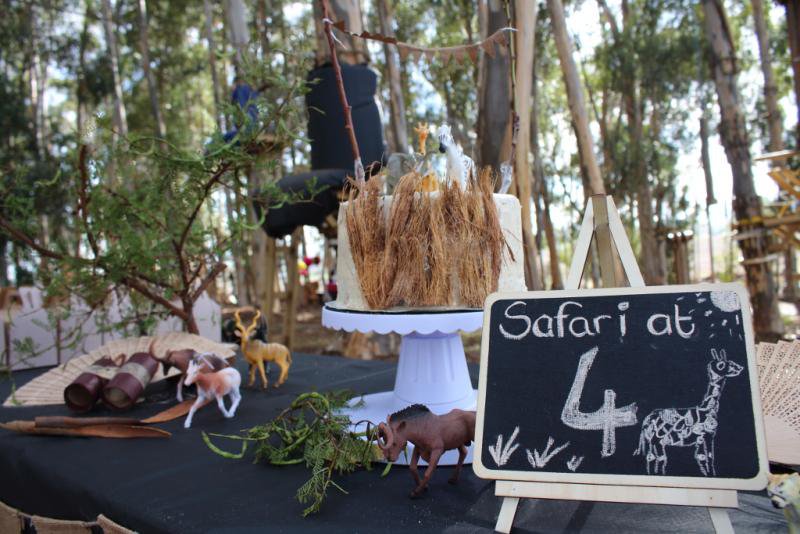 Let's get the party started!
My timing was a bit off, so I was still setting up the table as the guests arrived, but that was not a problem. All the kids signed their indemnities and got hooked up for safety briefing and training. The first round was a good challenge with parents circling the course and helping where they can, but as soon as the kids got used to it the mommies could relax and have a good chat while the kids challenged themselves and each other on the course.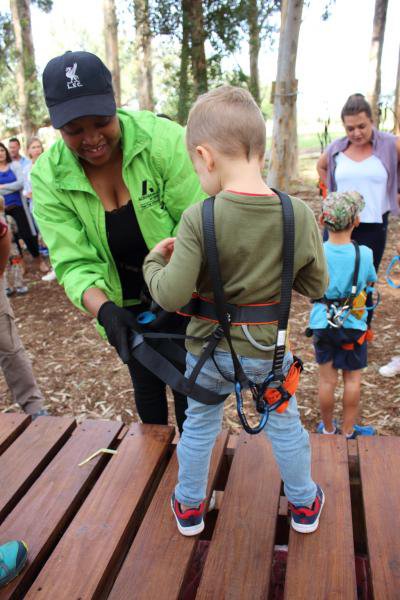 The kids could play for two hours so halfway through we sang, celebrated and cut the cake for a quick break before they all headed back on the course again. The Acro Twigs course offers 3 fun zip lines and 15 obstacles to challenge young adventurers. Before we knew it they naturally started playing hide and seek under the trees too! No one wanted to leave, that included me!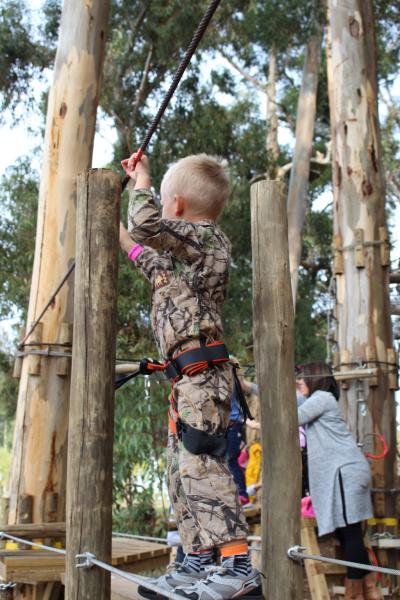 So after packing up, some friends stayed behind to further enjoy the sun, natural surroundings and a beer tasting at the taproom while the kids could have more juice and play on the jungle gym. Upon our arrival at the taproom other taproom guests have set up a party, but their toddler fiddled with their helium-filled balloons, the whole bunch came loose and it took off into the air until it finally got stuck under a branch. I was so proud and felt like mommy, Elastigirl, from the Incredibles when my tall and strong hubby and daughter came to the rescue. He picked her up and she stood tall on his shoulders, only just reaching the balloons, just like a real little acrobat! The day was saved.
Some tips from our Stellenbosch party experience:
Parking: To reach the Acrobranch parking, turn left as you enter Klein Joostenberg farm, it is a gravel road and there is a black sign pointing you in the right direction.
Party Packs + Snacks: The walk from the taproom to the trees is quite a distance so be sure you have some extra hands to help you carry, wear comfy shoes and allow enough time for this too!
Timing: The taproom only opens at 10 am, so consider booking your adventure at 11 or later if you still wish to pick up the party snacks and decorate your party table before the guests arrive.
Ask Guests to arrive 15 minutes early to complete indemnity forms
How much does the party cost?
Please note that these may change so check out the Acrobranch website for the latest info.
Kids paid R140 per head for the two-hour adventure on Acro Twigs. This included a safety brief, all the gear, a badge and certificate of achievement for doing the course. Parents enter for free.
Kids party packs - From R49. Party packs included a pure juice, dried fruit snacks, popcorn and a cupcake each.
Cake brought in - a head fee of R10 is charged and they provide the plates and cutlery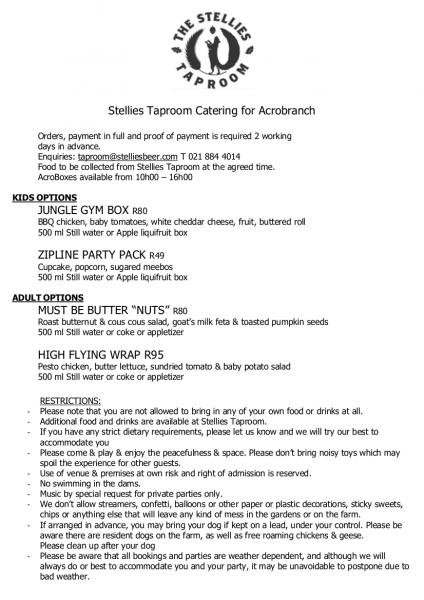 Parents - if you, like us, still entertain parents with kids you can use the menu above to calculate costs. We decided on a platter at the taproom (on the taproom menu and not on the one below) as it wasn't really lunchtime so no need to order full meals. The Stellies Taproom also offers a jungle gym and open space for kids to run around. (note there is an open pond if you have a runner or a wanderer)
And that's it!
Have you had an Acrobranch party before? Let me know by tagging us on social media! @thingstodowithkids