Excursions: Craft Beer Tastings in Gauteng
Craft Beer Tastings in Gauteng
I have always had a very active social life and since becoming a mom, it has been my mission to find fun, child friendly activities we can enjoy as a family. Because, who said that becoming a dreary stay-at-home-body was part of the parental job description? One of my favourite new family excursions is visiting Gauteng's ever expanding list of craft breweries offering tours, tastings, brew pubs and restaurants and I have decided to put together a list of my favourite spots for you, dear reader, to visit and enjoy together with your family and friends.
Black Horse Brewery, Magaliesburg
Take your family on a road trip to Magaliesburg for a revitalizing day out in nature, away from the hustle and bustle of Jozi life. Black Horse Brewery has a child friendly restaurant and large open spaces for the kids to run around in. Be sure to taste their craft beer selection while relaxing under the trees after lunch - breathe in the fresh country air and enjoy the peaceful and picturesque Zeekoeihoek Valley surroundings.
Tel: 082 453 5295
Copperlake Brewing Company, Fourways, Johannesburg
Although the actual brewery is situated in Lanseria, Copperlake Brewing Company, has recently opened a brewpub in Broadacres Fourways. Here they offer beer tasting packages (with or without accompanying food platters) as well as traditional pub grub for those wanting to enjoy a sit down meal. Live music entertainment is available on weekends.
Tel: 011 036 6028
Cockpit Brewhouse, Cullinan, Pretoria
Situated in Cullinan, on the outskirts of Pretoria, the Cockpit Brewhouse offers great aviation themed food and beer. This unique brew pub is well known for their burgers and offers live music on weekends.
Tel: (012) 734 0656
Bernie's Brewery, Irene, Pretoria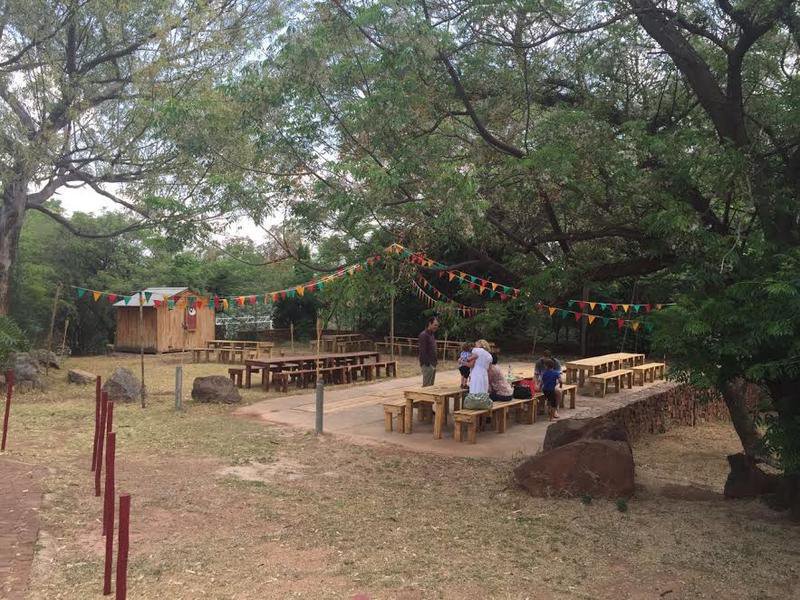 This rustic restaurant / pub is situated in an old warehouse with a large outdoor area, surrounded by a garden with beautiful old trees. The decor consists of wooden benches, bunting and a sign which states 'no wifi - talk to each other', which all adds to the festive and relaxed atmosphere. Although the menu is small, consisting only of their own craft beer, platters and pizzas, it is simply delicious. When visiting this gem, expect to feel as if you are sitting in someone's backyard, so relax and stay a while - the service is not very fast.
Tel: 063 582 5592
Brauhaus am Damm, Rustenburg
Although this brewery and restaurant do not technically fall within the borders of Gauteng, this craft beer destination is an ideal venue for a day outing (a mere one and a half hours drive from Johannesburg) and should, therefore, be included here. Surrounded by the scenic Magaliesburg mountains, this child friendly restaurant and party venue offers German inspired food and beer which can be enjoyed either overlooking the Olifantsnek Dam, inside the beer cellar, or out in the garden (where the kids can play). Brewery tours and beer tastings are also available.
Tel: 014 004 0382
Gilroy's Brewery, Muldersdrift
Gilroy's Pub and Restaurant has already won four 'most leisurely experience' prizes through West Rand Tourism and it is easy to see why - this brewpub offers guests a fun day out with good food and great beer. Steve Gilroy, founder, and owner, always makes an appearance, keeping the guests entertained with his slightly rough humour. Live music is available on weekends. Although the brewpub makes for a fun day out, it can get a bit loud and raucous in the late afternoon and evening and is thus not suited for babies and small children. No baby changing facilities available.
Tel: 011 796 3020
Like this post? Share it with your friends and do not miss our list of Child Friendly Craft Beer Breweries & Restaurants in the Western Cape as well as our post on the Kwazulu Natal Beer Route!