Discover the Weskus (Cape West Coast) with kids!
Family is more than the house you share or where you come from. Family are those people you shape memories with throughout your life. That time all of you squeezed into a tiny caravan for a weekend away, or when you roasted marshmallows over a bonfire on a beach in St. Helena Bay. These snapshots of togetherness are the strands from which you weave a family.
On the Weskus we found an abundance of opportunities to create memories for a lifetime. These moments are the reason we take our family on outings, these were the signposts around which my life was weaved.
The Weskus offers a cornucopia of activities to uniquely suit your family, quirks included. Mix and match these experiences to design your next family getaway.
Explore the child-friendly Weskus:
By Foot
Lace up your hiking boots, because the Weskus has some amazing locations to explore on foot. You could follow in the footsteps of Eve whose 117 000-year-old fossilised footprints were found in the West Coast National Park in 1995, while taking a break for a drink in the astounding beauty of flower season. Lamberts Bay Bird Island hides the breeding ground of the rare blue-eyed Cape Gannet. Around Yzerfontein you can explore trails short and long, or just stroll around. If you have older kids, take the five-day, 50-km Silent Steps Shoreline of the San walking tour from Elandsbaai to Strandfontein, where you retrace the roots of the San people, the original inhabitants of Africa.
By Bike
For the peddlers out there, Darling is surrounded by biking trails for every kind of two-wheel enthusiast. If you do not have a bicycle of your own but would like to get a taste for the lifestyle, West Coast Explorers Club has a network of bicycle stations around Yzerfontein. For a more effortless exploration of the beautiful Weskus landscape, an e-Bike tour guided by one of the San people at !Khwa ttu will be the perfect fit.
By Car
Exploration by car affords you the opportunity to discover Berghoff Farm, about 26 km from Porterville. This cut-flower farm specialises in Proteas that their accommodation guests can admire during the flower season from June to December. Art aficionados will enjoy puttering around the many studios, workshops and galleries on the Paternoster Art Route. Outdoorsy families can pitch their tents on the river bank at Sanddrift Private Holiday Resort, from where they can feast their eyes on the Cederberg mountains or sip wines at Cederberg Cellar.
By Boat
Life on the water has a calm excitement of its own. At Club Elani at Misverstand Dam you can go on a boat cruise, spot interesting birds, fish, waterski, or relax at the campground. If a sunset cruise sounds more like something you would enjoy, Velddrif is the place to go for a trip up the Berg River as the sun bids the day farewell.
By Time Machine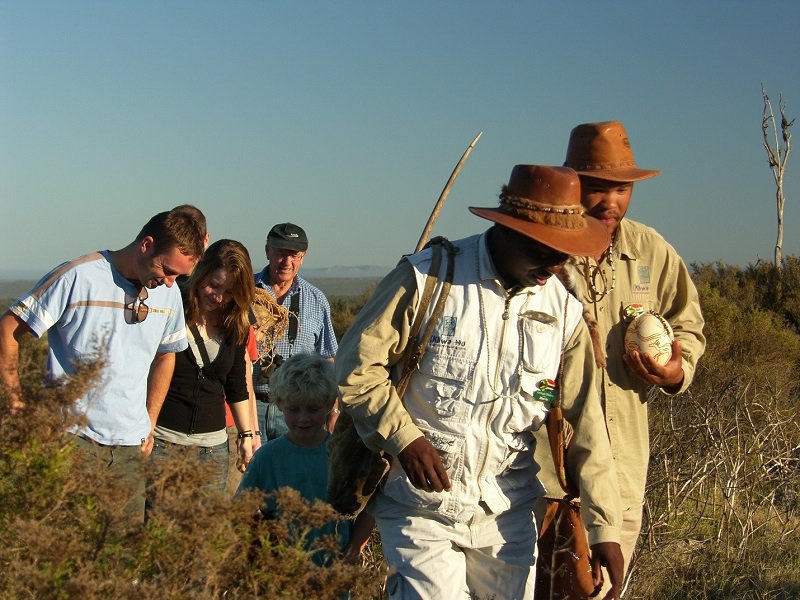 Who has not dreamed about being able to get into a time machine and travel back to some ancient time to go and see with your own eyes what life was like? While they don't have a time machine in the Weskus, the San people still follow the old ways, and at !Khwa ttu you can learn about their rich heritage from the San people themselves. If you want to dial your time machine even further back, the West Coast Fossil Park lets you explore South African prehistory. Discover the African bears, sabre-tooth tigers, and short-necked giraffes that used to walk the continent long before us.
By Hand
Some things are better for the care of human hands. Young people from the local rural community are trained to brew, bake, and cook at Moorreesburg Brewing, Restaurant, and Bakery where they share their produce with the public. Kokerboom Kaas offers a cheese tasting of a selection of their 17 home-made cheeses for connoisseur families. Beyond the hands-on food experiences, families with kids aged five and up can also try their hand at archery at Thali Thali before heading out on a game drive with family members of all ages, infants included.
By the Nose
No visit to the Weskus would be complete without nosing around the many craft breweries, distilleries, or one-of-a-kind restaurants. One such highlight is Darling Brew that offers a fun day out for the whole family with delightful craft beer to enjoy and a massive play area. Let the kids enjoy pizza or nachos and coloring activities as you enjoy a beer taster tray at the pet-friendly Yzerbru. Indie Ale offers a tour of their brewery, farm animals that kids love and light lunches.
For information on any of these and other experiences in the Weskus, as well as accommodation options, visit the Weskus website at www.weskustourism.org.