Butter Cookie And Nutella S'mores
Butter Cookie And Nutella S'mores
by Teresa Ulyate
Cooking marshmallows over the braai is a South African favourite, so here is my twist on the traditional s'more, with homemade marbled butter cookies, toasted marshmallows and chocolate spread instead of chocolate squares. Enjoy as a dessert treat after your next braai - and let everyone share in the fun by making their own!
Makes 12 s'mores
For the butter cookies
125 g butter, softened
80 ml (⅓ cup) castor sugar
2,5 ml (½ tsp) vanilla extract
250 ml (1 cup) flour
pinch of salt
80 ml (⅓ cup) ground almonds
15 ml (1 tbsp) cocoa
flour for dusting
To assemble:
100 ml Nutella spread
12 marshmallows
Instructions
Line a baking tray with baking paper. Preheat your oven to 180 °C.
Use a freestanding mixer or an electric beater to beat the butter until smooth. Add the castor sugar and cream together for a few minutes, until pale and fluffy. Mix in the vanilla extract.
Sift the flour and salt into the bowl. Add the ground almonds and then fold in by hand until the mixture comes together.
Take half of the dough out of the mixing bowl and gently knead with your hands to help bring it together. Set aside.
Sift the cocoa into the mixing bowl over the remaining half of the dough. Mix the cocoa into the dough, then knead gently with your hands until the cocoa is fully incorporated.
Break the chocolate dough into a few pieces and press into the vanilla dough. Flatten the dough into a disc, cover and refrigerate for 30 minutes.
Dust your work surface with a little flour. Roll the chilled dough out thinly (3-4 mm). Cut out 6-7 cm circles and arrange these on the baking tray.
Bake the cookies for 12 minutes, or until lightly golden at the bottom. Allow the cookies to sit on the tray for 5 minutes before transferring to a cooling rack to cool completely.
Spread 1-2 teaspoons of Nutella onto half of the cookies. Toast the marshmallows over hot coals until soft. Pop one marshmallow onto each Nutella cookie and top with another cookie.
Enjoy immediately.
Teresa's tips and tricks:
Make-ahead tip - the cookie dough can be made in advance and refrigerated for 5 days or kept in the freezer for several months if properly wrapped and sealed.
If you feel like making s'mores but don't have the braai going, you can also melt your marshmallows under the grill, over a gas stove or in the microwave.
The butter cookies are delicious on their own with a cup of tea!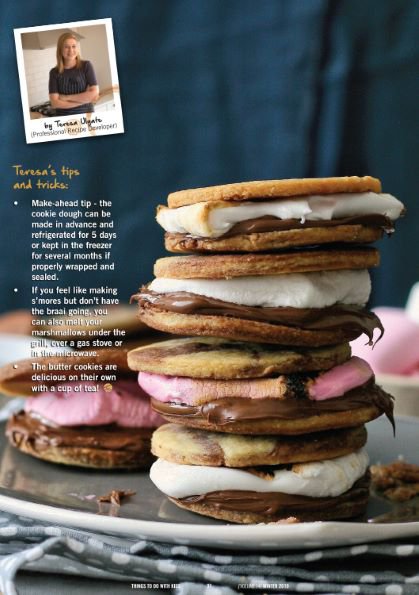 Want to find more yummy recipes and fun Things to do With Kids. Then read our Proudly South African Magazine.