20 Awesome kids party venues in Johannesburg and beyond
Kid's party venues in Johannesburg, Midrand, Centurion and Pretoria
Generously sponsored by FitBrain
Finding it difficult to know what to do or where to go for your child's next birthday party. FitBrain and Things to do With Kids have joined forces to bring you this listing below and help you find the right place for your child's party. These kid's party venues can all be found in Johannesburg and surrounds.

The Fitbrain range provides educational toys that are designed to help children develop fundamental abilities, these include cognitive thinking and problem solving for all age groups. The range includes products that teach numeracy, language, construction, art, role playing, music and science. FitBrain even offer a gift registry to help parents and guests find the perfect gift for any age group!
For more child-friendly restaurants that host parties in the greater Johannesburg area, read our complete restaurant guide here.
While you are planning your child's birthday, get some inspiration for kids party games on our blog.
Kid's party venues in Johannesburg (North) and Pretoria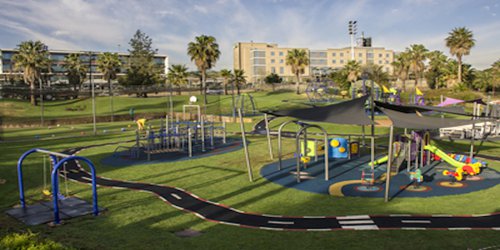 1.World of Golf Children's Party Venue, Midrand
Themed around the game of golf, it is South Africa's leading golf and family leisure park and a perfect place to hold a party! Dimples Café serves a variety of tasting meals and treats and their Party Planning team can put together most themes and do all the decorations for you, set up and cleaning! Giving you a much deserved break. The World of Kids continues to be the biggest attraction for kids parties for those looking for an awesome outdoor party.
Where: Corner Woodmead Drive and Maxwell Drive, Woodmead
For more information: 011 545 8600
Web: World of Golf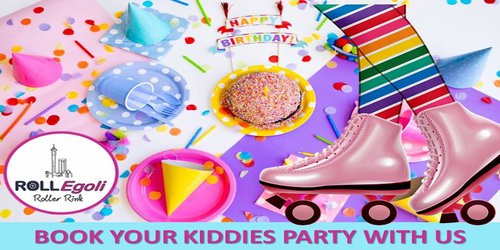 2. Roll Egoli, Bryanston
RollEgoli is an all-weather roller skating rink based in Bryanston. Ideal for families or individuals and for parties of all ages! The rink is 1000sqm and covered so you can have a skating party no matter the weather! Besides skating they have a garden with a few friendly chickens and a playground with a trampoline for the younger kids. They offer many seating areas that are also available for hire for parties and events.
Where: 296 Main Rd, Bryanston, Normal Rd intersection
For more information: 082 361 3497
Web: Roll Egoli
3. The Herb Farm, Midrand
The Play Yard at The Herb Farm is an educational play facility, designed for children to get their hands dirty, play in the garden, while they learn about herbs, vegetables, fruit ,sustainability and a healthy lifestyle. Or the little ones can be creative in the 200 sqm studio and create something in the Fun! Kitchen, The Gardening or Craft Studio. Have your own private kids party in a beautiful garden setting while the little ones can play, explore or be creative. No stress! They take care of it all and have beautifully designed party packages.
Where: 264 Summit Road, Bluehills, Midrand
For more information: 010 447 3517
Web: The Play Yard at The Herb Farm
4. PWC bike park, Bryanston
Riding a bicycle is a child's ticket to the outdoors, sunshine, exercise and fun! That's why we as parents love the PWC Bike Park for parties. The PWC Bike Park has a border fence and is patrolled by a security team to ensure a secure environment where parents and children can have peace of mind while having a fun party. There are various tracks at the park ideal for children of all ages and abilities, from pedal-less push and balance bikes, BMX bikes and mountain bikes. They also have party packages available.
Where: 1A Libertas Street (off Sloane Street), Bryanston
For more information: 083 725 2453
Web: PWC Bike Park.
5. The Kids Gym, Fourways
The Kids Gym is all about fun and fitness! They provide an active and fun way to stay fit using a variety of cardio exercises, games and equipment designed to teach strength, co-ordination, flexibility, core, balance and general physical fitness to prepare children for sport while boosting self-confidence and social skills. They offer fun party packages for all age groups.
Where: Cedar Square Shopping Centre, Cedar Road, Fourways
For more information: 010 601 6444
Web: The Kids Gym.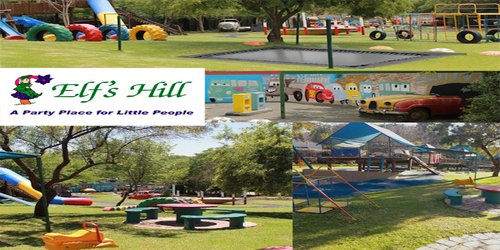 6. Elfs Hill, Fourways
Elf's Hill is a spectacular children's party venue. The venue offers great fun for kids with an enormous playground keeping the kids occupied for ages, they have facilities for parents including an elegant patio with spectacular views overlooking the spacious lawn and party yard. Dads can watch television for sport and there are braai facilities available.
Where: Plot 29 Zandspruit Road, Chartwell West, Farmall, Fourways
For more information: 082 337 5646

7. Fantasy Park, Chartwell
Thinking of catching a train or flying an aeroplane or be the king and defend your fort. Live like a princess in a butterfly castle. There are no limits to what you can do: fireman, pop-star, doctor or pilot, a fairy, baker man, farmer or pirate. Fantasy Park is where imagination comes to life and perfect parties are born!
Where: Portion 2, Plot 46, Nichols Road, Chartwell West Country Estate, Farmall
For more information: 062 289 7788
Web: Fantasy Park
8. Jungle Joes Kids Party Venue, Bramley
This kid's party venue is big enough to accommodate a large party. They have party packages available. Their party venue consists of slides, trampolines, jungle gyms and loads more.
Where: 205 Corlett Drive, Bramley
For more information: 011 887 1771
Web: www.junglejoes.co.za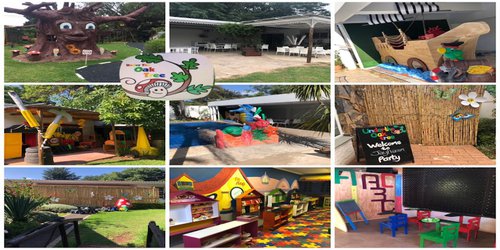 9. Under the Oak Tree, Bramley
Under the Oak Tree is an exclusive party venue, suitable for ages 1 to 10. This kid's party venue is a unique country retreat in the heart of Johannesburg. They offer a warm and friendly environment for your family functions. Their speciality is themed children's birthday parties. You have the choice of two party venues and they can both be used come rain or shine!
Where: 54 Silwood Road, Bramley
For more information: 071 332 9387
Web: Under the Oak Tree
Kid's party venues in Johannesburg (South)
10.Circus Bubble Parties, Randvaal,
Bubble Parties is a fun, outdoor kid's party, where the kids can enjoy the magic of bubbles. Come and enjoy a lovely home-made meal at the coffee shop, Cafe Du Cirque with a circus feel, hearty breakfasts, light meals, delicious pancakes and a selection of hot or cold beverages. The farm is home to horses, ponies, dogs and several farm animals.
Where: Plot 116, Springbok Road, Daleside, Randvaal
For more information: 083 226 1213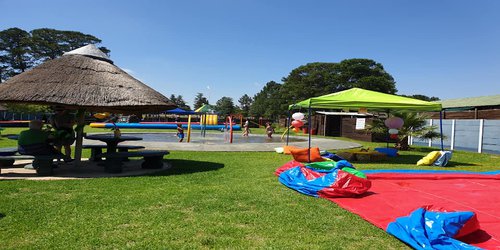 11. Mac's Venues, Eikenhof
This kid's party venue offers a great farmyard party with an exciting outdoor play area. There is loads of open space and fantastic play equipment to keep kids entertained. Their popular venues are exclusive, no sharing of parties and no cleaning up. Party packages available.
Where: 10 Dan Pienaar Dr., Tedderfield Estate, Eikenhof
For more information: 011 948 8752
Web: Mac's Party Venues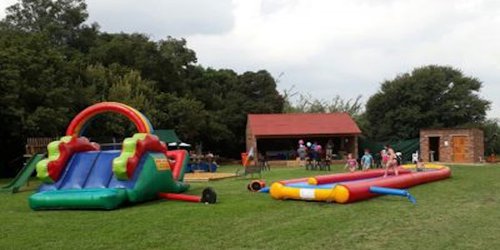 12. Jungle Beat, Alberton
Where: Fore Street, Alberton, 1449
For more information: 082 451 7377
Web: Jungle Beat Kids Party Venue
Kid's party venues in Johannesburg (East)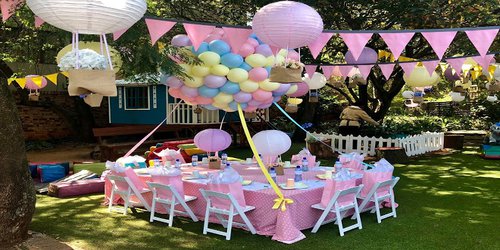 13. Kiddilicious Party Venue, Bedfordview
At Kiddilicious they love all things country style. Keeping it relaxed so you can have a wonderful time. Their private party venue offers a large indoor area, flowing out onto a covered patio and a beautiful, fully shaded garden & kids play areas. Should you prefer a smaller, more relaxed party, we also offer party bookings at our cafe which has an enormous outdoor sandpit, play area, swings and jungle gyms. Perfect for all ages.
Where: 15 Nicol Rd Bedfordview
For more information: 076 358 6003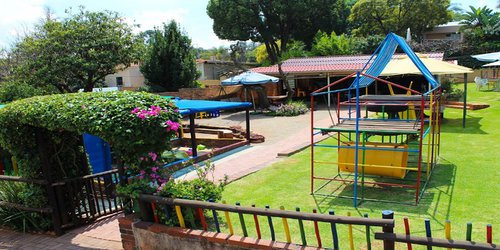 14. The Mighty Jungle, Bedfordview
The mighty jungle offers an outdoor playground with wooden and steel jungle gyms, large covered sandpit, seated zip liner, bike track with bikes, mini soccer field, seated merry-go-round, swings, slides, separate play area for babies and toddlers and more. As well as a large covered area, which can be completely enclosed, gazebo with picnic table and additional seating in shaded garden.The Mighty Jungle is the perfect venue to host an exclusive birthday party.
Where: 8 Douglas Road Bedfordview
For more information: 083 452 8120
Web: The Mighty Jungle Childrens Party Venue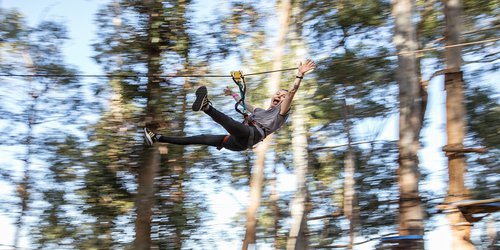 15. Acrobranch, Various Locations
Every parent knows just how important kids' birthday parties can be. The day has the potential to boost their self-esteem as well as create the perfect opportunity for them to form closer bonds with their friends. Now, if your little one could just make up their mind already! These days, navigating through the world of kids' party venues requires an event-planning background as well as a PhD in kids' entertainment. Yes, kids' parties can be worse than a toothache, and if you're a hard-working parent with a limited budget, like most of us, and can't think of anything worse than having a party at home, it's a great idea to take the kids to Acrobranch for a day of ziplining fun.
Where: Various Locations in Johannesburg, Centurion and Pretoria
For more information: 086 999 0369
Web: Acrobranch Birthdays

16. Kids Era, Benoni
This kid's party venue is a superb outdoor adventure playground in Fairleads, Benoni. The kids will be entertained for hours. They have jungle gyms, swings, a large sandpit, a mini-climbing wall and lots more exciting activities.
Where: 512 Pretoria Road, Fairleads, Benoni
For more information: 076 272 2476
Web: Kids era party venue
17. Kidzville Party Venues, Kempton Park/Benoni
They have 3 exclusive use party venues each suitable for different age groups. Each kid's Party Venue is self-sufficient with a large Lapa area and built-in braai, own toilets fenced and gated play area and plenty of safe secure parking, loads of shade and grassed areas.
Where: 81 Main Road, Brentwood Park AH, Kempton Park
For more information: 083 463 1429
Web: www.kidzville.co.za
Kid's party venues in Johannesburg (West)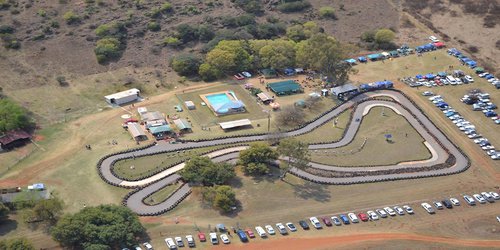 18. Swartkrans Go-Karts, Krugersdorp
A 700-metre monster track, this is the longest and most exciting track in Johannesburg. Catering for all ages, Swartkrans offers loads of opportunity for outdoor play and adventure and the perfect place to hold a birthday party. When go-karting, kids will learn how to drive safely while having loads of fun – perfect for building their self-esteem! They have Go-Carting, Picnics, Painball, Swimming, a large open space to play and Quad biking.
Where: 56 Hekpoort Road Krugersdorp
For more information: 0723083034
Web: Swartkrans Go-Karts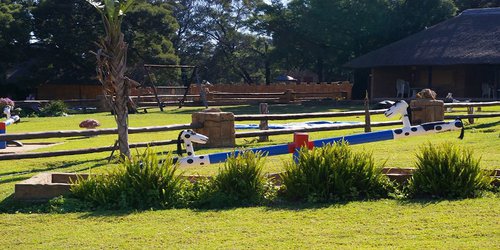 19. Kinglets & Queenies, Ruimsig
Kinglets & Queenies is the ideal outdoor party venue and offer private parties on private playground areas with stunning thatched Lapa's.
You can choose from a large selection of eats and decor, or create your own masterpiece at no additional cost.
They offer a wide range of entertainment for young and old. Activities on offer are face painting, pony rides, waterslides, animal farmyard and more.
Where: 26 Pierre Road, Ruimsig
For more information: 079 736 7113
Web: www.kinglets.co.za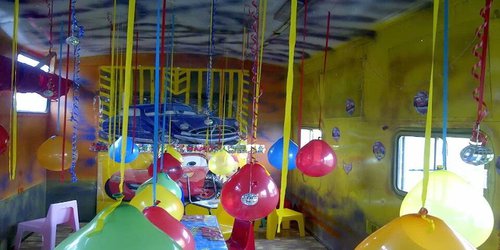 20. Cat's Bus Parties and Bicycle Playground, Randfontein
A kid's party venue that offers a farmyard, jumping castle, swimming pool and slip & slide with braai area. All ages are welcome.
Where: 24 Lang Weg, Randfontein
For more information: 073 808 3112
Web: Cats bus parties
Wow, so many great places to have a kids party. I am sure you will find the right place for you.