Our unique scooter experience in Stellenbosch with Scootours
I wanted to experience a Scootour as I heard they offered a fantastic option for kids parties, which I thought sounded like a unique and fun idea as my kids love getting active and out in the fresh air.  My husband had already experienced the adventure tour on Table Mountain for a team-building exercise, he said it was an awesome activity, and he knew myself and our 5-year-old son would LOVE it. I noted they also offer child-friendly adventures in Franschhoek.  As I come from the UK any opportunity to see the beauty of Cape Town Winelands, doing something new and adrenaline-fueled, is good with me. (Psst...read all the way to the bottom as I have a surprise for all Things to do With Kids readers).
On arriving at the Jonkershoek Reserve in Stellenbosch we were overwhelmed at how beautiful and majestic the Jonkershoek Mountains were, and we were all fired up for our experience with Scootours – particularly my son who simply could not wait to get started.
Our professionally qualified tour guides for the trip showed us the Swiss-designed mountain scooters which were safely secured on the back of their vehicle.  Scooters are non-motorized making this an Eco-friendly activity – you just need to hold on tight, balance, and let gravity do its magic to propel you down the mountain path.
After signing the relevant safety forms, they helped us into our seats for the journey up the mountain to where our tour would start.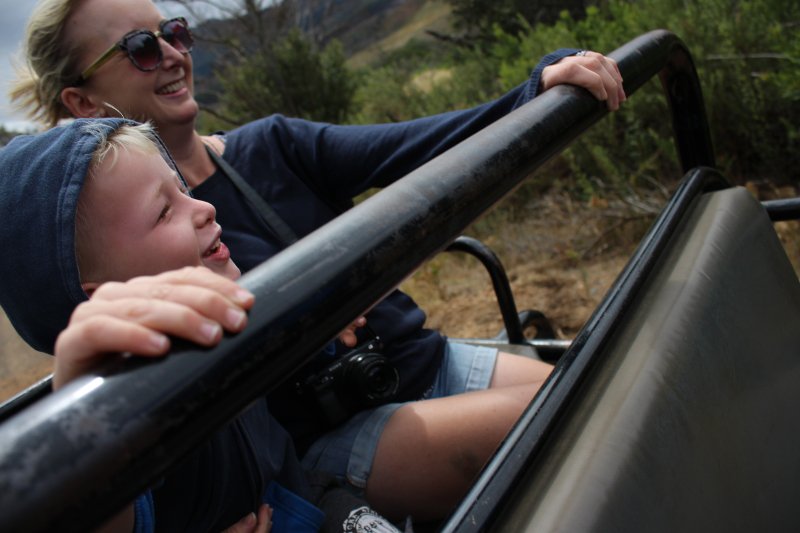 ON OUR WAY!
What an amazing location for this experience! The ride up the mountain was fun in itself – my son was literally bursting with excitement as the jeep went higher and higher up the mountain, over rocks and bumpy terrain. We had a great time taking in the magnificent scenery of the Stellenbosch Jonkershoek Valley, and we waved at mountain bikers and hikers enjoying the reserve on our way up.  I could imagine how excited all the kids would be if this was for one of the Scootours kid's parties – all eagerly anticipating the journey down on the Mountain Scooter.
Training - Safety First
Once we reached our destination the tour guide equipped us with safety helmets and gloves, gave us the best-suited scooter (according to if you had a passenger or not) and gave a safety briefing about how to handle it correctly.  As my son was between 4-9 he was a passenger, and I would be a driver (anyone over 10 years old).  Alex could hardly contain his excitement and wanted to get going – but I was a little bit nervous as you are relying on gravity to propel you on your journey down the mountain.  We were shown how to use the brakes (NB don't use just front brake!), and we set off on our adventure down the slopes!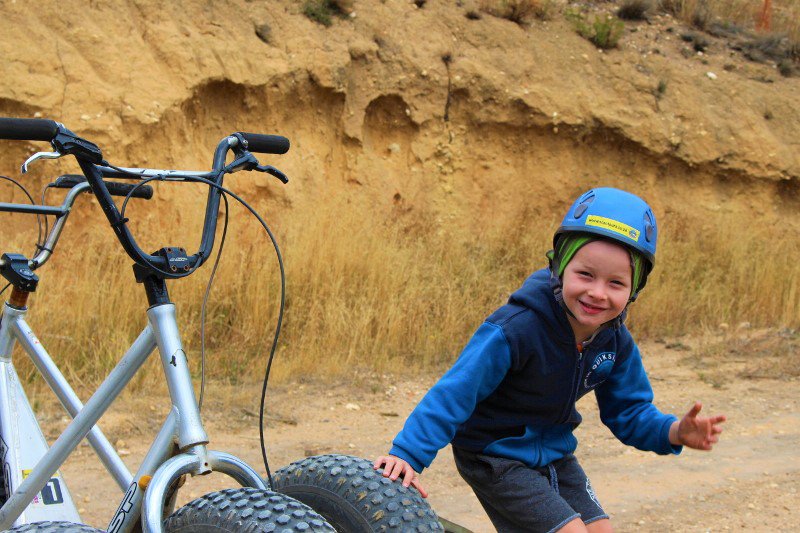 The ride of your life!
Well, what a thrilling experience – whizzing down the mountain with the fresh air on your face and your senses awakened! I am not embarrassed to admit initially it took me a little bit of time for me to warm up and relax into the ride, but once you learn to look ahead instead of directly in front of you and get your posture right, you can just embrace it and have the time of your life freewheeling down the mountain! Kids will love it - Alex spent the ride hollering 'faster' and squealing in delight going around the corners and over the bumps – thankfully these scooters have large, durable wheels and were built for travelling down the Alps, so I knew they were manufactured for such terrain. A cameraman provided by Scootours took professional photos of us throughout the experience – capturing each moment for future memories.
When we reached the bottom, and our tour was complete, my son wanted to go back to the top to start again.  Unfortunately, our experience had come to an end, but we will hold onto those memories (and photos), and we will definitely be recommending it as a fun and exhilarating activity which will appeal to kids and adults too – in particular as a kids party as I know how much fun Alex had.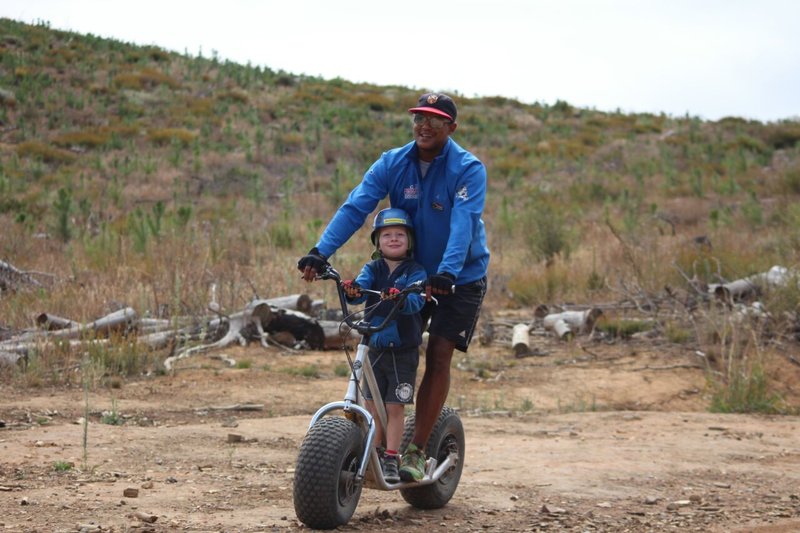 Adventures and unique kids parties in Stellenbosch, Franschhoek and on Table Mountain
If you wanted to enjoy a Scootour, the guided tour can be for all ages - drivers must be 10 years and up and able to ride and balance a bicycle, and passengers between 4-9.  In Cape Town, they offer a selection of locations for their tours including Signal Hill and Table Mountain, and mountain vineyards of Franschhoek (Mt Rochelle Reserve), as well this adventure we did at Jonkershoek in Stellenbosch.
Scootours offer a unique experience for a kids party for children aged 10 and over as a group of friends.  In the party package, they offer a guided tour for a group size of 8-14 kids. Kids can enjoy the active fun, and fresh air in a beautiful setting - and can choose to have a picnic or pizza depending on the location, at an additional cost (please refer to their website for information).  Access to the reserves are included in the price, and they provide a bottle of water to keep everyone hydrated.
Scootours also offer corporate and team building tours in the above locations – a great way to spend time away from the office and to build up some team spirit.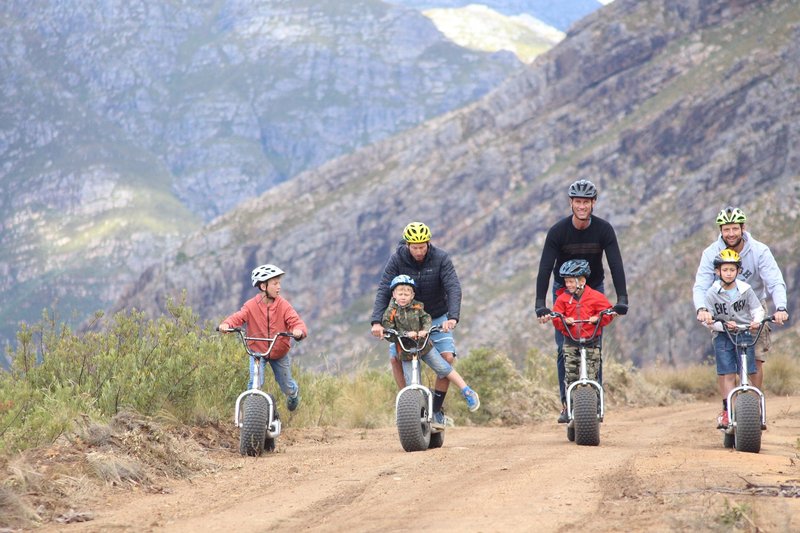 The surprize ....
You can get R50 off per person when you book online using our unique Scootours voucher code in Things to do with kids Magazine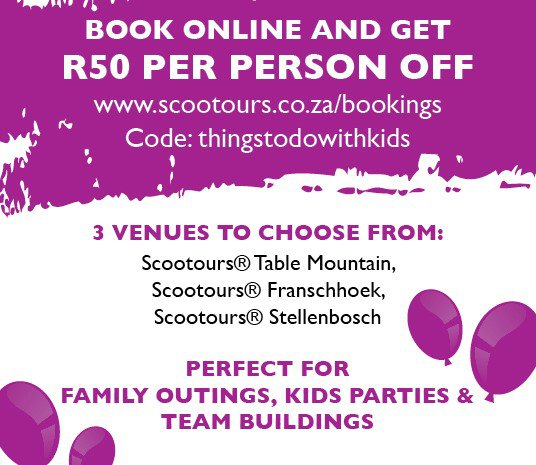 Have you been to a Scootours kids party or family adventure? I'd love to hear about your experiences at the Franschhoek adventure and Table Mountain family tour - let us know in comments!