Our Family's Beach Holiday in Comfort and Style
My beautiful sister turned 30 the other day and instead of a big birthday bash, she asked us to join them for a week away at Zimbali Coastal Estate in Ballito to celebrate this momentous occasion. Always up for a break away from the hustle and bustle of our nation's economic capital, my husband and I jumped at the opportunity. I also could not wait to see my 8-month old's reaction to my happy place, the beach.
The Logistics:
We booked a flight and car package through Mango Airlines and Avis and booked a car seat for Bean at the same time. Being a little obsessive compulsive when it comes to cleanliness, I was quite worried about the condition of the hired car seat but it was clean and looked fairly new.
There are two very nice, upmarket hotels in Zimbali which both offer adjoining rooms, baby cots and various amenities for kids. For more information on these hotels visit the Fairmont Zimbali Resort Hotel website here  and the Zimbali Lodge website here.
Seeing as Zimbali is also a residential estate, there is a variety of child-friendly self-catering accommodation available. We booked a self-catering unit called Tinderwood on the Lake through Zimbali Bookings. The unit is serviced daily, very comfortable and child-friendly. They managed to include 2 x camping cots (we were travelling with two babies) which were clean and well looked after. Plastic crockery is available and most importantly, the pool is fitted with a pool net.
Zimbali is located close to the Lifestyle Centre (5-10 minute drive) which has a variety of shops to choose from for all the required food and general supplies.
The NetcareAlberlito Hospital  is located within a 5-10 minute drive from Zimbali in case of an emergency.
Activities in Zimbali, Ballito
Forest Walks and Hikes
Zimbali is, in essence, a really big forest (with some houses in between and a beach front) and there are a number of hiking trails and walkways available. The hiking trails are not pram friendly but the general walkways are and it's a lovely experience to take a walk through the estate in the mornings.
My sister and brother in law are big birding fans and they really enjoyed looking out for new 'lifers' to add to their list of birds seen and successfully identified.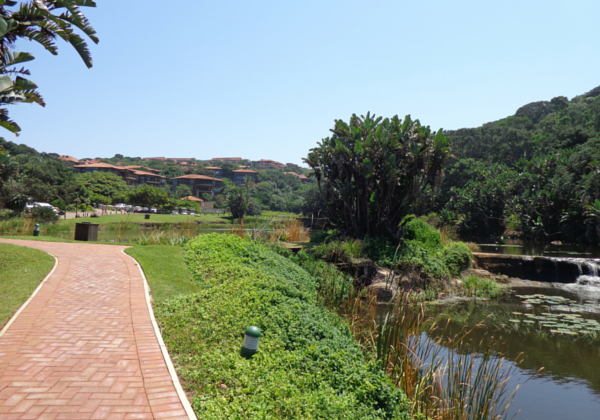 Valley of the Pools and the Beach
This is possibly my favourite place in the world when it comes to beach and pool areas. The area is located right next to the beach so while you are lounging comfortably on a side lounge chair by the pool, in the shade of a large umbrella, or taking a relaxed swim, the sights and sounds of the sea are right next to you.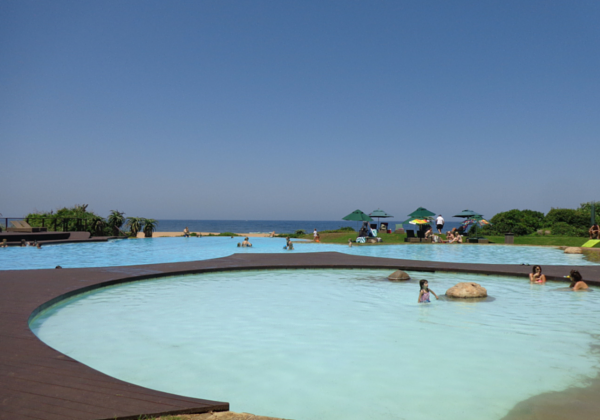 The main pool area and kiddies pool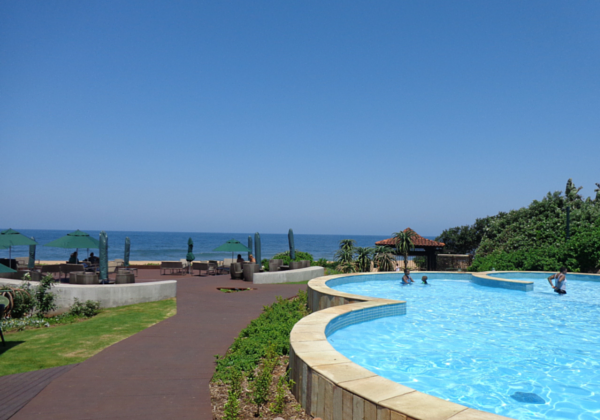 The Valley of the Pools restaurant deck and pool, pathway leading to the beach
There are two kiddies pools available as well as a clean ablution facility (including showers and a baby changing facility).
Zimbali also offers access to the private beach area located in front of the estate. Although this is a beautiful beach, it must be noted that it is not a swimming beach as there are no lifeguards on duty and there are no shark nets.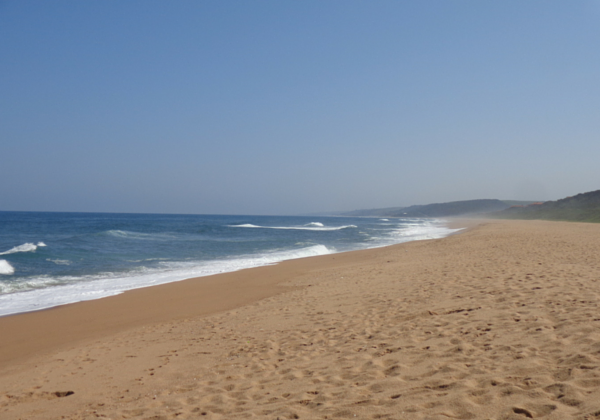 Zimbali beach
If lounging next to the sea is not enough, there is a restaurant with a wood fired pizza oven (they make delicious pizzas) and a fully stocked bar, serving cocktails.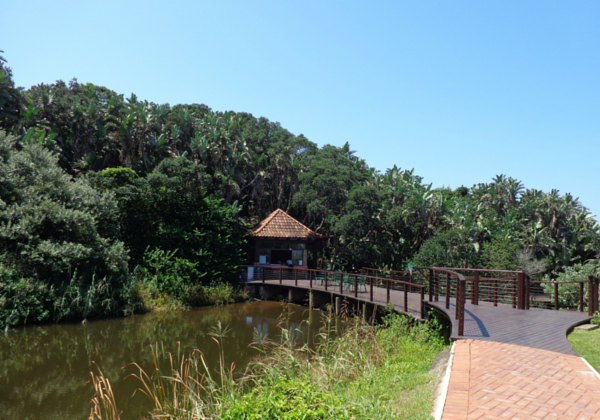 Pizza Hut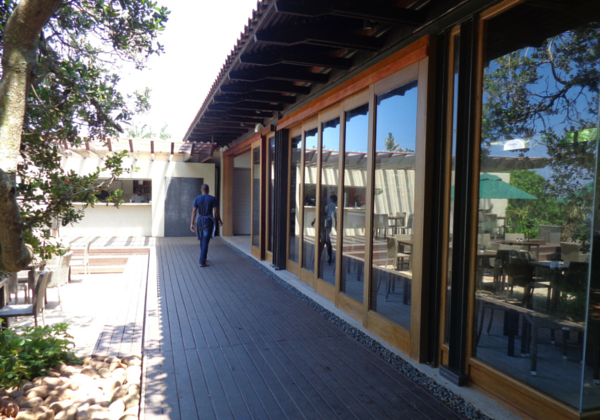 Valley of the Pools Restaurant
Picnic at the Lake
There is a beautiful lake situated behind the Valley of the Pools which is the ideal location for a family picnic, soaking in the sights and sounds of nature.
Adult Entertainment
There are a number of good restaurants to choose from at the hotels should you be able to arrange a babysitter (either through the hotel or privately).
Sundowners at Zimbali Lodge is a must, the view is spectacular.
Other Activities in Zimbali
Golf (Zimbali is known for their Golf Course)
Tennis
Health and Beauty Spa
Bird and Butterfly Watching
Mountain biking
And if you are bored of Zimbali, a variety of activities are available in Ballito, Umhlanga and even Durban itself.
In summary, Zimbali is a wonderful family holiday destination for the following reasons:
Pram friendly & baby changing facilities readily available
Child-friendly accommodation (in the hotels as well as the self-catering accommodation options)
Although the resort does not offer planned entertainment for the kids, there are so many exciting activities which can be enjoyed by the whole family
All in all, we had a wonderful time and my Bean loved the beach and being outdoors. Although he was a bit scared of the crashing waves, the sandy beach provided hours of entertainment. Writing this, I wish we were still there - Alexa