Cape Town + Southern Suburb Party Play Venues
Last update: 30 March 2023
As parents we are always on the lookout for fun ideas and venues for kids' birthday parties for a variety of reasons: first of all, kids love to be entertained and party venues usually cater to that, there is the decor, the cleaning and all the details to keep in mind. With so many balls to juggle it just makes sense to consider a kids' party venue and entertainment hire options instead of throwing one in your own home and having 20 kids play with your child's favourite toys.

So here is a great list of birthday party venues for kids. We have updated the blog to include Southern suburbs, city bowl venues, Cape Town Northern Suburbs and Cape Winelands party places.
Also, read our blog on Cape Town's FREE birthday offers.
Party Venues Cape Town, Southern Suburbs and City Bowl
Wild at heart? Visit Acrobranch Adventure parties (Stelllenbosch, Constantia and Garden Route)
Make your birthday a memorable celebration; filled with epic adventure & extreme fun at Acrobranch. Acrobranch proposes different obstacle courses, some for kids and some for reasonably fit adults and teenagers. Obstacles consist of awesome tree-top high ropes and tricky crossings (with ladders, tunnels, walkways, and bridges). We also offer spectacular zip lines to top it off. You will enjoy two hours of fun and adventure with Acrobranch – it is an awesome way to experience something truly unique! (They cater to Team Buildings, Fun Day Outings with Family/Friends & School Excursions too!)
Where: Acrobranch Stellenbosch / Acrobranch Constantia / Acrobranch Garden Route (Western Cape)
Who: Children aged 3 and older, adults will love it too!
Where: Acrobranch Stellenbosch / Acrobranch Constantia / Acrobranch Garden Route (Western Cape)
Two Oceans Aquarium, V&A Waterfront - Cape Town City Bowl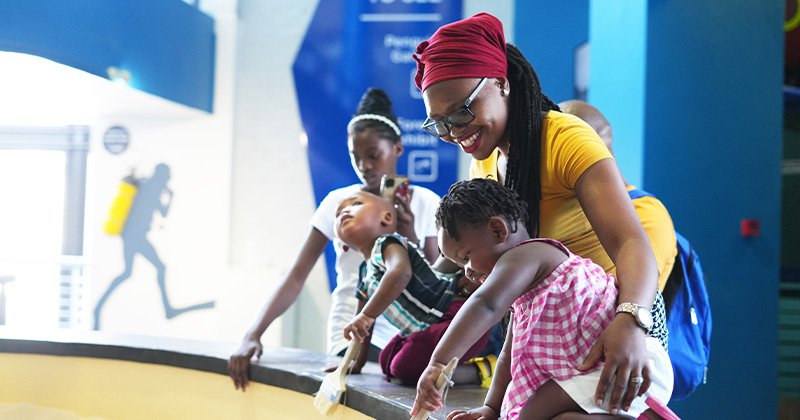 Celebrate your birthday with penguins, sharks and puppets! The Two Oceans Aquarium offers free birthday entry for kids and adults of all ages – just prove your date of birth at the ticket office and you can spend all day at the Aquarium for free on your birthday or on one of the six days afterwards.
The Aquarium also offers a 10% discount for groups of 10 or more paying visitors (and plenty of seasonal specials too). After your visit, stop at the kid-friendly Bootlegger Coffee Company inside the Aquarium, or explore the sights, sounds and wildlife of the V&A Waterfront.
Where: Two Oceans Aquarium, Dock Road, V&A Waterfront, Cape Town
Who: Suitable for all ages.
Rates: Free entry on your birthday. Discounts for groups 10+
Host an enchanting kids' party with Make it Magical (Mobile parties)
Invite the magic of fairies to your next party. These fairy house building workshops are designed to allow creative expression and give life to your child's imagination.
Choose your party house: either a little wooden cottage or a house made from a recycled juice bottle on a generous base. Make it Magical offers a range of natural building products including wood bark, pebbles and foraged ingredients. In addition, they provide craft glue, gravel, grass, paper flowers, picket fencing and a wide variety of embellishments.
Assisted by their team of experienced facilitators for 2 hours, your guests will create their fairy dream fantasy.
Where: They will come to your venue of choice.
Who: Children 5 years and older.
Rates: Starting at R350 per child.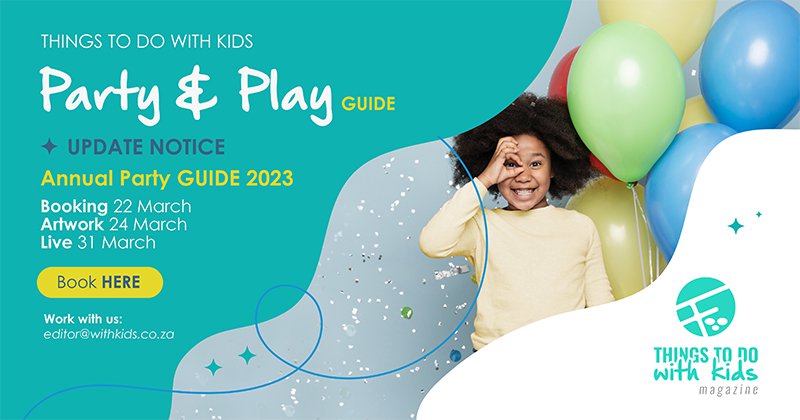 Is your venue not here? You can request a late entry!
Scootours Adventure and Kids Party Venue - Cape Town | Franschhoek | Stellenbosch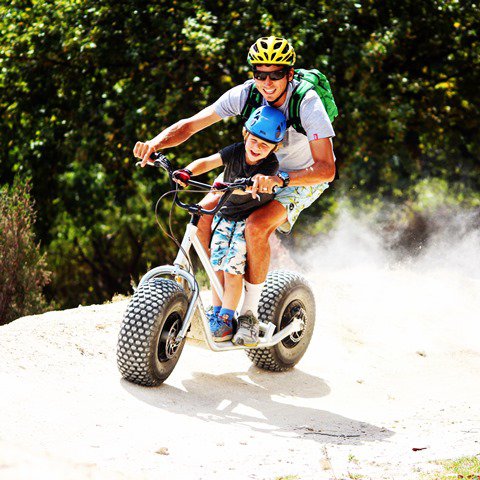 Scootours is a thrilling outdoor adventure, whether you are looking for a team-building event, a child-friendly adventure or a unique kid's party.  You can bring your own party treats and kids over 10 can go on their own mountain scooters.  
There are a number of branches including:
Kids' Party Venues - Northern Suburbs
Share your light at Candle Avenue (Durbanville and mobile parties)
Candle Avenue - offers you a magical party atmosphere, making celebrating easy, hassle-free and they bring entertainment for kids and adults alike, with tailor-made experiences and the opportunity to be creative. This is one of the best kid's party ideas! Come winter or summer, they will make it a memorable day! 
They also offer Mobile Parties, where they come out to you or a venue of your choice, as well as entertainment during the holidays with their known holiday programmes.
Candle Avenue will host the entire party for you and each child makes their own x3 candles to take home.
Where: Durbanville, Cape Town
Who: Ages 5 to 101
Rates: From R1800 venue fee & R96 pp Standard Candle Party
Did someone say "Party at Playalot? (Kuils River, Cape Town North)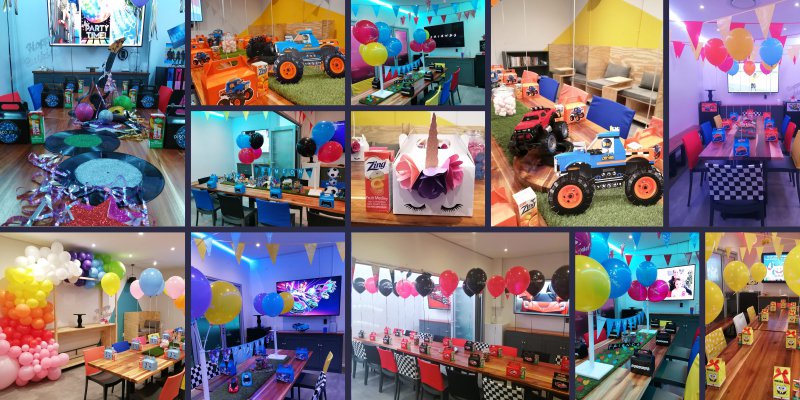 Voted KFM's Best Kids Party Spot 2021, Playalot takes all the hard work out of party planning!
Party venue 𝗧𝗜𝗖𝗞!
VIP party terminal 𝗧𝗜𝗖𝗞!
Themed décor 𝗧𝗜𝗖𝗞!
Party boxes, food & drinks 𝗧𝗜𝗖𝗞!
Platters for the parents 𝗧𝗜𝗖𝗞!
Drinks for the parents 𝗧𝗜𝗖𝗞!
Post-party cleaning 𝗧𝗜𝗖𝗞!
Where: Inside Haasendal Gables Shopping Centre, Kuils Rivier, Cape Town Northern Suburbs
Who: Ideal for kids aged 1 to 12! (they also cater for teens & adults though)
Rates: From R200 per person
Indoor fun at GrandWest Entertainment, Cape Town Northern Suburbs (Goodwood)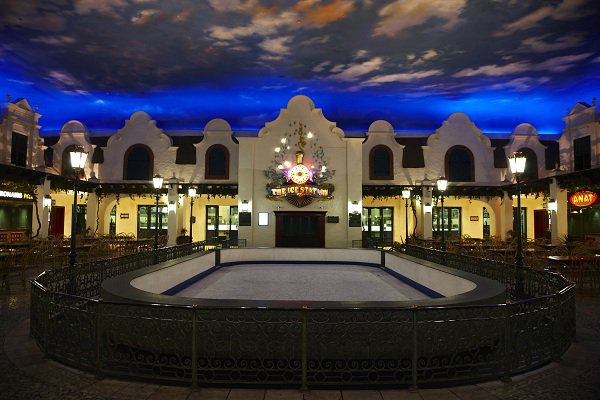 From the icy adventures to the only ice-skating rink in the whole of the Western Cape… GrandWest really is the coolest place during school holidays and for those wanting a fun and exciting kids' party venue.
Kids' Party Venues - Cape Winelands
Have a wonderful time at Wonderdal ( Stellenbosch )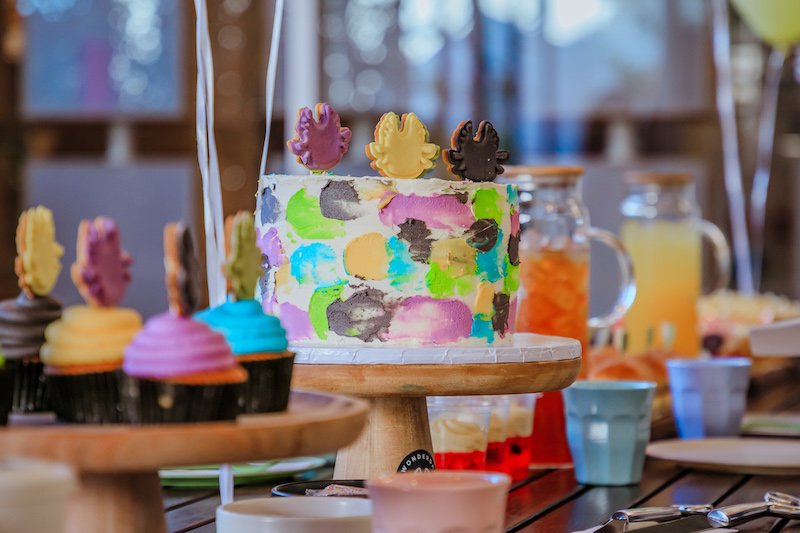 Finding the right venue for a fun kids' birthday party in Cape Town is never easy, but Wonderdal ticks all the right boxes with its indoor and outdoor spaces and convenient location in the scenic Stellenbosch Winelands. At Wonderdal, kids can enjoy hours of supervised fun and edutainment, while their professional events staff take care of everything from catering to clean-up, leaving parents to relax and enjoy the special day of birthday celebrations.
Where: Wonderdal at Hazendal Wine Estate, 60 Bottelary Road, Stellenbosch, 7599 (New entrance from Ronelle Street via Kruis Street)
Who: Suitable for children 6 to 12 years and their parents. (preschoolers, school kids, tweens, teens)
Rates: From R250 per child
Scootours - Stellenbosch
Scootours kids' parties in Stellenbosch
Acrobranch - Stellenbosch
Kids' Parties at Acrobranch Stellenbosch
Photo Credit: Images sourced from individual venue websites
Kids' Party Venues - Overberg
Pirate Golf and Splash Pad - Benguela Cove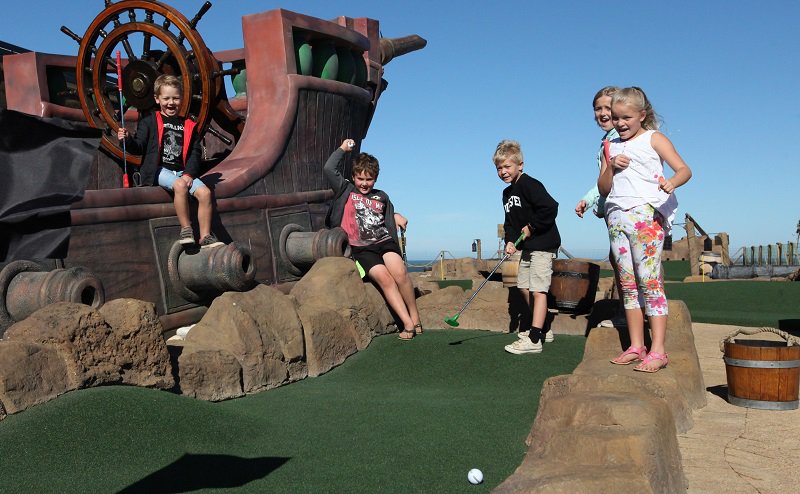 Child-Friendly Pirate Adventure Golf and Splash Pad in Benguela Cove, Hermanus, Western Cape. Bring the kids and the rest of the family to play some child-friendly adventure golf.
Contact: Pirate Adventure Golf
For more indoor kids' party venue inspiration, read Kids Indoor Play Venues in Cape Town.
Remember to check out our Kids Party Photographer page in order to find the perfect family photographer to capture these memories (as well as some really cute party theme ideas!).
For more ideas on party and play venues, you can visit one of the many play parks in Cape Town