Cape Town + Southern Suburb Moms Party Play Venues
As parents we are always on the lookout for fun ideas and venues for kids' birthday parties for a variety of reasons: first of all, kids love to be entertained and party venues usually cater to that, there is the decor, the cleaning and all the details to keep in mind. With so many balls to juggle it just makes sense to consider a kids' party venue and entertainment hire options instead of throwing one in your own home and having 20 kids play with your child's favourite toys. So herewith a great list of birthday party venues for kids. We have updated the blog to not only include Southern suburbs and city bowl venues, but also Northern Suburbs and Cape Winelands party places.
The Autumn (March-May 2020) edition of Things to do With Kids Magazine will also have some fun and exciting indoor play areas and party venues for kids as well as a discussion on the top party trends for 2020!

Party Venues Cape Town, Southern Suburbs and City Bowl
Acrobranch Outdoor Playpark, Constantia Neck Forest - Cape Town, Stellenbosch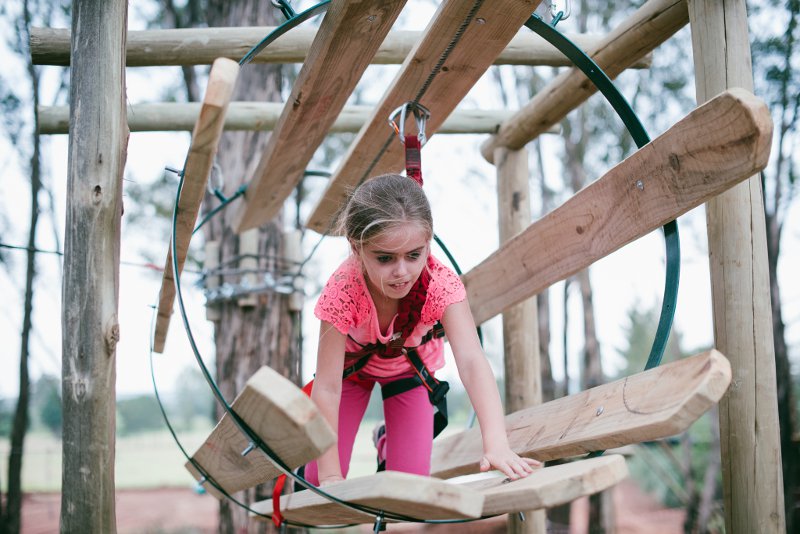 Would you like to gift an adventure for your child's birthday? Why not try planning a party at Acrobranch where the kids get to play outdoors and have loads of fun. This activity involves moving from tree to another tree in an area with a beautiful forest and views. This is a great way to share your child's birthday and create exciting memories in the great outdoors. There are various branches, but the Cape Town branch can be found in the Constantia neck forest, between Constantia and Hout Bay. They also have 5 more branches nationwide. A great idea for a kids party.
Contact: 086 999 0369
Website: Acrobranch
Use: ACROBD20 to get 20% off your birthday party booking!
Two Oceans Aquarium, V&A Waterfront - Cape Town City Bowl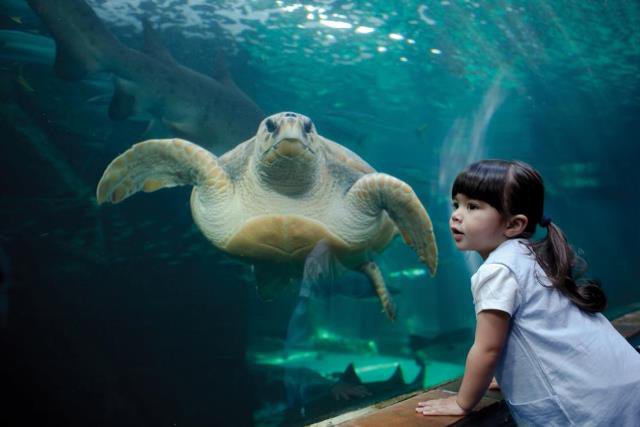 This magical venue will inspire a sense of wonder in the kids as they explore the world of 'under the sea'. The Two Oceans Aquarium no longer offers birthday parties for children, but take advantage of their offer to enter for free on your birthday. It is a time to celebrate with friends and family.
More Information: Two Oceans Aquarium
Clay Cafe, Hout Bay - Cape Town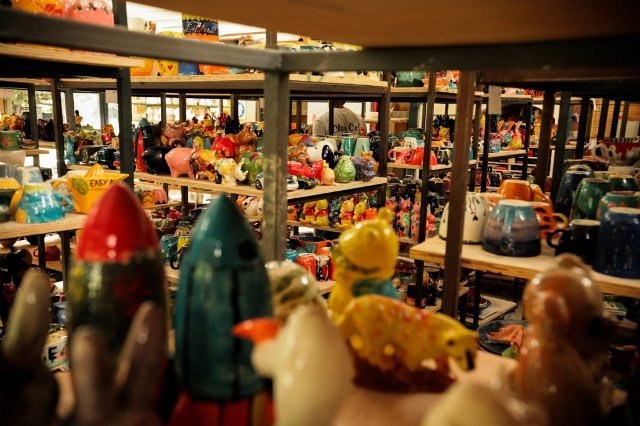 This family operated ceramic businesses is a great kids and adults party venue. They also serve some delicious food at their restaurant. The Clay Cafe is a memorable visit where you will get to showcase your creativity with some fun pottery painting. This is a great recreational activity for children or parents alike.
More Information: Clay Cafe
Make It Magical - Cape Town mobile service and selected venues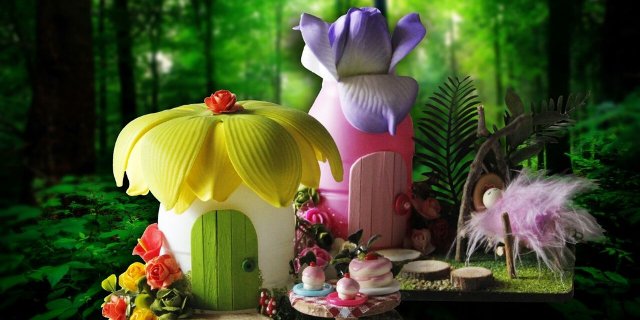 Make it Magical offer the most beautiful, creative and fantasy-nurturing Fairy House Building Workshops at your venue of choice. 
More Information: Make It Magical
Kids Pilot Parties - Cape Town
The Club provides a friendly and safe atmosphere where you can introduce your little one to the life of a Pilot. It is one of the sweetest party venues for kids and boys love it!
Kids can experience the roar of aircraft, and see them as they leave and return from flights, while they are enjoying themselves. What do they have?
The club has a play area and a jumping castle available for parties. Kids Pilot parties will provide Planes themed decorations and party boxes filled with treats and drinks, Fun games and activities to keep your little ones busy. Photos at the aircraft can also be arranged.
Address: 2 Douglas Road, Matroosfontein.
Contact: 084 446 0995 | Kids Pilot Parties
Ages: 5+ (ideal for preschoolers to tweens)
Cape Town Science Centre - Cape Town, Observatory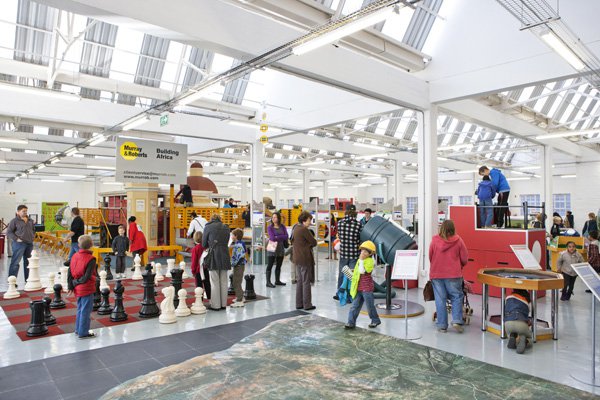 This super-interesting and informative venue offer remarkable science parties for kids! And who doesn't love a good science experiment?! 
More information: Cape Town Science Centre
Build-A-Bear, V&A Waterfront City Bowl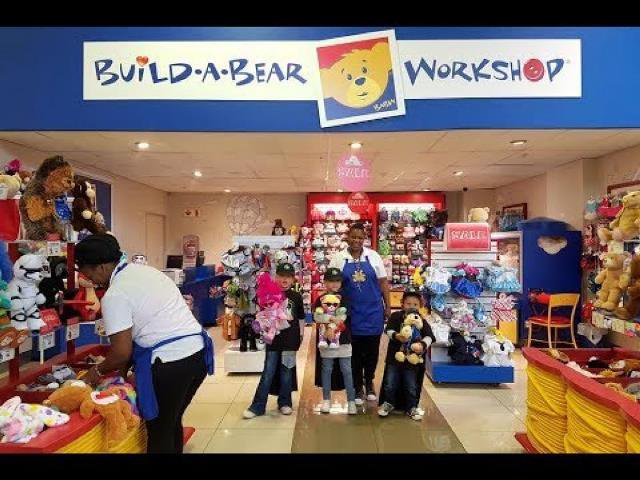 Book your kids next birthday party at Build-A-Bear and each guest will make their own stuffed animal. Build-A-Bear Workshop is fun for everyone! Kids' get to use their imaginations, discover, learn and create to make that one special furry friend.
More Information: Build-A-Bear
Build-a-Bear has a number of branches around the country including Build-A-Bear Birthday Parties at Tyger Valley Shopping Centre
Split Second Science Kids Parties & Entertainment - Cape Metro and mobile service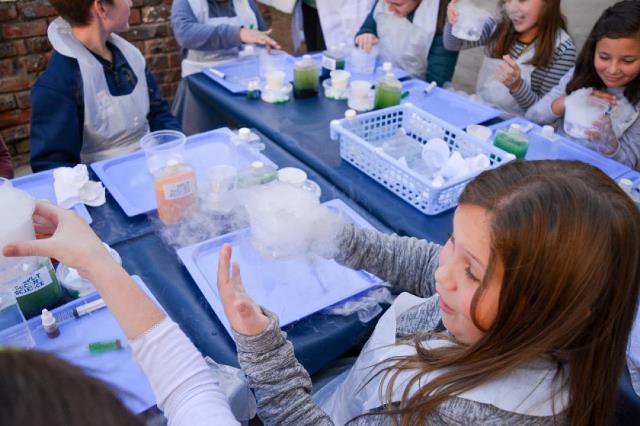 Split Second Science mobile birthday parties are aimed to provide children with 60 minutes of non-stop science fun and parents the opportunity to enjoy the party as much as the children. Split Second Science hosts and facilitates shows & workshops aimed at generating a scientific curiosity in children and teenagers, through edutainment. 
More Information: Split Second Science
Race World Indoor Play Venue, Tableview, West Coast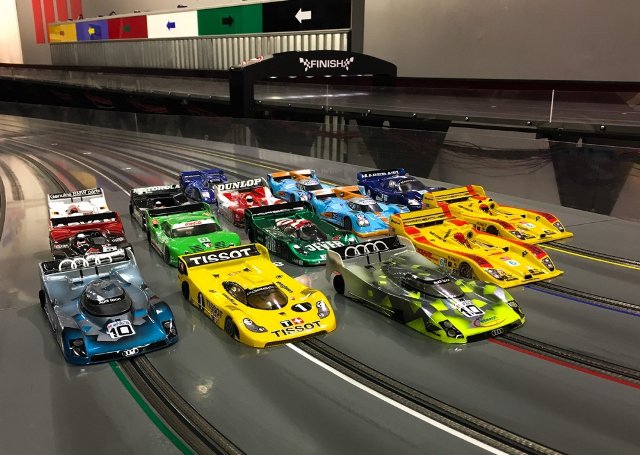 Bring the kids for a slot car racing experience at Race World SA in Table View, Cape Town! 
They offer a variety of events at the raceway from kids parties, bachelor parties, team building, casual racing as well as a members club.  The track is indoors so a perfect venue for any weather.
More Information: Race World
Scootours Adventure and Kids Party Venue - Cape Town | Franschhoek | Stellenbosch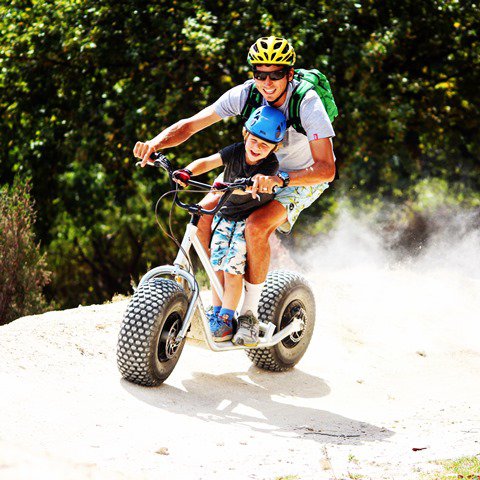 Scootours is a thrilling outdoor adventure, whether you are looking for a team-building event, a child-friendly adventure or unique kid's party. All Things to do With Kids readers can get R50 off the Scootours experience (per person) when you book online, using the voucher code "thingstodowithkids". You can bring your own party treats and kids over 10 can go on their own mountain scooters.  
There are a number of branches including: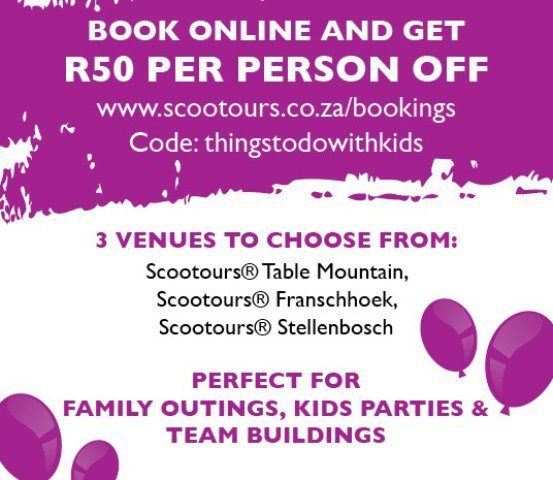 Book here for this amazing adventure
Jolly Roger Pirate Ship, Cape Town V&A Waterfront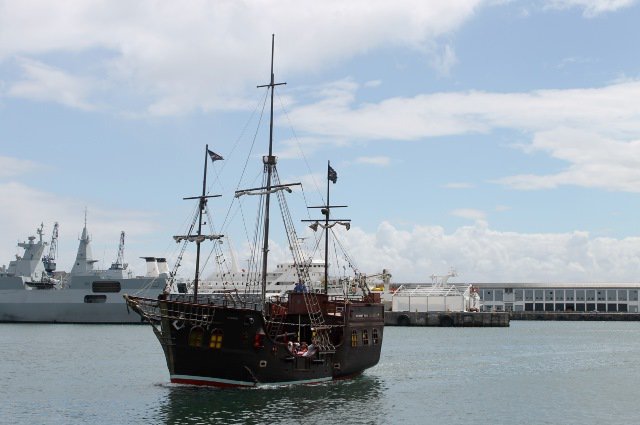 The Jolly Roger is the only authentic Pirate Ship in South Africa and sails daily in Cape Town. Built for any occasion they offer daily scheduled tours as well as the opportunity to hire the entire boat for your special event or kids birthday party. 
More Information: Jolly Roger Pirate Ship
Waterfront playdate Superpark,  V&A Waterfront
PlayDate SuperPark boasts over 10 000 squares feet of family fun. If you between the age 0-100 and looking for Adventure, Fun and amazing food all under one roof then you need to come and explore.
More Information: PlayDate SuperPark.
Scratch Patch and Cave Golf Putt-Putt, Cape Town, V&A Waterfront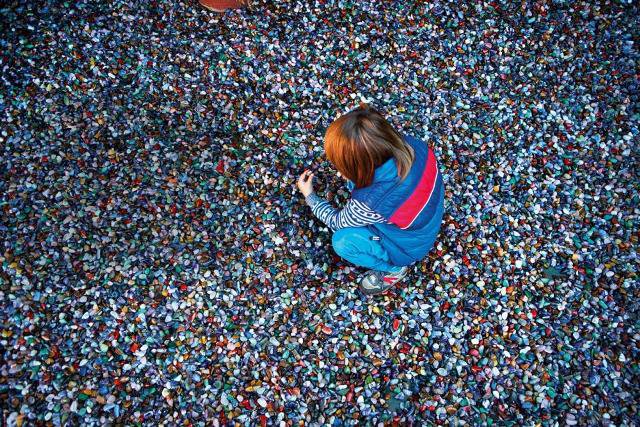 Kids' will have lots of fun scratching around for their favourite gemstone. You can also find close to the scratch patch the, Cave Golf Indoor putt-putt.
Location: V&A Waterfront
Contact: Scratch Patch  | Cave golf 
PlayStation Adventure Park and Cafe, Tokai
We received quite a few recommendations for this indoor play venue for kids aged 2 - 12 and it really is fantastic.
What do they offer: 
Childminders (or Marshals as they call them)
Restaurant and coffee shop with views of the play area
Toddlers (under 2) get free entrance and they have a dedicated play area
Party venue
Location: 333 Main Rd, Tokai
Contact: http://www.theplaystation.co.za/ 
Party Equipment + Services Hire: Family Games, Crawford -Cape Town
Why not consider an event hiring service for families, this company offers a unique spin on the traditional games. All the games are oversized or a giant size, the family games are designed for entertainment as well as education. Some of the games on offer are giant snakes and ladders, giant Jenga, giant checkers these are just to name a few. There is a wide variety of fun activities you can choose from when planning your child's birthday. The items can be hired for the day and are delivered and collected by the company. The games are also set up by the company so you don't have to worry about a thing, except have fun. They are located on Lawson Road, Crawford.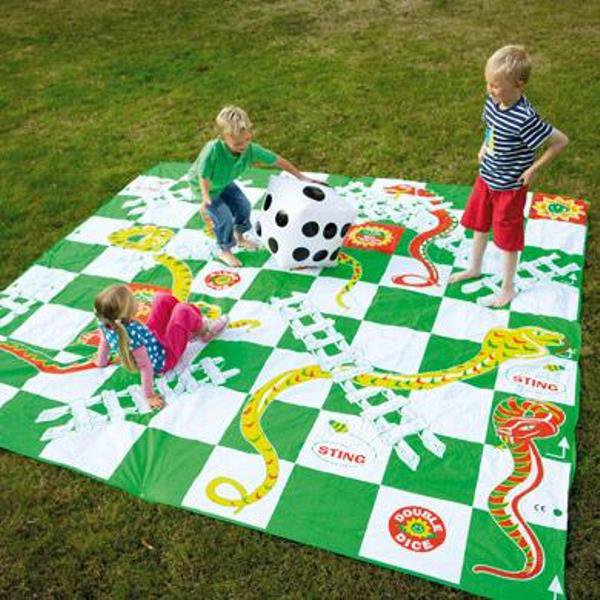 Contact: Marco: 082 760 8814
Website: www.familygames.co.za
Active Sandboarding Parties - Cape Town
Sandboarding; a fun and different type of kid party idea that is exciting and very easy to learn. Sunscene offers a supervised and professional sand boarding experience at the Cape Town sand dunes. 35 minutes from the V&A Waterfront you will find some of the best dunes in the country. The party includes: 2 hours of fun sand boarding with professional instruction and all equipment is provided. The parents can relax in the shade provided or join in on the party fun; the minimum age to enjoy this activity is 6 years old.
Contact: 084 352 4925
Website: http://sunscene.co.za/kids-sandboarding-parties/
The Play Shed, Pinelands - Cape Town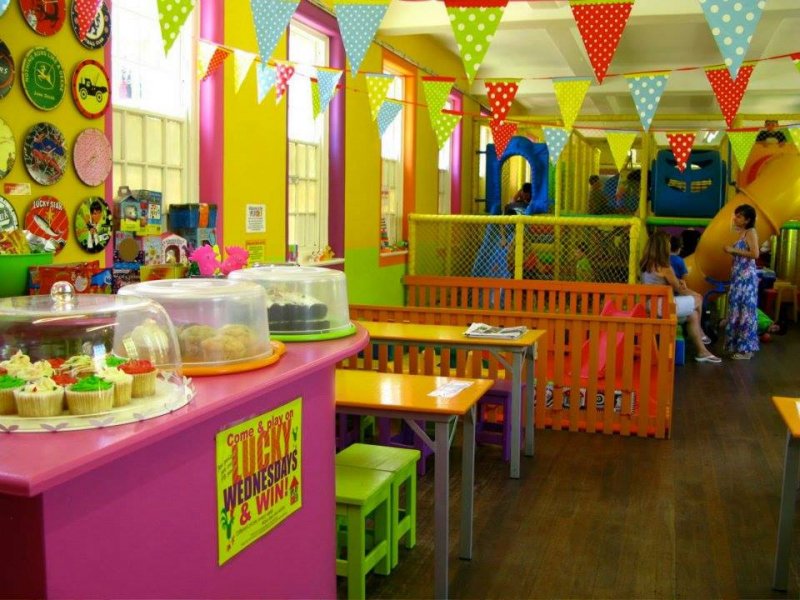 This friendly and fun indoor party venue offers a jungle gym, ball pond, a balance beam, climbing nets and punch bags, an under 3-year-old zone as well as a craft area. The coffee shop offers a relaxing reprieve for adults.
More information: 021 801 0141 | www.theplayshed.co.za
Cricket School of Excellence, Rondebosch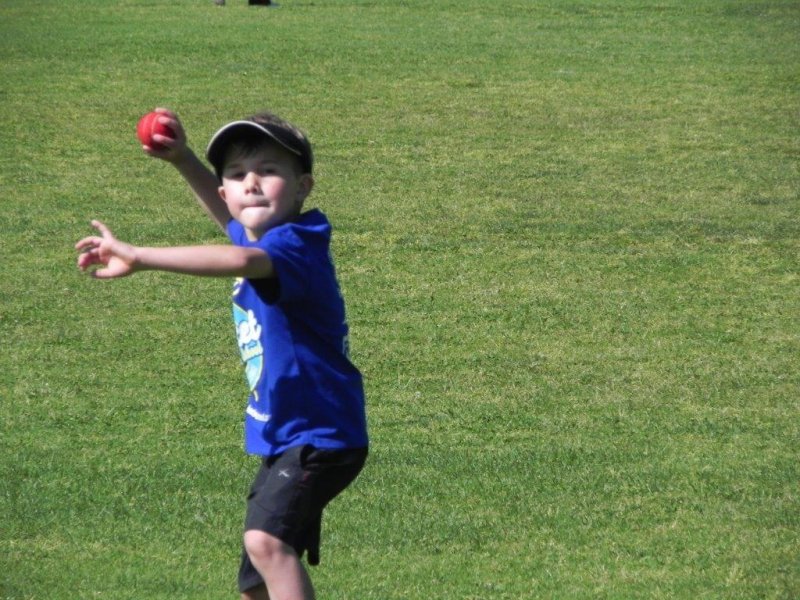 The Cricket School of Excellence powered by Ryan Maron offers various sports parties, holiday clinics, private and small group coaching and corporate events.
Contact: Cricket School of Excellence
Bounce World, Montague Gardens- Cape Town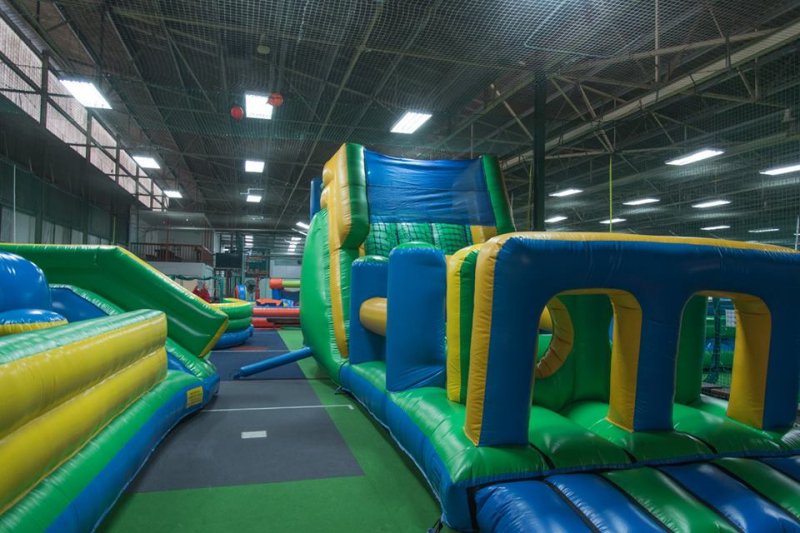 Another family-fun indoor venue boasting the largest inflatable play area in Cape Town. Regular walk-in option costs R90 per child and they have various party packages available.
More information: 021 552 3165 | www.bounceworld.co.za/
Ambiance Kids Party Venue, Wetton - Cape Town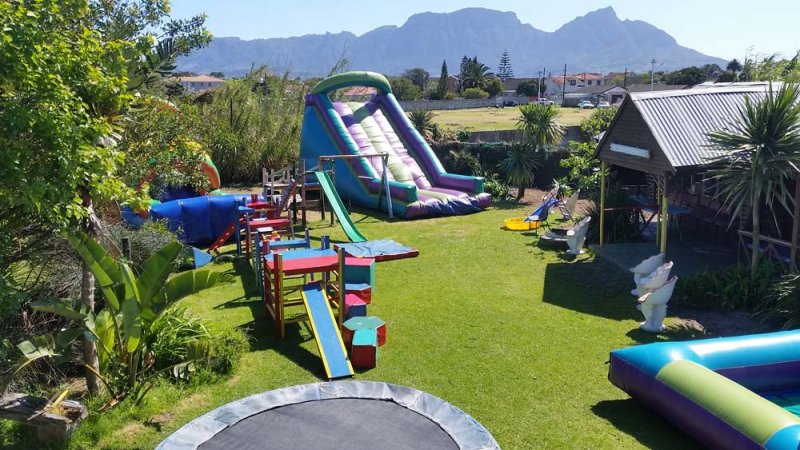 This secure party venue allows parents to host a 3-hour private party with exclusive use of the various activities on offer. Costs are calculated per hour (so bring as many people as you like) and you can arrange your own catering and decor.
More information: http://www.ambiancevenue.co.za/kiddies-parties.html
Kids' Party Venues - Northern Suburbs
Style for Life
Gather the girls' together for a fun party at home. This includes themed parties from Indoor Slumber Teepee Parties, Spa Parties and Dance Parties. Another option, is to get a few girls (6 to 15) friends and have a party at the Studio. The party will be about 2 hours long and includes:
Table with kids champagne, juice, sweets chips etc.
Also Includes: Facial, nail and foot polish, makeup, lip gloss, hair spray & dancing
Address: 11 Sauvignon blanc, Oude Westhof
Contact: 082 801 3234 | Style For Life
Age: 5+ (ideal for preschoolers to tweens)
GrandWest Entertainment, Cape Town Northern Suburbs (Goodwood)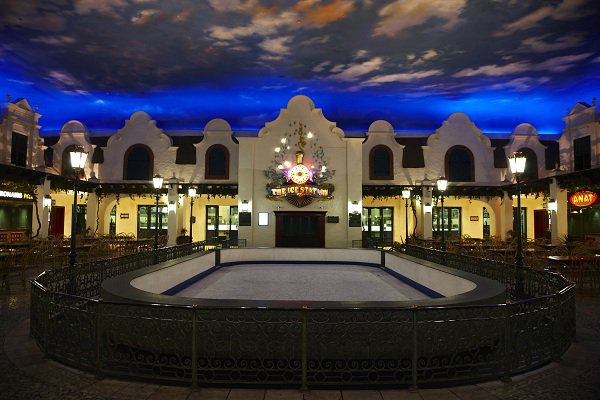 From the icy adventures of Disney On Ice to the only ice-skating rink in the whole of the Western Cape… GrandWest really is the coolest place during school holidays and for those wanting a fun and exciting kids' party venue.
Contact: Grand West
Active Parties Battlefield Live SA -  Durbanville | Cape Town | Franschhoek
A sophisticated interactive outdoor Laser Tag company that offers combat simulation gaming. Entertaining kid's Call of Duty parties can be arranged with fun and excitement.  With gaming time well spent with your friends and family. There are no paintballs, projectiles or masks.  They provide pure adrenalin and action in a safe environment with plenty of activities available for all ages to enjoy. Battlefield Live Laser Tag events include so many 'extra's' not offered by other laser tag companies.  Battlefield Live Laser Tag events run throughout winter, outdoors, as they have imported ponchos for the children to wear.  They operate from these venues - Wynberg Park, Altydgedacht Wine Estate in Durbanville and Freedom Hill situated on the slopes of the Wemmershoek Mountain. A great and fun kids party venue.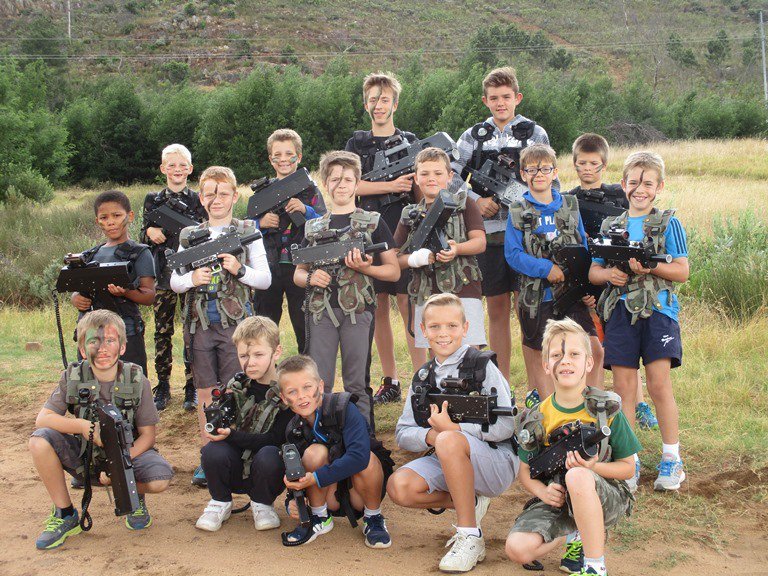 Contact: 084 364 9979
Contact: Battlefiled Live SA
Opikopi Kids Party Venue, Durbanville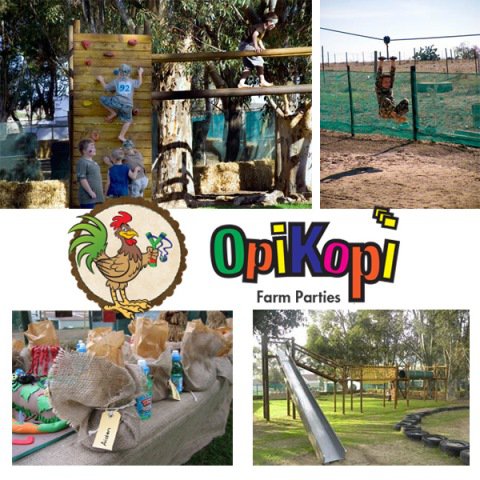 OpiKopi Farm Parties is an outdoor party venue on the farm Sondagsfontein, 8.5 km outside Durbanville on the M58 road. Our aim is to make every child's experience unforgettable! We take the children back to the basics, to allow them to run around free and safe in the open space.
Contact: OpiKopi Party Venue
Funky Frogs, Tygervalley
Funky Frogs kids party venue and indoor play centre at the Tyger Valley Shopping Centre. The Tyger Valley Centre Branch has reopened in their new location in the food court between Dion Wired and Burger King. Leave the kids to play and enjoy fun activities under the supervision of a child-minder, while you get some much needed me-time while shopping.
Contact: Funky Frogs
Rivendale Kids Parties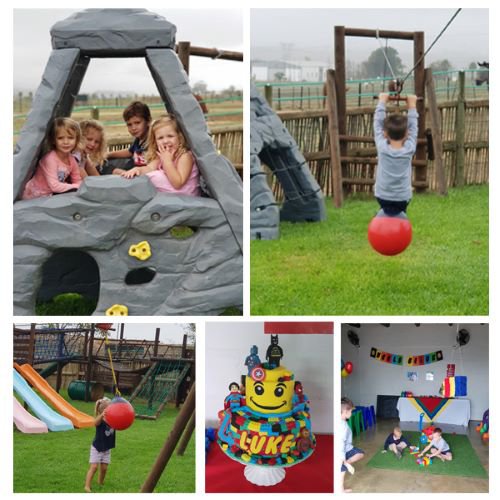 The Rivendale Kids Party Venue is located on a working horse farm and riding school between Cape Town and Paarl on the Tinkerberg Road. From central Durbanville, it will only take you about 8 minutes to get there. Kids will able to enjoy wonderful pony rides and a range of indoor and outdoor activities, while parents may make it an occasion to share and braai with friends.
Address: Rivendale Farm, Tinkerberg Road (Off Lichtenberg Road)
Ages: Kids of all ages
More information: Rivendale Kids Parties
Kids' Party Venues - Cape Winelands
Adventure Park Wiesenhof - Stellenbosch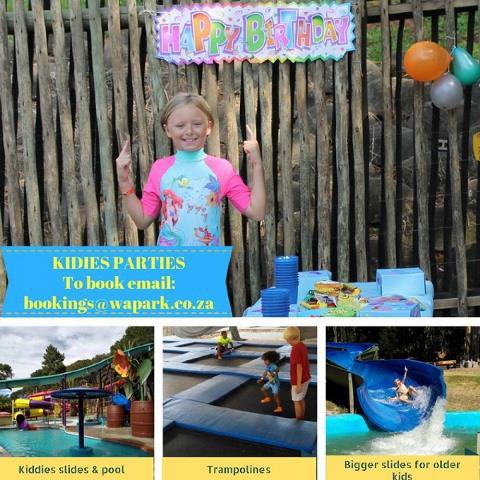 Adventure Park Wiesenhof is an oasis just 12km north of Stellenbosch. This newly built play park and kids party venue offers a variety of adventures and activities to suit all ages and is an awesome family-friendly day out.
Contact: Wiesenhof Adventure Park
Scootours - Stellenbosch
Scootours kids' parties in Stellenbosch
Acrobranch - Stellenbosch
Kids' Parties at Acrobranch Stellenbosch
Graceland Child-friendly Venue, Paarl

This family-friendly play park offers large waterslides, a play area, jungle gym, farm animal encounters and a large lapa and venue hall perfect for a birthday party.
More information: http://www.graceland-venues.co.za/
Kids' Party Venues - Overberg
Pirate Golf and Splash Pad - Benguela Cove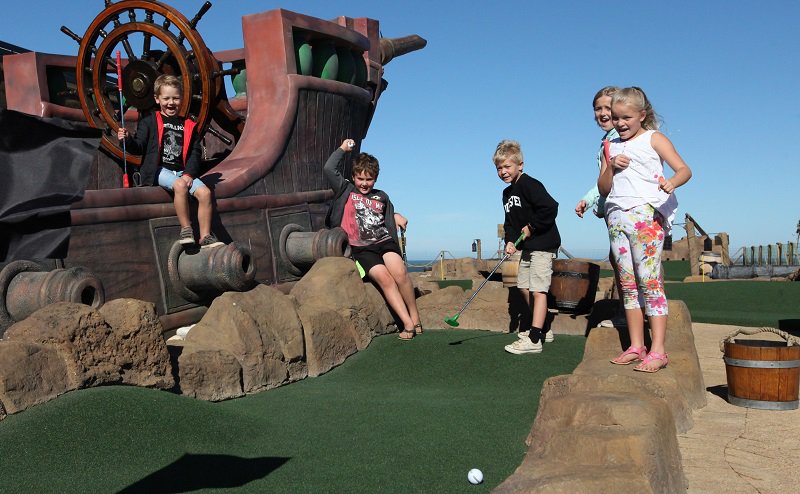 Child-Friendly Pirate Adventure Golf and Splash Pad in Benguela Cove, Hermanus, Western Cape. Bring the kids and the rest of the family to play some child-friendly adventure golf.
Contact: Pirate Adventure Golf
For more indoor kids' party venue inspiration, read Kids Indoor Play Venues in Cape Town.
Remember to check out our Kids Party Photographer page in order to find the perfect family photographer to capture these memories (as well as some really cute party theme ideas!).
For more ideas on party and play venues, you can visit one of the many play parks in Cape Town
Photo Credit: Images sourced from individual venue websites