Family-friendly Holiday Resorts in and around Gauteng
Holiday Resorts Gauteng
Being based in Gauteng, it often feels to me as if we are somewhat cut off from all the amazing holiday destinations and resorts this beautiful country has to offer. Everything just seems so far away and travelling in the car with 2 kids under four years of age for anything longer than two hours seems like a daunting task!
This year, however, I decided that I really want to explore our province more! There are some super cool holiday resorts to choose from nearby after all, plus, if they are a bit further away, I will just have to start getting more creative with in-car entertainment (maybe I can dress up as a clown halfway there?).
Here are some holiday resorts which look absolutely amazing (and worth the drive for the potential family fun and laughter). Plus, these resorts often also offer team-building and conferencing facilities which make them the ideal venues for corporate team-building weekends which include staff families.
Don't miss out on these Family-friendly holiday resorts in KwaZulu-Natal, as well as these Family-friendly Holiday Resorts in the Western Cape.
Things to do with Kids: Family-friendly Holiday & Team-building Resorts near Gauteng 2019
ATKV Buffelspoort, Rustenburg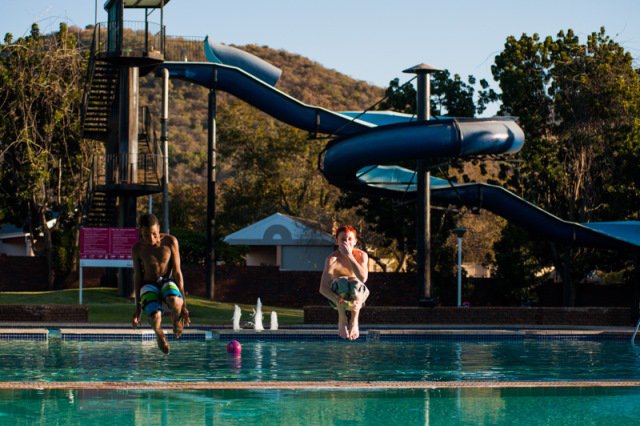 Located in Magaliesberg, this resort is a mere 1-hour drive from both Pretoria and Johannesburg, offering beautiful scenery, a wide range of accommodation options and lots of exploring opportunities in the area.
Activities and Excursions included:
Beauty salon
Restaurant, take away facilities and sports bar
Conference rooms
Swimming Pool (cold and heated, outdoor and indoor)
Braai Area
Jacuzzis
Golf and adventure mini golf
Horse rides
Snooker
Pottery
Volleyball, squash, and tennis
Water slides
Trampolines
Accommodation: Self Catering, Glamping, Camping, Bungalows, Flat, Villas
Contact: ATKV Buffelspoort
ATKV Klein Kariba, Bela Bela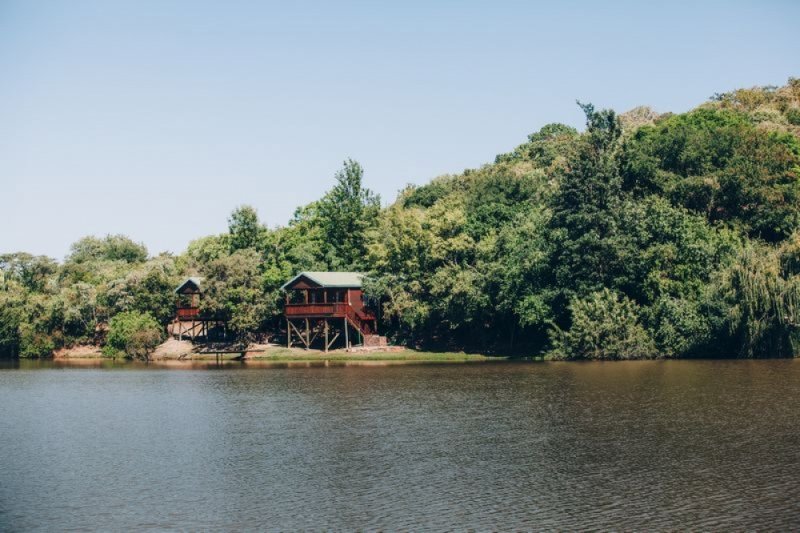 Situated a mere 90min drive from Johannesburg, the ATKV Klein Kariba resort offers a beautiful family reprieve into the bushveld in one of the Waterberg's kloofs. As this resort is located along the Bushveld tourist route, families can explore a number of tourist attractions nearby.
Activities and Excursions include:
Restaurant with takeaway facilities
Shop
Swimming pool
Hiking
Games room
Two warm swimming pools and a heated indoor pool
Cold-water outdoor swimming and splash pool
Water slide
Nine-hole short and miniature golf course
Volleyball and rugby
Horse riding
Game viewing
Hiking trails
Cycling
Pedal and rowing boats (weekends and school holidays)
Fishing
Electronic games (weekends and school holidays)
Four-wheel motorcycle rides
Accommodation: Self Catering, Glamping, Camping
Contact: ATKV Klein Kariba
ATKV Eiland Spa, Hans Merensky Nature Reserve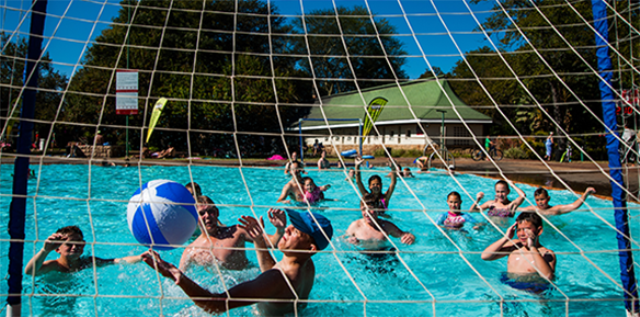 This resort and spa is well-known for its warm water springs and beautiful surroundings. It is situated in the heart of the Hans Merensky Nature Reserve, on the southern banks of the Letaba River, only 68 km east of Tzaneen in the Limpopo province. Expect year-round warm, sunny weather and natural beauty.
Activities and Excursions include:
Restaurant
Swimming Pool
Hiking
Braai area
Games room
Hydro spa, sauna, steam bath and hot-water mineral bath
Cold-water swimming pool and splash pool
Super-tube
Gymnasium
Putt-putt
Hiking and cycling routes
Birdwatching
Angling
Riding
Tennis, bowls and volleyball
Pool table
Foosball
Trampoline
Big chess board
Table tennis
Accommodation: Self Catering, Camping, Youth hostels
Contact: ATKV Eiland Spa
Koppisol Klub Holiday Resort, Vereeniging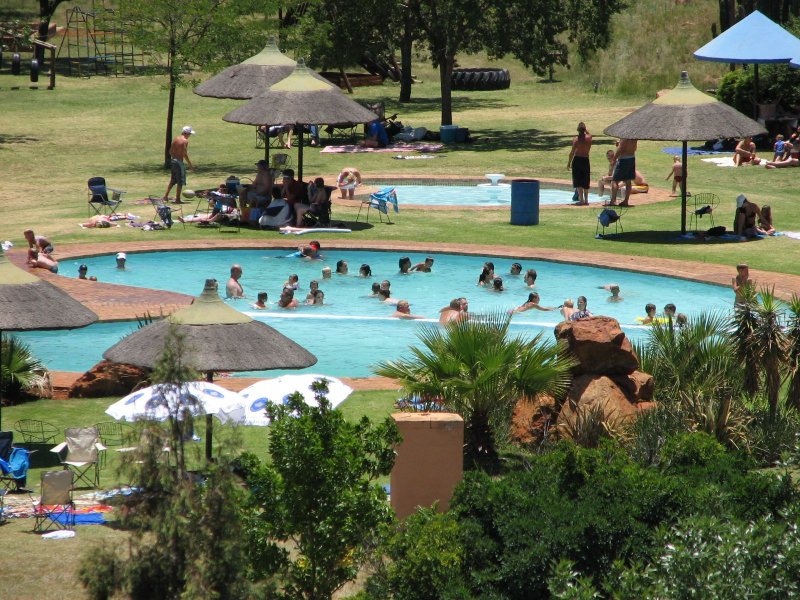 This holiday resort offers a peaceful country setting with tree-lined open spaces; promising an escape from the city into the great outdoors.
Activities and Excursions include:
Hot water pool (only open on weekends from September to April)
Waterslides (open on weekends and school holidays)
Swimming pool
Jungle Gym
Putt-putt
Boeremusiek (on weekends)
Accommodation: Camping, Chalets
Contact: 016 556 1155
Emerald Resort and Casino, Vanderbijlpark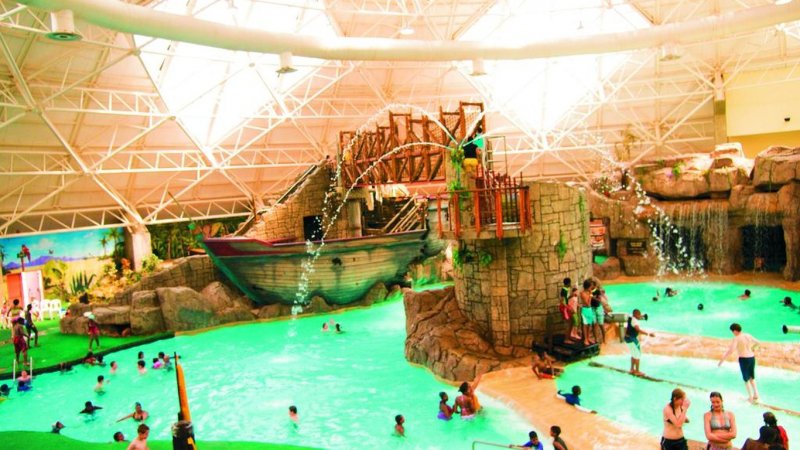 Situated a mere 45-minute drive from Johannesburg, on the banks of the Vaal dam, this elegant resort caters for everyone's needs, offering a variety of accommodation options, restaurants, shops, a spa and entertainment facilities.
Activities & Excursions:
Beauty center
Game drives
Riverboat cruises
Casino
Water sports such as jet skiing, parasailing and towboat skiing
Quizzes, comedy nights and dancing
Aquadome
Animal World
Swimming pool
Hiking
Kids Program
Braai area
Games Room
Accommodation: Hotel, Self-catering, Camping, Lodges, Chalets
Contact: 016 982 8000
Seasons Golf, Leisure and Spa, Brits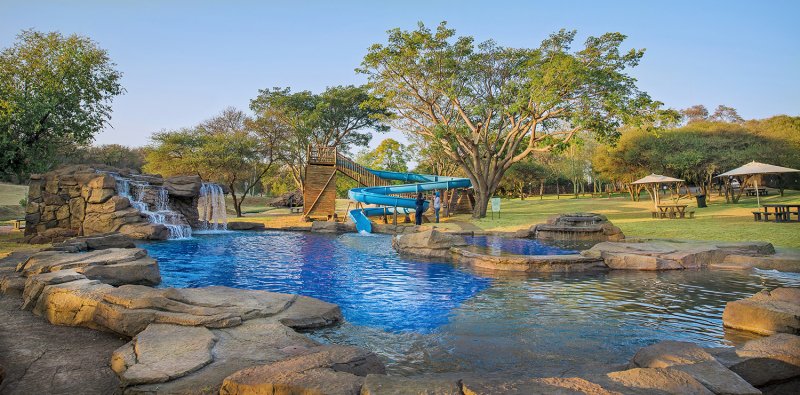 This upscale, yet family-friendly, hotel is situated near the Elephant Sanctuary on 121 hectares of bushveld. It offers a fantastic base from which to explore the many tourist attractions around Hartbeespoort Dam.
Activities and Excursions included:
Restaurant and bar
Two outdoor swimming pools
18-hole golf course
Spa
Kids' playground
Hiking trails
Horse riding
Hot air balloon rides
Birdwatching
Putt-putt
Supersize chess
Accommodation: Lodge Room, Villas
Contact: 087 150 1888