Dating after kids - here's how you do it
We've all been there, you take your wife on date. The waiter pours the first glass of her favourite wine. You stare lovingly into each other's eyes over candle light and start talking about the children and household chores again.
Having kids can take its toll on your marriage. Children quite naturally become a focal point in the house. If you are not careful they can become the only focus. The juggle between work, family time, and daily challenges of life is real. Day by day and year by year we find ourselves spending less and less time together, where it is "just the two of us". A sure recipe for disaster. It's time to change the game.
Here's how you do it
1. Make sure the kids are ok
You do not want to spend your date worried about the kids, book a baby sitter to look after them while you are out.
2. Take her on an adventure
Yes, an adventure date, doing high ropes courses and playing in nature. This will not only break your usual patterns of behaviour and expected habits, but you also release adrenaline and dopamine, which makes you feel good. An added bonus is that you become intensely focused on the moment as you navigate the obstacles, which is akin to meditation. Afterwards, you will have more than enough things to talk about that are not at all tike related.
In order for spontaneity to occur, you have to make a plan, set a framework within which you can do whatever you want, otherwise Valentine's day will mean another day spent on the couch, watching movies.
Find an Acrobranch near you, and book your time slot (they do offer an online booking option). Keep your partner's taste for adventure and feelings about heights in mind when making your booking, as there are different levels of challenge to choose from. Ideally, you both want to feel a sense of excitement and not terror. (Check out their 2 for 1 special below.)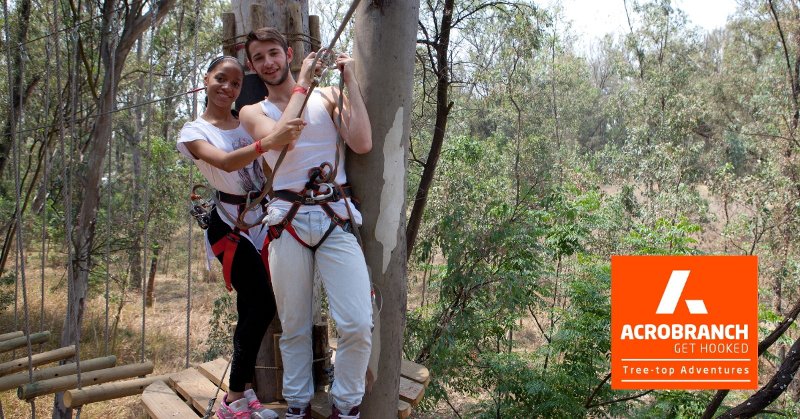 3. Avoid the Hangry
Most of us are not at our best when hungry. If your Acrobranch of choice has some sort of picnic option on premises, then phone ahead to book a basket, or reserve a seat at the restaurant.
4. Fall in love all over again with "the stare"
Once you cannot do another round on the ropes courses, tuck into your meal. Then take a moment, 2 minutes to be exact. Stare into each other's eyes without looking away. Take turns to ask each other intimate questions, even if you think you may know the answers already. This technique has been proven to spark a feeling of being in love with total strangers and trust me it works even better with someone you already love.
Take this time to relax, enjoy yourselves, and remember who you were besides being parents. After all a healthy, happy relationship, makes you both better parents.
Insider tip
Acrobranch has a special 2 for 1 deal on any of their couples coursed between the 14th and 18th of February if you use the promo code: AcroLove50. Alternatively, there is the Midweek Madness special where you get 20% off your booking on a Wednesday or a Thursday when you use the promo code: AcroMad20.
Find an Acrobranch Kids Party Venue near you
Acrobranch offers eight world-class child-friendly ziplining adventure parks. They can be found here: (1)Constantia Nek in Cape Town, (2)Sunlaws Estate adventure park in Centurion, (3) Rosemary Hill adventure park in Pretoria East, (4) Melrose Park (and picnic spot) in Johannesburg, (5) Honingnestkrans Street family adventure park in Pretoria North, (6) Timberlake Organic Village on the Garden Route, (7) Huddle Park Linksfield adventure park near Bedfordview and Rosebank as well as (8)Stellenbosch family adventure park at Klein Joostenberg Farm.