Covid-19 - This is how Acrobranch ensured the safety of your kids
Update:
Acrobranch will close this Thursday. We thank Acrobranch for taking the below steps to keep families safe during social distancing. After last nights announcement, (Monday 23 March) we would just like to let you know that Acrobranch, outdoor nature and adventure parks, will close this Thursday as per the social lockdown guidelines.
17.03.2019 Release
Don't feel imprisoned in your own home. Come out and come have some adventurous fun in nature at Acrobranch. Open-air, no confined spaces and sanitized, safe areas and equipment for peace of mind.
We are still operational as per our time slots advertised on our website and social media pages but we have made sure that we have precautionary measures in place.
What are these precautionary measures we are taking?
Each and every single harness is sanitized after each use. We also have hand sanitizers available at our welcome desks and in our offices. Safety gloves are also still available for purchase at each park office and like always, our Acrobranch staff will be wearing their own safety gloves and as an extra measure will be required to wear masks too.
What does Acrobranch have to offer?
Kids between the ages of 3 to 6 can let loose on the yellow Acro-twigs course. They get shown the ropes by a qualified instructor and instructed how to clip and unclip the safety harness designed to keep the little ones safe as they take on the challenge of the 11 obstacles including 3 zip lines. The course is then dutifully monitored by an expert for the day. You get a 2 hour play period. How fantastic is that! You get to practise social distancing, safely and in the outdoors.
Their adult courses are structured for different fitness levels. Kids can also participate in these courses (height and age restrictions apply). There is a green Beginners course The Monkey Moves, the blue Medium course, the Swinging Tarzan, and the red Expert course for the High Flying.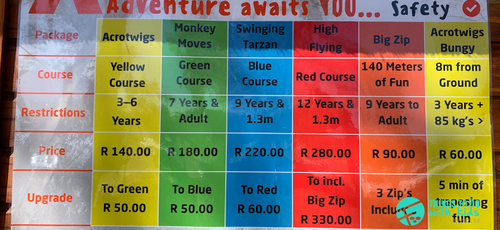 Find an outdoor play park + party venue near you
Acrobranch offers ten world-class child-friendly zip-lining adventure parks. They can be found here: (1)Constantia Nek in Cape Town (2)Sunlaws Estate adventure park in Centurion, (3) Rosemary Hill Adventure park in Pretoria East, (4) Melrose Park (and picnic spot) in Johannesburg, (5) Honingnestkrans Street family adventure park in Pretoria North, (6) Timberlake Organic Village on the Garden Route, (7) Huddle Park Linksfield adventure park near Bedfordview and Rosebank, (8)Stellenbosch family adventure park at Klein Joostenberg Farm and their latest addition to the family-(10) PMB!