Adventurous kids party idea- perfect for tweens!
Adventurous kids party idea- perfect for tweens!
by Cape Town dad and periodontist, Emil Langenegger
It was a beautiful Sunday morning when I hit the road with six excited pre-teens. "Scootours adventure" triggered mixed emotions of what the adventure would entail. I had imagined lots of uphill pushing and short downhill scooter rides. Nevertheless, we hit the road from Cape Town's Southern Suburbs to Stellenbosch for a fun kid's party and family adventure. Google Maps easily directed us to Middelvlei Wine Farm, where our adventure was awaiting us.
I was pleasantly surprised to meet Nico, our tour operator, driving a game viewing bakkie with a large trailer neatly loaded with our Scooters. I then realized that this was Swiss made specialized lightweight scooter with wide off-road tyres and that we would be transported uphill. Relieved! Our group's overexcited children were ready to get the party started. They quickly ascended to the bunk seats on the bakkie, geared with protective helmets and gloves.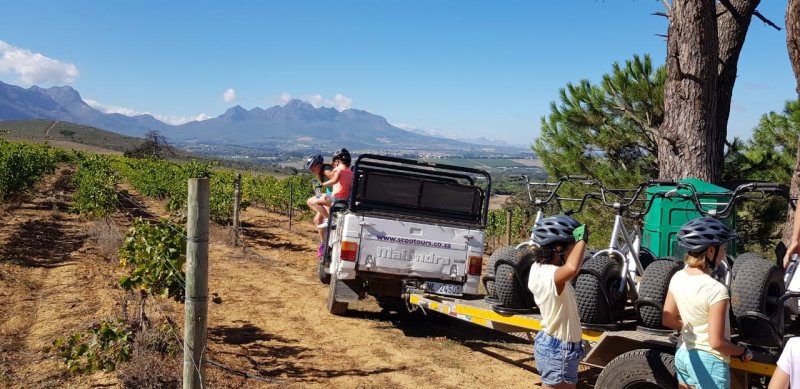 Oudts also joined us and taught us the simple rules and instructed us especially on how to use the brakes on the scooters!
I was excited that we would take on 3 different tracks, comparing to ski slope gradings that I knew well from previous adventures. The baby slope got us comfortable with the scooters. Afterwards, Oudts and Nico quickly loaded the scooters back on the trailer and drove us uphill to the second route. I was stunned with the beautiful panoramic views of the Stellenbosch Mountains and wine farms.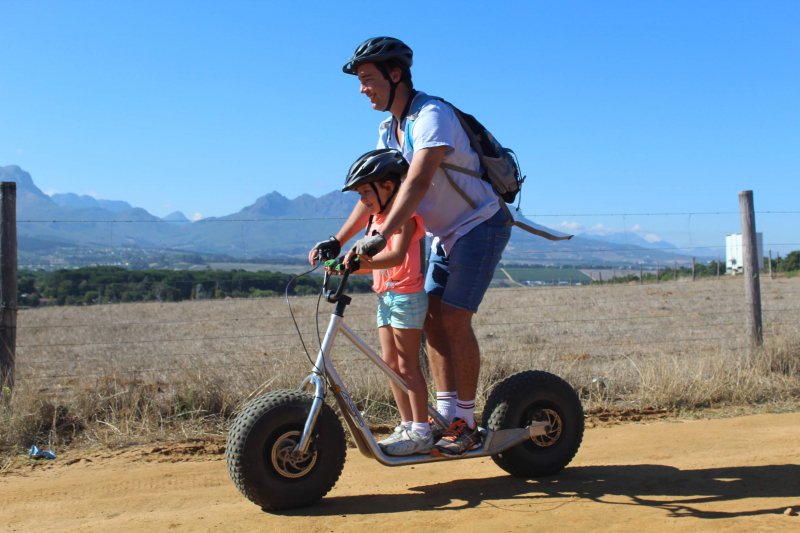 Slope 2 compared to a red ski slope: a long steep downhill route. Luckily the scooters have excellent control and I never felt unsafe and heard happy voices and elated shrieks as we paced downhill. After this trip, the children were very satisfied to quench their thirst with healthy complimentary mineral water.
Our last route consisted of a professional build route with humps and banked corners. The highlight was a short steep slope that made the wind rush past our ears!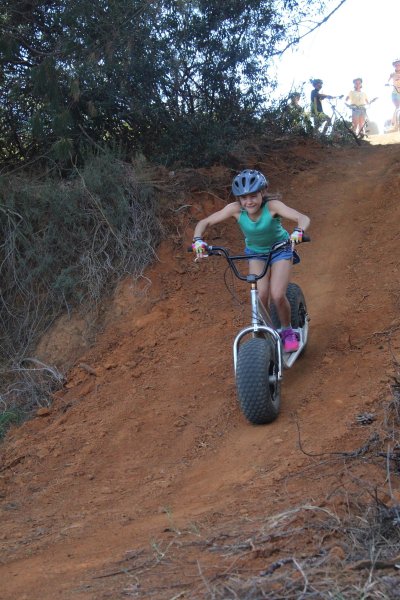 We finished the trip back to the restaurant. The trip took approximately one and a half hours and the children had built up a healthy appetite by then.
Included in the Scootours kids' party adventure was lunch at Middelvlei Restaurant. A beautifully presented hamburger, French fries and a soda float with treats were served on a clean outside table. Once the children were finished with their lunch, did they explore the lush lawns with laid out games and the animal zone (animals ranging from chicks to Wallabies).
Parents, while the children explore, go spoil yourself with wine tasting and the hallmark Middelvlei braai lunch!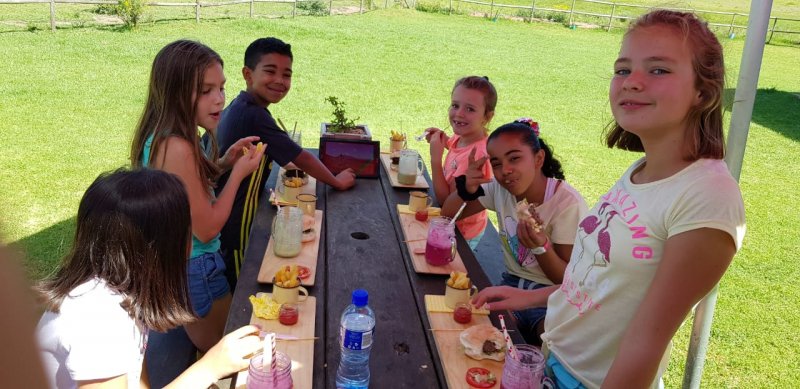 Cost breakdown:
I loved the fact that we could just book and show up- no extra arrangements needed to be made. It is the ideal kids' party for adventurous boys, but my girls loved it too! Scootours is not only the perfect solution for children parties but also a brilliant idea for team building functions and adult birthday celebrations.
Scootours Kids Birthday Party – Stellenbosch (Kids turning 10 years and up)
Guided Scootour Experience in Stellenbosch (Middelvlei Wine Estate). Perfect for kids turning 10 years and older.
Group Size: minimum of 6 maximum of 24 people
Special discounted Party Price: R 400 per Driver (10 years & up) / R 150 per Passenger (4-9 years: must double up with adult)
Included: Free Online Birthday Party Invitation / Burger, Chips and juice for kids and for Adults the Famous "Middelvlei Braaibroodjie" and a glass of wine
Duration: 1.5 – 2 hrs.
Scootours Kids Birthday Party – Stellenbosch (Kids turning 4 – 9 years)
Guided Scootour Experience in Stellenbosch (Middelvlei Wine Estate). Every 45 minutes a group of 18 people depart to do 2 Scootour Runs. The rest of the group can enjoy Middelvlei with the petting zoo and lush lawns. After 45 minutes war stories are shared and then we take the next group on the Scooters.
Group Size: minimum of 20 people (10 parent-child combos) maximum of 54 people
Price: R250 per Driver and R 150 per Passenger (4 – 9 years) – R 400 per Combo (Parent & Child doubling up)
Included: Free Online Birthday Party Invitation / Burger, Chips and juice for kids and for Adults the Famous "Middelvlei Braaibroodjie" and a glass of wine
Duration: 2 – 3 hours. 45 minutes to 1 hour per group of 18 people