9 Outdoor entertainment ideas Johannesburg
9 Outdoor entertainment ideas for Johannesburg families!
Spring is here and before you know it city-dwellers will be looking for some fun outdoor entertainment ideas. When I was a child tennis was the most popular outdoor activity, tennis was replaced with cycling and mountain biking in the next generation and now it seems that adventure activities are moving into the first position. Thank you to Acrobranch for asking Things to do With Kids to write this awesome guide for Jozi families. Here are 9 outdoor activities to choose from over weekends!
Need a few more party game ideas? Then read our blog, which has plenty of kids party games.
Get a good core workout and adventurous thrill at Acrobranch Johannesburg
Take to the tree's overlooking a picturesque golf course on one of their four obstacle courses. Kids between the ages of 3 to 6 can let loose on the Acro-twigs course. This course offers 11 obstacles including 3 fun zip lines. The course is monitored by expert staff and kids get proper training before embarking on their adventure.
Adult courses are structured for different fitness levels. Thee Swinging Tarzan is a moderate course that consists of zip lines, bridges, monkey bridges, Tarzan jumps and other activities to challenge you. For the more daring older kids and adults, they offer a High-Flying course. Each participant is secured with a harness and the friendly guides are there to walk you through the process, ensuring your safety at all times. It's the perfect outdoor activity for school outings, birthdays, bachelor/bachelorettes, or team building events.
Cost: from R90 to R290 (see their website for details)
Call: 086 999 0369
Operating Hours: 9am to 5pm, Wednesday to Sunday, school holidays and public holidays.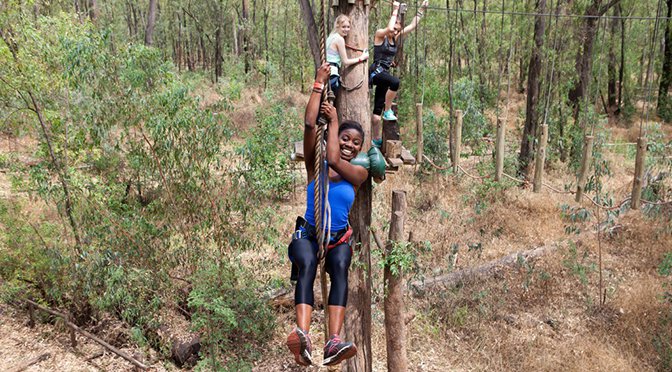 Ride on a Pedal-powered go-kart!
Pedal-powered go-karts are always a hit with the young ones. These go-karts operate only on weekends and is a great active activity to burn some pent-up energy. Pedal karts can be found at the new Acro-track near Acrobranch Linksfield, Johannesburg.
Cost: R30 for 20 minutes.
Call: 086 999 0369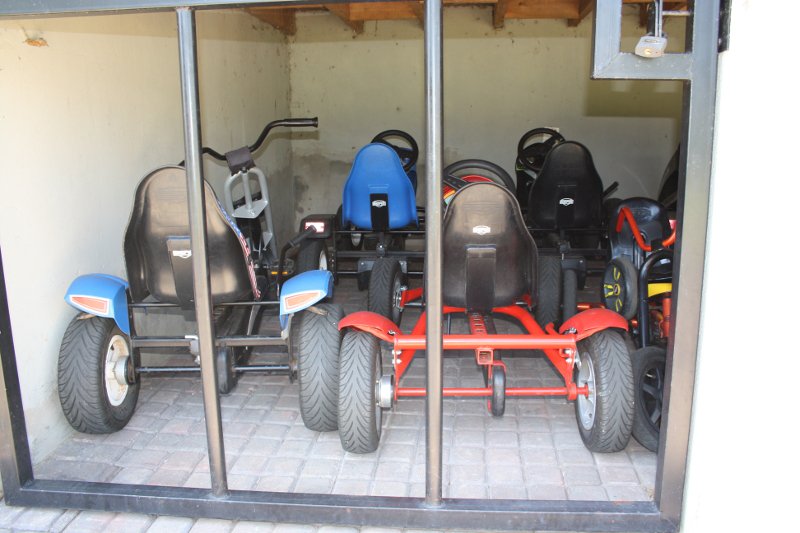 Throw a unique outdoor kids party
Acrobranch parties are always a hit as they offer the thrill of adventure, a good dose of fun challenges and time to bond outside of the normal workplace or school setting. After an adventure in the trees, you are welcome to sit your friends down and bring your own birthday cake or party packs. Should you want to bring your own catering, just reserve a table at the park for an additional fee of R250 for a period of 3 hours.
To reserve a table, call 078 767 5335.
Cost: R250 for 3 hours
Operating hours: Acrobranch operates 9am to 5pm, Wednesday to Sunday, school holidays and public holidays.
Trail running and strolling in Johannesburg
Enjoy picturesque views while trail running or dog walking at Huddle Park. They offer +-10km trails to be enjoyed before sunset. Children can enjoy the fun 2.5km or/and 5km of trails. Children must be accompanied by an adult. Day visitors can get a day pass and if you find yourself returning more often you can consider an unlimited membership pass.
Cost: R15 per person (Monday - Friday); R30 per person (Weekends & Public Holidays) for a day pass. This can be purchased at the ProShop. Please confirm the summer and winter times by visiting their website.
Call: 0116404456
Operating hours: Seasonal- please see their website.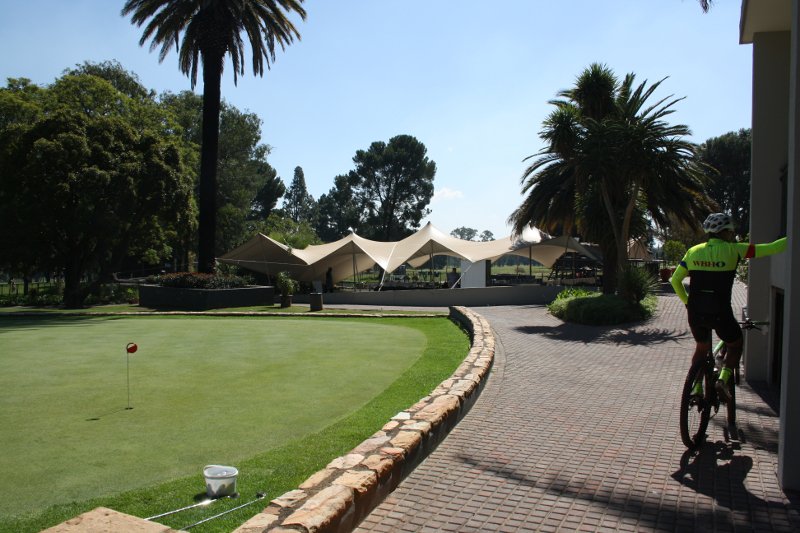 Play a round of golf or practise at the driving range
Huddle park offers golf in a picturesque setting with well-groomed greens in the heart of Johannesburg. Huddle Park is situated in Linksfield Bedfordview, and within 20km from Sandton and Kempton Park. This historic and nostalgic golf course was once a special place for golfers and their families, in November 2013 it "has risen from the ashes again" and now forms a pet-friendly recreational hub for families with kids, young and old!
Enjoy their driving range and practise your swing, looking out onto the Linksfield ridge.  Driving has been a great bonding activity for years, be it the years of dating or investing in your parent-child relationship. Huddle Park offers grass and mats to play off.  Pitch and Play, buckets of balls are available from the ProShop.
Cost: A bucket with balls is R35 each
Operating hours: Weather & light permitting- Monday - 12pm to 6pm | Tuesday to Sunday - 06:30am to 6pm.
Call: 0116404456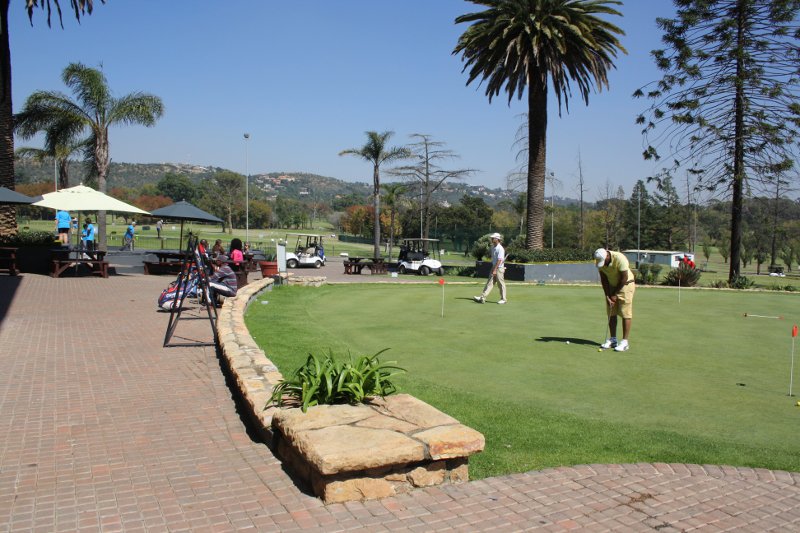 Huddle Park fishing spot
We recently did a blog on Jozi's favourite catch and release fishing spots because it is such special opportunity for friends and family to bond next to the water. Fishing at Huddle park is available on weekends and public holidays. Huddle Park provides the bait and rods, so you don't have to be a fully geared fisherman to participate in this outdoor activity!
Cost:   Tilapia fish Catch & Release - R100 per hour fishing fun. 
Rainbow Trout (No catch and release, fishing for food)
R30 - Rod + bait
R60 – 1x Rainbow Trout cleaned and packed to take home or prepared to consume at the restaurant.
R50 – every trout thereafter
Call: 0116404456 to check availability and to avoid disappointment.
Operating hours: Saturdays, Sundays & Public Holidays; 9:00 am to 17:00 pm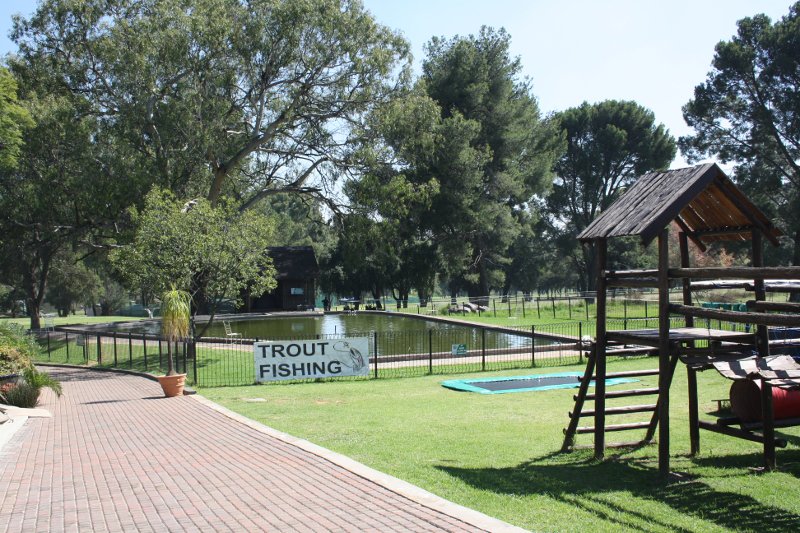 Child-friendly restaurant, Bedfordview
After an active day of zipping through the trees with Acrobranch or fishing with friends, you can sit down at the restaurant. You may find the kids still have some energy left, but don't despair. This child-friendly restaurant also offers an outdoor play area with a jungle gym and a trampoline for kids. The offer breakfast, lunch and early dinner. 
Cost: Depends on the order
Call: 0116405046
Operating hours: 7:00am to 5:00pm - 7 days a week.
Play putt-putt
Putt- putt is a game kids and adults can enjoy together. To level the playfield add a handicap or allocate two points per putt for adults and one for the kids.
Cost: R20 per game
Call: 0116405046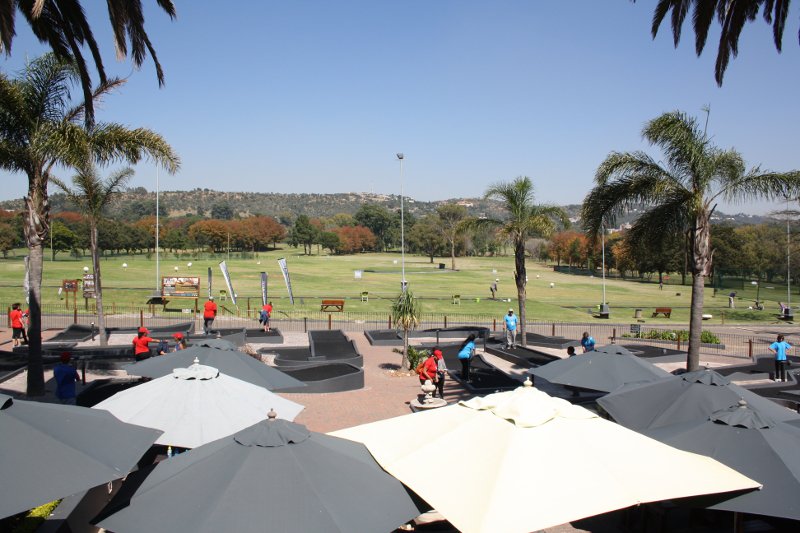 Practise your skills on the pump track
Johannesburg seems to have no lack of pump tracks. Add this track to your weekend bucket list. Bring your bike and helmet with to ride around or to take on the longer MTB courses.
Call: 0116405046 for more detail
Which is your favourite activity? Let us know in comments!
Acrobranch (our blog sponsor) offers eight world-class child-friendly ziplining adventure parks. They can be found here: