7 Easy Outdoor activities to do With Kids
Time to think ahead about summer, hot days and what you can do to keep the kids busy on a beautiful sunny weekend. When looking for activities for kids or projects, I try to make sure that they are easy and not too expensive to put together.
Need some ideas that will keep the little ones busy? Below are some DIY outdoor kids activities that you can do with your kids. Also, some arts and crafts ideas for kids.
Backyard Tee Pee Outdoor activity for kids
A super simple Backyard Tee Pee that should only take a few minutes to set up once you have gathered all of the pieces together.
You will need:
1.8m length pole. You can use bamboo, which is the most flexible, but Dowling sticks should work just as well and you can get them at your local hardware store.
String or twine
King size bed sheet
Some pegs
One or two safety pins
Blanket and some pillows
Place poles/sticks an inch or two apart from each other into the ground, in a circle. Gather the sticks together at the top and tie them together with the string.
Hang the sheet over your poles. Secure your sheet at the top with some safety pins. Going down each pole, place a peg over the sheet and secure it to the pole.
Once you have finished there is your Tee Pee done. Now to make it cozy by placing a blanket and pillows inside to sit and lie on.
Garden art | activities for kids
Be creative and add a bit of colour to your garden. These are easy and fun activities that you and the kids can do together. This idea is more for the garden than in the garden, but I'm sure you will have just as much fun.
Recycled Garden Flower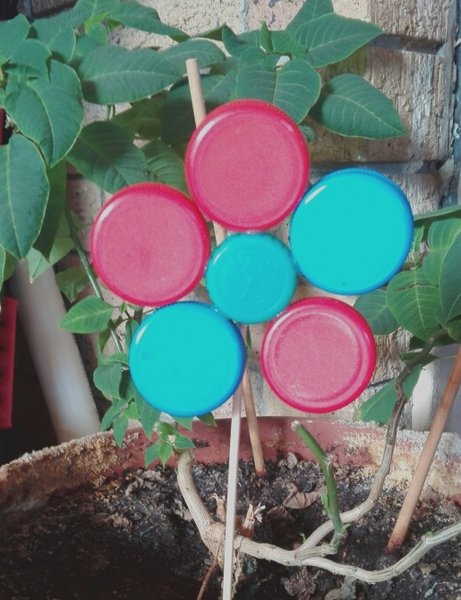 Recycle and reuse to make these beautiful bottle cap garden flowers.
You will need:
Bottle caps, you can use the metal caps or the plastic milk bottle lids
A wooden skewer for each flower you make
Outdoor paint and brushes
Hot glue gun
Modge podge
Take the caps and use the glue gun to put the flower together. I think it's best for an adult to do this part. After you have put the flower together you and the kids can paint and decorate the flower. Last, of all add a layer or two of the modge podge.
I used some coloured milk caps that I glued together that made up my flower. I think the kids would enjoy decorating the flower a bit more though.
Painted rocks | Activities for kids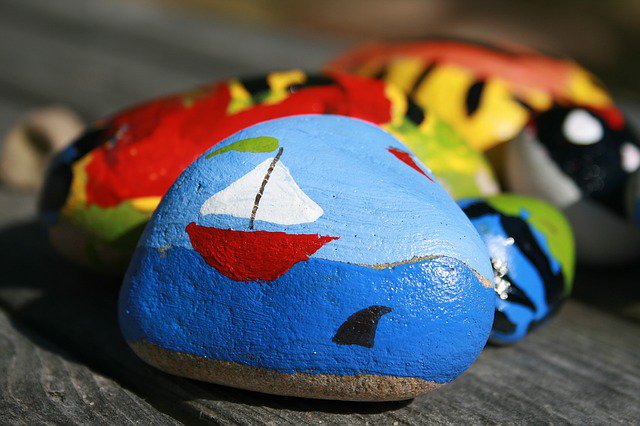 This is an old favourite that the kids love.
You will need:
Grey or white rocks, I'm sure you will be able to find something at the garden shop.
Acrylic or craft paint
Brushes
Sealer
Let the kids be creative and make up their own designs. Paint and decorate the rocks, if you want to keep these in the garden it might be a good idea to add a layer of sealer so the paint won't come off.
Kids Outdoor Lounger | Outdoor kids activities
So easy and simple to do, this idea will take you 5 minutes to set up.
You will need:
Small kiddies blow up pool
Blankets and pillows
Just place the blankets in the pool you have blown up with the pillows and relax in the sun. You can also use the pool and fill it with ball pond balls or make it into a sand pit/pool. While you catch a tan, the kids can enjoy their own outdoor lounger.
Garden playground
Pool Noodle obstacle course | Fun activities for kids
Enjoy some active time with an outdoor obstacle course. The simple pool noodle can provide hours of fun and excitement.
DIY bean bag toss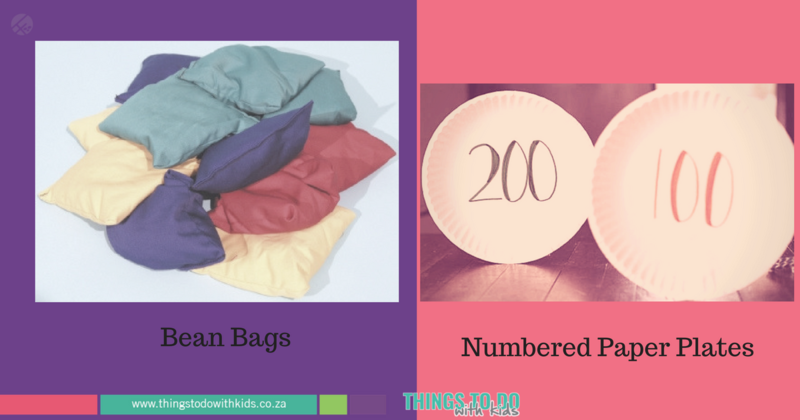 This seems to be a very popular activity to do outside and is very easy to put together.
You will need:
You can buy some small bean bags or just make your own. Get some cheap material, cut into small squares and sew together. Leave space open to stuff with beans, beads or rice.
5 Paper Plates
Pen and craft paints
The fun part for the kids comes when you prepare the plates. Paint each plate a different colour and write a number in the middle of each. Say 20, 40, 60, 80, and 100.
Outside place the plates in a row, on top and below each other, so the plates are in a perpendicular line in front of you. Take your bean bags and try to throw them onto the plates. Throwing a bean bag onto 100 will obviously give you a higher score.
Try these activities and ideas out with your kids and spend some quality time together outside in the sun. If you have any ideas on outdoor kids activities to do in your backyard, let us know in the comments below.
More easy and affordable craft ideas for your kids.
Charlene