13 Unbeatable Adventure Activities in Johannesburg
13 Unbeatable Adventure Activities in Johannesburg
Outdoor Adventure Parks, Excursions & Activities in Johannesburg
Gauteng has all-year sunny weather (even when it is cold, the sun often still shines) and it is, therefore, the perfect city to live in or visit for families who love exploring the outdoors and going on a family adventure. The fresh air and heart warming sunshine, combined with a heart-pounding surge of adrenaline, is enough to put a smile on anybody's face.
Today we bring you our top list of family-friendly and fun outdoor activities in Johannesburg and we have conveniently arranged these activities according to price so that you can choose which activity suits your specific budget.
Read these posts for Amazing Outdoor Activities for Kids to do in the Garden Route, Amazing Outdoor Adventure Activities for Kids in Cape Town and Exhilarating Outdoor Adventure Activities in Durban.
Outdoor Activities for under R 100.00
1. Picnic & Braai Spots in Johannesburg
Jozi boasts a large variety of family-friendly parks which either offer free entry or a minimal entrance amount. These parks can be visited throughout the year and offer a great outdoor venue to run around in, play with a ball, go for a walk or to have a relaxing family picnic or braai. Click on the following links for our top picnic spots and for family-friendly braai spots.
2. Jozi X Adventure Park
Situated in Bryanston, this outdoor adventure park offers unique and exhilarating experiences for young and old (ages 5 – 75), with a large variety of action packed activities, including the harness-free inflatable action world, zorb, mountain boarding, the big air krush cushion jump, big wheel tike drifting and much more.
Cost: from R 100.00
Contact: http://www.jozix.co.za
3. Croc City Crocodile & Reptile Park
Get up close and personal with baby crocodiles, exotic snakes and even a tarantula and for the extra brave, go zip lining over a crocodile pond. Eeeek!
Cost: from R 60.00
Contact: http://www.croccity.co.za/
Outdoor Activities for under R 200.00
4. Acrobranch Tree-Top Adventures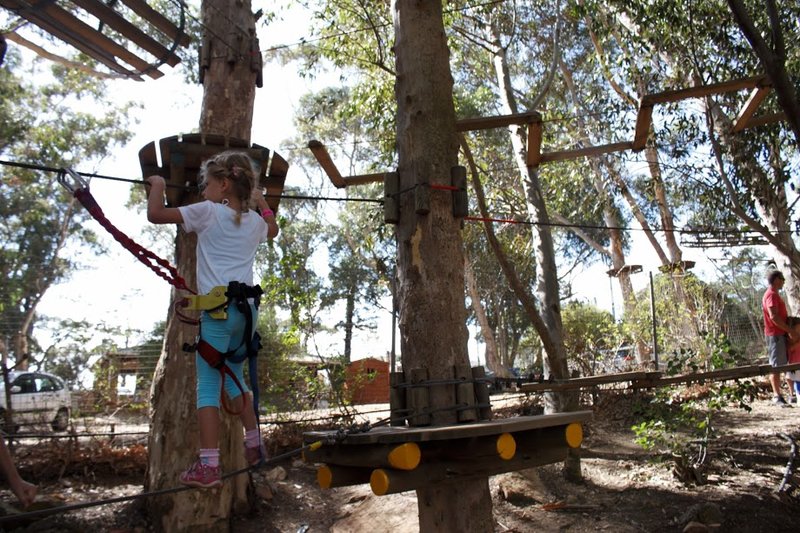 This must be one of my favourite outdoor adventure parks as there is something for everyone to enjoy, regardless of age. Acrobranch offers various age-appropriate and supervised obstacle courses (for ages 3 and up), zip lines, acro-bungy (I recently blogged about my unforgettable Acrobranch Adventure) and more, as well as picnic and braai spots. All in all, a fantastic venue for a happy family day.
Cost: From R 60.00
Contact: Acrobranch has branches in Melrose, Linksfield, Pretoria North, Pretoria East, Centurion, Cape Town and Garden Route.
5. Outdoor Go-Karting
Dirt Ryders Adventures offers a fun outdoor karting track, paintball, volleyball, a restaurant and bar, braai facilities as well as a separate outdoor kids' play area for the littles. This is also an exciting party venue.
Contact: http://dirtryders.co.za
6. The Woods Paintball
Put your battle and strategy skills to the test at this realistic paintball venue. Situated in a beautiful forest in the heart of Fourways, this outdoor escape does not require a far drive out of the city.
Cost: From R 180.00
Contact: https://woodspaintball.co.za/
7. The Lion & Safari Park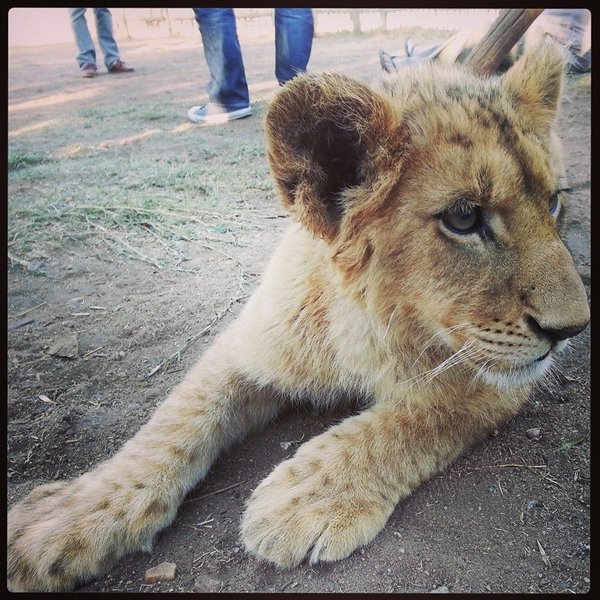 Get up close and personal with the king of the jungle. The Lion & Safari Park offers self-drive options, guided tours, a restaurant, as well as lion cub interaction (my favourite part) and the opportunity to feed the giraffes (our Bean loves this!).
Cost: Self drive - Children under 12 yrs are Free | Self Drive - Seniors 65+ R110 | Self drive - Adult R210,00 | Other Tours available
Contact: http://www.lionandsafaripark.com
8. Stoke City WakePark
This is the perfect summer activity, providing tons of water fun, from water-skiing, wakeboarding and bum-boarding to a thrilling floating, inflatable obstacle course, called Aqua Park. No boats are required as the park is kitted with cables. Braai facilities are available.
Cost: General Admission: R 40.00
Activities: From R 50.00
Contact: http://stokecity.co.za
9. Gold Reef City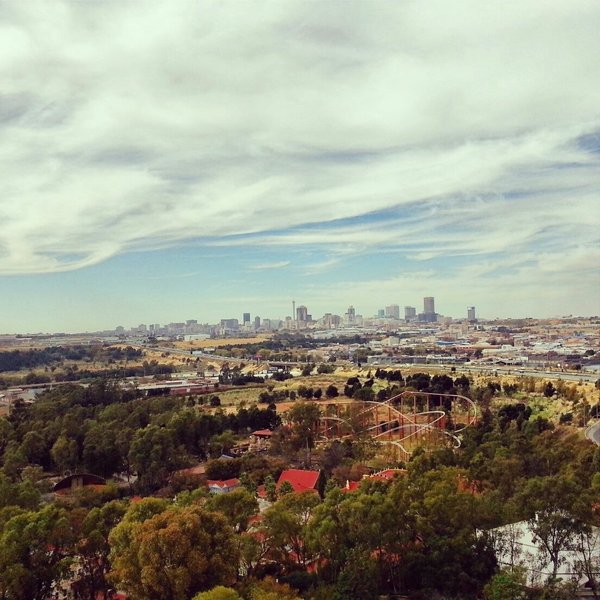 If you love any type of ride, this exciting theme park is the place to be. From thrill rides to tamer rides, like the big wheel, as well as smaller child-friendly rides, Gold Reef City has it all.
Thrill Rider – R215 per person above 1.3m
Non-Rider - R125 per person above 1.3m
R135 per person under 1.3m
R180 per pensioner 60+ years (incl. thrill rides if physically safe)
R180 per student, upon presentation of a valid student card
R550 family ticket (2 Adults and 2 Children under 1.3m) This package excludes children under 3 years
Children under 3 years are admitted free of charge
Contact: https://bit.ly/1oErfAe
10. Harties Cableway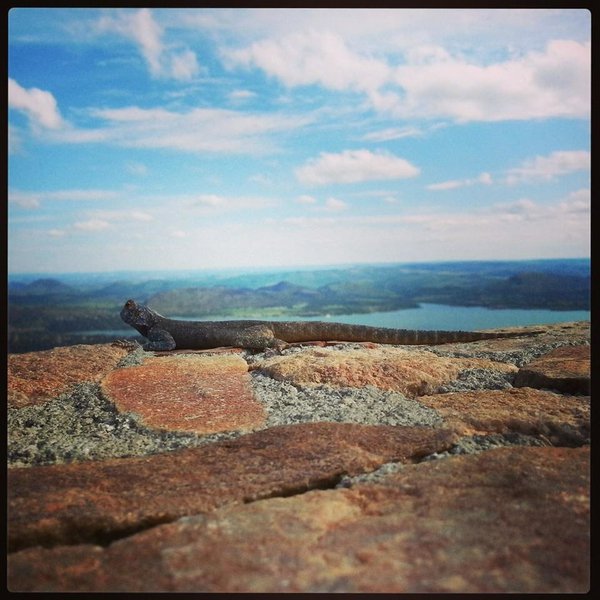 The Aerial Cableway is a unique and exciting adventure excursion offering a trip in a cableway (for those transport obsessed kids) as well as remarkable views. The Adventure Centre at the base station offers adrenaline fuelled activities such as abseiling, mountain climbing and paragliding and Hero's Cableway Grillhouse and Pizzeria, as well as the self-service express restaurant at the top, ensure that rumbling tummies are taken care of.
Cost: Adults: R 210.00
Children (ages 4 – 14): R 130.00
Children (under 4): Free
Contact; https://www.hartiescableway.co.za/
Outdoor Activities for under R 300.00
11. Ground Zero Outdoor Adventures
This centre for adventure offers families thrilling and adventure filled outdoor experiences, ranging from hiking, abseiling, river rafting, quad biking, paintball and archery. Expect an action packed day filled with excited laughter and squeals of delight.
Cost: From R 250.00
Contact: www.phaladingwe.co.za
12. Monkey Sanctuary
The Bushbabies Monkey Sanctuary provides for orphaned and abused primates (monkeys) in a natural environment. The sanctuary is situated in Hartbeespoort in one of the many Kloofs of the Magaliesberg Mountain Range and provides guided tours through the magnificent surroundings, providing kids and adults alike an interesting insight into the world of monkeys.
Rates 1Nov'18 – 31Oct'19
R345 per adult
R250 per pensioner
R190 per child (4 – 14 years)
Contact: http://www.monkeysanctuary.co.za
13. Harties Horse Trail Safaris
Spend some quality time with your family on the back of a horse, taking in the sights and sounds of nature and view some game on the trail.
Cost: Adults: R 295.00 each (1 hour)
Children: R 250.00 each (ages 6 – 12 | 1 hour)
Enjoy your exhilarating family adventure and don't forget to read our blog on Things to do in Johannesburg for under R 100.00 for more family-friendly inspiration!
xxx
Alexa