Water awareness - fun recycling crafts
Today everybody should be more aware of the environment, being waterwise, but also with things like recycling. I think we would all be shocked by the number of plastic bottles land up on the landfills. The oceans are also I jeopardy with the number of plastics that land in the water, causing a lot of problems like injuring and killing marine life.
We can do our part in saving the environment by recycling and making better choices when we purchase goods. We can also have fun with using some of the packagings for creating fun crafts that can easily be done with kids. It would be best to create something useful out of certain objects, but some of these fun recycling crafts can also be just that, for fun. Crafting can be both educational by teaching your kids all about saving the environment while you make these amazing crafts. These are great fun Things to do with kids.
Plastic bottle fun recycling craft
Our first fun recycling craft involves using plastic bottles, there are many ways to create something new from a plastic bottle. You can change a coke bottle or other similar plastic bottle and change it into a plant holder, a container that can hold pens, pencils or other items. For example, a container for cotton balls or for your toothpaste and toothbrush. Create a recycled jewellery holder or poke a few holes in the lid and use the plastic bottle as a watering can. The bottles can also be made into gift containers that you put your gift inside and give to your family or friends.
Since making these items require cutting and using a scissors or knife, it is recommended that an adult is present and helps. Painting and decorating the containers should be fun by adding stickers, glitter or anything else you can come up with.  
Be inspired by these plastic bottle craft ideas below:
Recycled Tin Cans
Another item that most people have in their homes besides a lot of plastic, there are tin. Coffee tins, jam tins, vegetables in tins, baked beans in tins etc. You can easily clean and re-use these items for other purposes. Here are some ideas using pretty coloring in pages, string and a glue gun. You can then use the tins as storage containers or plant holders. The kids can colour the pages for you before you glue it to the tin. You can even personalize by adding names to the tins. This especially useful when it comes to making stationary holders for siblings. Tins can have sharp edges, so make sure you remove the lid properly and smooth out any rough edges.  
Here are some very easy ways to recycle those tins in your home:
Rocket Toilet Roll
There are quite a few things you can do with a toilet roll; your imagination can go wild. From a car to a rocket, the kids will have loads of fun with this one. You won't need a lot of items to make this craft. Some different colour paper, scissors, glue or stapler, tissue paper and of course the toilet paper roll.
Look below to find out more details on how to make the rocket toilet roll:
Plastic Spoons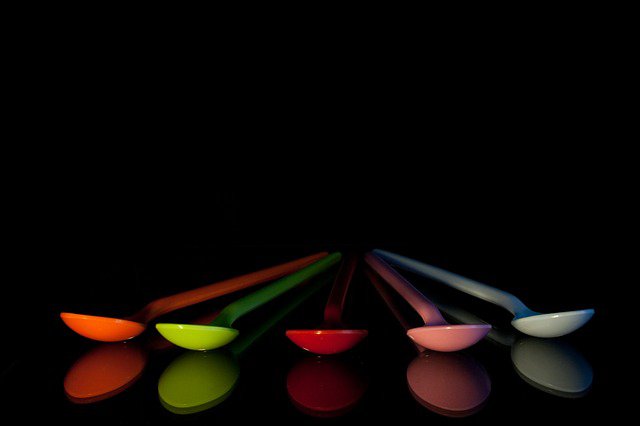 You would be surprised with what you can do with those plastic spoons lying around. You can make small cute spoon puppets, a beautiful vase, plastic spoon flowers and little spoon bugs with pipe cleaners. Have a look at more plastic spoon crafts here for more information on how to complete these wonderful ideas.