Party ideas with Acrobranch and Spider-Man to get you hooked
The other day while walking past our local cinema, my children suddenly started running and screaming with delight toward the life size Spider-Man poster advertising "Far from home" which is coming to cinemas in July. At that moment, and looking at them kitted out head to toe in Spider-Man apparel, my spidey senses started tingling!
Acrobranch had recently invited us to hang out at their Huddle Park course and now I see what a perfect venue Acrobranch will be for a Spider-Man themed outdoor adventure party! What more could little Spider-Men ask for, in anticipation of the new movie, than have their friends swing on over and zip through the trees like the real Spider-Man does.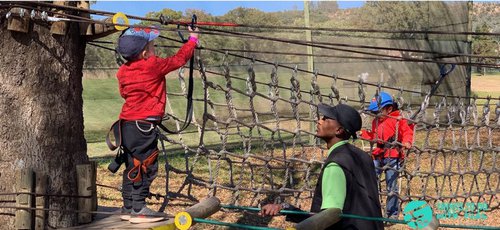 Safety first
What do Acrobranch have to offer for little and big Superheros?
Kids between the ages of 3 to 6 can let loose on the yellow Acro-twigs course. My "mini me" in his Spider-Man jersey and cap (obviously!) was shown the ropes by Mikey and instructed how to clip and unclip the safety harness designed to keep the little ones safe as they take on the challenge of the 11 obstacles including 3 zip lines. The course was then dutifully monitored by Mickey (our expert for the day). As all little ones do once we got to the end, he cried for more and we were then told you get a 2 hour play period. How fantastic is that! I got to be a really super cool mom letting him swing and climb around again and again!
Their adult courses are structured for different fitness levels. Kids can also participate in these courses (height and age restrictions apply). There is a green Beginners course The Monkey Moves, the blue Medium course, the Swinging Tarzan, and the red Expert course for the High Flying.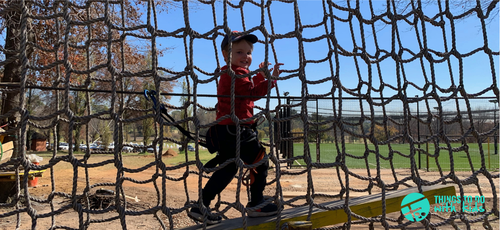 Trapped in a spiderweb
Unique and inexpensive Spider-Man party ideas
Acrobranch don't really offer designed party packages, however, discounts up to 25% apply for parties over 20 people. At the Huddle park course there is a nice shaded area available with tables and chairs set among the courses making you feel like you're in your own spiderweb.
At Huddle Park you can bring your own party packs, cake and party decor. If you want to bring your own catering you will need to reserve a table at a small cost or alternatively get the venue to do the catering for you! I personally love that you can bring your own party treats as it's a more affordable, personalised and fun option allowing everyone in the family to join in on the fun. If you're brave you can easily print pictures and DIY all the party packs, cupcakes and decorations. However, very little decoration is needed at Acrobranch with a theme like Spider-Man and can be as simple as being based on red, blue and black with accents of yellow and white.
This is an example of DIY printable cupcake and cake toppers, party decorations and party pack ideas which would make any party look Spideriffic! Why not add these refreshing Spider-Man strawberries to keep the little ones hydrated and full all in one! A personal favourite party decoration for me are juice bottles with straws... Paper or biodegradable of course! I think they just add the finishing touch. Alternatively, ready made Spider-Man decorations are also easily sourced online and in most party shops.
Information on the catering at the Acrobranch venue closest to you!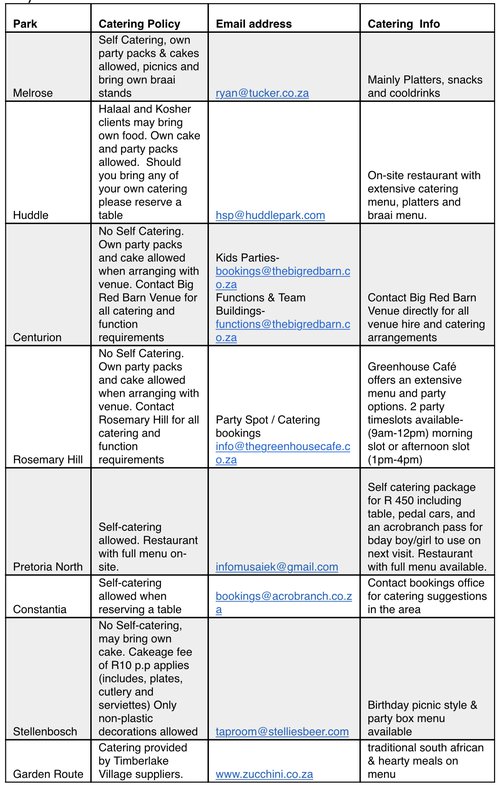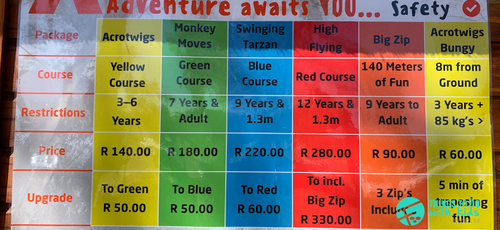 Acrobranch Pricing
This high energy party venue offers all entertainment, allowing mom and dad the opportunity to sit back, relax and enjoy the party too while watching their little Spider-Man and friends soar through the trees with many squeals of pleasure and fear. The true making of a superhero. My "mini me" is hooked and is still reeling from the happiness the day brought and this wasn't even for his birthday. I definitely know what theme and venue I am swinging for, for his next party!