Our Top 3 Cars For Family Road Trips
Our Top 3 Cars For Family Road Trips - Things to do With Kids
-by Wessel Badenhorst
A wise person once said that your life is not measured by the number of breaths you take, but by the moments that take your breath away. What better way is there to track down these breathtaking moments than by getting away from the world we know and taking a road trip somewhere we've never been before? When travelling with my family we create opportunities for memories not found in our day-to-day routine, and while doing this, we have found that often the experiences which become childhood memories are not the ones we may have imagined.
We delight in taking to the road and exploring new places, and we have come to realise that there is a certain level of comfort that is essential for a successful road trip. That is why we were thrilled when Dialdirect asked us to blog about our favourite family road trip vehicles. We looked at a number of options and decided on the following three based on personal experiences and memories. Besides the basics like retail price and fuel consumption, we also value safety, boot space, leg room and visibility for the kids.
For our recent road trip to the Kruger National Park, we hired the Toyota Fortuner, selecting the standard car insurance; we took the Ford Everest, sponsored by Ford South Africa, on a weekend road trip to the Valley of Abundance in Tulbagh and lastly, we decided to look at the original road trip vehicle, the Volkswagen Kombi, which we still need to take on the open road.
Ford Everest
Born out of the Ford Ranger, the Everest is a tough vehicle. When you get behind the wheel, you feel like you can go anywhere, which is amazing given how comfortable the ride is. The trimmings on this seven-seater are made for the family; you will not ruin the interior with the bumps and spills that are inevitable when travelling with young children. Excellent ground clearance, the ability to absorb road shock, and a dust sealing air-conditioning system ensure that even the roughest of gravel roads will be a joy to travel.
This is a great all-rounder, with the ability to customise the seating arrangement to fit your needs, from a quick trip up the coast with the grandparents to a multi-day road trip with the immediate family. There is plenty of space between the front and second-row seats, ensuring that the little ones are comfortable even behind tall drivers. The Everest rules the roost in terms of boot space.
Baseline cost: R485 300
Open road consumption: 8.4L/100km
Number of seats: 7
Safety: Isofix on the second row, and both driver and curtain airbags
Toyota Fortuner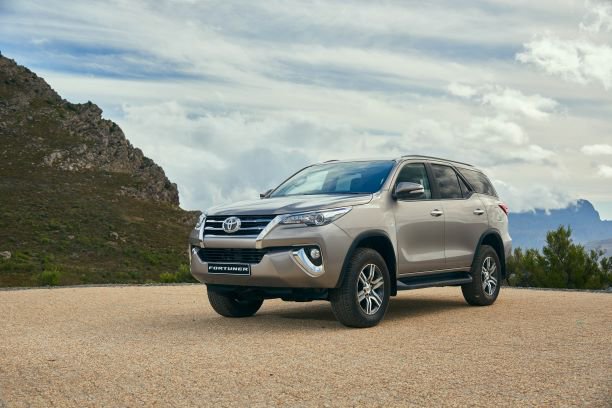 With the new Fortuner, Toyota seems to have perfected the SUV. It is no wonder that within South Africa, it is the best selling vehicle in its class. With a muscular and modern design and a less constrained cabin, the Fortuner has an air of luxury that is rarely associated with a car this comfortable in the great outdoors. Beyond the leather-wrapped seats and air-conditioning vents right up to the third row, this model gets the details right, like allowing you to set your seat using eight different electronic adjustments so that you are comfortable throughout your journey. The second row can also slide back, so there is more than enough leg room for all passengers. Surprisingly stable at higher speeds, the Fortuner can cover serious distance in a day.
Baseline cost: R477 600
Open road consumption: 8.5L/100km
Number of seats: 7
Safety: Isofix on the second row, and driver, front passenger and curtain airbags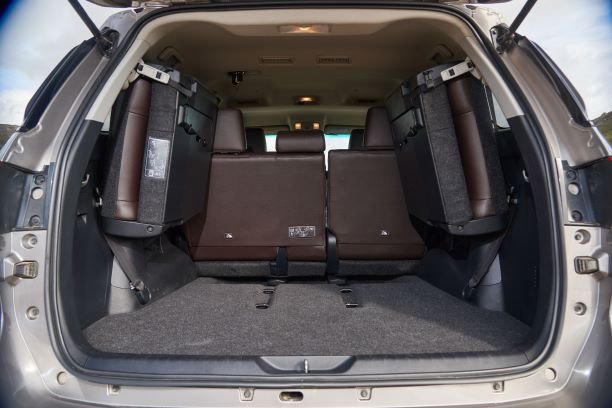 Volkswagen Kombi Trendline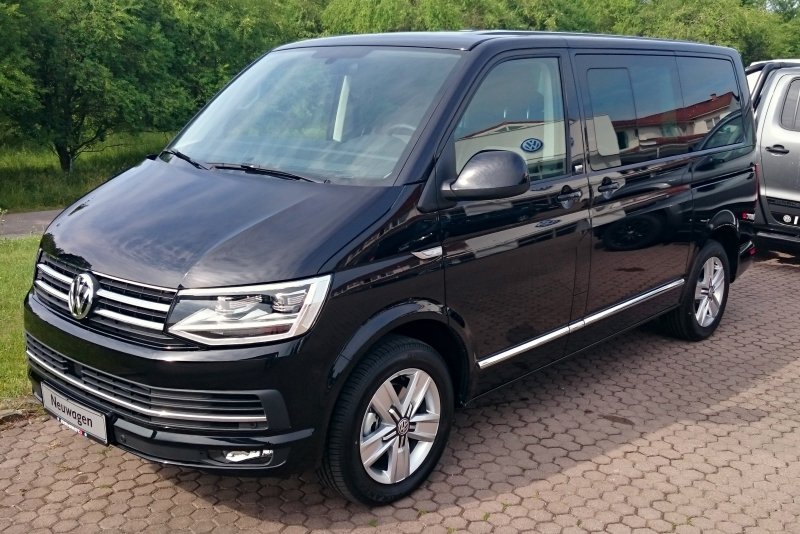 Thomas doerfer [CC BY 3.0 (https://creativecommons.org/licenses/by/3.0)], from Wikimedia Commons
Kombis have been synonymous with road trips and adventure from the very beginning. More than 60 years' legacy is handed to the latest model, and it carries the torch with gusto.
The Kombi is built for the open road. The eight-seat configuration can be customised to perfectly fit your road trip; from turning seats 180 degrees to completely removing them, you get to choose what works for you. The storage system places books, toys, and blankets within arm's reach in open compartments. And good ground clearance and great window arrangement will ensure that no one misses a sight along the way.
Baseline cost: R562 700
Open road consumption: 6.7L/100km
Number of seats: 8
Safety: Isofix on the second row, and both driver and front passenger airbags, with front passenger airbag deactivation
When we asked our readers which of these SUVs they prefered, they sided with the majority of South Africans and picked the Toyota Fortuner.
Road trips are about the memories that remain after all the details have faded, and making the drive as comfortable as possible ensures that the whole family is rested and ready to grab every moment. Pack your bags and head out to some new, unknown destination, and make a lot of memories along the way.
Do you have an amazing road trip picture? Please share it with us on Instagram or tell us about your favourite family road trip vehicle on Facebook.
Dial Direct Insurance Ltd is an authorised financial services provider (FSP licence number: 15259). Long-term insurance policies are underwritten by 1Life Insurance Ltd an authorised financial services provider (FSP licence number: 24769).