My top 5 nappy bag essentials
I clearly remember coming home from my baby shower with packets of things I had no idea what to do with. I was so overwhelmed on that day, that I simply packed it all into the new baby room, closed the door and had a long bath. The next day, I realised that I would have to face the chaos which was to be my Bean's room and sort through all the essentials I apparently needed for the new addition to our little family. In the end it was not that bad: the clothes, toys and toiletries were all heaped into different piles and packed away and the only thing left on the floor was a nappy bag. I promptly phoned my friend who had just had a baby and asked her what to pack into it (yes, my baby was not born yet, but I figured I might as well be prepared). Here is the advice I received and still use:
Nappies
Whether you are going the disposable or the cloth route, nappies are the most essential item to pack. Pack at least 4 (in case there is a 'poopsplosion', or you experience any unplanned delays and always include scented nappy packets (use a good quality packet which keeps those smells at bay). Also, keep one compartment (which is separate to the rest of the bag) empty to pack the dirty nappies into - your friends will not be your friends for long if you throw dirty nappies into their kitchen bin.
Bum créme & wet wipes
I have a wonderful mother in law (yes, they do exist), who, after she found out I was pregnant, immediately went on a baby product shopping spree. While she was standing in front of the many bum crémes available, contemplating which one to choose, another granny stopped next to her and gave her a big tub of Bennetts Bum Créme. According to her this specific one was the best option - and she was right. Not only is Bennetts affordable, it smells good, is great for everyday use and comes in a variety of convenient sizes. I excitedly noticed on my last shopping expedition that Bennetts has just released an improved Bum Créme: it now contains soothing D-Panthenol which is even better for my little Bean's sensitive bum. It also means that I no longer have to use a separate panthenol based créme for when he has a rash which is really convenient for space saving as well as great for my budget.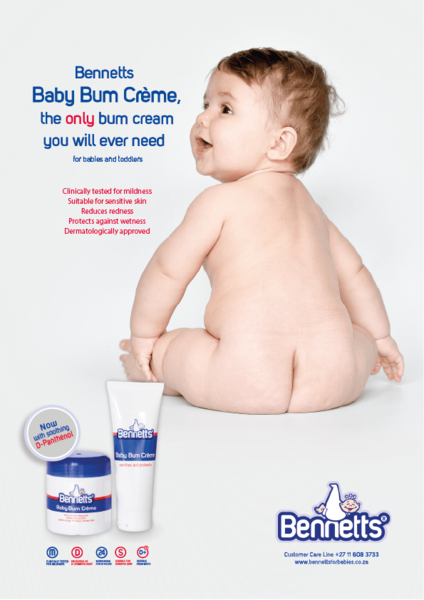 For the nappy bag, I am a big fan of the Bennetts Bum Buddy, a convenient and compact refillable container which contains Bennetts Baby Bum Créme and Bennetts Baby Wipes.
Disposable change mat
Most nappy bags come with a change mat included which is perfect for when you are changing your baby in a clean environment. More often than not, however, the changing stations in public areas are not clean, so for these places, I prefer to use a disposable changing mat. It protects the baby from any germs floating around and you can just throw it away after you have used it (instead of packing a dirty change mat back into your clean bag).
Bath time essentials in sample sizes
As much as we try and stick to schedules, there are times when we are running late or we cannot get home at the right time for bath time due to unforeseen circumstances. I ,however, do try and stick to our routine as much as possible, so for the times that we are running late at a family function or we are on a weekend getaway or enjoying some family travel, I have packed in some sample sized bath essentials so that we can bath Bean wherever we are. Bennetts has sample sizes in all their products and I particularly like the Bennetts Aqueous Bath Drops for Bean's dry and sensitive skin.
Change of clothing (or 2)
This is not only for the times that we have to bath Bean at family or friends' houses. This is for the times that Bean has a poopsplosion or when he decides to crawl through some mud or jump into a puddle of water. Babies and kids get dirty, a lot. A change of clothing is imperative.
I hope that this list helps you as much as it helped me when my little arrived into the world. Would you add anything to the list?
Win your own Bennets Hamper worth R650 
Just go to our WIN page to enter - and get an extra entry via our app!