Llama Party Muffins with Cream Cheese Icing
These delicious and cute llama-themed muffins are sure to be a hit at your little one's next birthday celebration. The muffins are sweetened with honey, dates and apple (and even contain grated carrots!), making them a healthier party option for the kids.
Serves 12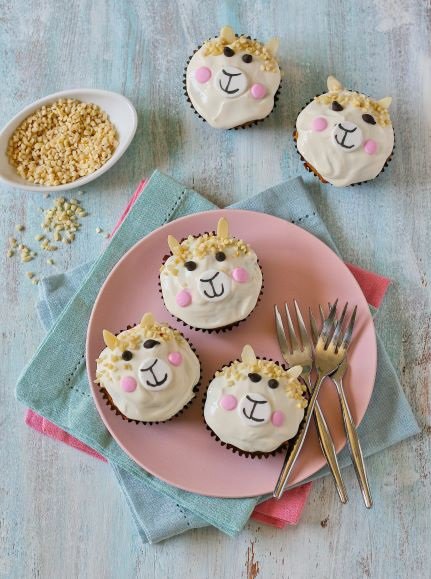 For the muffins:
12 cupcake cases
200 g dates, finely chopped
375 ml (1½ cups) plain flour
10 ml (2 tsp) baking powder
5 ml (1 tsp) cinnamon
5 ml (1 tsp) ginger
1.25 ml (¼ tsp) salt
2 large eggs
150 g butter, melted
100 ml milk
5 ml (1 tsp) vanilla extract
60 ml (¼ cup) runny honey
125 ml (½ cup) finely grated carrots
125 ml (½ cup) grated apple (skin on)
15 ml (1 tbsp) finely grated orange zest
For the cream cheese icing:
180 g smooth full-fat cream cheese
15 ml (1 tbsp) honey, or to taste
1.25 ml (¼ tsp) vanilla extract
To decorate:
fondant icing
pink food colouring
black edible-ink pen
24 flaked almonds
24 chocolate chips
60 ml (¼ cup) diced almonds
Instructions
Preheat your oven to 180°C. Arrange the cupcake cases in a muffin tray.
Place the dates in a small bowl. Cover with one cup of boiling water and leave to stand for 15 minutes. Drain the dates and blend them into a paste.
Sift the flour, baking powder, cinnamon, ginger and salt into a bowl. Add the eggs, butter, milk, vanilla extract, honey and date paste. Stir gently to combine.
Add the carrot, apple and orange zest. Mix until just combined (don't over mix!).
Divide the batter between the cupcake cases. Bake for 20-25 minutes or until an inserted skewer comes out clean. Transfer the muffins to a cooling rack and leave to cool completely.
While the muffins are cooling, start preparing the decorations:
Make the cheeks by colouring a small piece of fondant icing with a few drops of pink food colouring, (you want the icing to be pale pink). Roll 24 tiny balls of the pink icing and flatten each gently between your fingers. Set aside.
Next, roll some white fondant out to a thickness of about 2 mm. Cut out 12 circles roughly 2 cm in diameter and use the edible- ink pen to draw a nose and mouth on each.
To make the icing:
Place the cream cheese, honey and vanilla extract in a bowl. Whisk gently with a fork until smooth.
Taste and add an extra dash of honey if you prefer.
Spread the icing over the cold muffins. Decorate each muffin with two flaked almond ears, a fondant nose and cheeks, two chocolate-chip eyes and diced-almond "hair". Best served on the same day.
Teresa's tips and tricks:
Save time by baking the muffins in advance and freezing them. Then simply defrost, ice and decorate on party day!
Be sure to use a full-fat cream cheese for the icing. The cream cheese that comes in a block will give you the best result, so I would recommend using that one.
Use desiccated coconut instead of diced almonds for a more budget-friendly muffin.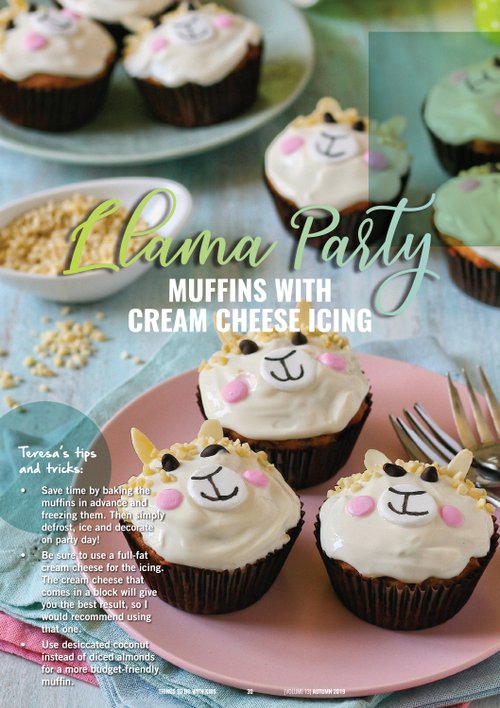 Read our Proudly South African Magazine for more fun recipes and Things to do With Kids