The Lion King party ideas with Acrobranch to make you go wild!
We just got back from a fantastic little holiday in the Eastern Cape. While on route home one day my baby mini me almost jumped out of his car seat screaming "Big Lion Big Lion." Not knowing what he meant I grabbed the iPad and put on the Lion King which we are all watching on repeat. (I just can't wait for the new version in cinemas in July!) but no... he flung the iPad across the car and screamed again pointing "Big Lion!" And then I saw it and not sure how I missed it... a GIANT LION statue perched up on what looked like Pride Rock on the side of the road! We stopped the car and jumped out, we all had to touch and push and growl and climb... now wouldn't this be a perfect idea for an Acrobranch Party... The Lion King reborn!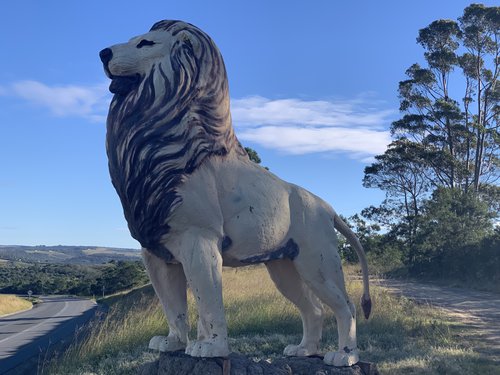 The Big Lion on the side of the road in East London
Being Brave doesn't mean you go looking for trouble…
At Acrobranch, kids of all ages are safe and monitored at all times. They choose between 4 different courses. Kids between the ages of 3 to 6 can let loose on the yellow Acro-twigs course. The small kids are instructed how to clip and unclip the safety harnesses as they take on the roaring challenge of 11 obstacles including 3 zip lines. Life's greatest adventure is finding your place in the circle of life rings true here as little cubs are all trying their hardest to figure out the ins and outs of these courses under the watchful eye of their own "Zazu".
Their adult courses are structured for different fitness levels and you only have to be brave when you want to be. Kids can also participate in these courses (height and age restrictions apply). There is a green Beginners course The Monkey Moves, the blue Medium course, the Swinging Tarzan, and the Red course for the High Flying.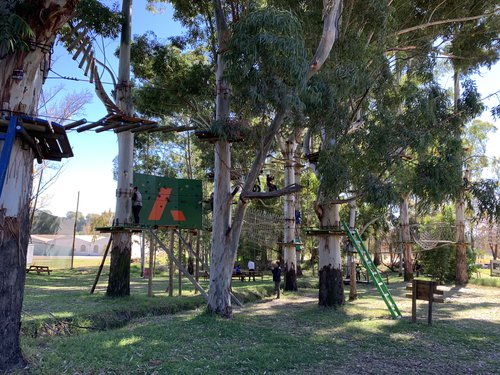 Below one of the Acrobranch courses
Hakuna Matata - Worry free Acrobranch party planning!
Acrobranch don't really offer designed party packages, however, discounts up to 25% apply for parties over 20 people. At most of the Acrobranch courses there are nice shaded areas available with tables and chairs allowing you to create your own little jungle. You can see the courses from there making sure your cubs are safely jumping and swinging up high. At most Acrobranch venues you can bring your own party packs, cake and party decor. If you want to bring your own catering you will need to reserve a table at a small cost or alternatively get the venue to do the catering for you! You can decide whether you want to buy or hire some party decorations but if you are roarsome like I would want to be you will love the idea of making your own party packs, decorations and cake fit for any little king of the jungle.
If you're brave you can easily print pictures and DIY all the party packs, cupcakes and decorations like these food labels. However, very little decoration is needed at Acrobranch with an almost rustic like theme like The Lion King based on yellow, brown and green with accents of orange and black. For me, the highlight of any party is the cake… make it a show stopper! Isn't this cake below absolutely gorgeous? With this cake barely any further decorations will be needed.
I found these gorgeous little cake pops which are easy to make and add a definite jungle theme. Everyone loves sweet treats at a party… but the new craze seems to be healthy party treats. Why not try this peanut butter fruit and cracker dip that looks just like Simba. They'll also fuel up any little lion climbers along with these lion fruit sticks. Then send them all home with a little piece of your jungle with these easy to make and biodegradable party packs.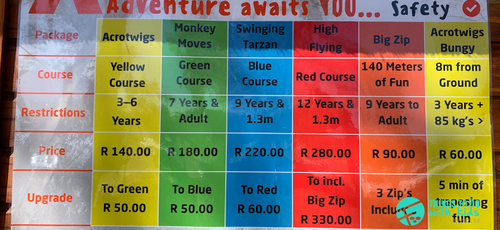 Acrobranch pricing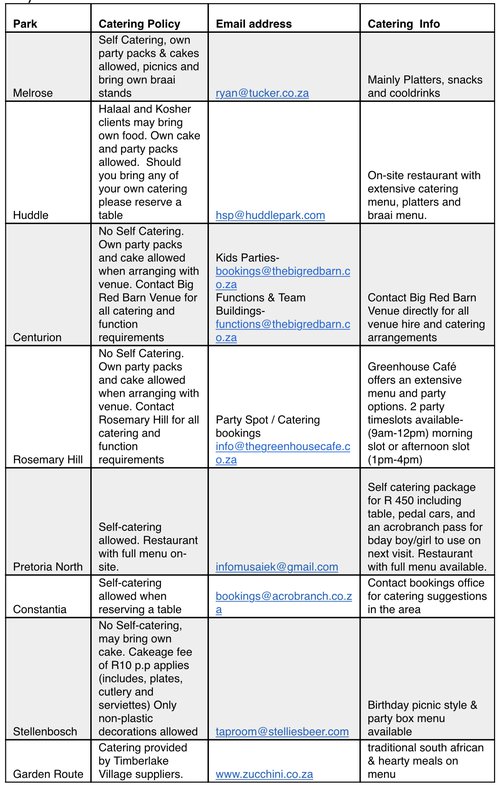 Different Acrobranch venue catering options
Your little ones are bound to have a roaring good time with Acrobranch and your decorations. Remember you don't need to spend a fortune on decor with this theme. It's bare, it's basic and it fits in perfectly with this climbing party. Swing through the trees, climb over rocks and have fun. Just go wild!