This Is How We Roll Interview With: Alexa Gerrard
This is how we roll
This is an interview with South African Parents who love to spend quality time together. 
Tell us more about you
I am originally from Pretoria, but I now live in Johannesburg.
Describe your day under the theme "a day in the life of Alexa Gerrard"
A day in the life of Alexa:
Our alarm clock (i.e. my two-year-old) generally wakes us up shortly before 5 am and after the daily chores, getting ready and a much-needed cup of coffee, we are ready to face the day by 07h00 when we have breakfast. Afterwards, it's school drop off, back home to do some work, spending time with our baby, school pick-up, quality time with my sons (incl. shopping, various appointments etc), dinner, bath and bedtime for the kids and eventually some relaxation with hubby.
As a child- did your parents travel local and what is your favourite childhood holiday memory?
Yes, we travelled throughout South Africa as well as to Germany to visit family.
Have you ever revisited places from your childhood as an adult?
Cape Winelands, Ballito, Kruger National Park, International travel (although we are yet to go on our first international trip with the kids)
Family life
Tell us about your family
We have two amazing sons: a two-year-old and a 3-month-old
Alexa and her family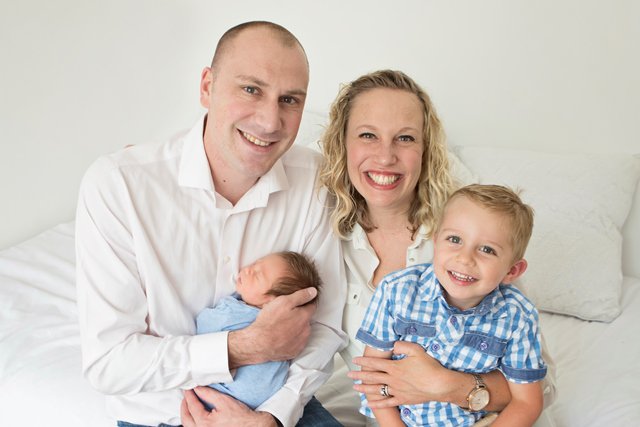 What is your favourite free local family activity?
Going to the park or visiting a market and indulging in some ice cream.
Where is your favourite local family-friendly hangout?
Johannesburg Botanical Gardens, Walter Sisulu Botanical Gardens. We also love riding the Gautrain (Bean is transport obsessed :)) and going to family-friendly restaurants (especially those which have a swing set).
Do you read to your kids? If so, what?
Yes, all the time! Anything with lots of pictures (especially pictures of trucks, cars, construction vehicles etc). Lately, my eldest also enjoys Grimms Fairytales. 
What is your favourite mobile app for kids?
I am not the biggest fan of screen time for kids so we have not even looked at apps for the kids
Help a parent out
Travel tips, snack tips, sleep tips- anything that is a life-saver for you that other parents may benefit from.
If you could share one TIP you use to make free time with family fun- what will it be?
Just to have fun, stay positive and become a child again. Be patient and let them be as independent as possible.
Where can people find you online?
Read more about Alexa and her family lifestyle blog on her website. Alexa is also a blogger and the voice behind the social media for Things to do with Kids.
What legacy would you like to leave your kids?
The values which we live by:  to be kind, to believe in the good and to be brave.