Has tech killed the toy? A review with Xander Apps
Only just this week I walked past our local toy shop and had a screaming 2 and 4-year-old wanting to go in. I must admit that while walking through the toy shop you can't help but wonder if you can find something cheaper online... is this what "they" mean by tech has killed the toy?
For many, the days of toys and games that set the rules and told kids what to do are long gone. Now there is a new wave of technology, online shopping, smart games and apps for children. Is this what "they" mean by tech has killed the toy?
My verdict as a mom… Tech has not killed the toy, but tech has taken its crucial place in our children's lives.
7 in 10 British parents say they prefer physical toys, compared to 1 in 10 that prefer digital ones. In the US 61% prefer physical toys, against 14% for digital. Similarly, almost 9 in 10 of British parents agree that playing with physical games and toys has benefits for children that digital games do not. In the US this figure is just over 8 in 10 (Patrick Marché – Data Journalist at Streetbees).
For me? A South African mom? I really don't think that tech has killed the toy... not just yet in any case. There really is nothing better for me and my family than visiting a good old toy shop and choosing the toy you want there and then instead of having to wait for it to be delivered. And the use of the iPad at home is no substitute AT ALL for a good old action figure or building block box! It's just different and modern.
Tech has enhanced how we play. It is not responsible for the demise of toys, but it has indeed had a hand elsewhere in the changing of the toy industry, namely at the point of purchase.
So, let's be realistic when it comes to technology. The aim is to help kids get a head start at learning and liking STEM (science, technology, engineering and mathematics). I have found the app for my family that encompasses this! The one I know my sons will have fun with and enjoy while it's still being educational. That little green Dinosaur… Xander – Educational Apps for young children!
We can enrich child's play with technology, and let us be honest, we are preparing our kids for a generation that we ourselves are unaware of. A smart high-tech future. So, we can enable them, or we can hinder them. For my family, I am using Xander apps to enable them!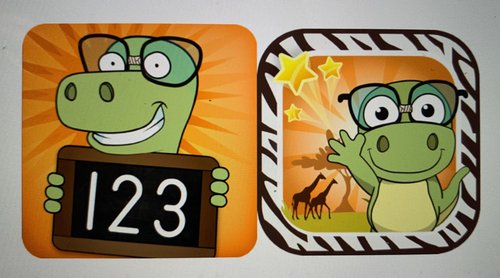 What is Xander – Educational Apps for young Children?
While Xander apps make educational promises, as a parent myself to two boys under 5, and listening to the playground conversation, many parents may still be wary of the lure of too many hours spent with screens. As parents, we need to find a balance between technology and physical play developing their gross and fine motor skills. And experts say it is important that children spend their time with apps wisely and I couldn't agree more. Xander apps makes this possible! If your child is allowed 45 minutes a day of screen time, why not make it worth your and their while with a fun, award winning educational app for young children in local languages, and it's the first ever African App featured in the AppStore.
Choose from a variety of apps including 123, Shapes & Colours, Spelling, and many more to develop fine-motor skills, sorting, matching, rhyming, literacy, numeracy, and pattern recognition.
My youngest son, (2), loves pushing the buttons and hearing the little dinosaur talk. He sometimes amazes me. He knows how to unlock his iPad and even scarier he knows how to navigate through the apps. His favourite, called Xander Safari, teaches children how to name and identify some of the many wild and wonderful creatures they might see on an African safari. Not long now and he will be whizzing away with more complex Xander Apps too.
But my oldest son, (4), just loves the English 123 App from Xander Apps. He is at a crucial age where everything is a learning curve and a challenge, and he can sit for ages trying until he gets it right. English 123 is an English educational app for young children that teaches numeracy using child-friendly counting beads and characters from the animal kingdom.

FEATURES:
- Learn to count to ten and trace numbers
- Study numbers in the font used by schools
- Practice pronunciation
- Understand quantities through fun exercises
- Improve fine motor skills
Xander Apps support privacy and are high quality, they are free from in-app purchases and advertising. The screen designs are colourful and appealing, uncluttered, and intuitive to navigate. Their graphics are simple, clear and beautiful. The noises and sounds are audibly simple and cute and work for us.
So, while many moms have decided to limit their children's screen time, I have decided to go with the times and allow my children quality screen time to aid in their technological development. Who knows… one day I might have the youngest and brightest coder on my hands and we can turn back and thank Xander App's.