Dad's biggest investment: Fun with the kids!
Dad's biggest investment: Fun with the kids!
By Milanie Niemand, Occupational Therapist
Every year as Father's Day approaches, we take some time to appreciate the many hats fathers wear. I was very fortunate to have a dad who played a big role in my life. He taught me how to be responsible, independent and resilient despite all my other childhood challenges. As a mom to girls myself, I agree with the statement that a father's role is not to teach his daughter how to be a princess, but rather how a princess should be treated. When my husband made me feel like a princess on our first date, I knew that my kids would one day experience the love of an exceptional dad.
There has been a lot of change in thought recently as to the role of dads in the home. Fathers used to be seen as the "secondary caregiver". They were completely left out of parenting research until the 1970's when people started realizing that dads have a valuable impact on children's development.
According to Jenny Perkel, clinical psychologist from Cape Town, "the father introduces something called paternal function, which helps to introduce the child to the outside world, away from the dyad of mother and baby. That mother-baby bond is the beginning – and it's important for the child to come back to it – but the paternal function gives the child a sense of independence and the joy of being separate in a world away from mom" livingandloving.co.za). Jenny explains that if the paternal function cannot be provided by the dad, another father figure, family friend or even school – something tangible and permanent – can perform this function.
Opportunities to bond
As parents we need to look at creating opportunity for dads to bond with their little ones to draw from the numerous benefits of an involved father. Relationships are formed through quality time spent together.
Researchers Lamb, Pleck, Chernov and Levine outlined three fundamental aspects of father involvement which form the basis for a positive, nurturing father-child relationship. It is engagement (Dad's direct contact and shared interactions with his children), availability (his presence or accessibility to the child) and responsibility (his arrangement for resources to be available to the child). (boba.com)
Keeping this in mind, we can help to create an environment for dads to connect and engage.
Setting the stage for quality time with Dad
Play behaviour is seen as being as critical to fathering as nurturing is to mothering. But we don't need research to tell us that Dad tends to play differently with his children than Mom. Dads, by default, usually communicate love completely different from moms too.
Dad's play is often physical and highly stimulating, allowing children to experience the activation and regulation of arousal. It helps children test and understand boundaries in a safe environment. You can imagine the gross-motor benefits of this type of play too. Dad often does not have as much pressure to get the children's needs met, so he can focus on having fun. If Dad is not the primary caregiver, Mom can assist him by sharing ideas on their children's interests and allow him to plan some quality time together. It is always great to get involved in a daily routine too; you don't need to wait for holidays to create an opportunity to bond. Also consider single dads and moms to whom a friend or family member can provide valuable support. Here are some ideas to get you started:
Knowledge is power. Ensure Dad understands the benefits of being involved.
Start early, step back, Mom. Many moms describe an instant bond between themselves and the new baby, but for dads this connection sometimes isn't fully realised until the love becomes reciprocal. They should be encouraged to lay the groundwork for that connection which will come later. Provide opportunities for (yes) … changing the nappies, feeding the baby, soothing and calming the baby without trying to take over if the fathers' initial efforts do not seem to succeed.
Set an environment for play. Playing is the best way for children to learn. Structured play like sport also sets a natural environment for mentoring and sharing interests, while free play allows Dad to learn more about his child's character.
Be involved in daily routines. Bedtime is a great time to impart selfcare, to cuddle and share stories.
Prepare food together. Even flops are fun!
Take time to explore. Go on an active outing or adventure like riding a bike at a local park.
May you enjoy a fun-filled Father's Day this year, affirming and giving thanks to the father or father figure in your and your children's lives.
Benefits for children raised with a physically and emotionally involved father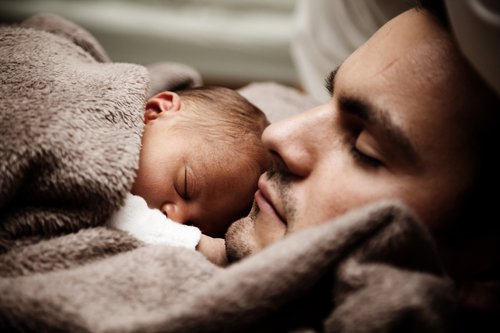 Higher cognitive abilities and educational outcomes. One study found that babies as early as five months demonstrated better cognitive abilities compared to babies who do not have an involved father figure.
Increased emotional control and security, with better tolerance for stress, frustration and impulses.
More likely to have successful marriages and less divorce.
Increased amount of social connections and better early verbal skills.
More confident to explore their surroundings.
Children who had an involved father while the mother struggled with post-partum depression have better developmental success compared to not having an involved father during this time.
(Nicole Letourneau, RN, PhD, Linda Duffett-Leger, RN, and Mahin Salmani, MSc, MS)