You have to go watch Marvel Universe Live!
My house is filled with everything Marvel. From action figures, toys and books, to bedding to clothes for both my sons and my husband. I never knew that being a wife to a collector and mom to boys would change my view on superheroes so drastically! Do yourself a favour, if your family is anything like mine, and you have any kids who are superhero mad, then you without a doubt want to go and watch Marvel Universe Live. I've been closely following the buzz around this upcoming live performance and was delighted to have been given the opportunity to be able to attend this interactive production with my family. In fact, it was so good I would recommend it for anyone who wants to see something showstopping! I must admit I thought, through all the adverts, that this show was made with adults in mind and was a bit apprehensive to take my two boys. Boy was I wrong. It was the most child friendly show I have ever seen and I am beyond happy I decided to brave an 8pm show and take them.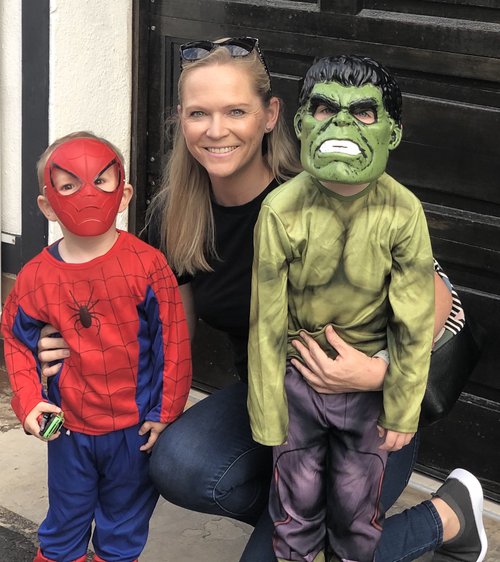 So, assemble your family and get ready for the live, legendary battle to defend the universe from evil. The Avengers, the Guardians of the Galaxy and Spider-Man join forces with Doctor Strange, master of the mystic arts, in a race against time to recover the Wand of Watoomb before it falls into Loki's hands in this spectacular arena stunt show. Marvel Universe Live is a performance unlike anything we have ever seen before.
Star-Lord, Gamora, Rocket, Groot and Drax make their live production debut bringing their courage and misfit wit to Marvel Universe LIVE! Alongside Iron Man, Captain America, Thor, Black Panther, Hulk, Black Widow, Wasp and Iron Fist, the Guardians of the Galaxy help fight the scheming, menacing and loathsome villains Loki, Yondu and Green Goblin. We all joined in the quest that sparked new feuds with old foes, pitting student against mentor, sister against sister and brother against brother.
It is cutting edge live action for all ages!
We were witness to this cutting-edge special effects, aerial manoeuvres, pyrotechnics, martial arts, motorcycle stunts and vast 3D video projection in this thrilling adventure. The floor show was enhanced with strobe lighting, lasers, fire and smoke along with substantial sound effects to set the location and heighten the excitement. I have children aged 2 and 4 and while it was noisy and flashy and at sometimes even scary, it was absolutely breath-taking and had them both sitting on the edge of their seats literally for the entire show. Fans of all ages will be immersed in the Marvel Universe and experience it all with their family…right in front of their eyes.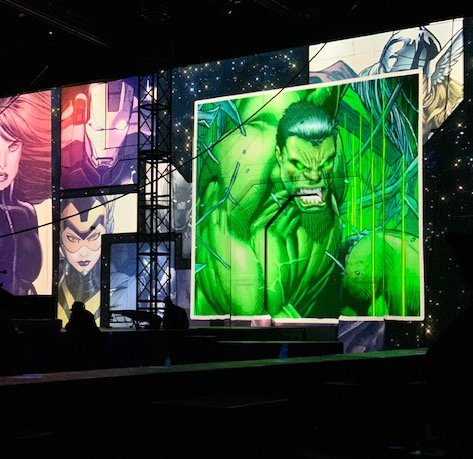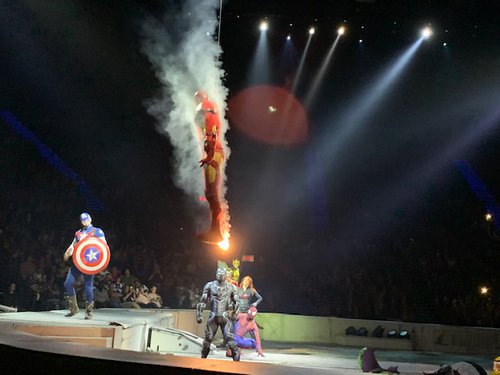 The Venue – Sun Arena at Time Square, Menlyn Maine
Sun Arena at Time Square, Menlyn Maine is the perfect venue for a production of this size and magnitude. We have never been there before and it's not too close to home so had to make a mini road trip out of it as it was a late show too. Once we explained we were going to a live show with The Hulk and Spiderman on stage, our boys became very excited by the thought of superheroes, red slush puppy's and popcorn! We arrived in time to grab a bite to eat and have a look around. We even managed to get a few games in at the Magic Company. The excitement was building in them and in all the other kids (and adults alike). So many people were dressed up as their favourite superheroes… including my Hulk and Spiderman.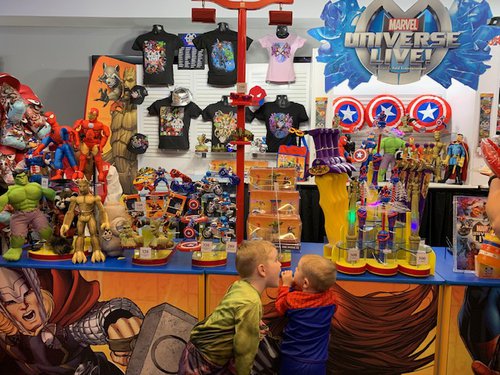 The anticipation for the start of the Marvel Universe Live show was exciting with up-tempo music, flashing lights and the aroma of popcorn, candy floss and other treats. The merchandise tables were as always magnificent and a very big spoil for those who are wanting a piece of the show to take home with them. I must admit I did give into the merchandise and got incredibly good quality Marvel Universe bottles (filled with slush puppy) and beautifully stitched Marvel Universe peak caps. I definitely don't regret these purchases and nor do my kids and they will be used all the time. Once the countdown started at the beginning of the performance everyone took their seats and waited for the transformation into Marvel Live!
What a Performance!
The show opened with the Guardians of the Galaxy and what a treat it was to see some of my personal favourites Rocket and Groot on stage. Our journey throughout the show took us to meet Spiderman flying above our heads, Captain America riding a trick motorbike on stage, Black Panther crouching right at our feet, Iron Man flying with real fire across the stage, Dr Strange travelling through portals of smoke and the most anticipated piece of the show Bruce Banner turning into The Incredible HULK!
I will leave it for you to go and see the show to see if good manages to overcome evil – however, I can assure you that you will not for one second be disappointed!
On our journey home all we could talk about was the show and how much we loved it while both Hulk and Spiderman were fast asleep, no doubt dreaming they were in the show. Memories were most certainly made.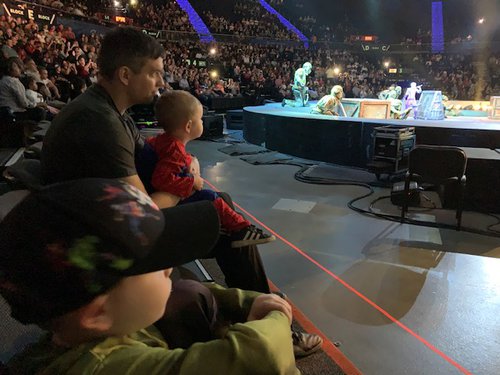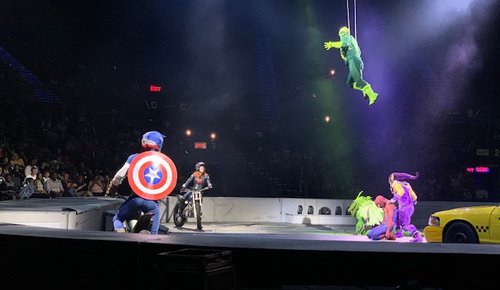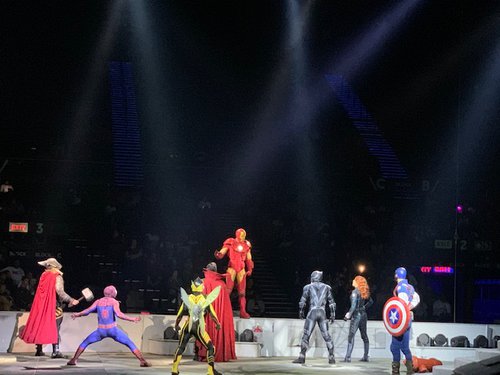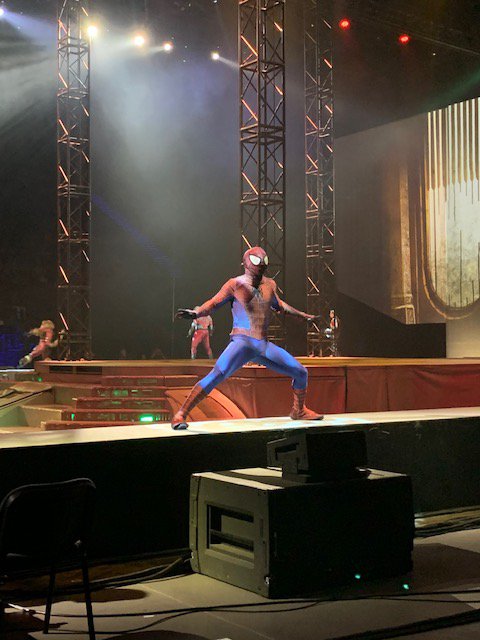 Information to Note
Make a date! Book only at Computicket by calling 0861 915 8000 or visit www.computicket.com or your nearest Computicket service centre.
Patrons are asked to please note that owing to safety regulations each person, irrespective of age (including babes in arms and children under two years) must have a purchased ticket.
Fans are encouraged to only book through the official authorised ticketing agent for Marvel Universe LIVE! There are significant risks in buying from other sources and entry to Marvel Universe LIVE! is not guaranteed. To discover more about Marvel Universe LIVE!, go to www.marveluniverselive.com, or visit us on Facebook, Twitter, Instagram and YouTube. ENDS
_________________________________________________________________________________________________________
IMPORTANT
Strobe lighting, lasers, pyrotechnics, fire and smoke along with substantial sound effects are used in this production
ONLINE #MarvelSA
To discover more about Marvel Universe LIVE!, go to www.marveluniverselive.com,
or visit our social media channels:
Facebook: www.facebook.com/MarvelOnTour
Twitter: @MarvelOnTour
YouTube: www.youtube.com/MarvelOnTour
Instagram: @MarvelOnTour