Things to do on Route 62
Those of you who have been following my writing on our Things to do With Kids blog would have noticed that we have been doing a lot of traveling to the Garden Route lately. Well there is good reason for this. Even though I met the love of my life in George, my father has also recently made his lifelong dream a reality. He sold his business, waved city life goodbye and bought a small piece of land, that we'd like to think of as a farm. As the farm is situated toward the Outiniqua Mountains, this gave us all the more reason to travel via the naughty but nice, Route 62.
We have come to enjoy travelling with kids as this encourages us to stop more often, meaning we see more, explore more and appreciate the stops along the way more often. A six-hour trip could easily become a two day trip if you start adding visits to attractions en-route Route 62. This Easter holiday, I actually had the opportunity to travel alone, without my partner or the kids. I got a little nostalgic, realising what a beautiful country South Africa is. My travels started on the first day of the #Massmobilisation against Zuma after he had fired minister of finance, Pravin Gordhan. So, I had a lot going on in my head, and route 62 was the perfect scenic drive to clear a heavy mind.
Route 62 - inland
Route 62 is a safe, scenic alternative to the N2 when travelling from Cape Town to the Garden Route. It is a connection road that runs inland from Robertson in the Western Cape to Oudtshoorn in the Little Karoo, and then all the way up to Port Elizabeth. Driving from Cape Town you would take the N1 past Paarl, through the Du Toits Kloof tunnel, direction Worchester. As you reach Worchester you would turn right, in to town, left on to the main street and right on to Route 60. I am not sure exactly where this becomes Route 62 as google maps and the official Route62 tourist website gives different information, I always had it that it starts just as you enter Ashton- but then what is "2" between friends? After Worchester, you will pass the lovely wine valley and town of Robertson, Montague, Barrydale, Calitzdorp and Amalianstein. Once you are in Oudtshoorn it is fairly easy to link up to the Garden Route exiting Oudtshoorn and driving via the Outeniqua Pass (or Montagu pass) to George and then on to Knysna and Plettenberg Bay.
If you have not travelled via this naturally beautiful district, do yourself a favour and make a holiday of it. The unique red soil and flaming sunsets is something worth driving for.
Here are my favourite stops and things to do on Route 62
(it has a ring to it- doesn't it? to-do-o…six-ty-two-o…)
1. Stop one - Rooiberg Wine Farm + Restaurant
Having travelled 2 hours from Cape Town, Robertson is a great place to stop to stretch your legs. As you are rather spoiled for choice in this area- I decided to give you two options: Visit my blog about things to do in Robertson and decide for yourself, or enjoy a bite at Rooiberg – they even cater for banting families and they will let you tie your love at their giant red chair and lock display.
2. Platform 62, Ashton
Grab a home-made pie, or buy some locally produced goods. This stop also sells all the wine from the Valley, so if you skip the wine route you can still stock up here.
A post shared by Thingstodowithkids (@thingstodowithkids) on Apr 10, 2017 at 5:28am PDT
3. Die Kloof Padstal, Montagu
I only recently discovered this little gem as you enter Montagu. The first thing that caught my eye was the huge Montagu Nuts sign, as we turned off to get our road trip supplies, I saw what this amazing farmstall had to offer. At the back of Die Kloof Padstal, you will find lush lawns overlooking a running river and large trees with dining areas, jungle gyms and swings to keep the kids busy. It is a great half-way stop and the backyard fits in with the natural beauty of the area if you visit on a sunny day.
Contact details for Die Kloof Padstal
1 Long Street, Montagu, 6720 (1st building on left as you enter Montague from Cape Town)
Tel: +27 (0)23 614 2209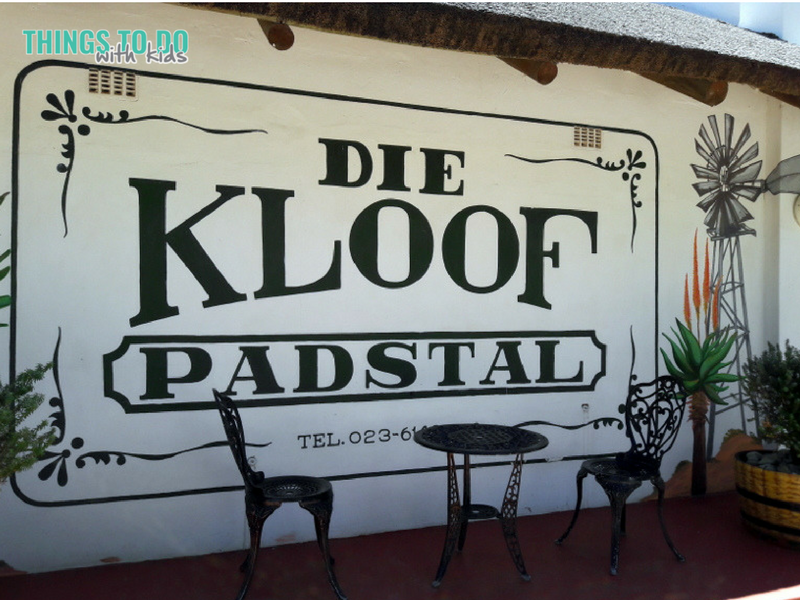 4. Diesel and Crème, Barrydale
The name says it all- a "rough, tough roadside restaurant" with the best milkshakes in the Western Cape. You can take a trip back in time by browsing through collectors' items and trinkets. If you sit outside you may have a little view over the play area, and you will encounter non-traditional entertainment. Carnival toys and plastic motorbikes on dusty roads. But somehow you will find yourself relax and be "okay" with not having 20/20 vision of your children's whereabouts.
As a young couple, we used to stop for a drink at Ronnies Sex Shop. The story goes that he originally opened a shop called "Ronnies Shop". During a fun kuier some of his visitors decided to add in this word that made people stop and turn in for years to come, and a regular stop for Buffalo Raleigh fans. You will find a simple bar with lots of character and a shop upon your visit. This too is not a child-friendly spot and no they do not sell other so-named services. But as it contributes so much to the trip and the story of Route 62 is worth a visit- perhaps on a solo roadtrip if you'd prefer.
Contact Diesel and Creme: +27 28 572 1008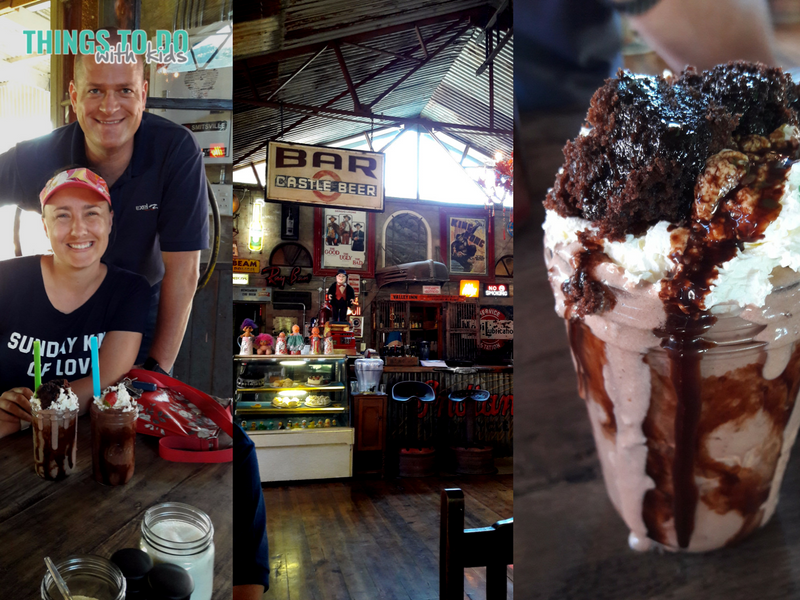 If you plan on making it a slow road trip this is also a great area to book accommodation.
5. Sanbona Wildlife Reserve Safari + Accommodation
Sanbona is a family friendly wildlife reserve and they are home the only free-roaming white lions in the world as well as other big 5 game and the rare riverine rabbit. Besides game drives they also offer a children's "veld school" experience and history on the SAN People who have left a legacy of beautiful bushman rock art.
6. Montagu Guano Caves Accommodation
I have always seen this turnoff as we leave Montagu, on the right. As this is usually over a weekend and we are in a hurry to get to granny- we usually drive past. With a name containing the word "guano"(cave-dwelling-bat-manure)- you never know what to expect J So, with my last solo trip, I decided to turn in- and what a wonderful discovery it was. They offer sightings of traditional and non-traditional farm animals like camels and lama. The is a heated pool, backpackers units, camping sites and chalets and tractor rides to the caves all at a very affordable price. I definitely plan to revisit with the kids.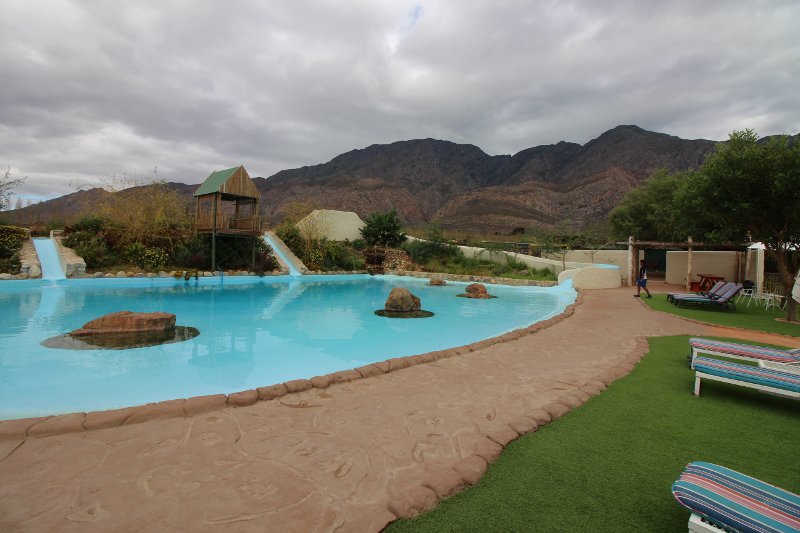 Contact Montagu Guano Caves: 084 553 4187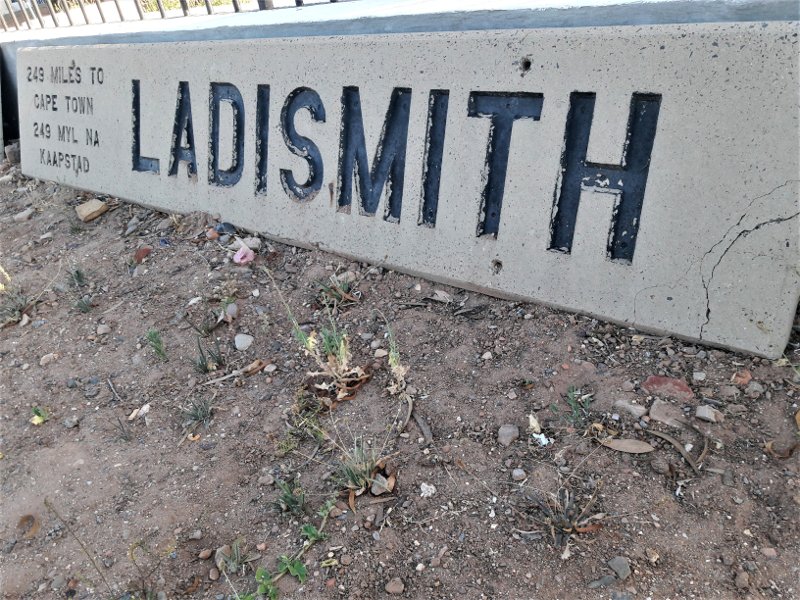 7. Wine shopping + tourism
The R62 is said to be home of the longest wine route in the world so it is definitely worth stopping at some of the wineries along the way to stock up on your holiday supply. Child friendly farms to visit in this area of route 60 include Bon Cap, Bon Courage, Major's Hill, Rooiberg and Viljoensdrift. One of my favourites is yet another turn off from the main road just after Calitzdorp but it is totally worth the drive. It is for the port tasting at Peter Bayley. Peter Bayley forms part of the Klein Karoo Wine Route. Upon your arrival, you will be greeted by a donkey, a dog and the winemaker himself. Though they do not cater for kids it might be a great idea to let them play in the little streams you encounter along the way and ask them to take one for the team. You won't leave empty handed.
Telephone : +27 44 2133702
Baylys' Farm, 1st Road, Groenfontein, Calitzdorp
8. Cango Caves, Oudtshoorn
Once in Oudtshoorn, make sure you visit the historical landmark, Cango Caves. We were fortunate that our guide was a really good singer and she could demonstrate, for a few seconds, the acoustic qualities of the caves. Before man knew the destructive impact that heat (radiating from the crowd) and singing had on the stalactites and stalagmites, they used to host shows and operas in the caves- it must have been an amazing experience. Now you can book an adventure tour for older kids or a general tour for families with younger kids. Mine let their imaginations run wild with Disney castles and secret caves- it truly was an awe-inspiring experience.
Contact Cango Caves: +27 44 272 7410
9. Die Smitswinkel
A post shared by Thingstodowithkids (@thingstodowithkids) on Jun 9, 2017 at 10:06am PDT
The Smitswinkel is on the road as you link up to the Garden Route. They have an outdoor, covered play area, some yard animals and great beer and food. It gets scorching hot in summer, so if you are not a fan of heat, rather visit Outshoorn in autumn or spring. The Smitswinkel is a natural stop and easily accessible- and then also very popular for traveling families.
Contact Die Smitswinkel: (+27) 60 759 9649
10. Herold Wines
If you, like me, don't mind driving on gravel roads then there is another alternative to the traditional route, you can turn left at the Oudthsoorn/ Outeniqua/ Langkloof T-junction, instead of right. A few kilometres later you will find the turnoff for Camfer- this is your "clue" as the Herold and Montagu Pass turn-off comes quite quickly. You will drive through the small town, pass Mountainview Guesthouse, and then hit a gravel road. (You may spot some Eland along the way). Soon, to your left you will find Herold Wines. They offer accommodation and their whole winemaking process is handpicked and machine free. I like their Red Blend, and their picnic or cheese platters are ideal for a late afternoon snack. If you stay over you can kayak on their dam, hike and spend some wifi-free time together.
Contact Herold Wines: (+27) 728338223
I will most definitely not recommend that you fit all of this in on a weekend trip, but pick one or two to explore along the way or stay over and make a holiday out of discovering the area. Have fun and share some pictures with us! @Thingstodowithkids
Tanya