Stained-glass Sugar Cookies
Stained-glass Sugar Cookies
Take the traditional seasonal cookie to a whole new level with stained-glass cookies recipe and fun kids play activity. Prepare the cookies, attach a ribbon to each and use them as decoration in front of a window or on a Christmas tree, before letting the kids make the cookies disappear, magically!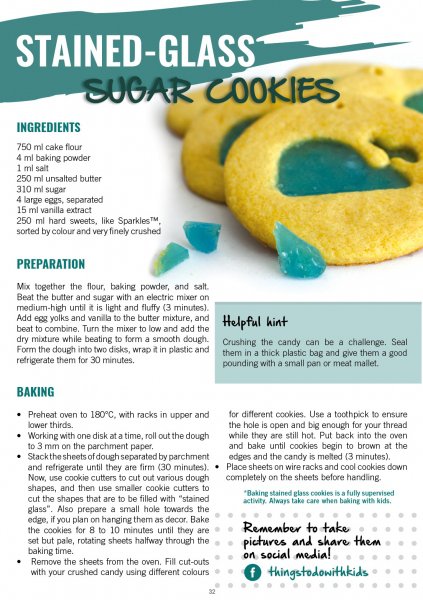 You will Need:
750 ml cake flour
4 ml baking powder
1 ml salt
250 ml unsalted butter
310 ml sugar
4 large eggs, separated
15 ml vanilla extract
250 ml hard sweets, like Sparkles™, sorted by colour and very finely crushed
Preparation
Mix together the flour, baking powder, and salt. Beat the butter and sugar with an electric mixer on medium-high until it is light and fluffy (3 minutes). Add egg yolks and vanilla to the butter mixture, and beat to combine. Turn the mixer to low and add the dry mixture while beating to form a smooth dough. Form the dough into two disks, wrap it in plastic and refrigerate them for 30 minutes.
Baking - things to do with kids
Preheat oven to 180 ° C, with racks in upper and lower thirds.
Working with one disk at a time, roll out the dough to 3 mm on the parchment paper.
Stack the sheets of dough separated by parchment and refrigerate until they are firm (30 minutes). Now, use cookie cutters to cut out various dough shapes, and then use smaller cookie cutters to cut the shapes that are to be filled with "stained glass". Also prepare a small hole towards the edge, if you plan on hanging them as decor. Bake the cookies for 8 to 10 minutes until they are set but pale, rotating sheets halfway through the baking time. Remove the sheets from the oven. Fill cut-outs with your crushed candy using different colours for different cookies. Use a toothpick to ensure the hole is open and big enough for your thread while they are still hot. Put back into the oven and bake until cookies begin to brown at the edges and the candy is melted (3 minutes). Place sheets on wire racks and cookies cool completely on the sheets before handling.
Helpful hints for safe kids play activity:
Crushing the candy can be a challenge. Seal them in a thick plastic bag and give them a good pounding with a small pan or meat mallet.
This is a good time for an educational experience about math, sorting, measurement, temperature changes (e.g. solid to liquid), learning about shapes, sizes and colours as well as developing fine motor skills.
* Baking stained glass cookies is a fully supervised activity. Always take care when baking with kids.
Here are some more ideas and a video tutorial on how to make Stained Glass Cookies: