Our Happy Bush Holiday: Dinokeng
Things to do with Kids: Family Getaway to Dinokeng
'Our 'holiday car' is here, Oma!', Bean excitedly exclaimed as my mother walked into the front door wielding her holiday-ready suitcase (he, of course, forgot about the 'hello' part and went straight for the good news). 'We are going to the bush, Oma', he babbled on, 'and we are going to be sleeping in a holiday home!'. Laughing, my mother gave him a big hug, put the suitcase down and promptly went to inspect the car with Bean, who by now was jumping up and down. The holiday car was a Ford Everest, the holiday home was a self-catering cottage in the Dinokeng Game Reserve and we were going on a family getaway with my sister's family and our mom to celebrate two important birthdays (a 1st and a 60th).
Our Perfect Holiday Car
My mom was travelling with my husband and I and our two kids (aged 3 and 10-months), as well as half our household (why do kids need so many things?!?). We therefore needed a big car! And the Ford Everest delivered! Granted, I had to squeeze into the dreaded middle seat between the two car seats in the back, but there was luckily enough space to fit my growing waistline and hips (especially after the numerous holiday feasts). Once my husband begrudgingly let go of the car keys and I finally had a chance to drive the car, I fell in love with it as it is the perfect car for a family: comfortable, spacious and it is fitted with all the modern amenities I would need (rear facing camera, entertainment system etc). Bean has fallen in love with it too: he keeps asking us where our 'holiday car' is (now that we have returned it) and whenever we pass an Everest on the road he excitedly exclaims that he has found it.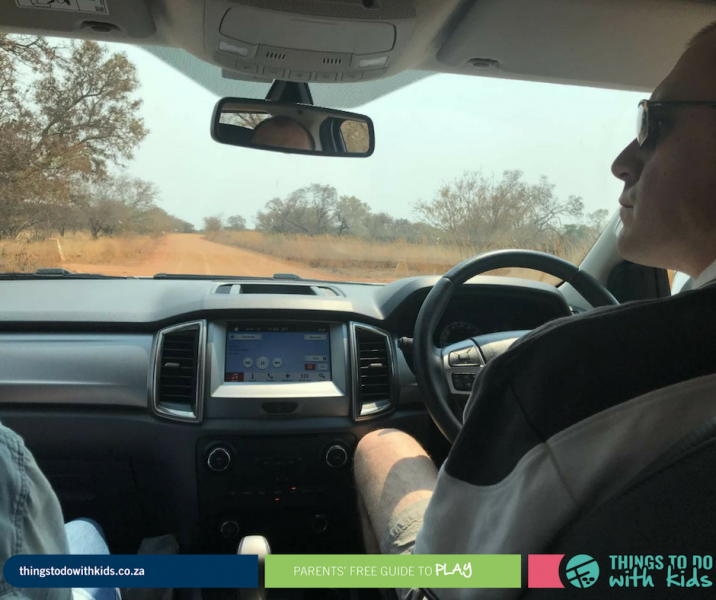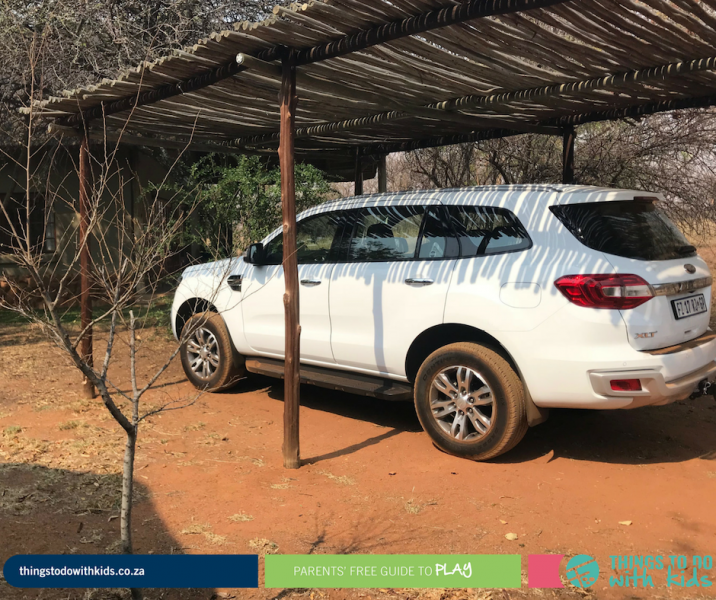 Things to do with Kids in Dinokeng Game Reserve
There are numerous lodges, resorts, campsites and even privately-owned homes situated within the Big 5 Dinokeng Game Reserve and although Dinokeng itself does not have any child-friendly facilities (they really are just the reserve), there are various kid-friendly facilities available at some of the resorts. The reserve does allow self-drive game viewing and the various lodges and resorts all offer professional game drives as well (although babies, toddlers and pre-schoolers are not allowed on these unless you book out the entire vehicle).
Game drives are fun for adults but kids quickly get bored and once they have seen that Impala, or Giraffe, or even a Rhino (which we were lucky enough to spot on our first day), they get over it pretty quickly and do not have a need to see it again (Bean is like that anyway) so we had to find places which offered kids' entertainment.
Dinokeng Resort offers a variety of accommodation and fun family entertainment options but this resort does not allow day visitors. Tshikwalo Lodge, however, does and we spent one morning relaxing at their kids' play area and pool.
The pool area at Tshikwalo: they also have a small jungle gym and a large sand pit which can be used as a Volley Ball court or ball games in general.
Another fun outing was lunch and drinks at Mongena Lodge (and a dip in their pool). Although there is no play area per se, Bean loved 'interacting' with the tame Zebra and other 'wild' animals roaming around the pool and bar area. The food was also really tasty.
Bean blending in with the Zebras at Mongena Lodge
Another happy, budget-friendly and yummy find was the Honey Lodge: they produce their own raw honey and sell this at R 150.00 per kg!
My Family-Friendly Recommendations
As Dinokeng is situated a mere hour's drive outside of Pretoria, this game reserve is the ideal family getaway destination for a long weekend or if, like us, you have kids who hate spending time in a car. The close proximity to town is also great in case of emergencies (think snake or spider bites etc) and on the odd occasion (or not so odd in our case) that you forget some of your food at home.
If you are planning a getaway with young children, I do definitely recommend to stay at a family resort such as Tshikwalo Lodge (they have dorms, campsites and self-catering options) or Dinokeng Resort, as the kids really do get bored being stuck in 'just' a house (although the peace was, of course, heavenly for us adults)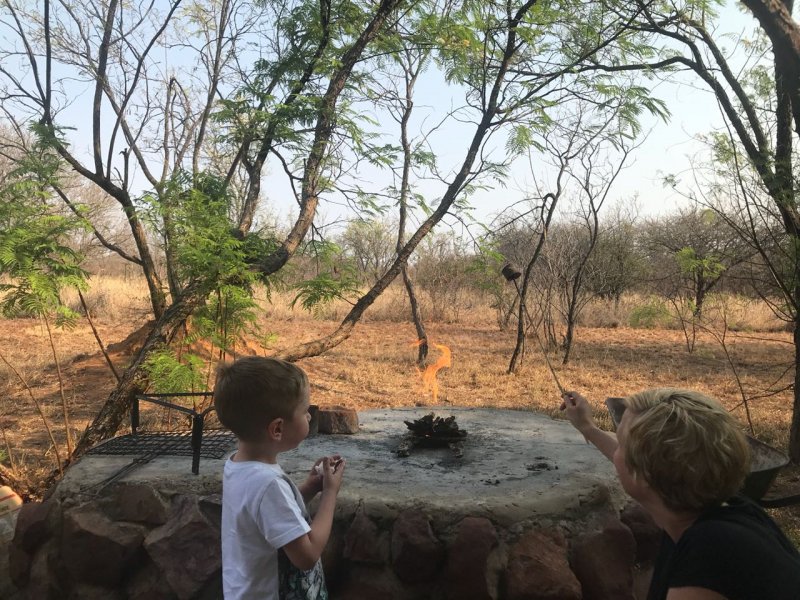 Braaing marshmallows :)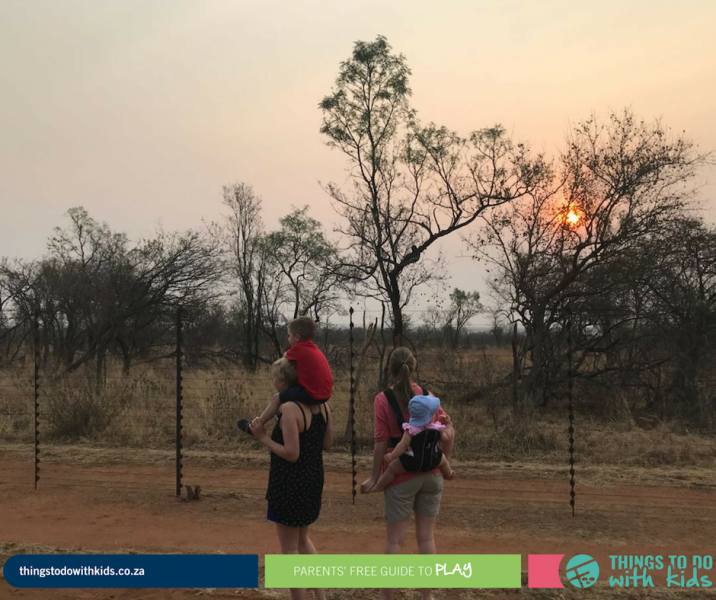 My sister and I taking the kids for a walk and admiring the sunset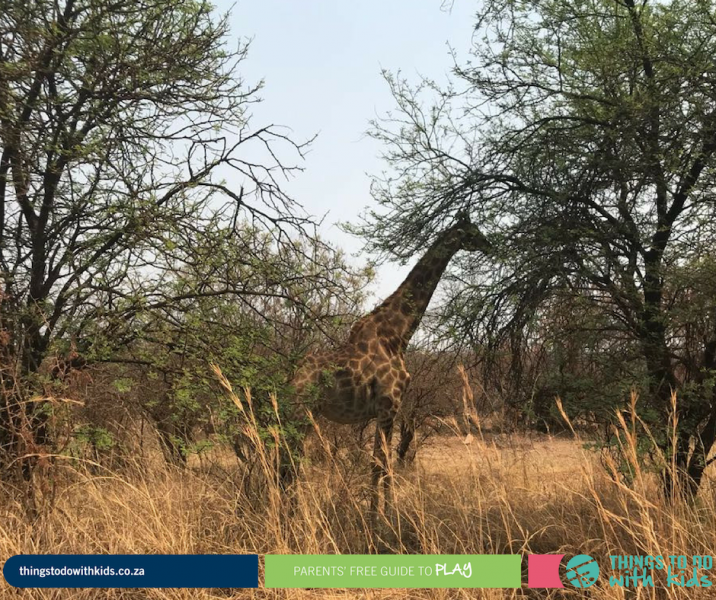 xxx
Alexa