This is how we roll interview with: Pauline Nel
This is how we roll
This is an interview with South African Parents who love to spend quality time together. Pauline Nel is a great example of a wonderful Mom and businesswomen. Owner of the YE Young Entrepreneurs in Durbanville, a company that helps to teach children entrepreneurial and financial literacy as well as workplace readiness skills. 
Tell us more about you
My name is Pauline Nel and I am from Durbanville in the Northern Suburbs of Cape Town.
Describe your day under the theme "a day in the life of Pauline Nel"
I'm a Mompreneur, therefore (firstly Mom) and also an entrepreneur with two businesses...  I get up early, have breakfast with my hubby & kids, and then take the kids to school. I have quiet time with God before I start my day, usually, about 8 am, then its meetings, emails, events...until about 3 pm, when I collect my kids & spend time with them.  They help me prepare dinner and when my hubby comes home after work, we spend time together as a family, playing games and sharing stories about our day.  I'll usually spend another hour or two working after I've read my kids a bed-time story & tucked them in at night.
As a child- did your parents travel local and what is your favourite childhood holiday memory?
Yes, we travelled locally as a family.  Only my dad travelled overseas for his work.  Our whole family (aunts, uncles, cousins, grandparents) went to Sandbaai & spent time together over the school holidays...those special memories will stay with me forever! We travelled by train to Kruger Park once, visited Robben Island and also the Planetarium...highlights of my childhood which I'll never forget.
Have you ever revisited (the above) as an adult?
Yes, my husband & I went to Kruger with my family in 2008.
Do you have a picture to share of your trip to the Kruger Park?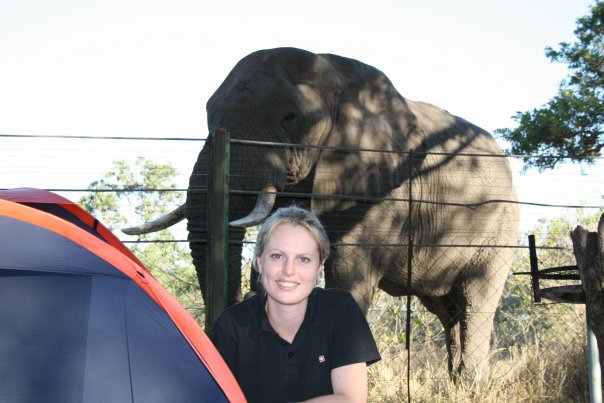 Family life
Tell us about your family?
I have a wonderfully supportive husband, we've been married for 12 and half years, and two lovely daughters (aged 6 and 8).
Share a picture of you / your family
What is your favourite free local family activity?
We love going to the beach, hiking and going for picnics at our local dam/parks.
Where is your favourite local family-friendly hangout?
I like to go to the garden centres, like Stodels or Cape Garden Centre.  Some of the wine farms in our area also have great play areas for the kids, like Signal Gun.
Do you read to your kids?
Yes, we love reading Bible stories at night before bed and fairy tales during the day and over weekends.
What is your favourite mobile app for kids?
"Soogdiere" is a very nice app where they can hear all the different sounds that animals make
Help a parent out
Travel tips, snack tips, sleep tips- anything that is a life-saver for you that other parents may benefit from.
If you could share one TIP you use to make free time with family fun- what will it be?
Relax and have fun, don't sweat the small stuff, let them run free & explore!
Where can people find you online?
You can find Pauline at her website: www.younge.co.za
What legacy would you like to leave your kids?
They must know that they were loved more than anything in the world and that I believed in their ability. "When children sense our respect for their ability to lead the way, it empowers them beyond measure" (quote from Dr. Shefali Tsabary)