How to Help Kids Overcome Anxiety
How to Help Kids Overcome Anxiety
Our little (not-so-little-anymore) 3-year-old Bean has always suffered from separation anxiety (even at 4 months old) and this got worse when I started experiencing complications with my second pregnancy. In order to address this issue, we decided to take him to play therapy. Surprisingly the play therapist mentioned to me that there has been a significant increase in young kids with various forms of anxiety; a worrying phenomenon.
Our family situation is therefore not unique and so I decided to share some of the tips and strategies we have implemented in our daily lives to help our sweet Bean, in order to help some of you, our dear readers.
Overcoming Childhood Anxiety through Confidence
The key to overcoming anxiety is to build self-confidence and this is achieved through the following:
Establishing a Trusting Parent-Child Relationship
Of all the people in the world, we as Bean's parents are the primary caregivers. Bean must know and trust that he can rely on us, our love, our support and our understanding, no matter what. Of course, there are times we need to discipline and we need to teach respect and values, but our core relationship must always be grounded in a sea of unconditional love.
Children must know and trust that their parents will always be in their corner. This cannot simply be assumed, it needs to be shown.
Be Aware of the Power of Words
One of the lessons I learned during a moms and tots class was that young children and toddlers have no concept of self. This means that they rely utterly on labels which are given to them as they start forming their own self-image. As the parent, it is therefore imperative that I share only positive labels and characteristics about my child, with my child.
Name calling (even if said in jest) is taken up literally and this only causes further insecurities and anxiety. Toddlers can be challenging and frustrating but if you have the need to complain about your toddler, don't do it where they can overhear you.  Remember, you are supposed to be in their corner. And besides, why would anyone want their child to grow up thinking that they are a 'pest', or an 'annoyance'?!? These types of words deeply upset me as an adult, can you imagine how my 3-year-old must feel?
Talk about and Acknowledge Feelings
I don't know about you but there is nothing that makes me want to throw a temper tantrum more than when my son throws one. And when this happens all I am teaching him is that his behaviour is right.
As much as we often hide our feelings of anger, sadness, anxiety and frustration when in public, it is important to teach our kids that these feelings do exist and that it is ok to feel them. What's even more important is that we need to learn and teach our kids how to properly deal with them.
Find a Hobby for your Child and Set Realistic Goals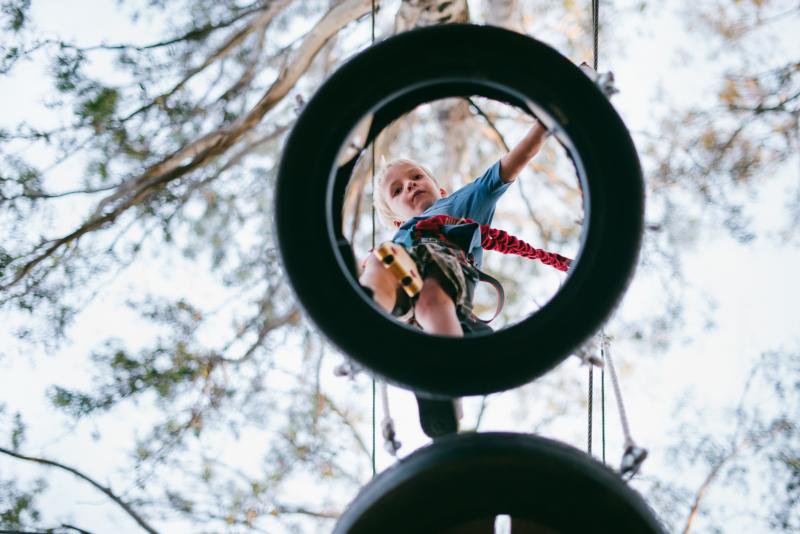 The pride beaming out of Bean's little face when he has mastered a new skill is simply magical and his confidence grows the more he succeeds as this new skillset. The skill we decided to focus on developing in order to further grow his self-confidence, is gross motor skills and the best place to do this is at Acrobranch. This amazing outdoor haven has had such a positive impact on our family life - it offers various supervised age-related obstacle courses for kids and adults, they have branches all over the country which means we can indulge in our new hobby even when on holiday and, most importantly, it is safe! Tanya recently wrote a post about the Benefits of Choosing Active Activities as Weekend Entertainment for more information on why we chose this activity specifically.
Be Kind to Yourself
Bean does what his dad and I do. It doesn't matter what we teach him or say to him, he will act and respond according to his examples, i.e us. This mirror behaviour is often hard to acknowledge (who likes seeing their own negative sides being acted out so well?!) but it shows the truth – parents need to be the example of what it is they are trying to teach. In relation to building confidence, remember that your child needs to see you being confident in order for him or her to emulate this.
Play through Situations
When I had to spend a weekend in the hospital during my pregnancy, our Bean did not react well at all. He had never been away from me for more than a couple of hours and that first night he just cried until he eventually passed out. It was terrible. In order to prevent this from happening again our play therapist suggested that we play out the hospital scenario and so I bought four little dolls to represent our family and we played out the 'mom going to hospital to have a baby' scene and I put a lot of emphasis on the fact that the mom always comes back home.
Although our Bean still sometimes displays anxiety when I drop him off at school or when we are in a new environment, it has gotten a lot better. He confidently plays in play areas (on his own) when we go out and he quite happily spends time with other caregivers when I am not around. 
Does your child suffer from anxiety? How do you deal with it? Share your stories with us!