Fun Things to do in Pretoria East, Gauteng
When I was a student, I decided to study in Hatfield Pretoria for one year. I loved the Jacaranda city vibe. People were friendly and enjoyed spending time together, whether it was hanging out at the square, going shopping at Menlyn or getting together for a braai. But the one thing I really missed was safe outdoor spaces. Places where you could connect with nature.
I remember someone told me about a local park, so one day after class I took a quick trip to go spend some time walking in nature. Upon my arrival, I saw this massive sign right at the entrance advising people to walk in groups… I was there to walk on my own, something I regularly did during my stay in Cape Town. I had to turn around, thinking "what a let-down".
Back then, neither Google maps nor regular blogs on things to do in Pretoria existed. Today I know there will be new students, adults and/or families with young kids facing the same dilemma as I once did - therefore I am excited to share these lovely outdoor things to do that are child-friendly in Pretoria East. A big thank you to Acrobranch for the opportunity!  Please note the rates supplied were correct for August 2018. 
1. Have a thrilling Zipline adventure
Just east of Pretoria lies Rosemary Hill, a working farm with lots of outdoor activities on offer. If you are looking for an adrenalin filled adventure- try out the 125m Big Zip at Acrobranch. You will enjoy spectacular views of the farm and the countryside of Gauteng. 
Age Groups: Older kids and adults
Rates: R90 per person
2. Go running or walking
Trail runners in Pretoria can enjoy the Rosemary Hill 5km, 10km or 33km routes. Trails are mostly single track with some jeep track and occasional paved areas. The routes are laid out as a scenic tour through the farm and they have introduced some man-made obstacles to keep you challenged.
Age Groups: If your kids can walk or run 5km comfortably they can go!
Rates: Adult day passes are R30 and a child day pass is R20.
What a lovely scene: toddler hiking at Rosemary Hill! 
3. Let the kids enjoy five minutes of trapezing fun
Get your heart pumping and enjoy an adrenaline rush, shooting through the sky on the Acrobranch Trapeze. Jumps are facilitated by a trampoline and harness so both children and the young at heart can expect to go up to eight meters into the sky.
Age Groups: Three years and up, weighing under 85kg's
Rates: R50 for 5 minutes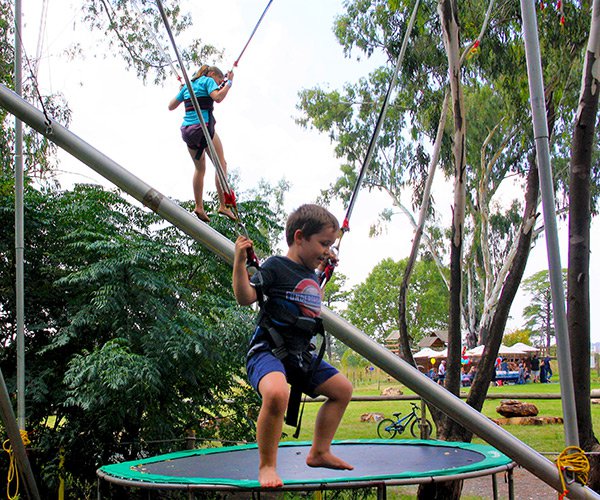 Acrobranch trapeze outdoor adventure, Pretoria
4.Practise your skills or go for a longer MTB ride
Pretoria families can enjoy over 30km of single track on the farm. The routes include innovative and challenging routes for riders of all skill levels to enjoy. Trails are open 7 days a week and distances vary between 5, 10 and 33 km. There is a 1km track for the kids too! Bigger bike rentals are available if you want to try it out and test before you embrace MTB life. They even offer a free bike wash on muddy days!
Age Groups: From when your child can ride a bicycle or balance bike
Rates: Adult day pass R40, Children day pass R25 and Bike Rentals R180 (excludes day pass).
5. Trot along
Rosemary Hill now offers inside and outside livery in beautiful new stables located next to their pecan nut orchard. Delight in breath-taking child-friendly outride trails and excellent facilities. Horses at Rosemary Hill Stables receive quality, round-the-clock care and owners can enjoy the new, professional facilities such as arenas for multiple disciplines, canter track, outrides and cross-country trails. 
Age Groups: Varies
Rates: Outrides start from R250 per person.
Booking essential!
Thank you for this cute image Rosemary Hill!
6. Two hours of fun obstacle courses
Acrobranch Pretoria East also offer kids' parties and two hours of active play on their various courses designed to suit the height and skill levels of each age group. You can expect an excellent core workout and sense of accomplishment once you have completed the course. Read our blog on the benefits of choosing active activities over weekends and Alexa's unforgettable adventure at Acrobranch.  

Catering for Acrobranch outdoor kids' parties is done by The Greenhouse Cafe. Once you have booked your party you can request a party package from the Greenhouse Cafe.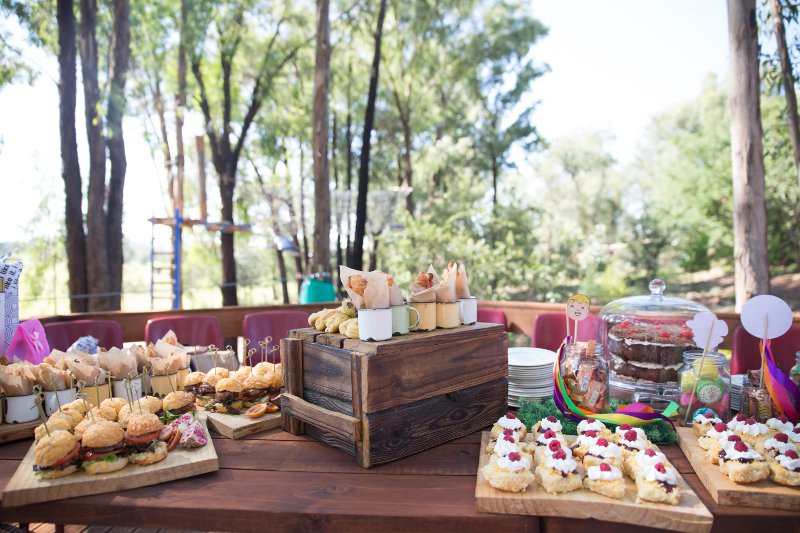 Ages: 3 years and up (It is ideal for team building too!)
Rates: From R140- R280
7. Bottomless coffee and brilliant breakfasts
The Rosemary Hill child-friendly coffee shop is a perfect peaceful escape to have a light meal and appreciate the quiet countryside and fresh air during the week. You can further join in on the vibey high-energy atmosphere over weekends, as health enthusiasts visit to ride, hike, run or climb.
The kids play area is enclosed and easily visible from the veranda and undercover seating area. All meals are freshly prepared with organic produce from the farm, where possible. In the event that they do not have a licence on the day of your visit, you are welcome to bring a bottle of wine along and they will gladly supply the glasses and ice.
You can further book a picnic and they will allocate a dedicated picnic spot for you and your family for four hours! Just collect your picnic box and choose a spot on the farm to bond with friends or family. It is also ideal for baby showers or kitchen teas. Rosemary Hill will do all the work including the set-up, you can just arrive and enjoy the time with your guests.
Ages: All
Picnic Rates: Children R95 per child, Adults R295 per person, Functions R315 per person, Romantic Picnic R900 per couple. It includes the Picnic Setup (Little table, blankets, cushions) and a packed wooden sharing box.
Bookings essential (for picnics)!
Parent and child-friendly coffee shop treats, Pretoria
Well, there you have it. Seven fun outdoor activities to enjoy on a weekend in Pretoria- you will feel like you are back in the countryside! This reflection from a reviewer on Tripadvisor seems to sum it all up: "… Kids already insisted that we go back next weekend. This will be our go-to-family-venue from now on". 
Have you done any of these activities before? If so, which was your favourite?
Acrobranch offers eight world-class outdoor adventure parks and kids party venues. They are all situated in lovely open space venues, close to nature. (1) Constantia Nek in Cape Town, (2) Sunlaws Estate adventure park in Centurion, (3) Rosemary Hill adventure park in Pretoria East, (4) Melrose Park (and picnic spot!) in Johannesburg, (5) Honingnestkrans Street family adventure park in Pretoria North, (6) Timberlake Organic Village on the Garden Route, (7) Huddle Park Linksfield adventure park near Bedfordview and Rosebank and their latest addition to the family- (8) Stellenbosch family adventure park at Klein Josstenberg Farm.