Chocolate Date and Nut Truffles
Chocolate Date and Nut Truffles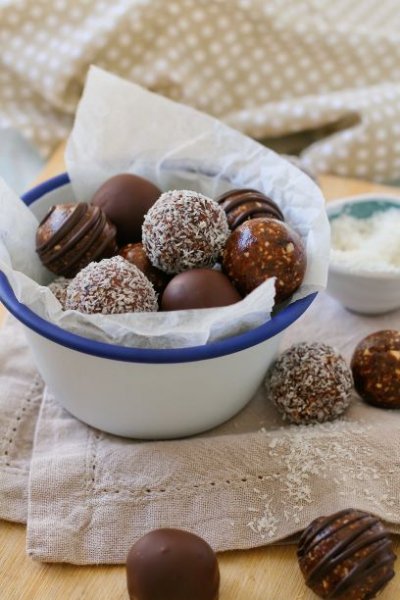 Makes 15 Truffles
You will need:
100g pitted dates
4 tsp cocoa powder
3 tbsp nut butter (such as peanut or almond butter)
½ cup raw almonds
¼ cup raw cashews
1-2 tbsp honey
desiccated coconut for rolling (optional)
melted dark chocolate for drizzling (optional)
1.) Place the dates, cocoa powder and nut butter into a food processor. Blitz until combined into a thick paste.
2.) Add the almonds and cashews and blitz again until the nuts are finely chopped. Scrape down the sides of the bowl.
3.) Add one tablespoon of honey and mix again until everything is combined. If the mixture seems a little crumbly add another tablespoon of honey.
4.) Roll teaspoonfuls of the mixture into balls. Roll each ball in coconut to coat or drizzle with melted chocolate. You can also leave the truffles plain if you wish. Place the truffles in the fridge to set before serving.
5.) Store the truffles in an airtight container in the fridge.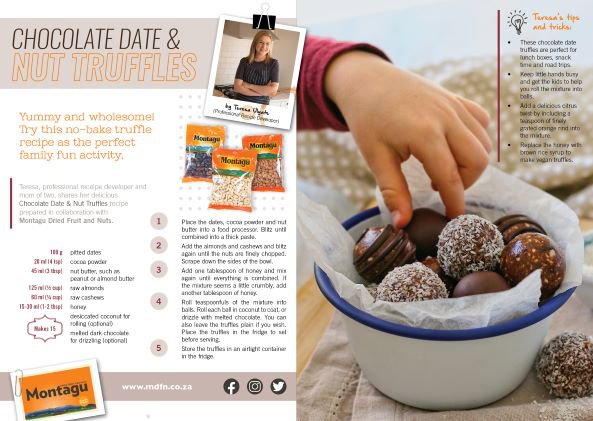 Teresa's tips and tricks
These chocolate date truffles are perfect for lunch boxes, snack time and road trips.
Keep little hands busy and get the kids to help you roll the mixture into balls.
Add a delicious citrus twist by including a teaspoon of finely grated orange rind into the mixture.
Replace the honey with brown rice syrup to make vegan truffles.