The Benefits of Team Building for Corporates and Families
My sister phoned me the other day, her tone of voice one of nervous excitement, 'We are having a team building day at Acrobranch in Melrose', she said, 'and I don't know whether I can do all the activities!'. I laughed as my sister is not the adventurous type at all. She is the kind-hearted knitter, birder and home baker we all love, but she is not brave. I, therefore, cautioned her against the Acrobungy (basically a reverse bungy) and suggested she focus on one or two obstacle courses.
During the first obstacle course, one of her pretend-brave colleagues, who had loudly signed up for everything, including the Acrobungy, chickened out. Schnigi, trying to help avoid an embarrassing situation for the guy, valiantly rose to the task and asked whether she could have his ticket; she was feeling brave after all. She calmed her nerves, bravely stood in the bungy section and was flung into the air, screaming…and then laughing. It turns out that she has a need for adrenaline after all, as she loved it!
The entire team building effort at Acrobranch was, in fact, a huge success (despite a number of her colleagues having quite a negative view of the day at the start) and the team is now a close-knit, more cohesive unit, as a result. This made me think of the benefits of team building, of purposefully doing something fun, yet challenging together, not only for corporates but for families as well. A family unit is also a team and just like a corporate team, members of a family do not always see eye to eye. In fact, when I look back on my youth, there were a number of times when our family was at strife (especially during and after my parents' divorce and when I was a stubborn teenager), our time together marred by arguments and a negative silence, rather than by joy and love. A day of thrilling excitement and fun at Acrobranch would have definitely had a positive impact on our family.
Things to do with Kids: Team Building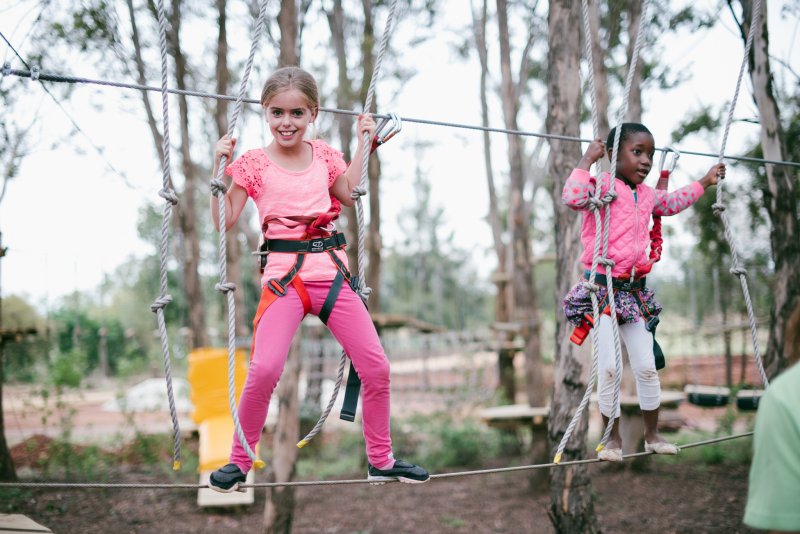 Increased Motivation, Cohesion and Collaboration
We all know the feeling when the workplace is marred by a general aura of negativity, of demotivation: nobody helps each other, nobody goes the extra mile and nobody has fun. It is not a nice feeling to have, or a nice place to be in.  Team-building forces the team, or the family, out of their comfort zone and into a challenging situation. It forces them to try, and ultimately to achieve, something positive, new and exciting with their colleagues and this, in turn, promotes motivation and collaboration. Going through a positive experience further promotes a sense of unity and therefore cohesion amongst the team members. If you feel good about, and proud of, yourself, it is easy to make others feel the same.
Positive Reinforcement and Improved Communication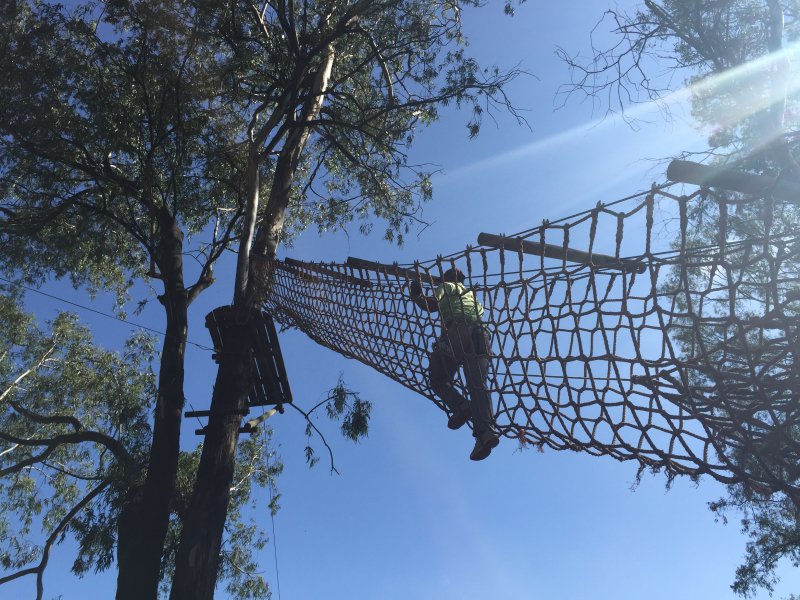 One of the ladies on my sister's team has a fear of heights and she was, understandably, dead set against this team building experience. The amazing staff at Acrobranch, together with my sister and her team members, however, managed to persuade her to attempt the kiddies' obstacle course. With the positive reinforcement and communication from all those around her, the lady completed the course successfully and she was immensely proud of herself and her achievement despite her fear: she could now go home and proudly show her daughter the video of how brave all of us can be, despite of our fears.
The fact the team could help her through this challenge set the tone for future challenges – together, they can achieve anything. All that is needed is for them to communicate effectively and positively.
Encourage Creativity
We are all unique and we all have our own set of individual strengths and weaknesses which allow us to look at and solve problems differently. This is what makes a team, and a family unit, so wonderful – by engaging the individual strengths and working together as a collective, the team can achieve so much more than the individual. By placing the team into a new situation and environment, the team members are forced to look at problems from a different perspective, thus promoting creative problem-solving. Being faced by a different and unique, yet fun, set of problems, (or obstacles in the case of Acrobranch), allows the team to see and appreciate each other's strengths a-new.
Acrobranch has various branches in Cape Town (Cape Town  & Stellenbosch), the Garden Route, Johannesburg (Melrose & Huddle Park) and Pretoria (Centurion, Pretoria East, Pretoria North).
Be sure to book your next family-building or team building experience at one of these amazing branches.
xxx
Alexa