Fantastic outdoor and indoor putt-putt spots to visit soon!
As South Africans we probably all have a putt-putt aka miniature golf memory. My first memory of the game dates back to a holiday spent at ATKV resort, Hartenbos where our only purpose was to get the ball in the hole, and I vividly remember the disappointment when I got to the last hole for the first time and the ball was GONE! Hashtag "GameOver"!
I had to laugh at myself the first time I took my kids to Moulli Point, I totally over-explained that the game will be over when we get to the last hole- I would never let anyone go through that pain again! They loved it and seemed rather confused that I was so adamant to tell them about the last hole!
So here are 2 indoor Putt-putt places to check out near Cape Town and then 3 outdoor spots with a view!
Cave Golf at Scratch Patch and Mineral world, Waterfront, Cape Town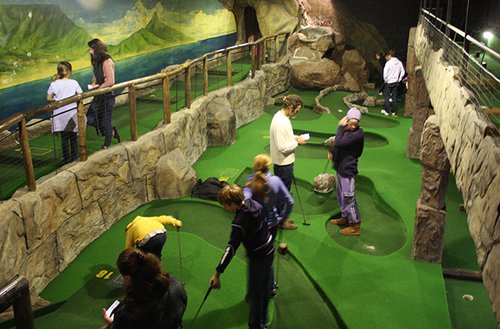 Stay a little longer and enjoy mini golf in this indoor man-made cave golf at the V&A Waterfront.
Where: Dock road, V&A Waterfront
More info: V&A; Waterfront: Cave Golf
Glowing rooms 3D mini golf, Milnerton
Enjoy a first for SA, 3D space-themed glow-in-the-dark 18-hole mini-golf adventure in Milnerton. With glow-in-the-dark apparel for sale, Glowing Rooms offers an unique experience to be remembered.
Where: Hhop 16 - The Gallery , Corner Koeberg Road and Turf Club Drive
More info: +27 21 551 2244
3 Outdoor putt-putt venues with a view!
Pirate Golf and Splash Pad, Benguela Cove, Hermanus
If you are getting that weekend feeling- head out to Pirate Golf and Splash Pad, Benguela Cove. The course is made up of 18 holes and you will encounter pirates and plenty of skullduggery. This adventure golf course is spectacularly themed with obstacles including a huge pirate ship, streams, rafts, pirates and a giant skull.
Where: R43, Bot River Lagoon, Walker Bay, Hermanus, 7200
More Info and Rates: Adventure Mini Golf Hermanus
Mouille Point Putt-Putt, Cape Town
This mini-golf course situated on the promenade in Mouille Point. The putt-putt course is situated on Beach Road and offers spectacular sea views. The ground levels have changed so you may find the game slightly more challenging, playing at an angle. Take a jersey with as you will often find a little breeze picking up as the sun sets.
Moulli point offers two different courses. Each course consists of 18 holes of varying difficulty. Each round of 18 holes takes about 45 minutes to complete depending on the amount of time you spend on each hole. With kids- it might take an hour and a half, or forever! Pack your scooters and children's bikes if you feel like a stroll or visiting the free bike track further down the promenade.
Where: Beach Road, Mouille Point, Atlantic Seaboard, Cape Town
More Info: +2721 434-6805 or visit http://www.puttputtcapetown.co.za/
Tygervalley Golf Village mini-golf, Northern Suburbs
Enjoy great views of the golf course, green hills and Table Mountain as you and your little ones practice putting skills. The 27 hole African Themed putt putt course is designed with obstacles that'll you keep you entertained all day long. From bridge crossings to uphill putts, this course will challenge even the most intermediate putt-putter. The course is split into 3 colour coded courses. These courses rate from beginner to intermediate. The first 9 holes are ideal for young children.
Where: Carl Cronje Dr, Cape Town, 7530, South Africa
More Info : Mini golf Tygervalley
More putt-putt courses near Cape Town:
Blogs
More Member Pages