Visit Capegate Shopping Centre for a fun indoor activity this Summer
Visit Capegate Shopping Centre for a fun indoor activity these summer holidays
With the summer holidays fast approaching I am constantly on the look-out for things to do with my kids during the school break – I especially like activities which get the kids active and are affordable.  I am particularly keen to find indoor activities during the summer as then we can enjoy the experience any time of the day (being from the UK I still cannot grasp the concept of a 'hot' Christmas!). 
I was very excited when we were invited to try out the new Glice skating rink which has been set up in the centre court of Capegate Shopping Centre in conjunction with Toys R Us.  During the last school break we enjoyed a science lab experience there, so I know the shopping centre would offer a high-quality event.  Read more about Capegate Shopping Centre here.
As I don't have much experience of ice skating myself, I was happy to hear my 6-year-old son would be able to go on the ice rink on his own as they provide staff to look after him.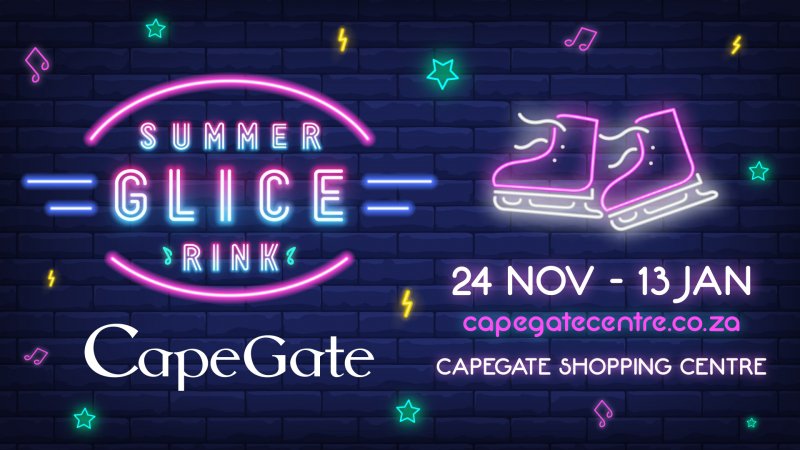 The Summer Glice Rink will be at Capegate Shopping Centre from 24 November – 13 January 2019 (except Christmas day) and is most suitable for kids between the ages of 5 – 12 years old. The experience costs R50 for 40mins and it starts on the hour each hour – I would recommend getting there earlier to make sure you get tickets, and so they can match you with the correct size ice skates. 
What is a Glice rink?
On arrival we were impressed with the rink as we weren't sure what to expect – this Glice rink is a state of the art 10 x 6m synthetic ice rink that works without electricity or water, but still offers the same experience as a water-based ice rink.  This technology allows ice skaters an artificial ice experience as a real alternative to frozen ice - Glice® is the only synthetic ice, which realistically replicates real ice.
What should you wear?
We were told to make sure my son brought a pair of thick socks and he was then fitted with an awesome pair of ice skates – they certainly look much cooler than when I was a kid and ice skating in the 1990s.  They put his shoes on a rack tucked away so we knew where they were and they weren't in the way of everyone.
Please note that there are limited shoe sizes available, which is allocated on a first come, first served basis.  As they cannot guarantee that the correct size will be available for your skating session they suggest you can bring their own ice skates if you have them (and you will also be able to enjoy a discounted rate of R40).  There is no specific dress code as the Glice is not cold, but they encourage kids to dress to the neon-theme for even more awesomeness.  I would also recommend trousers and a long sleeve top just in case they do take a tumble for added protection.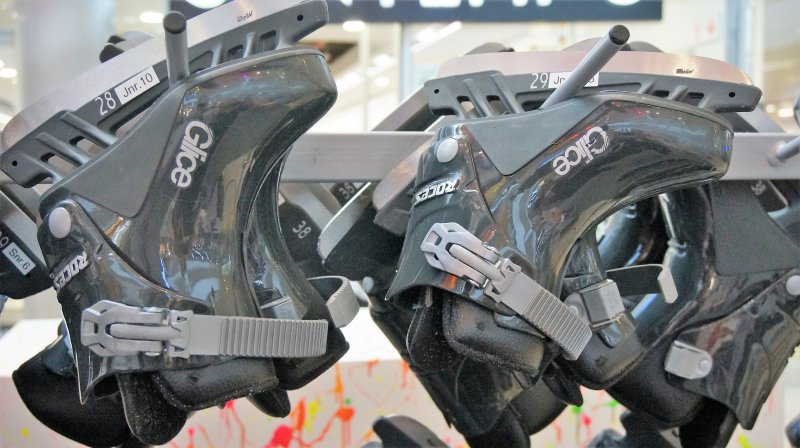 Getting on the Glice Skating Rink
My son was a bit apprehensive about getting on to the rink as it was a totally new experience for him, however, Capegate have provided a number of friendly supervisors to assist on the ice rink and my son was quickly reassured that he would be looked after for the duration of his experience.
After a brief pep talk about how to behave on the ice and what to do if you fall over (hide your fingers! No one wants a visit to the hospital on a fun day trip out), he was allowed on the ice rink – which he approached diligently as he's not keen on hospitals.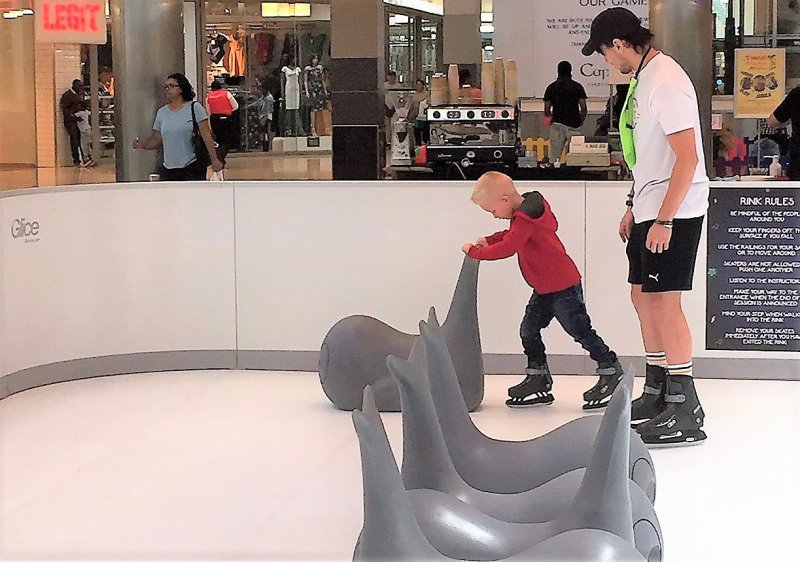 As a first timer on the Glice rink, he used one of the whales provided for support which assisted him in gaining confidence on the ice rink. He was assisted by one of the supervisors who showed him how to use the whale and the best way to approach skating.  It took him a while to pick up the technique to go forward as he kept crossing his skates over but once he found his groove he was more self-assured and gained some speed.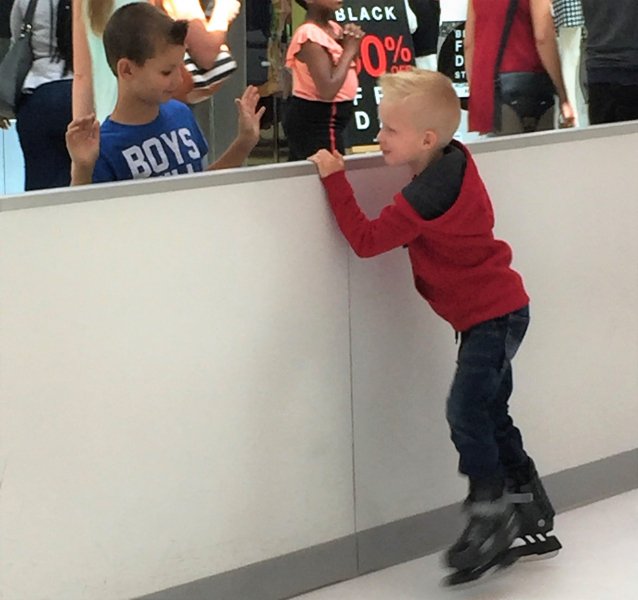 He then decided he would try and skate without the whale, using the side as support.  He started to attract a few onlookers who decided they would also join in the fun and get on the rink.  There were a few falls from all the kids – and even the supervisor took a bit of a tumble – but no harm was done as they all got back up and tried again.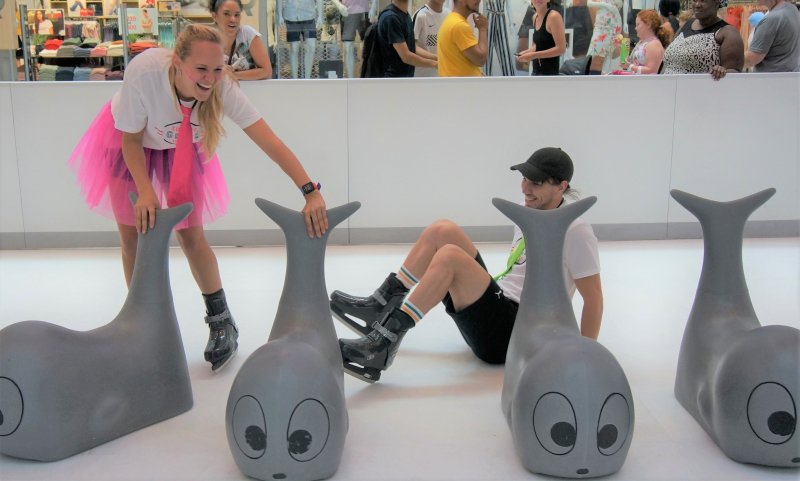 Even though my son was a first timer (and very wobbly still), he persevered and didn't want to get off the rink.  I was very impressed with his focus, and he went around quite a few times making the most of the 40min allocated time slot.  I would say the experience was a success as he asked me after if he could get him a pair of ice skates for Christmas.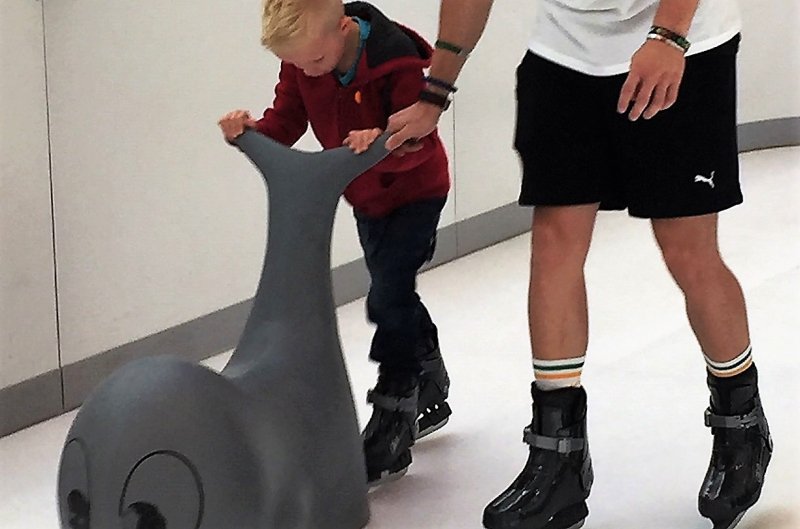 Things to note
The Glice rink takes 14 kids at a time, and sessions start on the hour – lasting 40 minutes per session.  Please note they do not accept cash payment but do accept debit/credit cards.
For more information, visit their webpage here, or follow #CGSummerGlice on social media. You can also contact Capegate centre management on 021 981 2288 / reception@capegatecentre.co.za.
I was delighted to hear that a portion of the Summer Glice Rink fees is going to be donated to the Hyprop Foundation Charity - in 2017, the Hyprop Foundation invested R1,6 million in projects, primarily focused on education and community upliftment.
Finally, it's useful to know that this is not a drop and go facility, so you will have to wait whilst your child is participating.
Rates
R50 per child for a 40 min timeslot, and only R40 if you bring your own skates.
Opening Hours
Due to its size, the rink is only able to accommodate 14 kids at a time, and sessions start on the hour – lasting 40 minutes per session.
24 November: 10am – 7pm (last session is at 7pm)
25 November: 10am – 5pm (last session is at 5pm)
26-30 November: 1pm – 7pm (last session is at 7pm)
1 December – 12 January: 10am – 7pm (last session is at 7pm | excluding Christmas)
13 January: 10am – 4pm (last session is at 4pm)